How to dress your windows in style this winter
Sometimes there's no shortcut to beautiful window dressings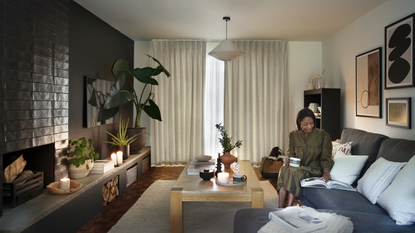 (Image credit: Future)
When the days grow darker and colder, it's inevitable that our attention is immediately drawn to our windows, and what may (or may not) be adorning them. Unfortunately, we can spend so much time thinking about which curtains or blinds to buy that we forget about one of the most challenging parts – measuring and fitting them.
And that's where calling in the experts at Hillarys can really take away the stress of your project. By leaving everything to the professionals, you can save yourself the worry of making costly DIY mistakes. And start your window transformation safe in the knowledge that it will be a job done right – with every penny well spent, whatever your budget.
To style her charming, Scandi-inspired home, interiors influencer Isa Chadborn teamed up with Hillarys to bring a wonderful sense of bliss to her window treatments. 'It was great,' she tells us. 'My Hillarys advisor came, and he was really helpful, going through all the different options I could have. And then he came back and fitted everything.'
Offering an end-to-end service, Hillarys experts will personally measure, make and fit your chosen window dressings. Whether you're looking for the perfect pooled curtain, to indulge in the latest shutter trend, or just keep your home warm and toasty with new and improved blinds, they'll make sure your window looks fantastic.
See inside Isa's home for top ideas to get you started
Winter is tough enough
Measuring for curtains sounds like it should be simple, right? But getting the correct measurements is incredibly complicated, as you'll need to take dozens of details into consideration, from the drop to the gather. And that's before you even start thinking about what might work in winter, to keep draughts or heat loss at bay.
In her living room, Isa opted for voiles and curtains on a double track for extra warmth, flexibility and comfort. 'I can't imagine trying to fit those tracks,' she tells us. 'I wouldn't have tried that, leave it to the professionals!'
Getting it wrong can lead to a disaster, and be very expensive to put right. That is why Hillarys will help take away the stress, from recommending thermal solutions for winter to measuring up and returning to fit – so your home is nice and cosy and ready for a wonderful Christmas get-together with family and friends. The pay-off will be noticeable immediately.
Wise words for winter style
If, like Isa, your style is minimalist, Hillarys has you covered. You're guaranteed to find the perfect colour, style and material in their huge range of blinds, curtains and shutters. If you're stuck, don't worry, as Hillarys experts are on hand to give you advice on the best solution for your space.
'I'm all about being calm,' Isa explains. 'So all the colours I've chosen are very calm colours. It doesn't matter what day I've had out there, when I step in through the door I feel relaxed.' With support from her advisor, Isa was able to find soothing shades and fabrics to perfectly complement her laid-back aesthetic and lifestyle.
Maximalism is having a moment too, and as we see a shift towards patterned curtains and blinds, it's worth remembering how Hillarys can help. They have everything you need to embrace these trends, or to curate a combined look of blinds and curtains you love.
Smarter ideas and fabrics
Whether it's picking a colour for your blackout lining for added kerb appeal, or layering curtains over blinds for extra warmth and comfort – not to mention cosy fabrics like bouclé – Hillarys has the perfect treatment for your window this season.
When it comes to smarter ideas that make your life that bit better, there's nothing quite like smart motorised blinds, which give you complete control at the click of a button. Isa's tranquil yoga room, for example, is a space where she can maximise light or shade, as needed, effortlessly.
That's why she opted for electric Roman blinds, which are super easy to operate even mid-way through a session. 'With my remote, I can just press a button, and the blinds open to a lovely, hopefully sunny day,' Isa says. 'It's so relaxing.' They can even be voice activated – ideal if you're holding a difficult pose.
And when it comes to peace-of-mind, why not think about sustainable blinds and curtains? Isa was delighted by the range of 100% recycled fabrics. Whatever smart solutions you're looking for this winter, Hillarys will help you find them.
For more details, and to book your in-home appointment, visit hillarys.co.uk
Get the Ideal Home Newsletter
Sign up to our newsletter for style and decor inspiration, house makeovers, project advice and more.
Ideal Home is here to give you the best advice on every aspect of running a home, from helping you choose the perfect paint colour to sorting a mortgage. Each article is written by an expert in their field, and packed with inspirational images to guide you in your project. Our sponsored content is not an editorial endorsement, but allows you to connect with brands to assist your home renovation journey and alerts you to products you may not have known about before.