Best BBQ 2022 – 10 electric, charcoal and gas barbecues
These are the best BBQs, as reviewed and approved, to make the most of this summer and cook al fresco with ease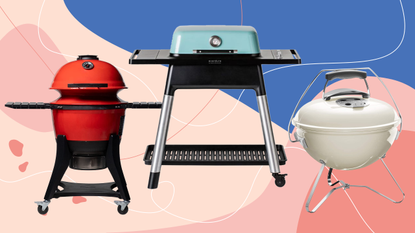 (Image credit: Future)
Ideal Home Newsletter
The Home Of Great Ideas For More Than 100 Years
Thank you for signing up to . You will receive a verification email shortly.
There was a problem. Please refresh the page and try again.
It's that time of year when everyone and anyone is investing in the best BBQ around. Whether you've got your sights set on a gas model or it's a do-it-all hybrid barbecue you are after – perhaps it's a simple charcoal model to sit atop your outdoor table? The team at Ideal Home has been hard at work reviewing 10 of the very best barbecues to invest in this year, for peace of mind when buying online.
Equipped with a good barbecue, you can slow cook brisket or flash-fry a perfectly rare steak, better yet you can whip up a couple of hot dogs or a dozen burgers for guests. When reviewing each of these barbecues, we considered everything from their build to their size, and each one's cooking ability whilst thinking about ease of use. What's more, we definitely haven't forgotten about each barbecue's price: there's something for all budgets just below, whether you have sub £200 to spend or £1,000+.
Keep scrolling to see top choices from brands such as Weber, Char-Broil, Everdure, Kamado Joe, Big Green Egg and Traeger. They're all in stock, ready and waiting.
For more outdoor cooking, check out our guide on the best pizza ovens
Best BBQ 2022
Best gas BBQ
Specifications
Fuel: Gas
Cooking area: 45cm
Weight: 30kg
Reasons to buy
+
High quality
+
Faff-free
+
Compact size
+
Lots of storage
+
Super easy to clean
Reasons to avoid
-
Assembly is difficult
-
You'll need to batch cook for larger groups
Gas is the most convenient type of barbecue for most people, and this one that we tested from Char-Broil sits at a happy price point, plus it offers plenty of features for faff-free cooking. For the majority of us, this compact BBQ offers enough cooking space, and it's ideal for small families. Especially if you (like us) don't really have a spare £500+ to spend on a barbecue right now. Don't forget that you can batch cook for when you've guests over, to save on spending a load on a larger barbecue you only really need a couple of times a year.
Boasting two foldout shelves for storage purposes, the All Star is a great little BBQ to own. It's ready to cook after 10 minutes, and it has a temperature gauge on the hood. Whilst it does have a keep warm shelf, its rounded cooking area does get hottest in the middle so you can use the outer space to slowly cook foods without burning them, such as sausages. We managed to cook an entire chicken on this barbecue. It's safe for us to say that whilst it might take a few uses to get the hang of cooking on this BBQ, it's worth it once you do get the knack figured out.
Assembly is very frustrating and instructions are a pain (just use the app) but once it's done initially, it's done forever. The BBQ offers plenty of storage, including hooks for tools and two foldable shelves for your drink or whatever else to sit. It also has onboard storage for your gas canister, to hide it away. It sits on wheels for easy moving, too. Cleaning couldn't be any easier as you need only fire up the heat for 10 minutes with the lid closed, then you can use the tool included, to scrape food residue off the BBQ ready for next use.
2. Weber Genesis II EX-335 GBS Smart Barbecue
The best smart BBQ
Specifications
Type of BBQ: Gas
Cooking area: 68 cm x 48 cm
Weight: 76.2kg
Reasons to buy
+
A mighty grill designed for entertaining
+
GBS cooking grates
+
Insulated lid
+
Can be used for smoking
Reasons to avoid
-
That high price point!
-
Assembly takes a while
-
Only comes with one probe
When it comes to barbecues, many perfectionists go for a Weber. And it's easy to understand why when looking at this smart barbecue. We've tried and tested this gas BBQ and it should be no surprise that we loved it. Mostly for its convenience, but also for its features and because it makes cooking anything, from steaks to a joint of meat, a total breeze. It's definitely one for budding chefs, or for anyone with a keen interest in cooking.
Its smart features come in incredibly handy, though you do only get one probe included. You'll use this probe in your meat and sync your BBQ with the Weber Connect App for the best cooking results. You'll get temperature alerts and timers that you can set and track from your phone, even if you're prepping a side salad from the kitchen while the BBQ does its thing. This comes in particularly useful for steak, but also for when you're entertaining and don't want to be checking on your food every few minutes. It's also plenty sizeable with 3 burners and a side burner, too. You can fit a grilling basket, a griddle, or a sear insert depending on what you're cooking. You will have to pay extra for these though.
This isn't a small barbecue so be ready to offer it a chunk of space for it to sit whilst cooking and whilst storing. Its side tables aren't foldable, so if you won't be able to store it in a garage or outbuilding, then you may want to invest in a cover. Otherwise, it's pretty easy to clean, too, with only a wire brush and some heat required.
3. Big Green Egg Large
The best luxury BBQ
Specifications
Type of BBQ: Charcoal
Cooking area: 46cm
Weight: 86kg
Reasons to buy
+
Incredibly stylish
+
Designed to last
+
Extremely versatile
+
Easy to clean
Reasons to avoid
-
So expensive
-
Doesn't come with a stand
-
Only for BBQ enthusiasts
This is one very stylish yet practical way to cook thanks to the Big Green Egg's ceramic build which maintains a steady heat for even and predictable cooking results. It also looks brilliant. Whilst this barbecue is a charcoal model, it's not rated our best charcoal BBQ only because its hefty price tag isn't for everyone. This is why instead, it's our best luxury option for those who can spend a little more. It's one of the most forgiving barbeques out there right now, with a price to reflect that.
After rating this barbecue 5 out of 5 stars, we were amazed at the results from using it. It can roast, bake, slow (and low) cook, grill, smoke and even pan cook food. The air-flow tech will have it up to temperature in around 25 minutes, and although it might take longer than other models, it certainly retains heat well once lit (for up to 10 hours apparently!). It comes with a dome temperature gauge, and it's pretty easy to keep it within a few degrees throughout cooking. It's definitely one for barbecue enthusiasts, and if you only use your BBQ for cooking burgers and sausages a few times a year, then you're not going to get the most use out of it. The idea is that you buy it once and it lasts forever, hence the price tag and that it can be used at all times of the year as it offers enough space to cook your entire Christmas turkey.
Once finished, the leftover fats and oils are cooked down by the heat of the egg meaning all that's left is an easily swept away ash, leaving you ready to cook again the next time. It's deep though so you may want to roll your sleeves up before diving into the ash pile.
4. Weber Go Anywhere
The best charcoal BBQ
Specifications
Gas: Charcoal
Cooking area: 42cm x 26cm
Weight: 6.78kg
Reasons to buy
+
Portable
+
Easy to clean
+
Great for camping
+
Affordable price
+
Super compact
Reasons to avoid
-
You'll need to batch cook for a crowd
This small charcoal BBQ from Weber is a great buy for pretty much anyone. It's versatile and extremely portable and therefore easy to store. Not only that, but it sits at a happy-go-lucky price point, too. It's a top-notch charcoal barbecue and even though it's small, it can really pack a punch when it comes to both cooking ability and flavour.
With a decent size cooking area considering the size of this BBQ, we used it to cook everything from veggies to small pieces of meat, burgers and even joints of beef. Whilst it's not smart or app-connected, it is great for anyone looking for a fuss-free charcoal BBQ at a decent price tag. It has a hinged lid to protect the flames from any wind, and it sits atop a table in your garden so as not to take up any more floor space. Its handle never gets hot and it retains heat exceptionally well. You can fit a fair few burgers on it at once, but you might have to batch cook for a larger group. In short: don't let its size put you off.
After use and cooling, you can pop the grates of this barbecue into your dishwasher. It completely folds to sit neatly in a cupboard or in your garage, while you can also leave it outside if need be. It takes up zero floor space and all in all, is just super convenient.
5. Char-Broil Gas2Coal Hybrid Grill
Best hybrid BBQ
Specifications
Type of BBQ: Hybrid
Cooking area: 64.2cm x 43.5cm
Weight: 47kg
Reasons to buy
+
Can cook on gas or coal
+
Easily portable
+
Side burner and electric ignition
+
Comes in a range of sizes
+
Built-in temperature gauge
+
Built-in bottle opener
+
Great storage space
Reasons to avoid
-
Side burner isn't great in windy weather
-
Long assembly time
The Char-Broil Gas2Coal Hybrid Grill stands out to us as a brilliant value BBQ, with a range of burner sizes to choose from (we tested the 3-burner model) and a side burner to cook up sauces or veggies while you do your grilling. It is immensely portable thanks to its fold-down arms and modest grill size. In short: it offers a lot of features in a somewhat compact package.
This gas BBQ ignites easily and the heat can be chosen using the dials on the front of the grill, which adjust the amount of gas that's released. You also use these to ignite a charcoal BBQ, but then can turn them off and allow the smokey flavours to come out in your meat or veggies. The lid is cast aluminium and contains a thermometer to allow you to preheat the oven and prevent heat from escaping as you grill. There's also a warming grate, which will allow you to cook for a crowd. Switching between fuel is also very simple. It's plenty sizeable for large families.
The wheels are large enough for easy transportation, and it's a sturdy machine. Its sides won't fold but they do make it handy for moving into position. It offers storage for charcoal bags and more, to hide these away, and it even has a built-in bottle opener. When it comes to cleaning, you need only soak the grates in your sink.
6. Traeger PRO 575 Pellet Grill
Best smoker BBQ
Specifications
Type of BBQ: Pellets
Cooking area: 3709 cm²
Weight: 58kg
Reasons to buy
+
App-enabled
+
Automatically tops up on pellets
+
Flavoured pellets available
+
Sizeable cooking space
+
Easy to use and ignite
Reasons to avoid
-
Pellets are harder to source than charcoal
Boy did we love testing the Traeger PRO 575 Pellet Grill. It's smart, easy to clean, and surprisingly versatile. While Traeger is a well-known brand in the States (they love a smoker grill) it's been making strides in the UK, with a range of accessible grills to make smoker cooking easy. If you've got the money, and you're keen on barbecuing, then this smoker would be a worthwhile investment for sure.
You power the Traeger with pellets, which add extra smokiness and are very easy to ignite and use. It's super convenient to light though it does require power, so consider where you will place it in your garden before investing. The drum-shaped grill has a hopper and controls to the side, which are digital and can even be paired with a smartphone. This adds more pellets as and when needed. Otherwise, the guesswork is completely taken out of cooking on this Traeger smoker, and when you cook meat using the probe, it will come out succulent and perfectly cooked.
If you'll be storing this smoker outside, you'll need to buy a cover for it for protection. You can use it with any hardwood pellets, though Traeger does sell flavoured varieties, such as apple wood for chicken and pork, and oak for beef. To clean, soak the grates in your sink and empty the grease bucket.
Best small charcoal BBQ
Specifications
Type of BBQ: Charcoal
Cooking area: 23.5cm
Weight: 30kg
Reasons to buy
+
Built to last forever
+
Compact
+
Comes with cover
+
Sturdy
Reasons to avoid
-
Heavy
-
Not for large families
-
Expensive for the size
If you're hoping to invest in a Kamado BBQ, then we can't recommend the one from Tower anymore. We tested it and rated it 4.5-stars out of 5, and we think it's a great buy for small to medium-size families, or if you want a BBQ that's not going to take up too much of your patio space. This one is compact in size yet anything but in features. It's ideal for all-size gardens, from balconies to large spaces and even a terrace.
Use this high-quality Kamado-style BBQ to sear, grill or bake anything from meat to fish and veggies. We think it's great for anyone looking for a sturdy barbecue that will last a lifetime. Its heavy construction screams durability, whilst it sits on a table to use up less floor space. Though its cooking space isn't the largest, you can use it to batch cook food as it retains heat incredibly well. It also boasts a built-in temperature gauge to make cooking easy. It can fit around 6 burgers and 6 sausages, cooking at the same time.
You can leave this BBQ outside year-round, and you might have to because it's so heavy. It comes with a cloth cover though and it has handles. There's also no denying that it doesn't look great, and it comes in your choice of black or green. Cleaning it couldn't be easier, thanks to its compact size grates.
8. Everdure by Heston Blumenthal Force 2 Burner Gas BBQ
The best looking barbecue
Specifications
Type of BBQ: Gas
Cooking area: 2440cm2
Weight: 33kg
Reasons to buy
+
Comes in three beautiful colours
+
Great for slow cooking
+
Built-in temperature gauge
+
Heats very fast
+
Great temperature control
Reasons to avoid
-
Only 2 burners
-
No keep warm rack
The Everdure by Heston Blumenthal Force 2 Burner Gas BBQ has Heston's approval, as well as ours, and it's got lots of home chef-approved elements such as the high hood that can accommodate a whole turkey for cooking slow and low. This gas BBQ can be removed from the stand, making it portable for tabletop use, and the servery drops down for more easy transportation. Other things we love include the enamel-coated grates and hood that can be cleaned easily and are rust-proof. If you're looking for a faff-free BBQ that's easy on the eye, this is your best bet.
Although it has a large cooking area, it is powered by only two burners which is less than some of the other BBQs in our guide. Also bear in mind that it doesn't have a keep warm section. On the other hand, it heats really fast (we managed to get it hot enough in around 4 minutes) and it can tackle pretty much any job. It offers super precise heat control thanks to its built-in temperature gauge. You could easily fit two medium chickens on there at one time.
How can we whiz past the fact it's a delight aesthetically? If you're more concerned about looks than features, then this is the BBQ for you. It's also a dream to clean, though a little fiddly to put the parts back afterwards. It sits on wheels and really could do with a cover included (you can buy one separately). One side of this BBQ folds to offer easy storage.
Best affordable hybrid BBQ
Specifications
Fuel: Gas/Charcoal
Cooking space: 64cm x 42 cm
Weight: 60kg
Reasons to buy
+
Large cooking area
+
Affordable
+
2 colours
Reasons to avoid
-
Large in size
-
Can't be kept indoors
If you're hoping to spend your money on a hybrid BBQ for family cooking, but are on a strict(er) budget, then this one from Outback is your best bet. It's definitely not one for small spaces, though, with a sizeable cooking area plus 2 side shelves and oodles of storage on offer. For less than £300 on most websites, this BBQ is a steal.
Cooking with charcoal or gas is easy on this barbecue. It has a keep warm rack to perfectly time your food, too, and on its hood sits a temperature gauge. We found that it took around 8 minutes to get to heat when using the gas function. Charcoal was slightly trickier but still took only 15 minutes. Overall, we found that cooking was fast and fuss-free on this BBQ.
Assembly time took around 3 hours but once up it's a breeze to use. It sits on two wheels to make it easy to move and comes in two colours to spruce your space. Ideally, it needs to be placed in a well-sheltered location when in use and after use, it has to be moved away from the elements, otherwise, you can invest in a cover for it. Cleaning this BBQ is easy depending on what you've been cooking on it.
Best portable BBQ
Specifications
Type of BBQ: Charcoal
Cooking area: 670cm²
Weight: 8.1kg
Reasons to buy
+
Comes with lid and chopping board
+
Easy storage
+
We love the look
+
Very portable
Reasons to avoid
-
Cleaning is tricky
-
No lid for use whilst cooking
If you want a barbecue that isn't consigned to your garden alone then the Everdure Cube BBQ could be just the one for you. This combines quality craftsmanship and cooking ability with portability that lets you turn any park, field or beach into a barbecue party. We love the look of this BBQ, and it comes in a range of colours. Seeing as this one will likely be best for those without much storage space, it's nice to know you can display it when not in use.
We really liked the chopping board-slash-lid, but it is a shame that there's no lid to use when cooking because a lot of heat could escape from this portable grill when in use. Even still, it does a nifty job of cooking smaller pieces of meat and veggies, from burgers to sausages, wings and corn. It's best for smaller groups, couples and small families but you can use it to batch cook food, for more people. It also takes up no floor space so is ideal for balconies.
When it comes to cleaning, grates can go into the dishwasher but the shiny orange interior is a little harder to clean. It stains but this doesn't impact its cooking ability, it's more of a frustration. The handles do get hot whilst cooking so be careful, and it comes with add-ons such as a chopping board and a plastic storage lid for holding your buns and your Ketchup. We wouldn't recommend leaving this one out in the elements, but it's so easy to store that that's not an issue for us.
---
How we tested these barbecues
We think that the best way to rate our products is to try them hands-on, which is why we have reviewed all of the BBQs in our guide, and we're working on reviewing more.
When we test a BBQ we take into account the assembly process, how well it cooks both large and small cuts of meat and veggies, and the user experience from quality of build to durability. Also, we never forget the price tags of BBQs.
It's worth us noting that some of the BBQs in this guide were tested in the last few years, meaning they've received years of use and have proven themselves to be very rust-resistant and long-lasting.
How to buy the best BBQ for you
The most major priority is price, so start out with a rough idea of what you want to spend. Once you know this, it's easier to narrow down the rest and fit in what you need with what you can afford. Next up is fuel.
This subject is an area of debate. Some claim that charcoals offer the very best flavour, while others claim gas gives the same result. Then, to make it more complicated, there are gas barbecues that use gas flames to heat charcoals.
For more outdoor essentials check out the best fire pits
Essentially it boils down to this – if you're cooking meat, it's the juices hitting the coals which create a smoke which adds flavour to the meat. Lose the coals and you lose this extra flavour.
So if you want authentic flavour, coals can be the best way to cook. Then there are the smokers which take this idea to the next level and offer slow cooking which not only packs in the smokey flavour but also allows you to give the perfect tenderness to joints of meat.
The problem with gas and charcoal is that you need to buy the fuels, which can be a hassle. That's where electric barbecues come in. They're a great way ta grill without worrying about anything aside from plugging in the barbecue. Of course, many will argue this is akin to cooking indoors. But with a lid for trapping in flavour you're still going to get a great experience.
Related: How to clean a BBQ
How much should I spend on a BBQ?
This is the question that's a tough one to nail down since the range of prices is so broad. You can spend very little on a portable barbecue, or you can stretch to a professional level beast with multiple functions and heat sources priced in the thousands.
Most people find somewhere in the middle suits. So spending just over a hundred or a few hundred will generally get you a barbecue fit for most purposes.
Take a look at fuel costs, too, as gas and coal varies. You'll want to factor this in, especially if you're planning to use the barbecue a lot.
What other key questions do I need to ask about BBQs?
Size is an issue for areas of limited space, so a smaller barbecue can often be easier for storage. That said, if you're having parties with lots of people, a larger cooking area is always a welcome addition.
Splashing out a bit more on a cover is another factor to consider if you plan to keep your barbecue outside. Especially in countries where it's cold and wet in the winter months, it's a necessity if you can't find an indoor storage location.
Millie Fender is the Small Appliance and Cookware Editor. She joined Ideal Home as an Ecommerce Editor in 2021, covering all of the site's small appliance and cookware shopping content. Millie formerly worked at Top Ten Reviews, another Future site, where she produced review and buying guides across a range of home products, from fridges to blenders. As an e-commerce editor, her job is to test all the wackiest product launches, whether they're air fryers, bread makers, or juicers, and give you her honest experience.