48 Easy DIY projects to update your home in as little as one hour
New to DIY but keen to give your home a stylish refresh? These easy ideas are perfect for even a novice to take on they vary from bank holiday projects to quick evening makes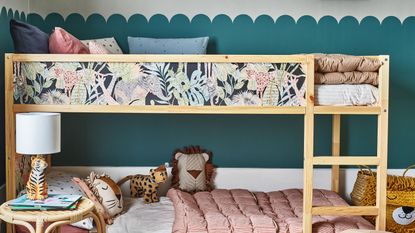 (Image credit: Future Plc/Carolyn Barber)
Social media is awash with easy DIY projects to tackle, but if you're a bit of a novice it can to daunting still. That's why we've rounded up a few paint ideas, a couple of IKEA hacks and other projects that you can tackle over a long weekend and build up your confidence.
Once you've nailed the basics, even home repairs can be tackled yourself so it's worth brushing up on your DIY skills to avoid having to get the professionals in for jobs you can take on yourself.
Easy DIY projects to update your home
We generally spend more time thinking about doing easy DIY projects than the time it actually takes to get them done. And whether it's putting up shelves or giving the garden gate a fresh lick of paint, ticking these home improvement jobs off our lists is very satisfying. As long as you've got the essential tools, these DIY ideas are relatively easy and can be achieved on a budget.
The good news is, they won't take too long to complete. Below we've rounded up loads of simple projects that will allow you to give any room of the home a fresh new look, so you can really put your stamp on your space.
1. Update drawers with fretwork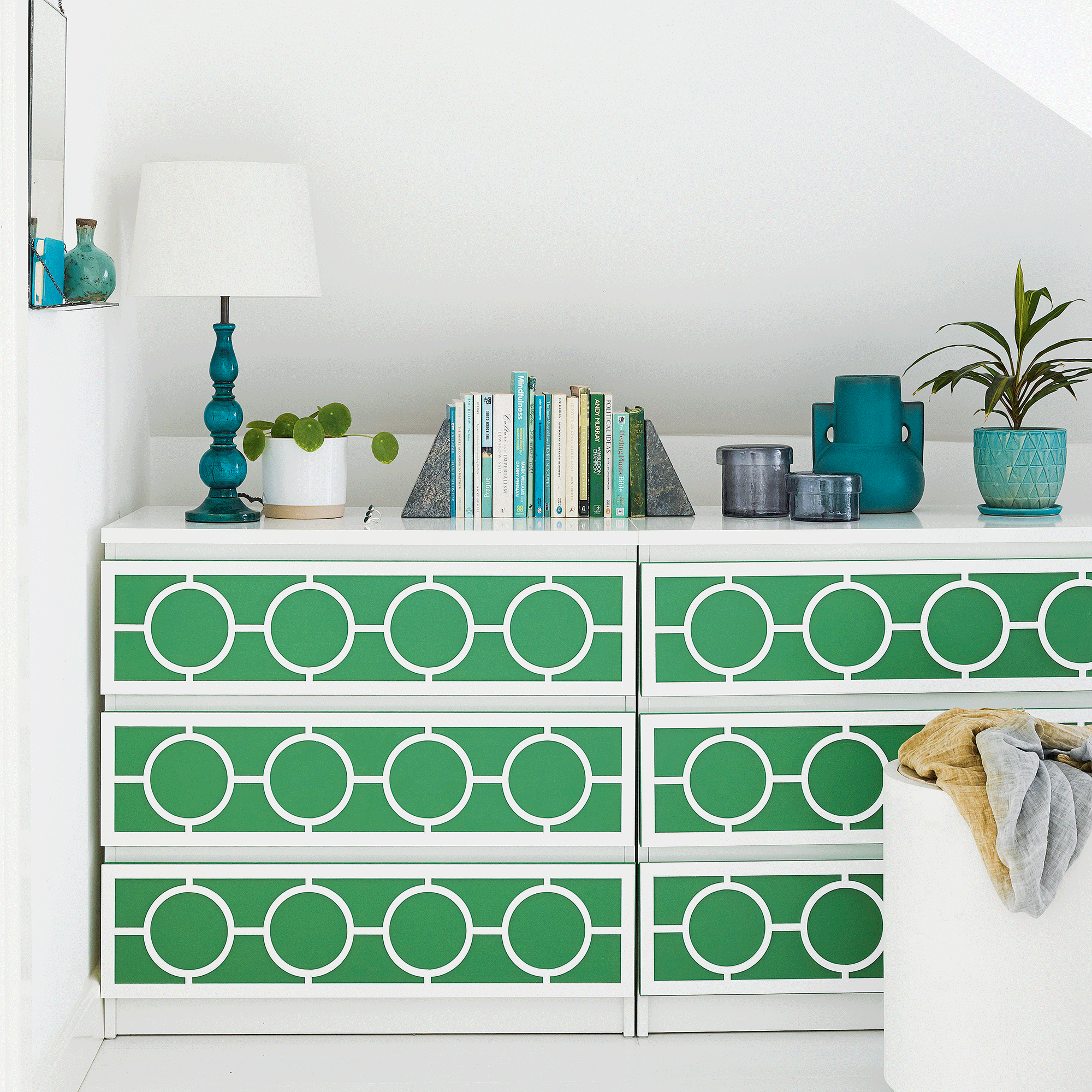 Give a boring chest of drawers a high-end overhaul by using fretwork panels. It doesn't take long but the transformation will make a big impact. To start give the drawers a good clean to remove any grease or sticky residue. Then paint the fronts of the drawers with a small roller.
When it's try you can apply the fretwork panels to the drawer fronts with double-sided tape. The porto furniture overlays from Moon Wall Stickers used here are designed to fit any IKEA drawer unit so you don't have to cut to size first.
2. Create a styling station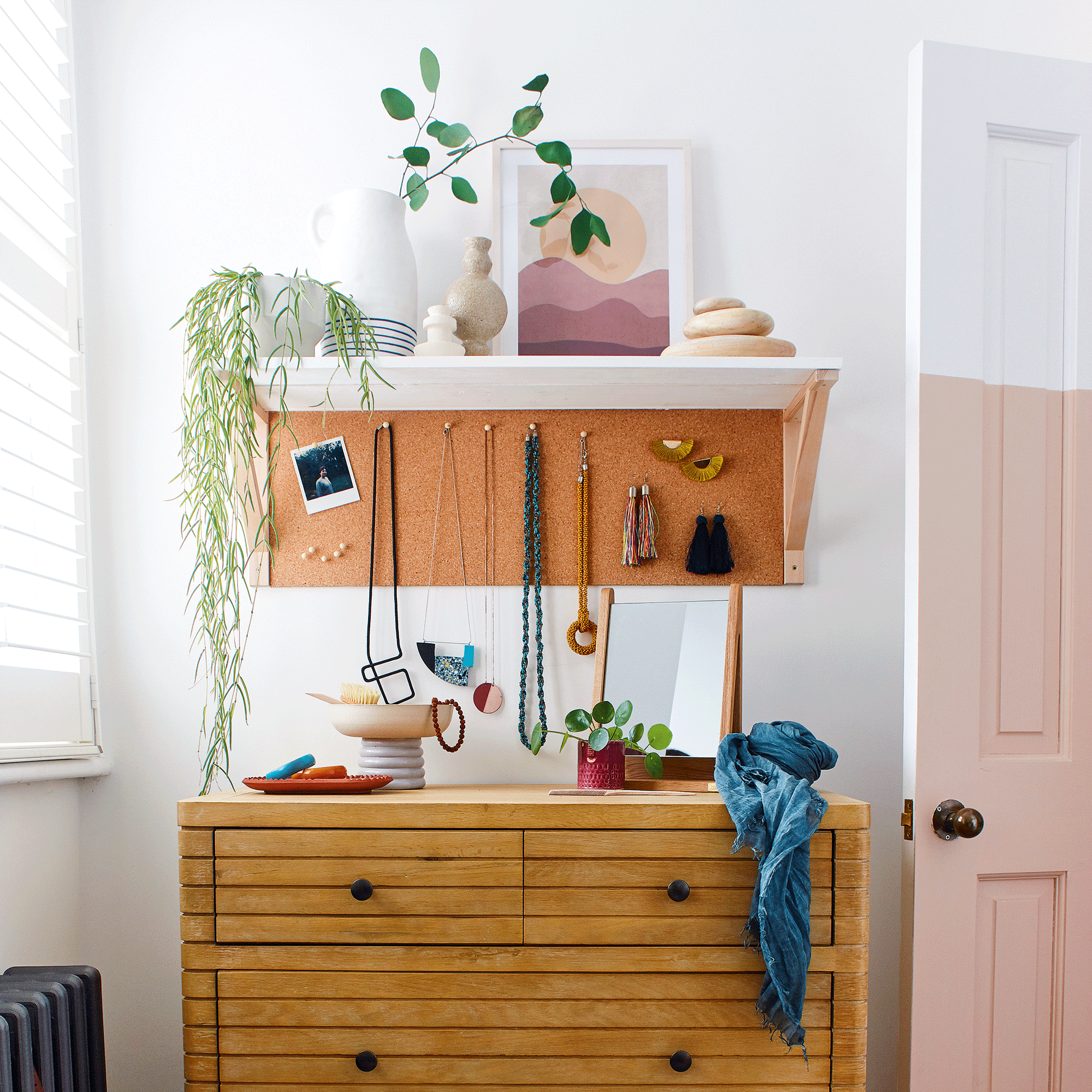 A panel of corkboard fixed to the wall above a chest or vanity unit is a clever way to organise jewellery and prevent it from getting into a disorganised tangle. It also helps keep surfaces clear of clutter.
Cut the cork to fit between the brackets of a wall shelf, and keep storage boxes and baskets on top. Loop necklaces over smart pins, while earrings can be pushed straight into the cork.
3. Create a wall of basket storage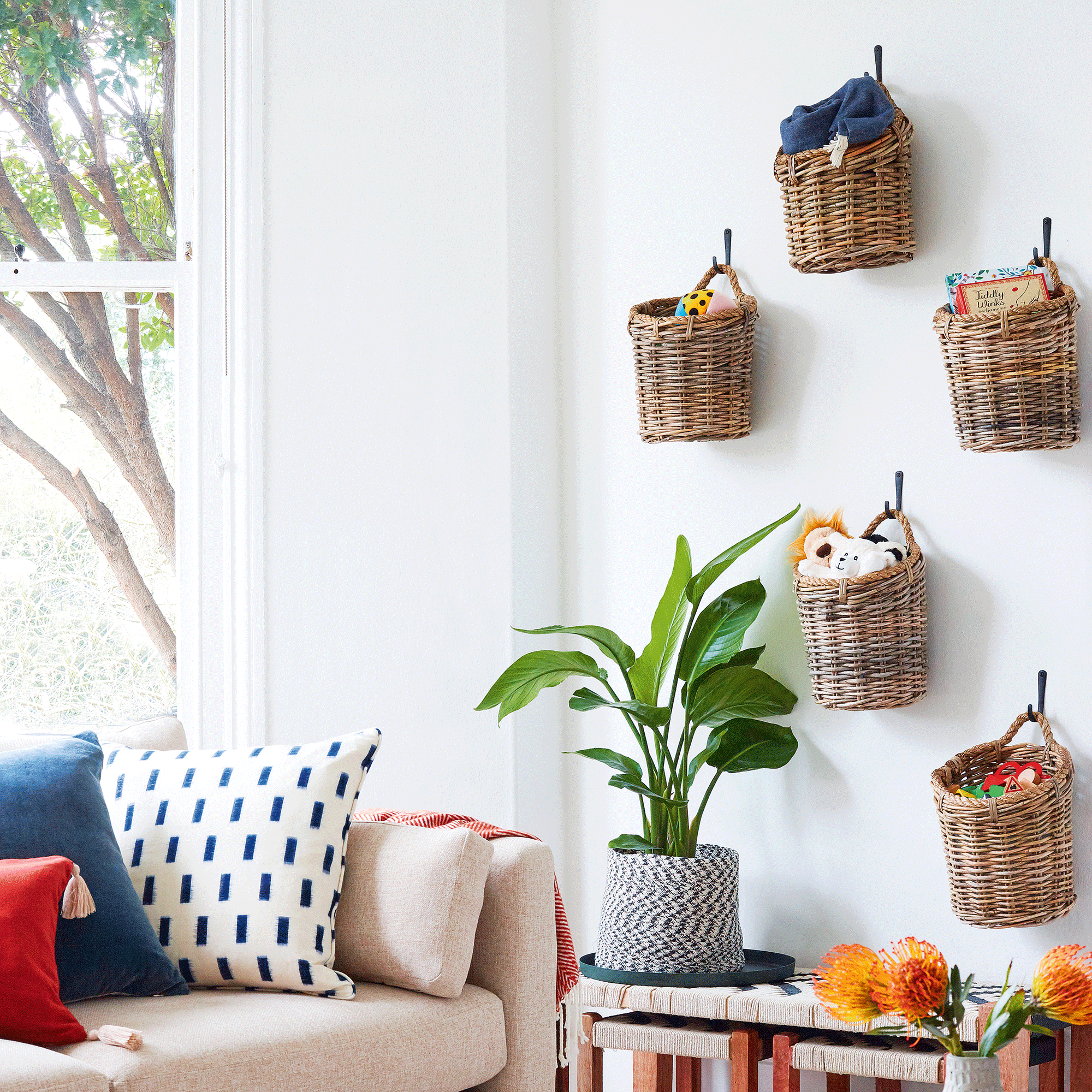 This project should take less than an hour to do, and save you plenty of time when it comes to keeping the living room tidy with this clever toy storage idea. Target clutter hotspots by providing easy-access storage that will encourage family members to put things away.
Fix a few sturdy metal hooks on the wall and hang a handled basked on each. Willow baskets look attractive and are great for quick end-of-day tidy-ups for toys, books and magazines. Label one for each family member so everyone has a dedicated place to store their things.
4. Build a mini outdoor kitchen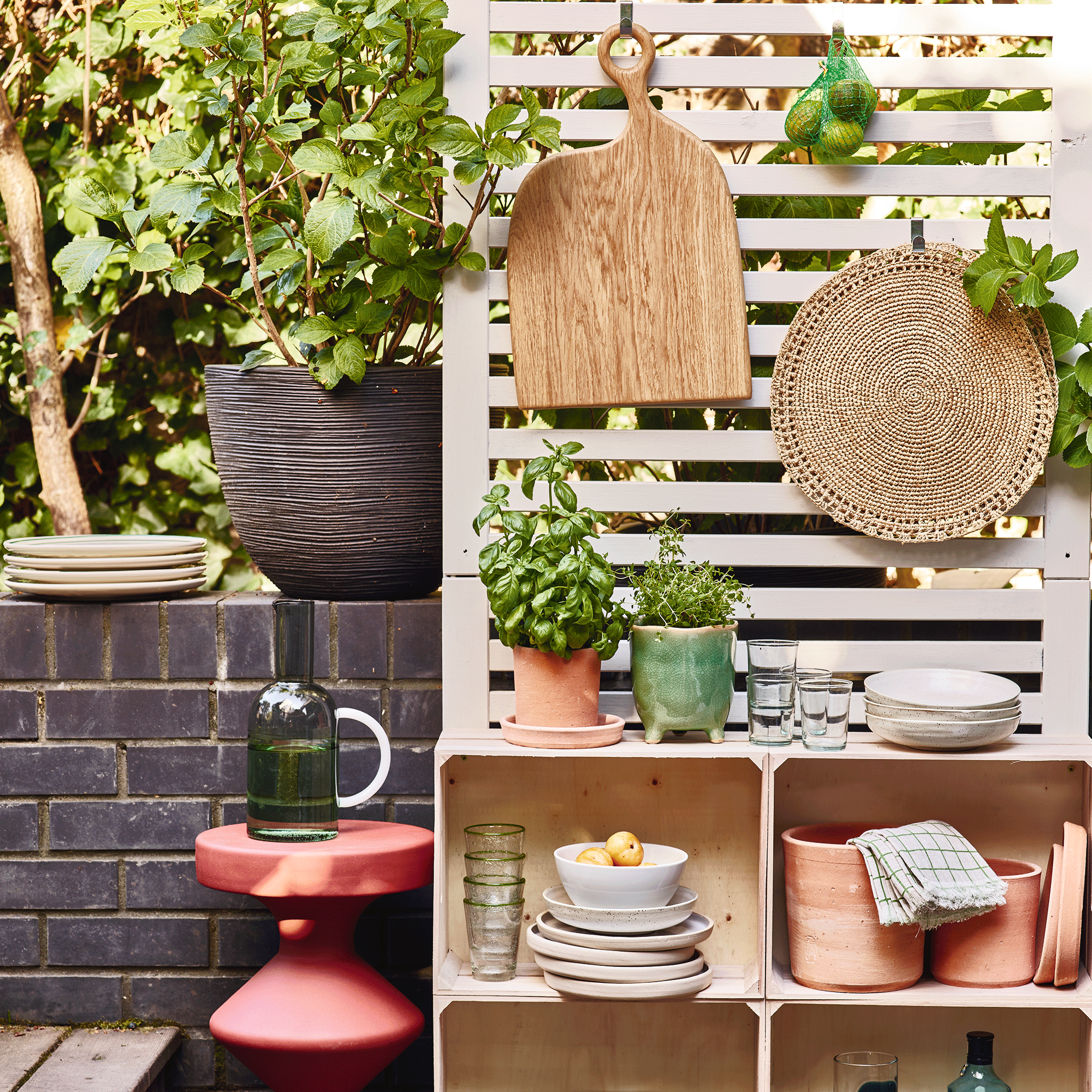 Stuck with a bijou balcony, cosy courtyard or petite patio? Don't let your lack of external space deter you from creating a mini outdoor kitchen. This one has a mini footprint that can squeeze into the smallest of spaces.
Start by taking a single wooden trellis panel and painting it in a colour of your choice. Next, take four wooden crates of the same size, and paint the outside surfaces of these too. Once dry, turn them onto their side, stack together and secure with fixings, then attach to the bottom of the trellis panel using screws. The simply position against a wall and adorn with all your outdoor cooking kit.
5. Make a sink curtain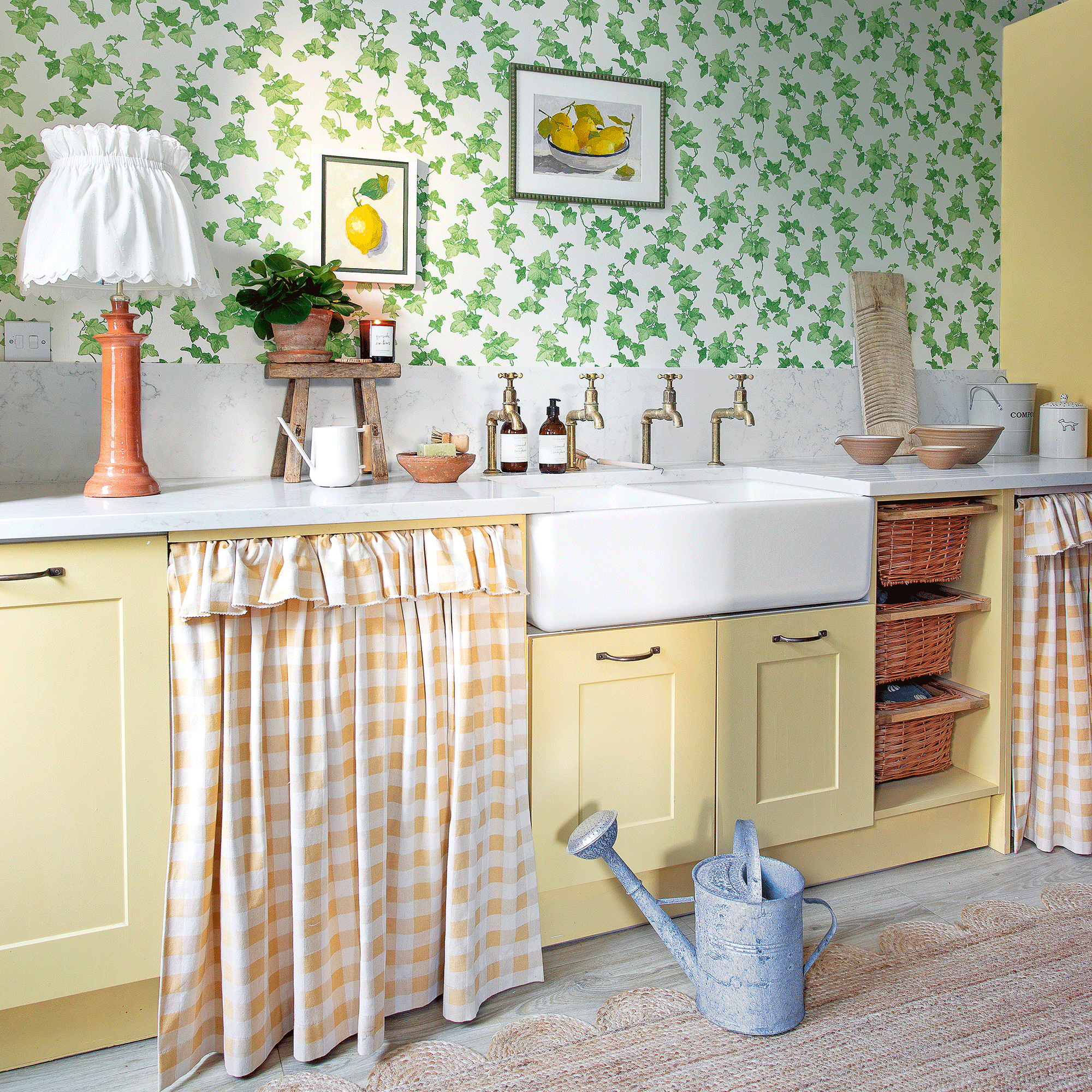 The current fascination with traditional kitchen ideas and cottage kitchen ideas has seen the return of the sink curtain. This is the perfect budget hack for anyone looking to hide part of an unsightly kitchen, it can easy work for renters too.
Start by selecting a piece of fabric, you can repurpose some old curtains, or even an old tablecloth will work. Cut it down to size and hem the edges, then create a loop at the top to thread either a thin curtain rail or a tension rod through like this one from Dunelm. If sewing isn't your strong point, you can skip the sewing machine by hemming with hemming tape and attaching clip-on curtain rings.
6. Upholster a footstool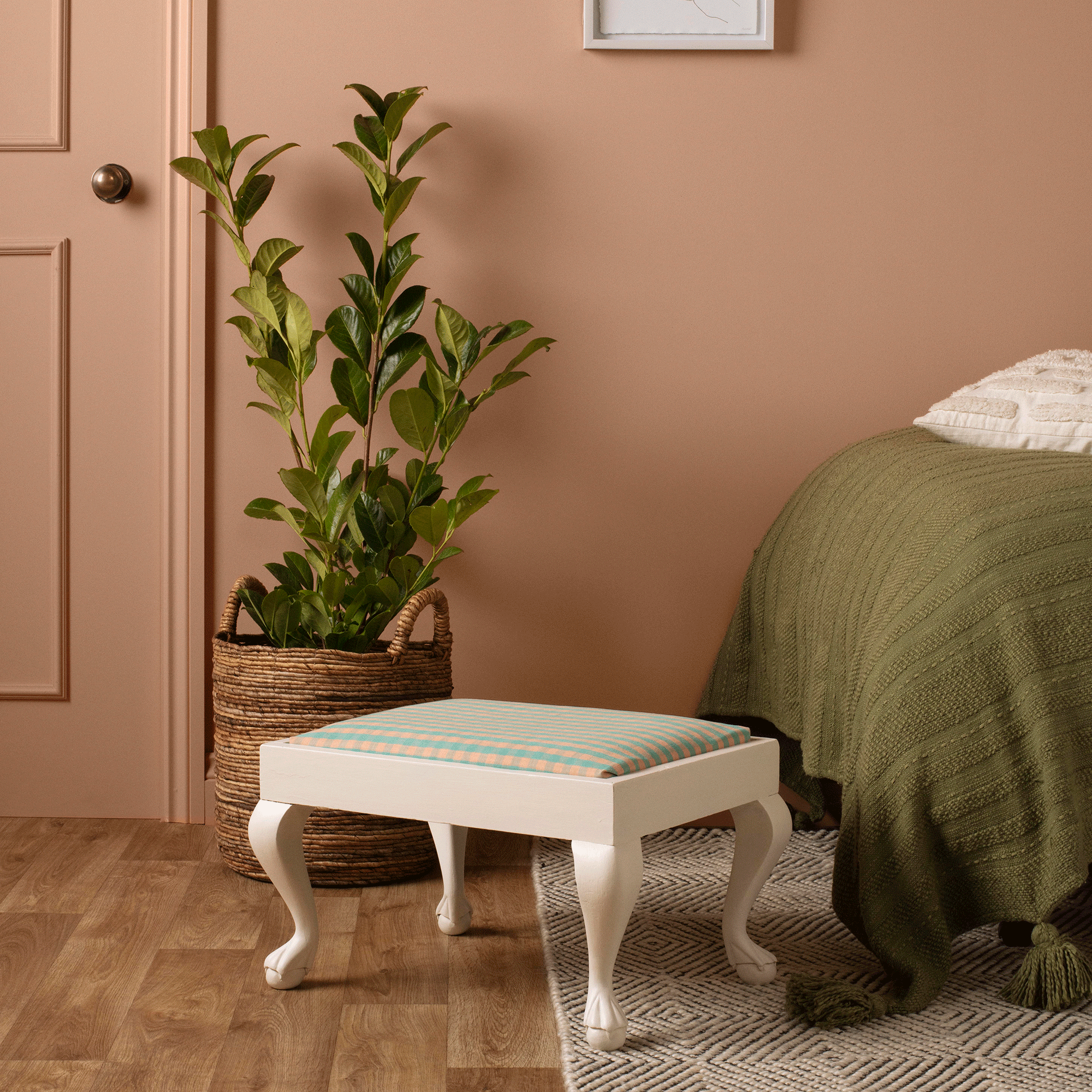 If you're looking for a satisfying but incredibly easy DIY project then have ago as reupholstering a footstool. All you need is a footstool, if you don't have one you can easily pick one up using home decor discount codes, or even second hand on eBay. You'll also need some fabric and a staple gun.
'Before buying your fabric, check the measurements of your footstool so you can make sure that it will cover the top and sides with some extra fabric leftover to conceal any mistakes,' recommends Ideal Home's Deputy Digital Editor (and DIY enthusiast) Rebecca Knight.
'If you're footstool is already in good condition, I'd recommend saving your time and wrapping your new fabric on top. However, you can strip it back for a completely new start and add in some extra padding for a proper revamp.'
7. Tile a coffee table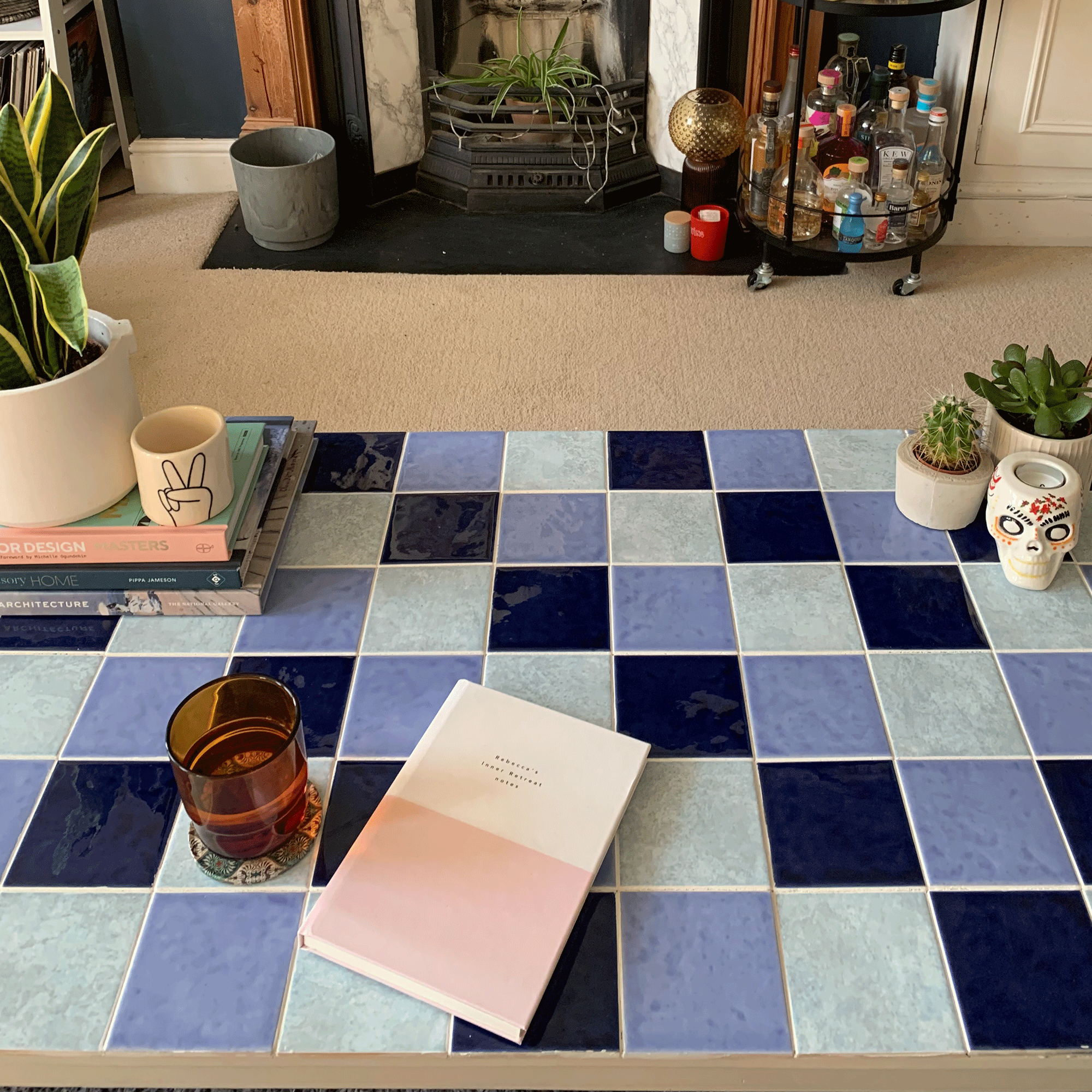 Give an old coffee table a bold and on-trend refresh by tiling the top and repainting it. This project is best saved for a bank holiday as you'll need time for the grout to dry.
Our Deputy Digital Editor tried this project out recently with a secondhand table and tiles all sourced from eBay. 'What I learnt from the project is that preparation is key, and you should double and triple check that the tiles are going to fit before you start laying any of them.
'Overall, I was shocked how easy it was to do, all my friends were really impressed and couldn't believe that I'd made it myself. However, my top tip is to use a pre-mixed tile adhesive and grout to keep mess to a minimum and speed up the make.'
8. Paint a nautical-stripe feature wall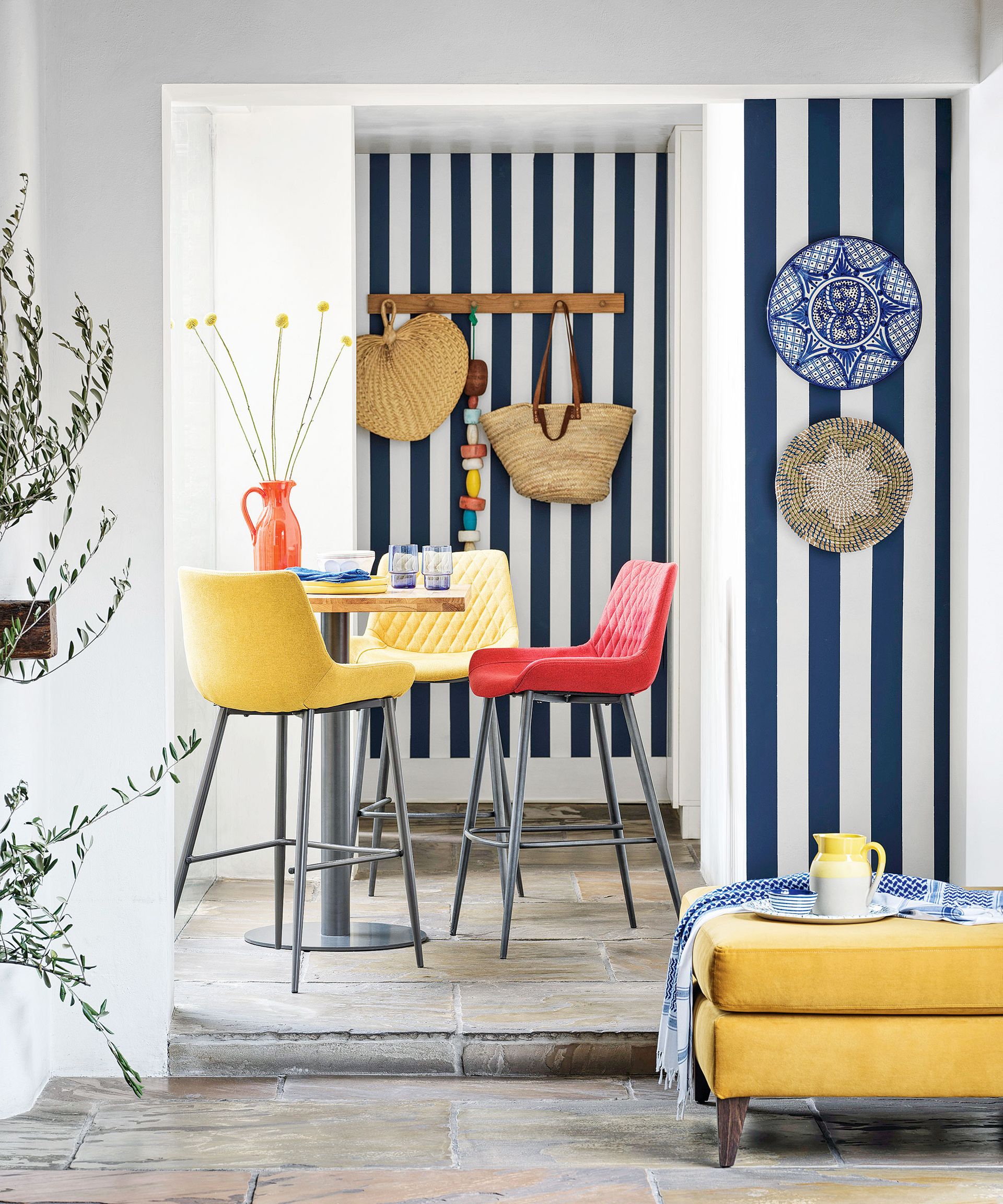 If you're looking for how to paint a room, an easy yet effective way to add some character and whimsical pattern to your space is with paint, in these neat, floor to ceiling stripes. Keep it classic with white and navy or if you're feeling braver, pick two contrasting shades like pink and red.
Start by painting the whole wall in your base colour, in this instance, crisp white. Next, using wide decorators tape or masking tape, apply to the wall in stripes, from floor to ceiling, leaving the same width as the tape between each stripe. Once you're happy that the stripes are straight and in the right place, use a roller to apply your second colour, in this instance, navy, over the entire wall, covering the tape as well as the gaps in between.
Leave the first coat to dry, then apply a second, but before it dries completely, remove the tape to reveal your neat striped wall.
9. Make a simple pillow headboard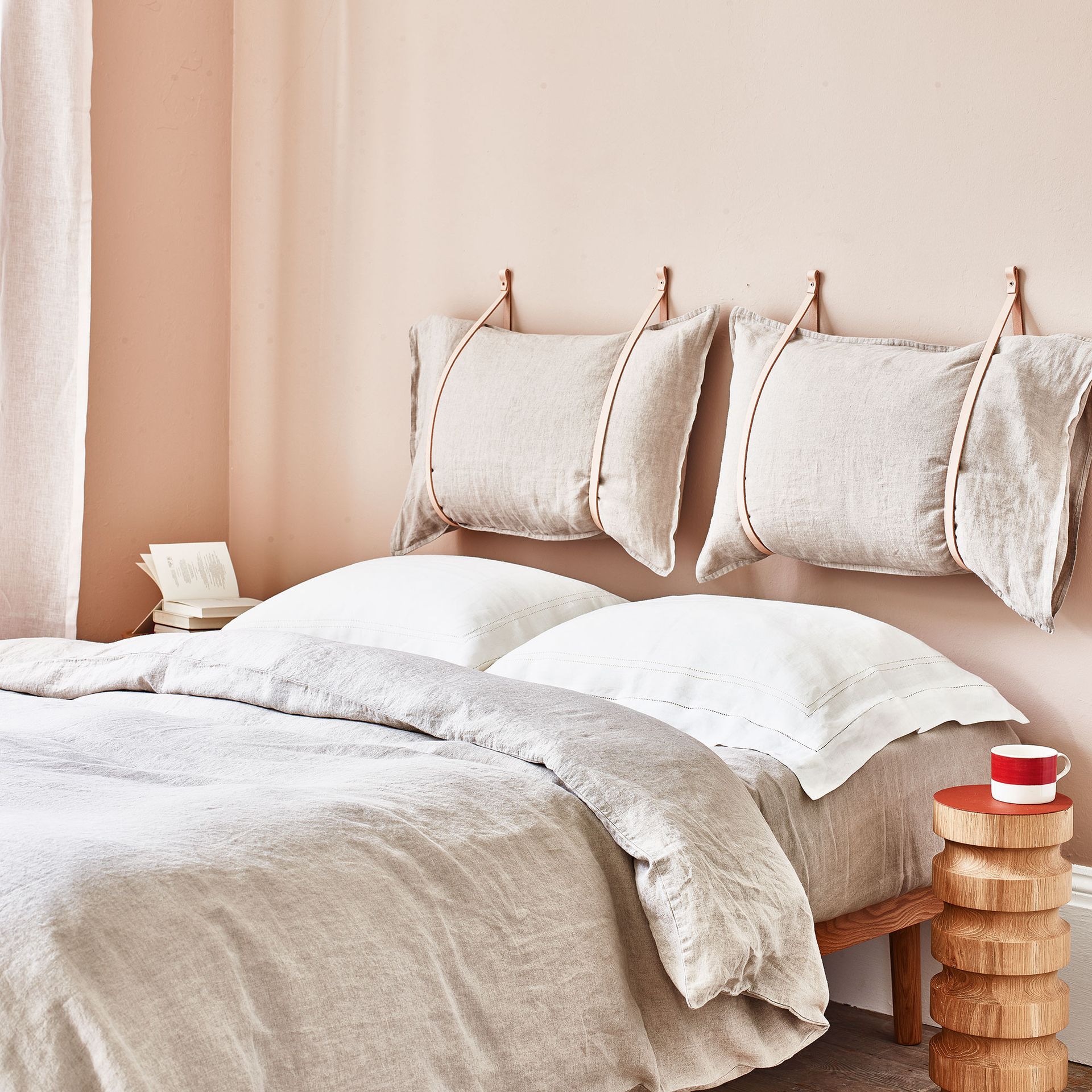 An easy bedroom idea, update a simple divan bed base and take your headboard style up a notch, with this super-simple, super-cost effective, pillow-hanging-hack.
First work out where you'd like your pillow headboard to hang- how high above your bed and what distance apart- then mark this in pencil on the wall. Next measure four lengths of slim leather straps around 150cm each and attach in place on the wall using metal tacks. You want to make sure the loops you make can snugly hold your pillows so they don't fall out easily, but still keep their shape. Slide your pillows into the loops and make sure they are supported evenly.
Use basic pillowcases (rather than fancy silk ones) so it means washing your headboard is a breeze.
10. Create a panelled feature wall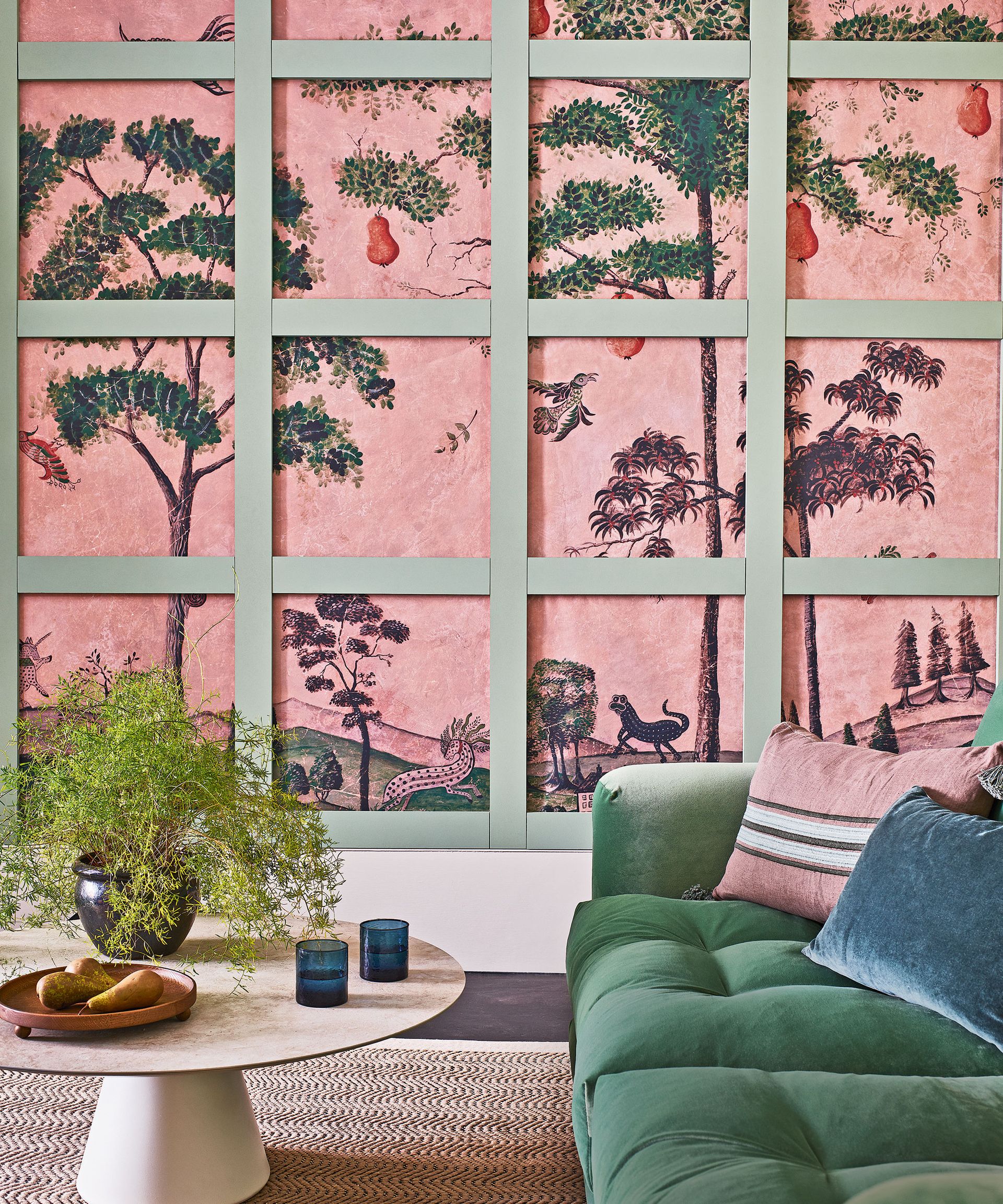 Create a living room feature wall idea with a difference with this clever wallpaper hack. Choose a mural wallpaper that depicts a view or scene rather than an all-over pattern. Start by choosing a full-scale, floor to ceiling mural that you love and paste to the wall. Murals often come in 3-4 large panels rather than rolls but adhere to the wall in the same way. Next cut strips of MDF approximately 10 cm wide to create panelling and fix in place over the top of the mural, using nails. Use filler to fill the dents and holes made by the nails, then sand until smooth, before painting all the wood in the same shade. You might need two coats to cover it perfectly.
To give it a twist, paint the panelling a darker shade of grey or black, to give the illusion of a view through black steel-framed windows.
11. Brighten up your dressing table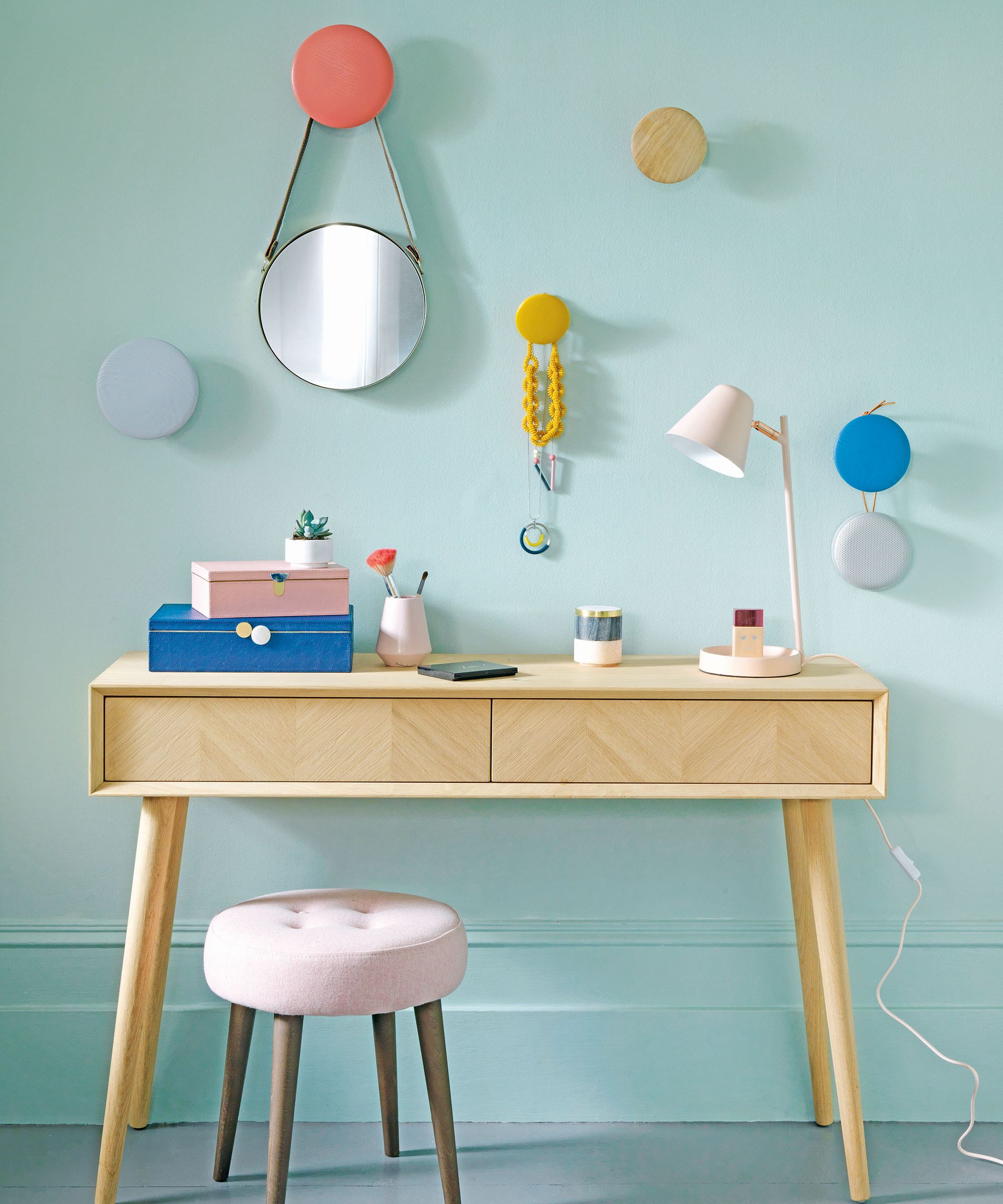 Try a fun bedroom wall decor idea that will add a splash of colour to a vanity area or desk space with a collection of brightly-painted dot wall hooks. Position on the wall in a random arrangement above the tabletop and use them to hang lightweight mirrors, jewellery, scarves or even a mini speaker.
Buy coloured dot hooks ready-made or create your own using craft wood circles and screw fixings made out of short lengths of wooden dowel.
12. Update cabinet doors with fluted film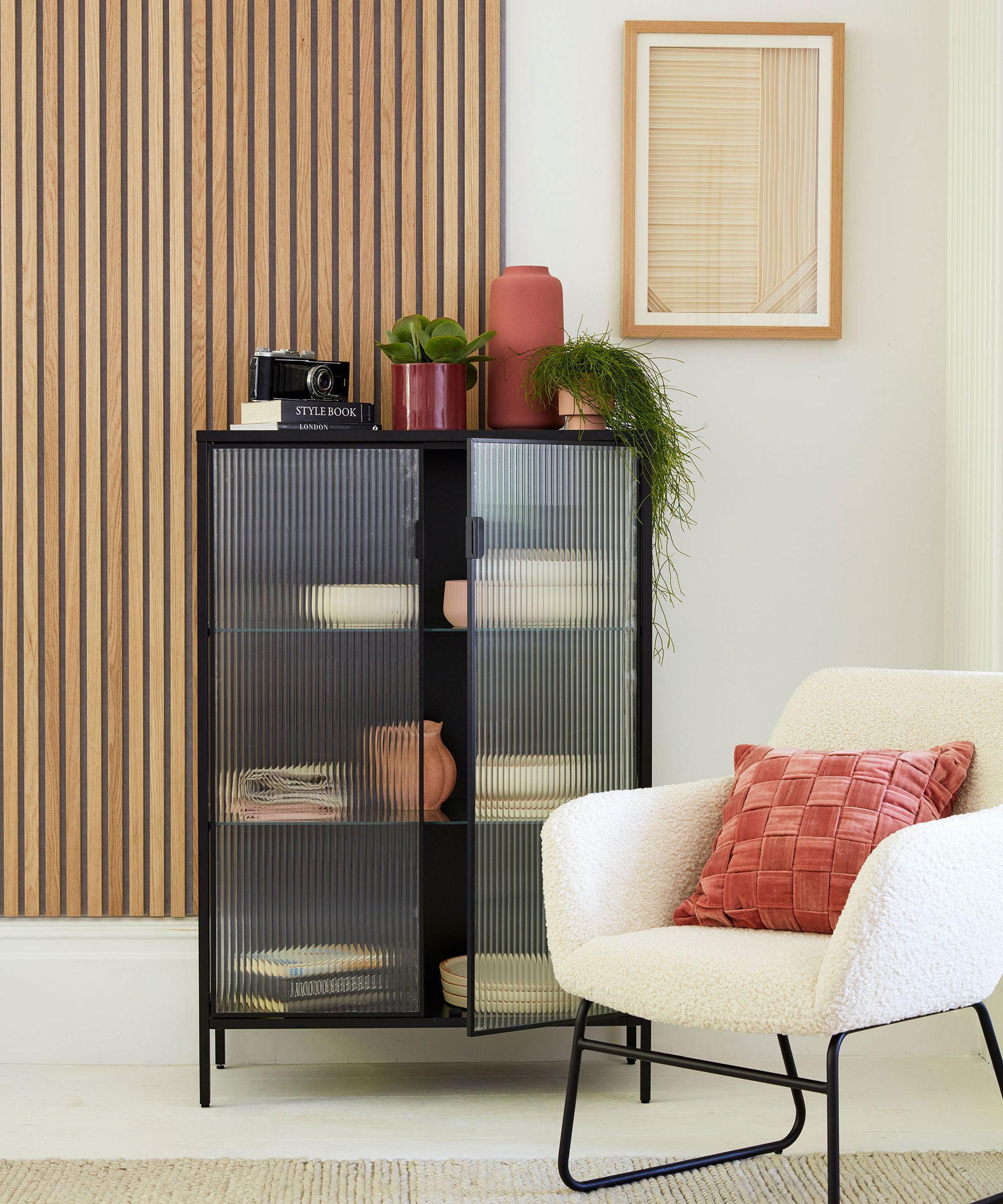 Use glass film like this Solyx Reeded Glass adhesive film, from £16.67 for L30xW68.5cm roll, Glass Films to transform a plain display cabinet into an up-to-date living room storage idea. The fluted glass film will also help to prevent chips and scratches. Or give it a twist by choosing a stained glass or patterned window film design, for a truly bespoke cabinet.
Be sure not to overcrowd the shelves inside. Use stacks of bowls, piles of books and objects with interesting shapes to create balance in your display.
13. Makeover a kids bed with wallpaper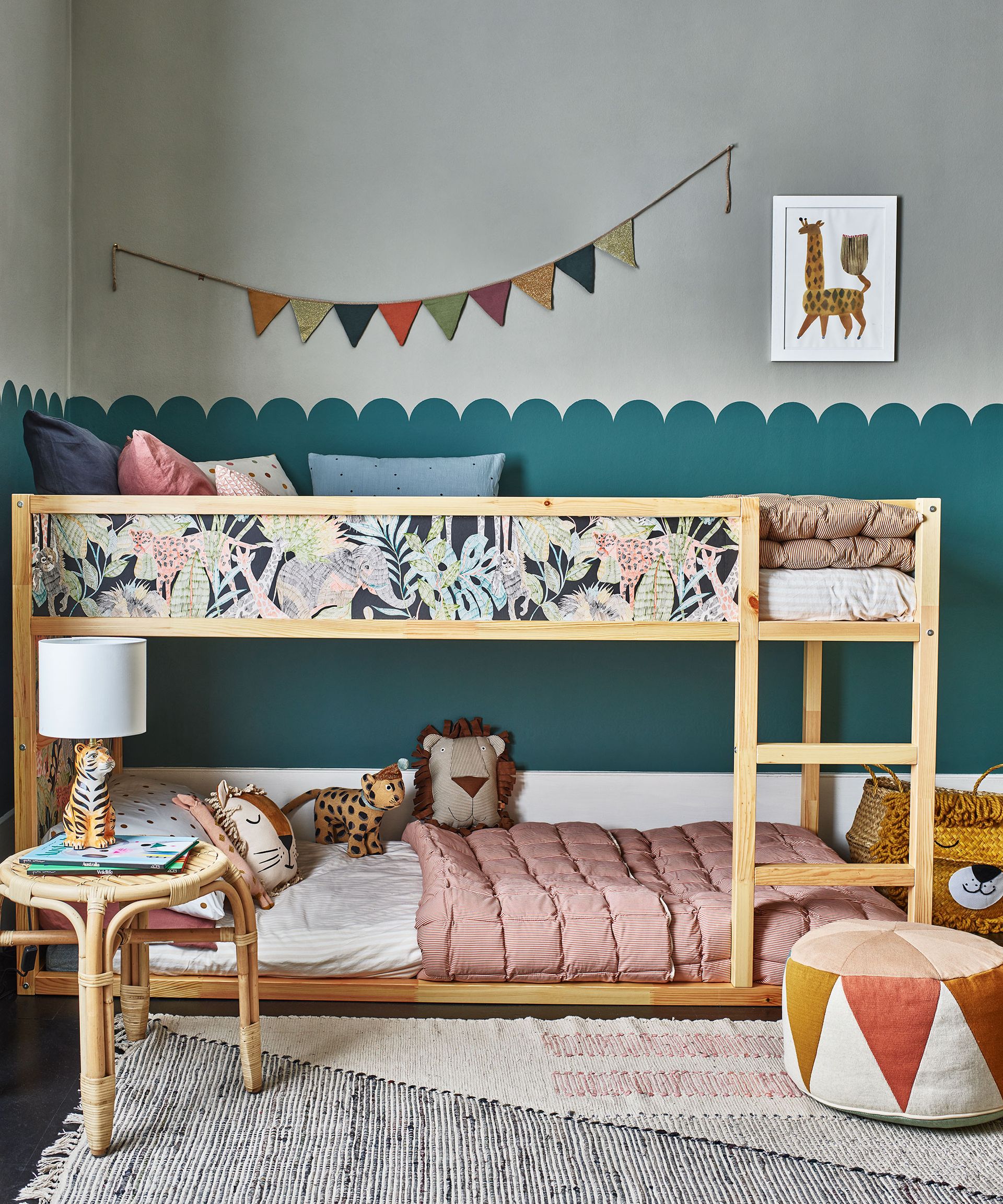 Upgrade a simple Kura bunk bed, £189, Ikea, with a fun, jungle-print wallpaper. Simply measure and cut your paper to size, then paste the surface of the bed's front and end panels and fix the wallpaper in place. You could even paint the frame too, but do this before you add your chosen wallpaper. Add cushions, fairy lights and books to the bottom bunk to make a hideaway reading nook.
Add a decorative layer to your kids bedroom by painting a scalloped wall too.
14. Wallpaper a kitchen island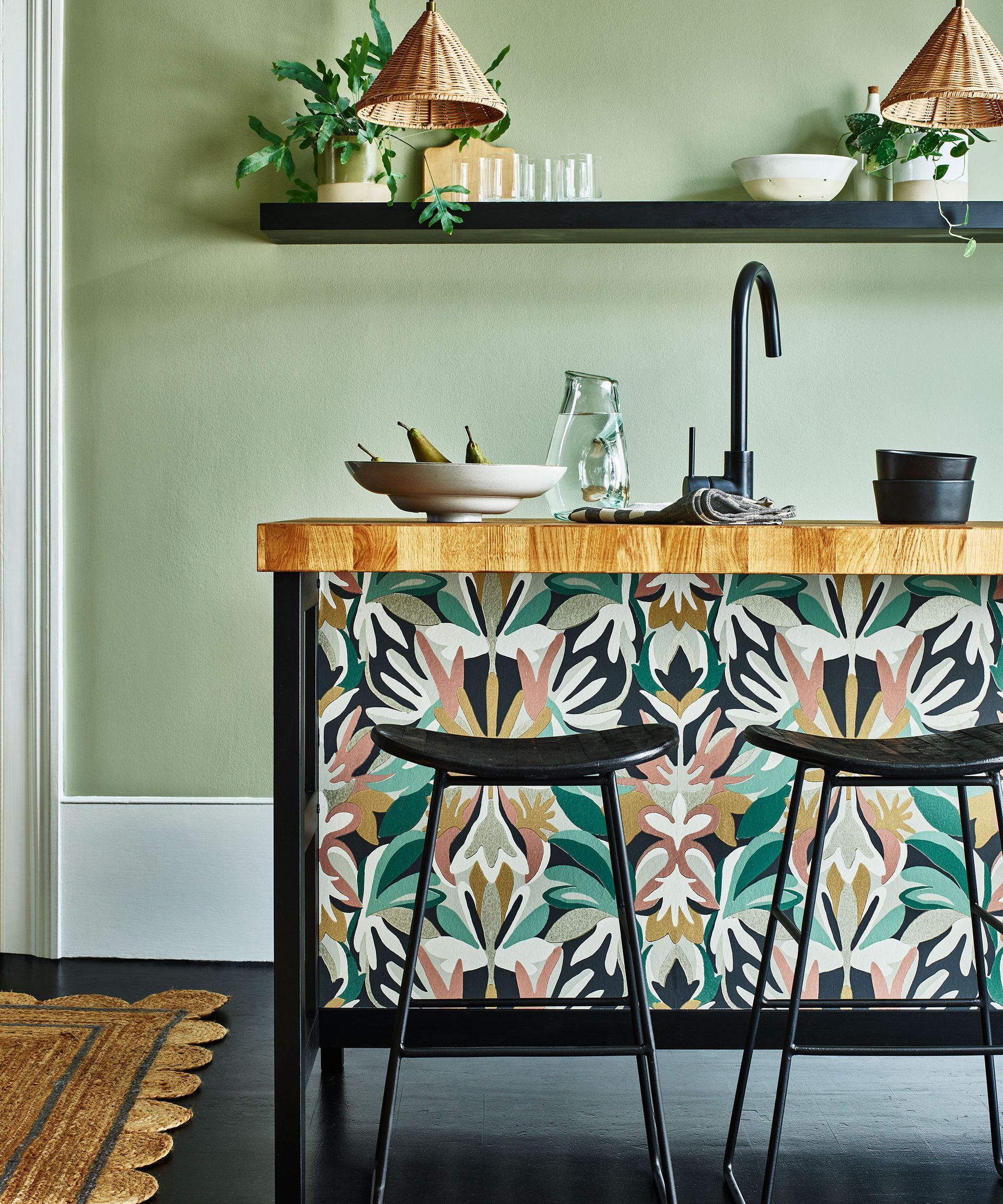 Hit refresh in your kitchen and wallpaper one side of a kitchen island to add a touch of pattern to a pared-back scheme. Start by measuring the surface area of the island so you know how much wallpaper you'll need. You might be able to get away with leftovers from a previous project, or just buying a single roll.
Next, ensure the surface of the island side is dust and dirt free. Give it a wash with a cream cleaner, then wipe again with a damp cloth. Leave to dry. Using a strong adhesive, (which one you use will depend on the material of the island- a permanent spray mount, strong wallpaper paste or multi-surface glue are all options) carefully attach your chosen wallpaper, smoothing out any air bubbles or lumps as you go.
Use a clear varnish to seal and protect, or cover it in a sheet of coloured Perspex for a modern, practical feel.
15. Paint a circular canvas in a single, flat colour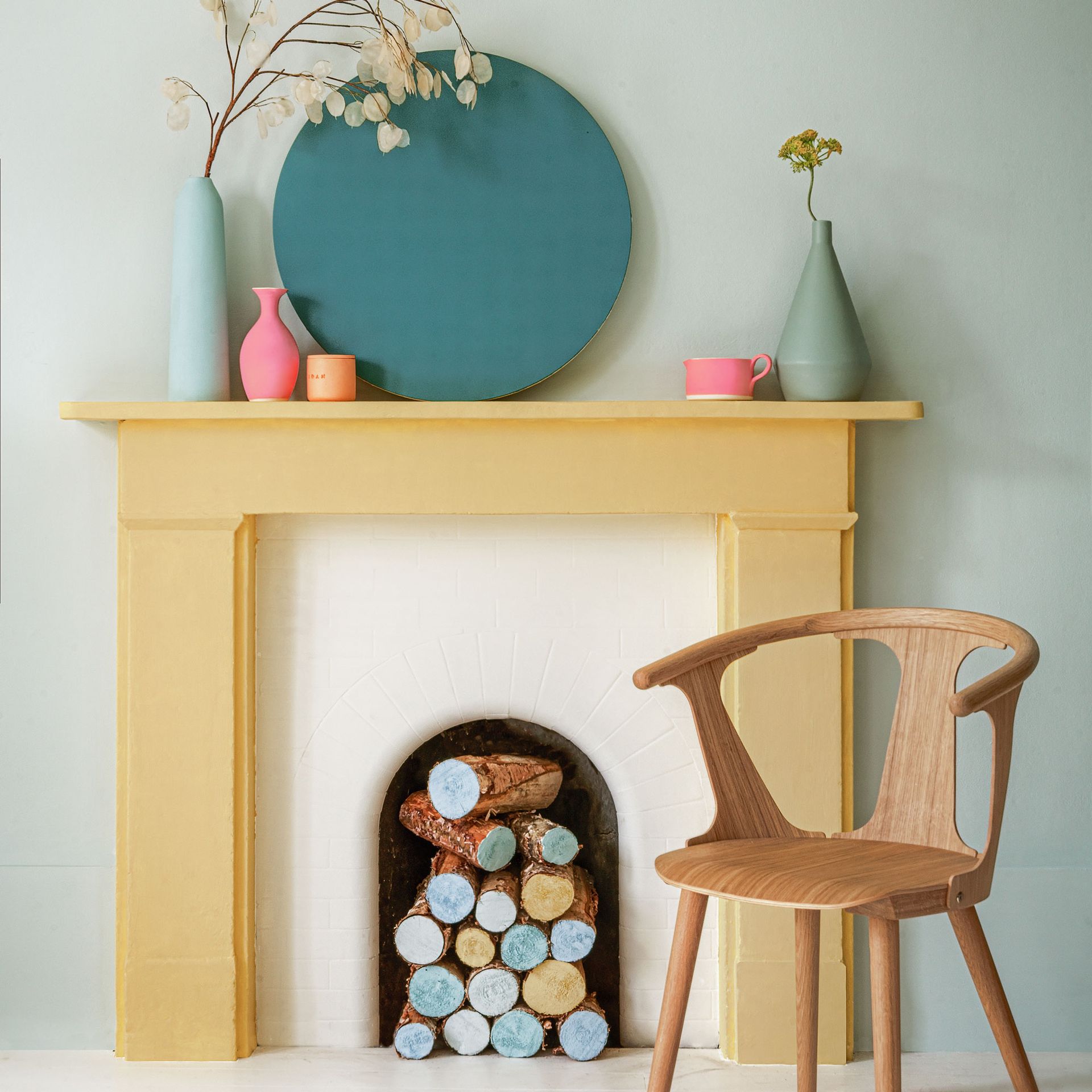 Make your fireplace feel more finished by painting a circular canvas, £19.59, Amazon and displaying it with vases and candles. This easy and cheap DIY is also a great way to fill blank patches of wall behind shelving, creating a colourful backdrop against which to display faux flowers or pussy willow branches.
16. Elevate drawer fronts with dowelling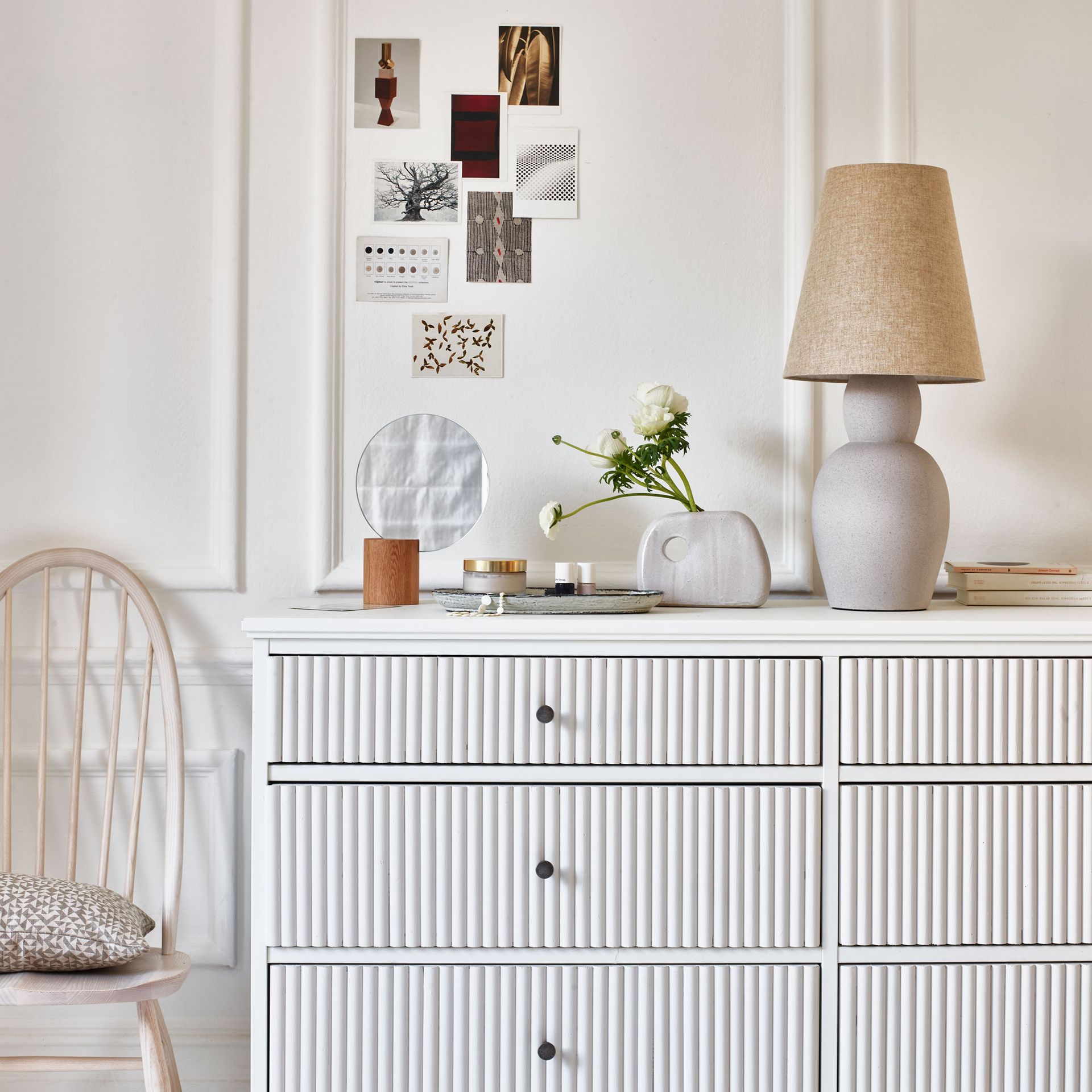 Give an old set of drawers a brand new look with this simple hack, that will take as little as an afternoon but will create a show-stopping transformation. Start by choosing a width of dowelling you like, to create this designer-look, fluted front. The slimmer the dowels, the fiddler the hack but it will still create a pleasing update. Next measure the height of each drawer and then cut the dowels to size. Attach the dowels in vertical strips to the drawer fronts with a strong wood glue, or alternatively tiny tacks to secure them into place.
Once dry, paint the dowels to match the colour of the unit. To give it a twist, paint the whole cabinet a bold, stand-out colour by using furniture chalk paint, or a matt eggshell paint.
17. Hang ombré-effect shelves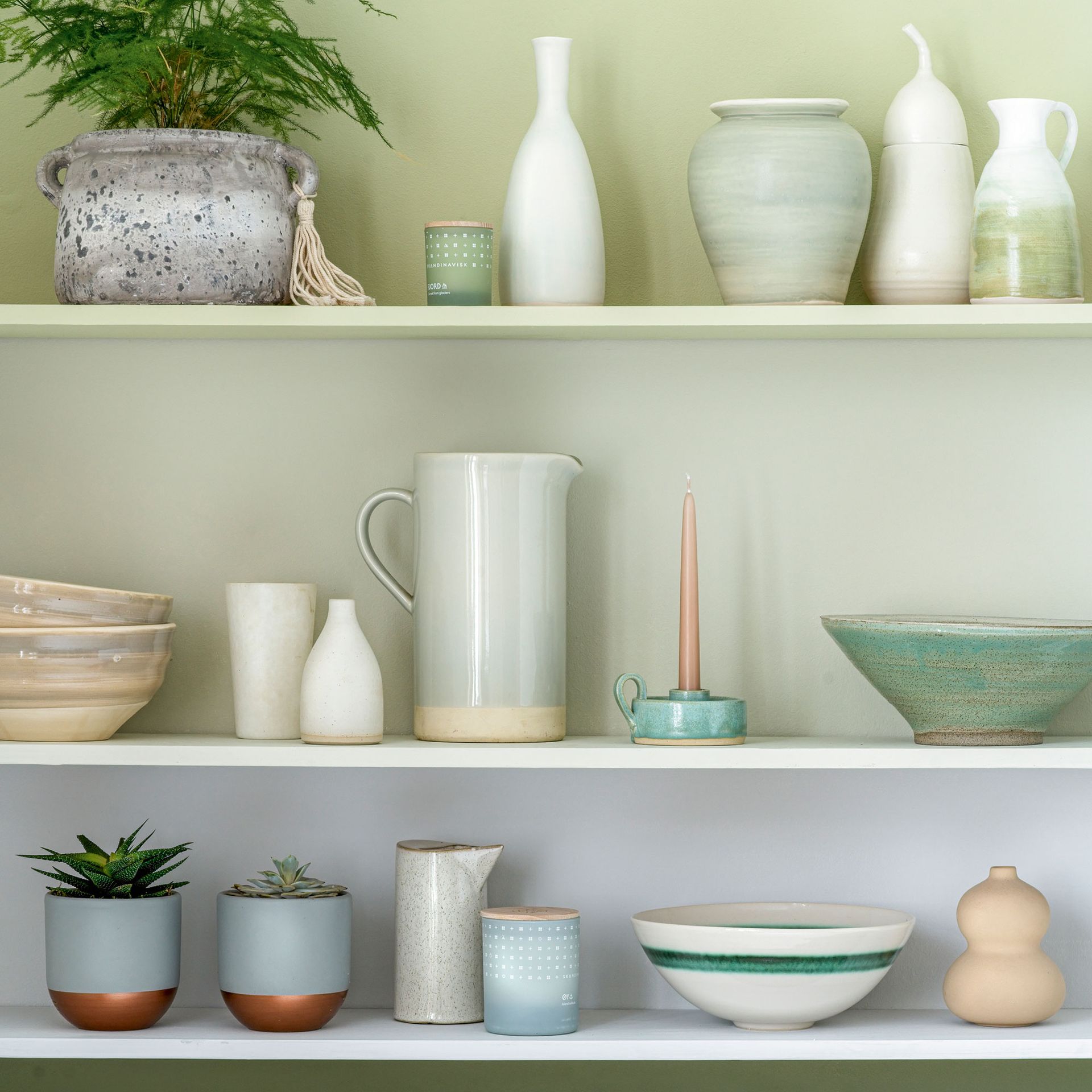 Hang three shelves, painting them the same colour as the wall space above to create a playful and tonal look. Take colours from the same family to create a contemporary ombré effect and the perfect backdrop for decor pieces in similar colours.
Floating shelves are a stylish and easy way of working extra storage or display space into a room. Whether it's a shelf for crockery and plants in a kitchen or dining room or a set of shelves for books, pictures and ornaments in a living room or bedroom.
Hanging a shelf shouldn't be too difficult a task, even if you have minimal DIY skills, and once you know how to put up a floating shelf you'll be more confident next time. You'll simply need to make sure that the wall is sound, you have the correct fixings to secure your shelf, plus a drill and a spirit level.
18. Revamp drawers with textured wallpaper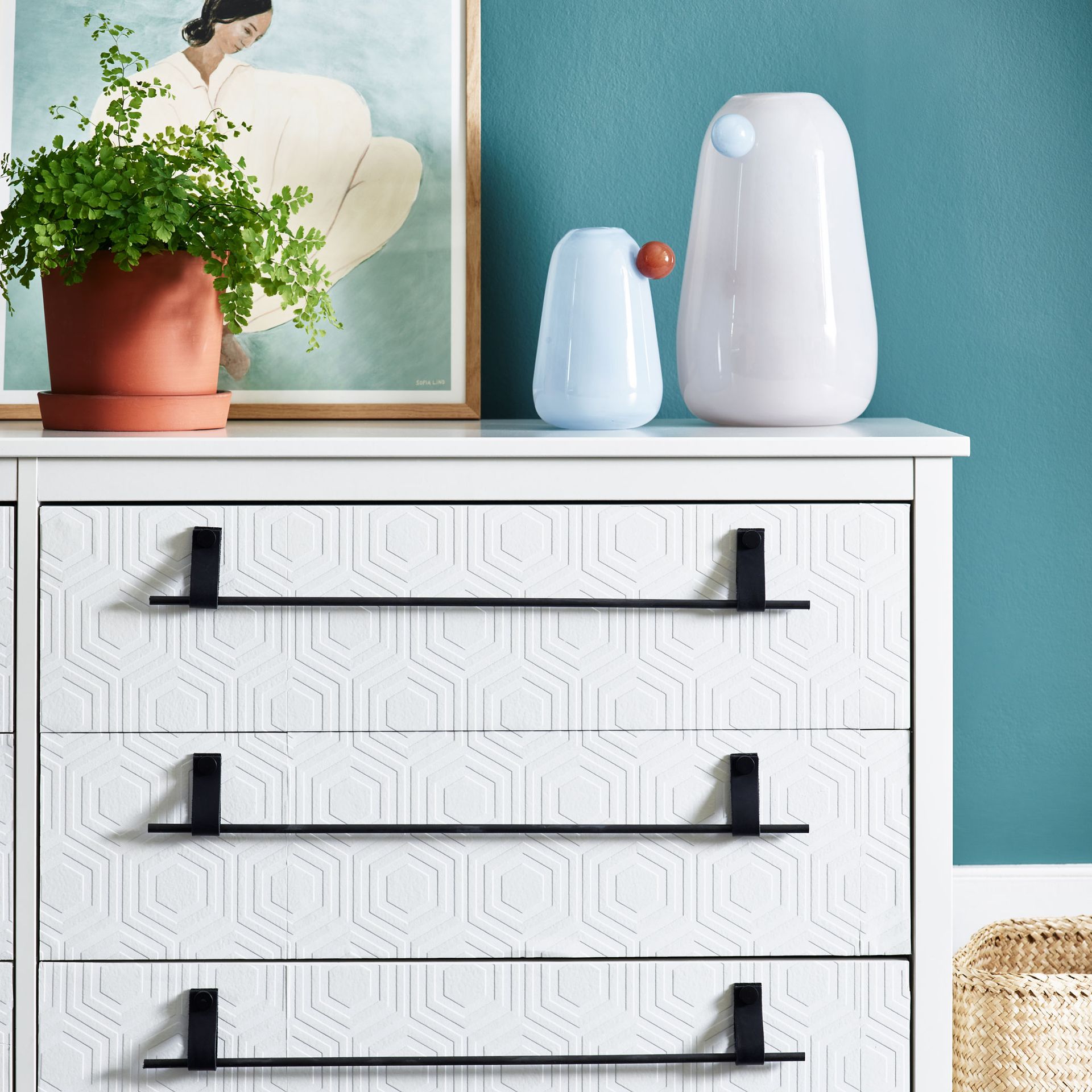 Revive a bland, basic set of drawers with the easy addition of textured wallpaper. Anaglypta might make you shudder, but it's been given a modern makeover and works perfectly for this task. Start by measuring your drawer fronts then source your wallpaper. WallpaperDirect has a good selection of both retro and contemporary designs.
Cut your paper to the exact size of your drawer fronts, making sure to line up each panel perfectly, then use wallpaper paste (or a strong adhesive) to attach each panel in turn. Next up, check for any air bubbles that might have got trapped and smooth out the paper. Wipe with a damp cloth.
Finally, attach sleek new handles and to really bring it bang up to date, paint the whole set of drawers a dark green or navy shade.
19. Jazz up a pinboard with statement paper
Pick up a basic cork pin board, £11.99, Amazon and cover in a bold patterned wallpaper to create a practical feature for the home office, kitchen or kids bedroom. Pick an impactful print with nods to the room's colour scheme to break up a wall and keep paper in one place, from tickets and postcards to bills and memos.
20. Paint an off-centre stripe of white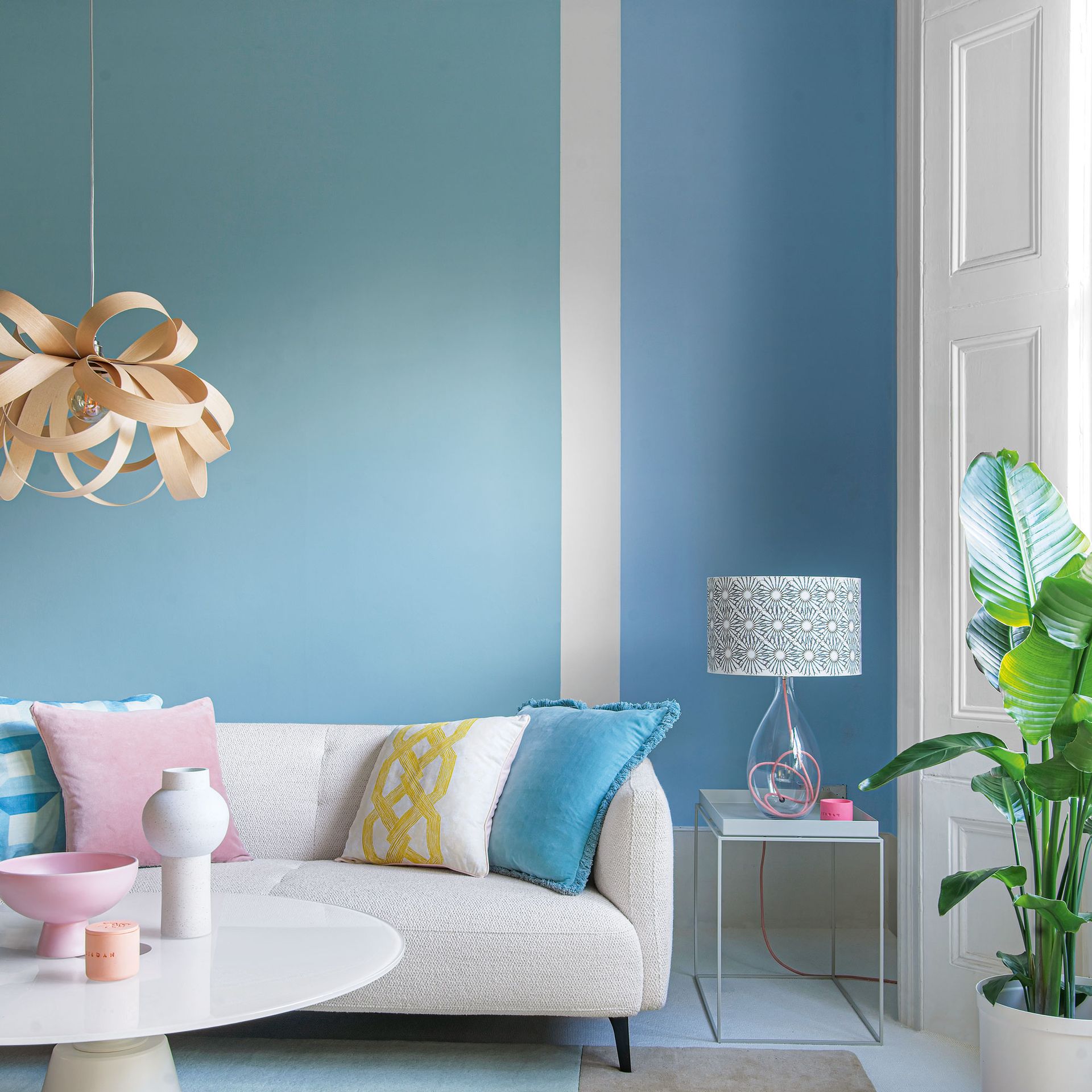 Divide a wall with a stripe of white, colour blocking on either side with uplifting shades of blue. This simple paint technique emphasises the height of your ceilings and creates visual interest. It would also work with the same colour either side, meaning all you'd need is some white paint.
21. Make a fabric headboard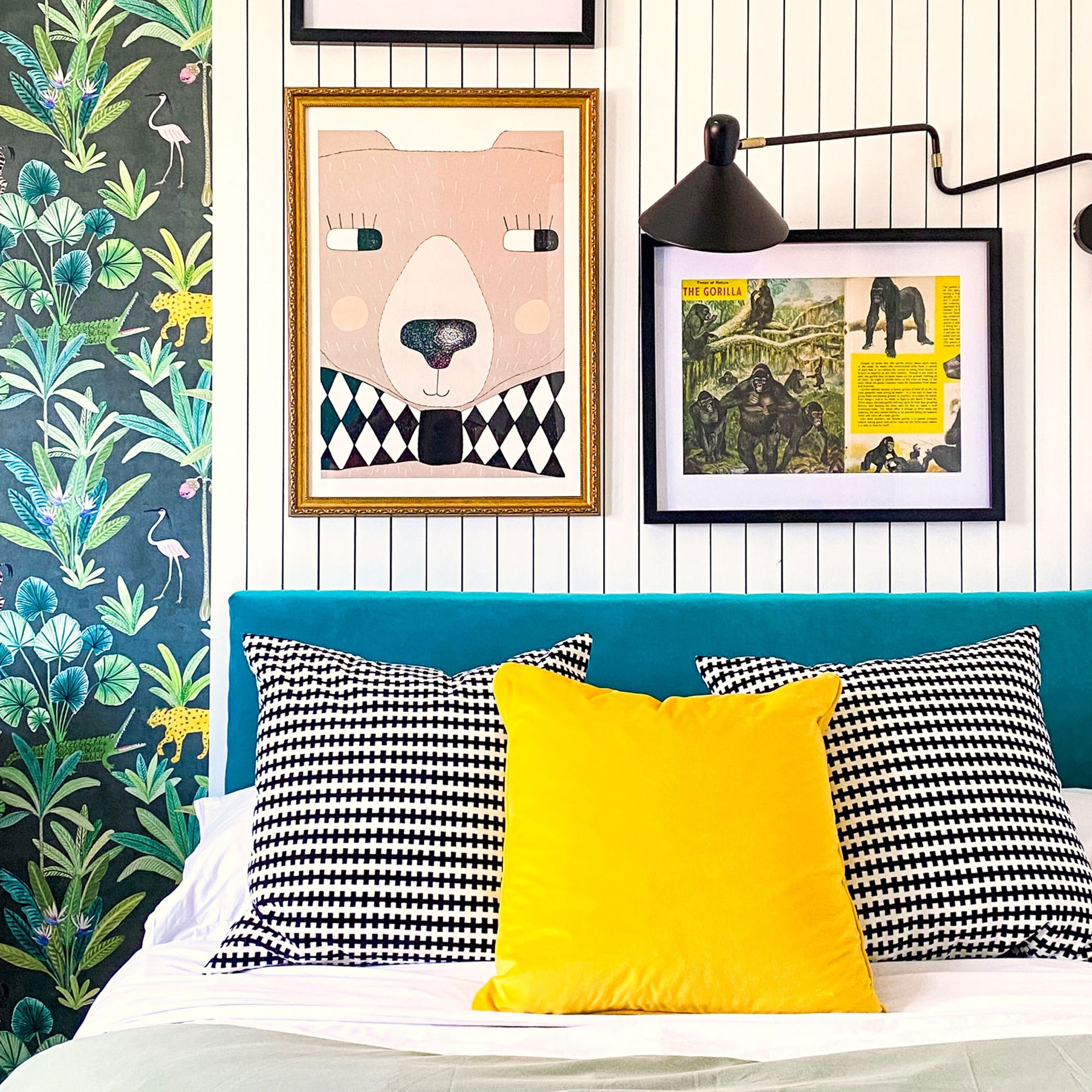 Interior designer Ju DePaula shared this easy headboard DIY on Instagram, using an MDF board, foam, wadding and some fabric. This is a great way to make your bedroom or a kids room feel all new again. Attach D rings to the back of the MDF as a first step so it's easy to hang. Check her Instagram @blueberrylivingco for measurements.
22. Frame a space with a painted arch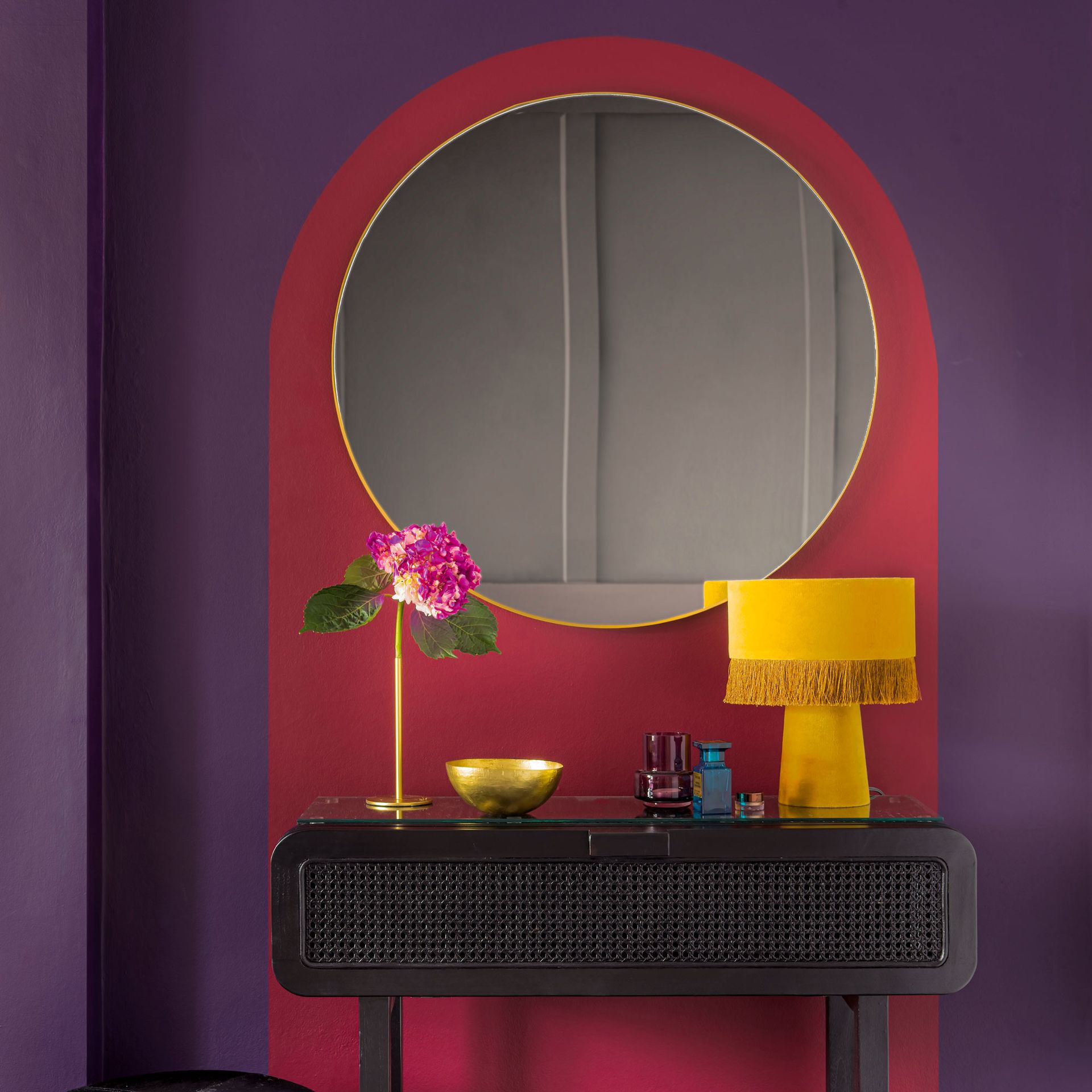 In a plain room where there isn't a natural focal point, use paint to create a bold look-at-me feature that will add another dimension to the space. A painted arch can be a useful technique if you want to zone a space to create a separate WFH or vanity area with a colourful arch as the backdrop for a desk or dressing table.
23. Transform plate racks into flexible shelving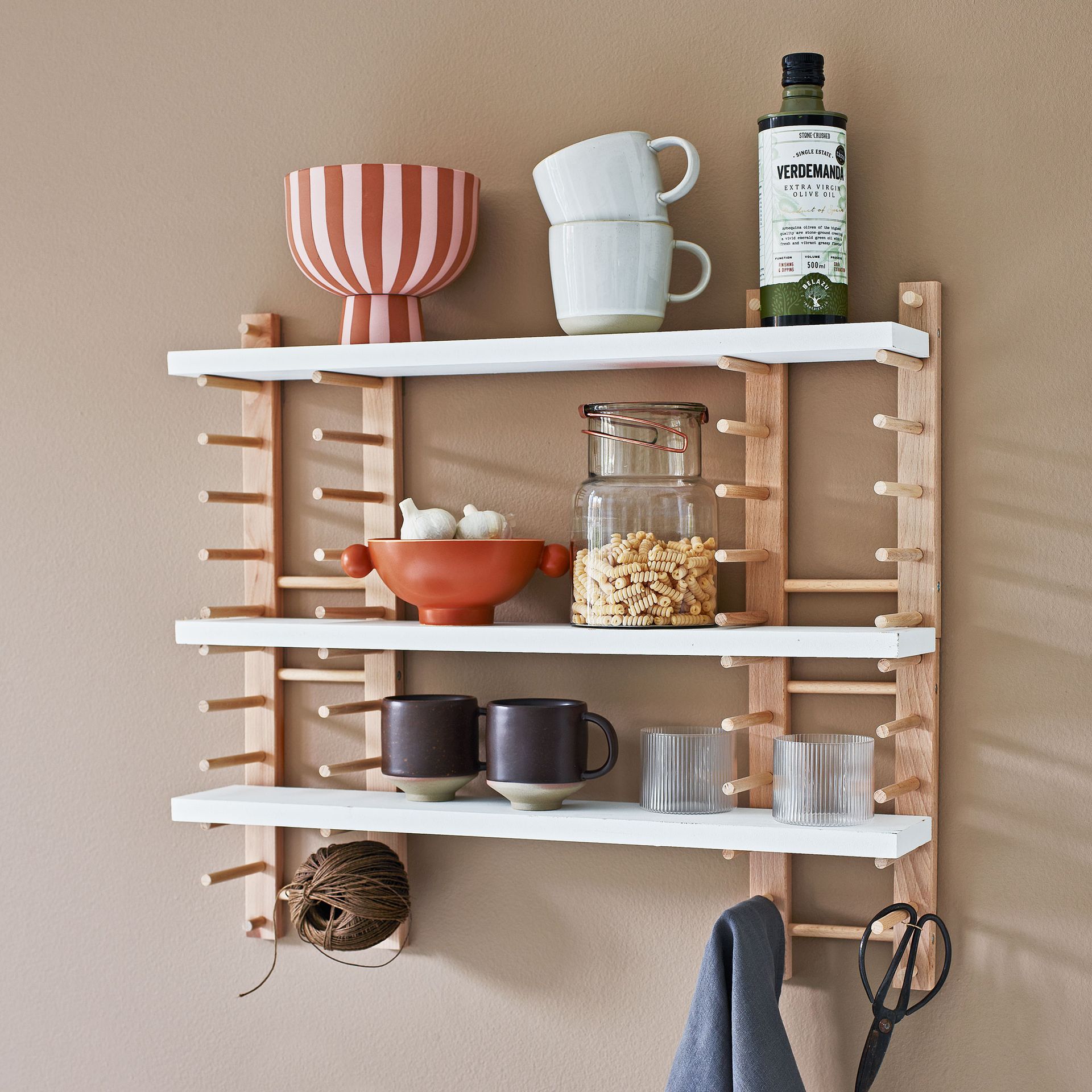 Kitchen storage ideas bursting at the seams? Make use of an empty wall by mounting beech plate holders, lining them up next to each other and using planks of MDF for shelves. Not only does this give you extra space for plates, bowls and mugs, but it's also a unique and stylish feature.
Why not paint a rectangle of contrasting colour behind the shelving to make it stand out? The lower dowels function as hooks for tea towels and kitchen utensils too, freeing up drawer space.
24. Paint inside shelving nooks in a tonal palette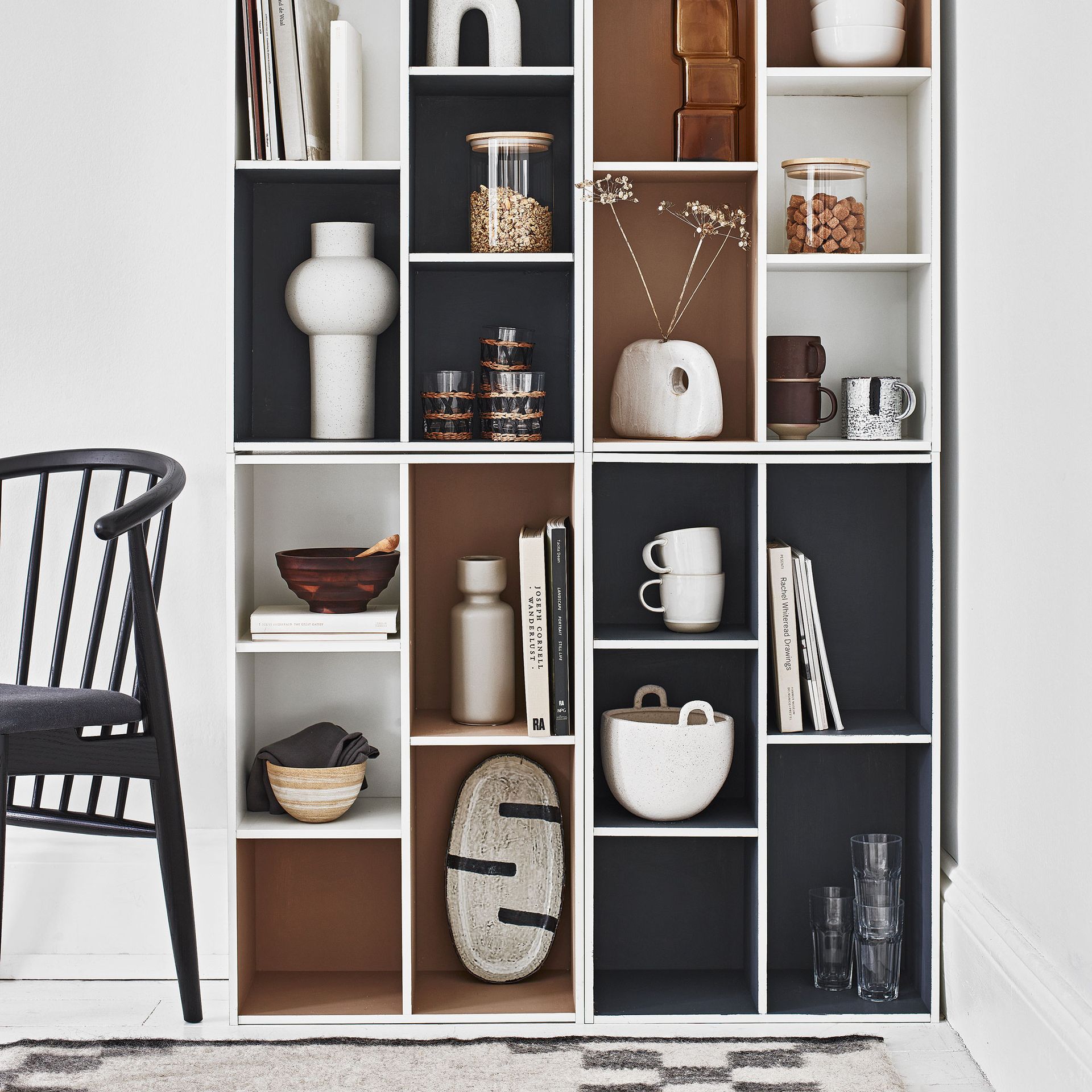 Stack together inexpensive bookcases and paint the inside recesses to create a dramatic backdrop for styling everyday objects, from bowls and mugs to glass storage jars. Safety first: ensure the bookcases are secured to the wall when stacking. Alternatively, you could use leftover wallpaper instead of paint for the interior of the shelves.
25. Transform windows and doors with film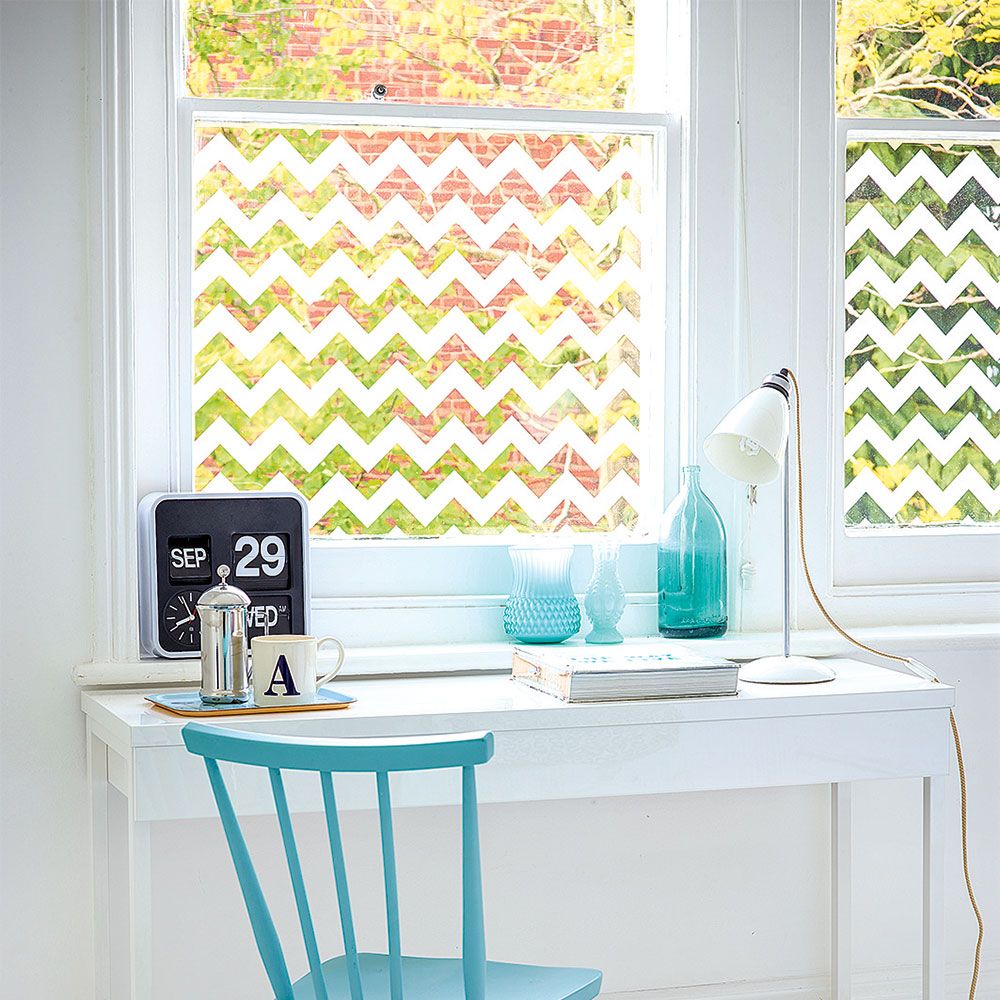 Window film is available to buy online, but you can also buy designs at the likes of B&Q and Screwfix. Use it to create an on-trend fluted pattern on plain glass doors, or to give yourself more privacy by covering the bottom half of windows. Browse all of the window film, at Amazon.
26. Paint the garden gate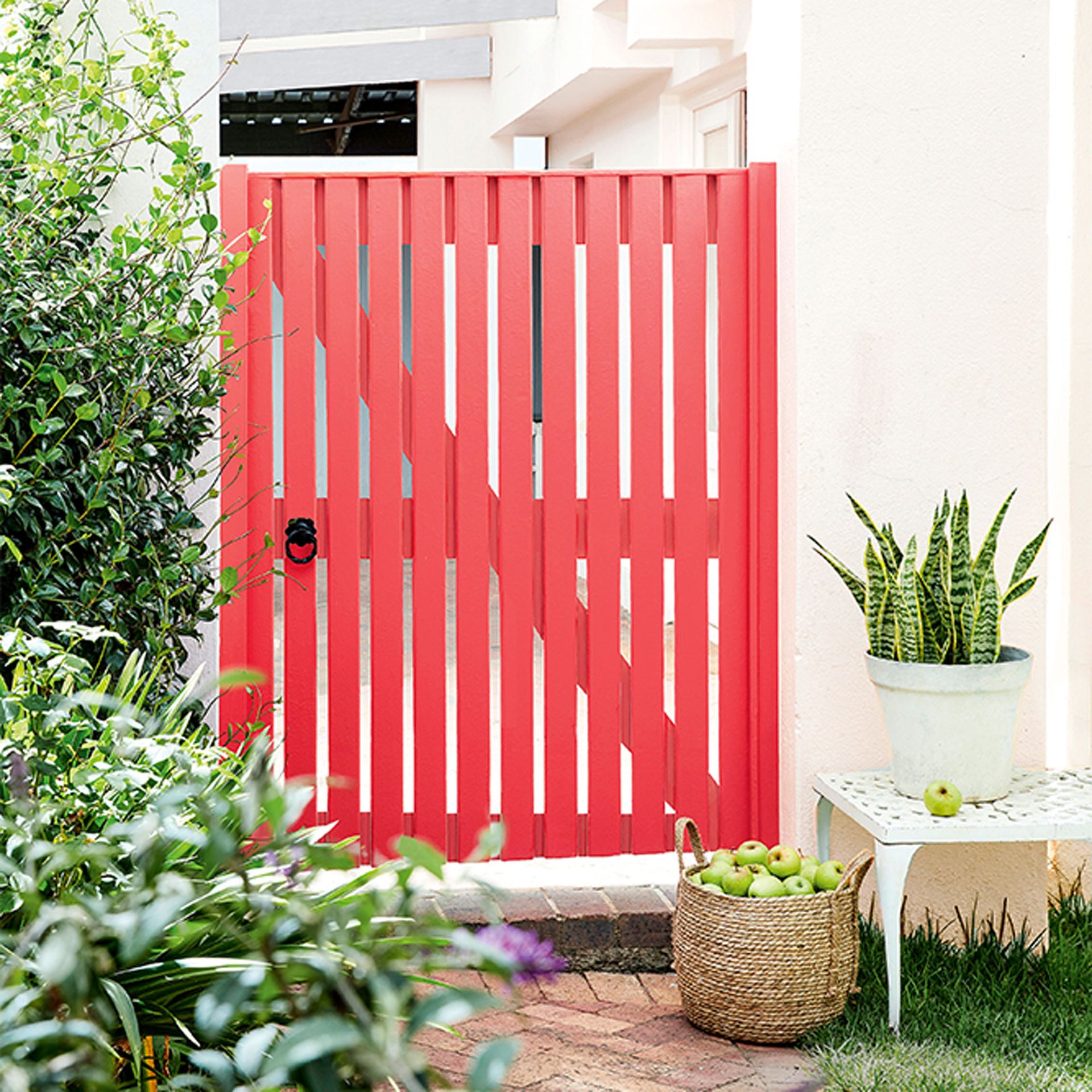 A brightly-painted front door can add bags of kerb appeal to a property, but if your side gate or garden gate is looking a little shabby, why not show it some love too with a creative garden paint idea? If the weather is fine, painting a gate is an easy project to tackle over a weekend, with plenty of drying time for any paint jobs indoors or out.
Opt for a cheery paint shade if you want to make your gate a focal point and team it with colourful flowers and planting that will echo the sunny theme. Try a muted colour or heritage shade if you want the gate to blend in with your property, or consider matching gate colour to the front door for a chic, co-ordinated look.
Whether your gate is wood or metal, start by giving it a light sand down to create a smooth finish. Cover up handles and hinges with tape and then apply a suitable primer on an unpainted gate, or undercoat if it has been painted previously. Finish off with a coat or two of exterior eggshell for a matt finish, or gloss to give a high-shine effect.
Why not grab a tin of Johnstone's Garden Colours paint from Amazon - it comes in a huge range of colours and comes highly rated by reviewers for painting exterior wood.
27. Line a cabinet with pretty paper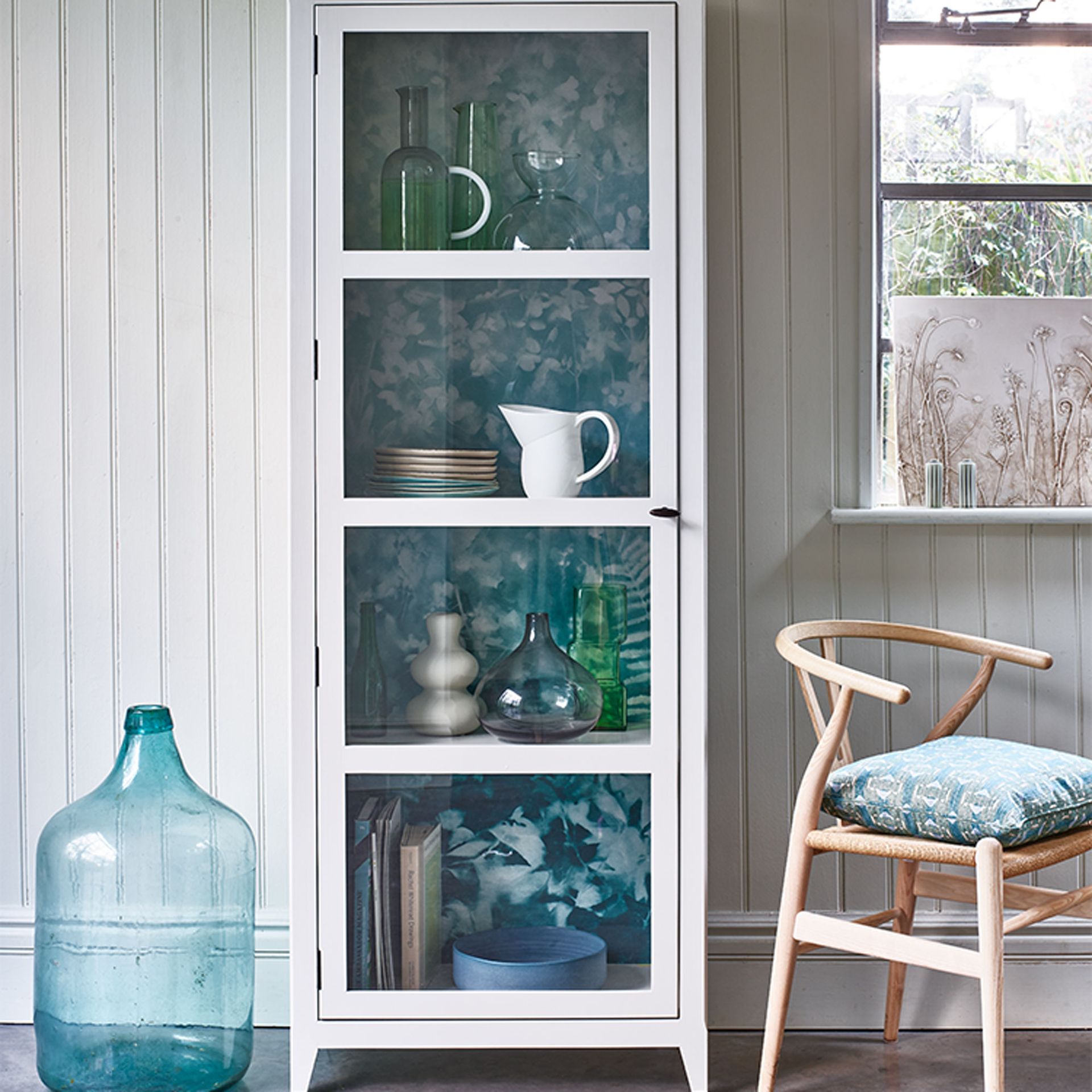 Give a plain cabinet or dresser an easy weekend makeover with a budget furniture upcycling idea, by lining the inside with a colourful paper. Using leftover remnants of wallpaper, craft paper or gift wrap will create a colourful backdrop for displaying favourite glassware and ceramics and choosing a darker shade will make display pieces stand out more.
Remove the shelves of your cabinet first and then measure up the interior. Consider using one single length of wallpaper for a uniform effect, or cut individual pieces of paper for each section in contrast colours or patterns. Secure paper to the back of the cabinet using contact adhesive.
28. Create a breakfast nook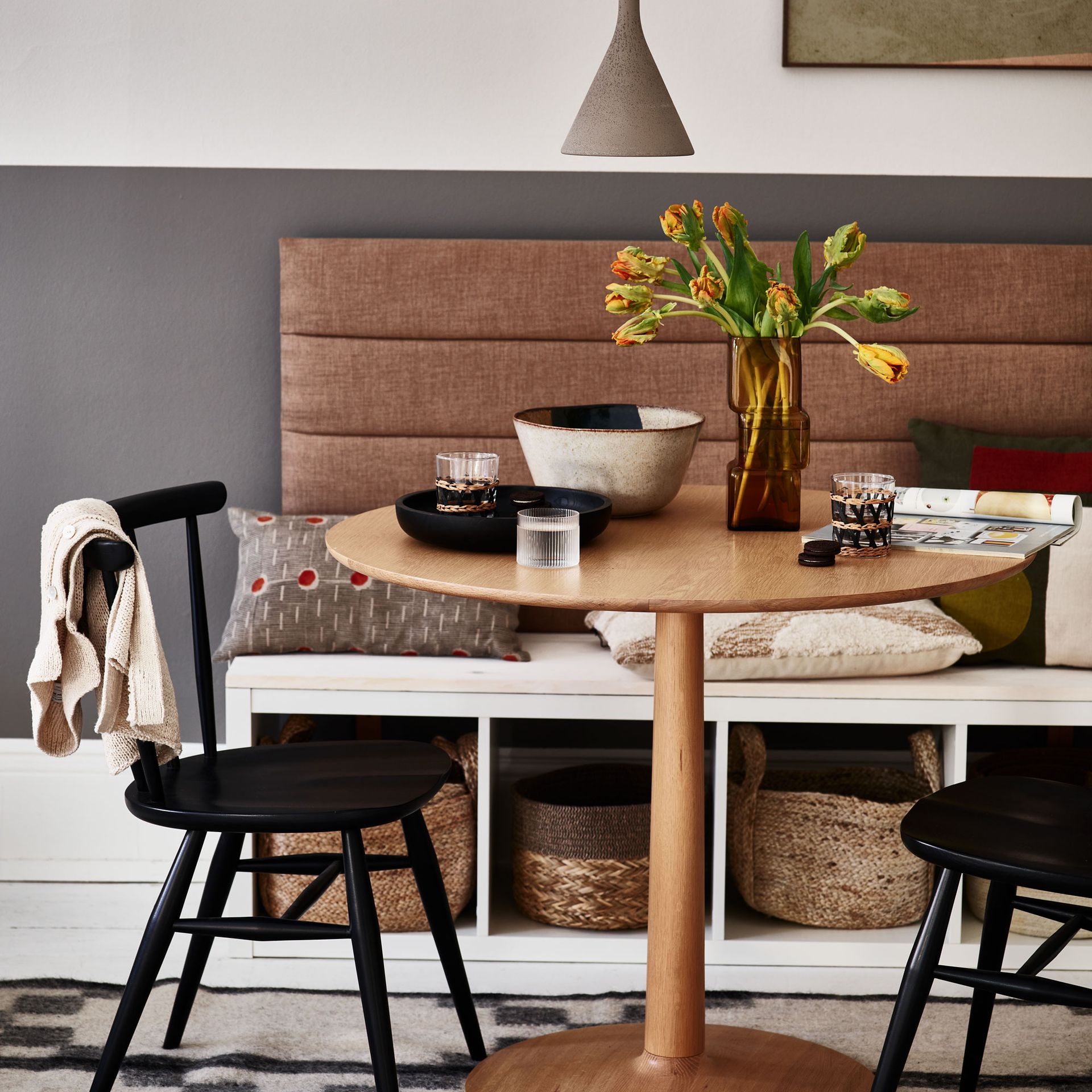 Carve out a corner seating area that's perfect for a family breakfast nook. Take an IKEA shelving unit as the base and combine with an upholstered headboard attached to the wall to make a backrest. Place your dining table next to it and nestle dining chairs around it for extra seating. Add cushions and blankets to cosy up the look and store baskets beneath to curb clutter.
29. Paint an easy feature wall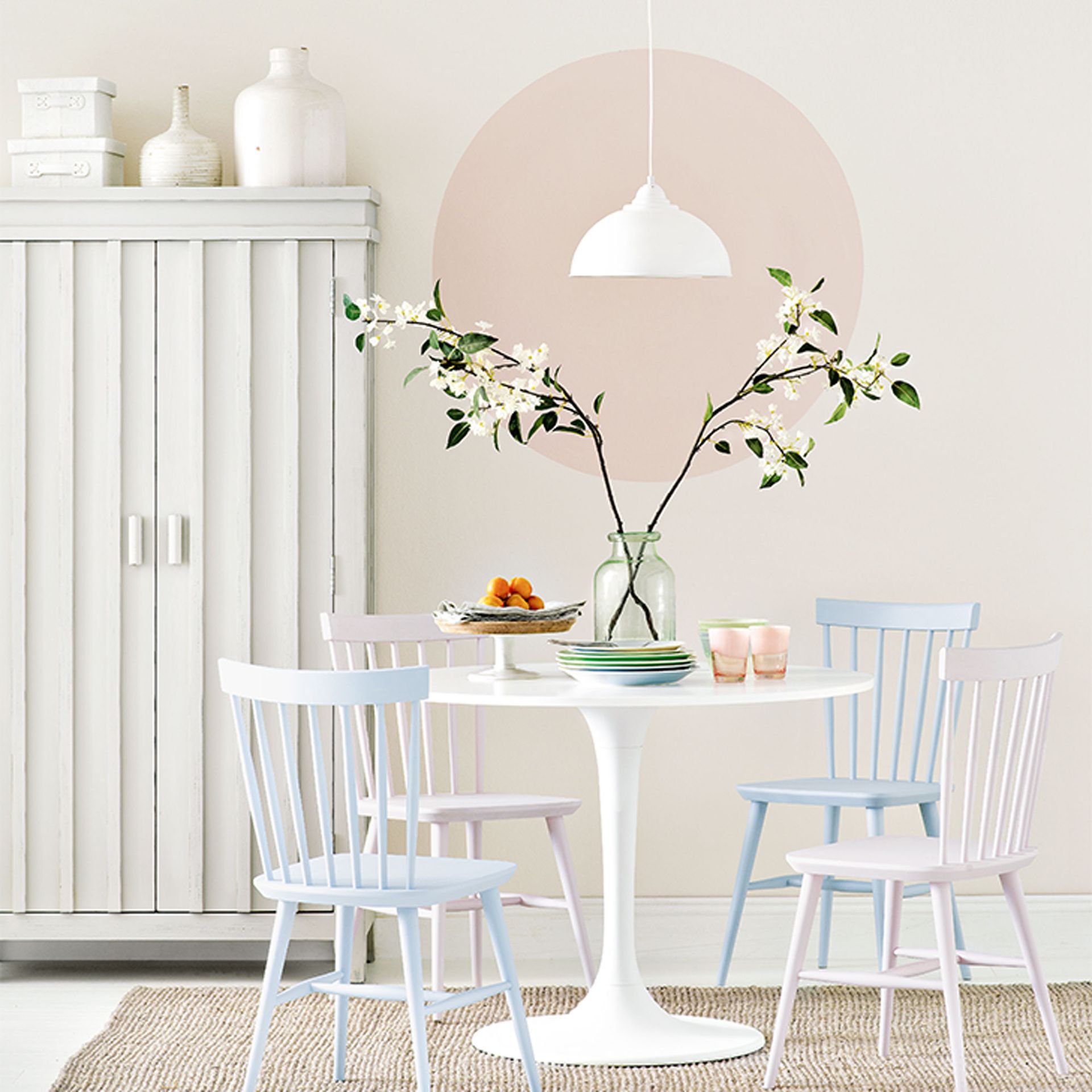 Try a simple paint project that will give a breakout breakfast area added focus with a fun feature wall idea. Painting a contrast panel on a wall is a simple trick that can be a useful way of creating zones in an open-plan area. A coloured panel helps to create a focal point, whether it's a circle or a square, which can then act as a backdrop for a small arrangement of furniture.
Paint a contrast-coloured circle to echo the shape of a round dining table. To achieve a neat circle, cut a length of string measuring the radius of the circle and attach to a tack. Tie a pencil or chalk to the other end, then, holding the tack in the centre of where you want your circle, draw it out. Fill in with paint using an angled brush for a neat edge.
30. Create an 'easy-change' gallery wall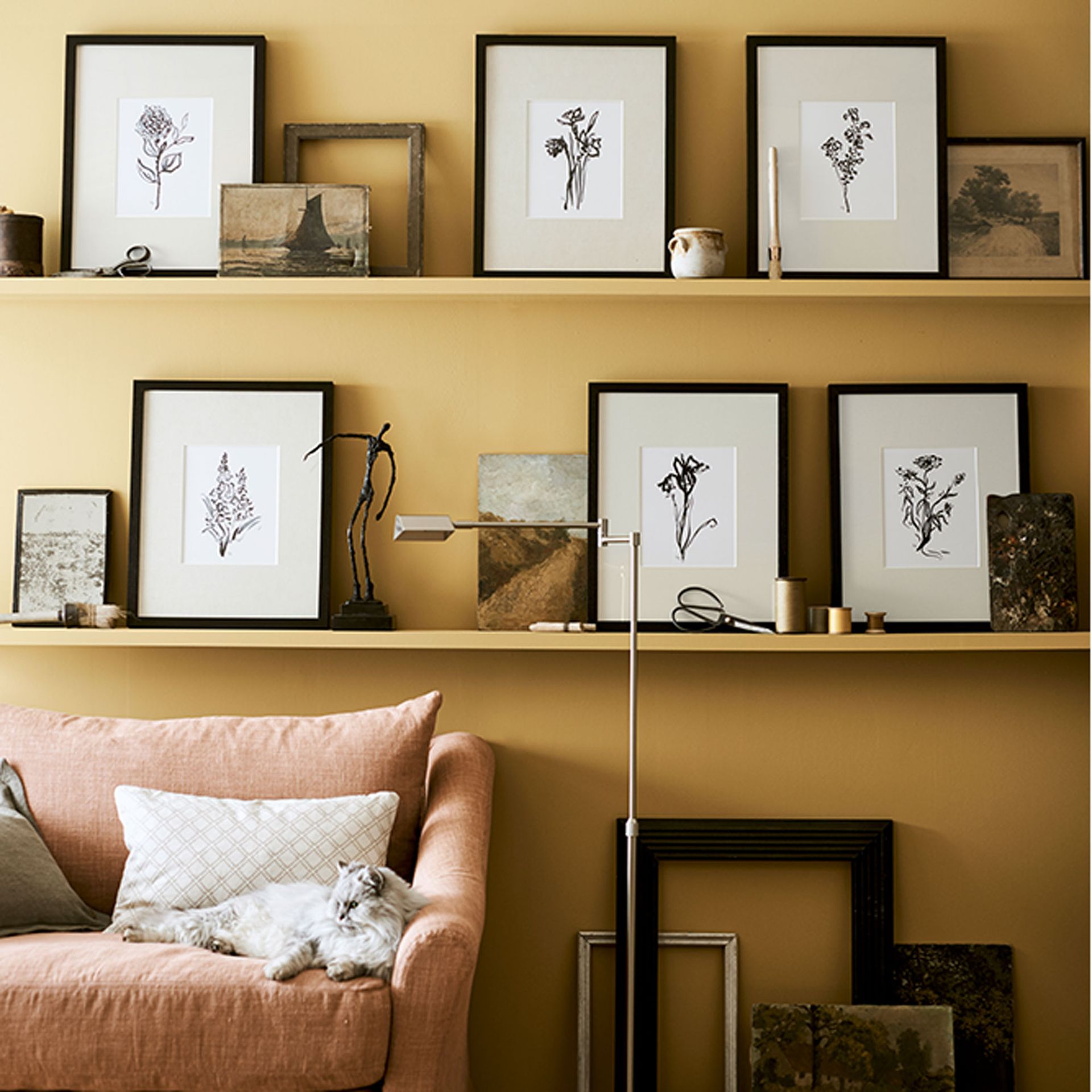 Got lots of pictures and prints that you haven't got around to putting up yet? This easy display idea can be sorted in less than a day and makes an alternative to a fixed gallery wall as pictures can be moved around or added to if you fancy a change later down the line.
You'll need two or three narrow wooden picture ledges to create this effect. Either make your own using a couple of lengths of timber or buy ready-made ledges – IKEA's Mosslanda ledges start at just £5 each and are ideal. Otherwise, these Amazon picture ledges come highly recommended by reviewers and they come in a pack of 3. Arrange the ledges in rows on your wall, using a spirit level to make sure that they are straight. The gap between each ledge should depend on the height of the tallest item you'll be displaying.
Ledges can be painted to match the wall for a seamless look or opt for a contrasting colour that will stand out against the backdrop. Once up, simply prop pictures against the wall and fill in any gaps with small ornaments.
31. Try a two-tone paint treatment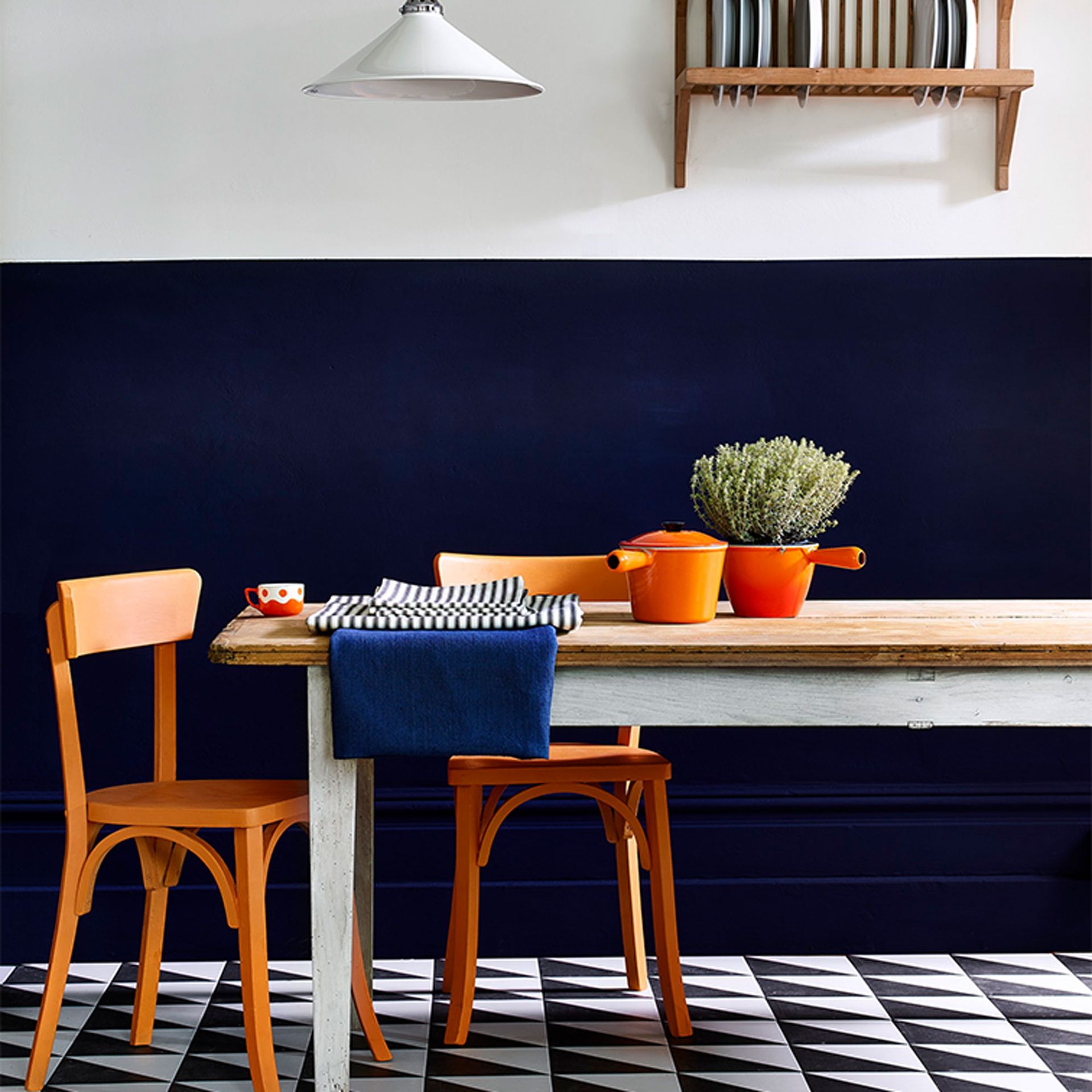 If you've a plain white room that's lacking a little oomph, try this easy but effective paint treatment that can be completed in just a day, rather than tackling a full room redo. Half-painted walls are super on trend at the moment and are a clever way of giving tired rooms new focus with a bold shot of colour.
Starting off with a white or pale-coloured wall is the simplest option. Apply a band of masking tape to the wall where you want your dividing line to be – the tape will help create a crisp edge – then fill in with darker-coloured paint. Using a dark colour on the bottom section of walls and skirting helps a room to feel more grounded and gives a darker backdrop to showcase furniture and accessories. A lighter colour at the top will make a room feel more lofty.
32. Add a pop of unexpected colour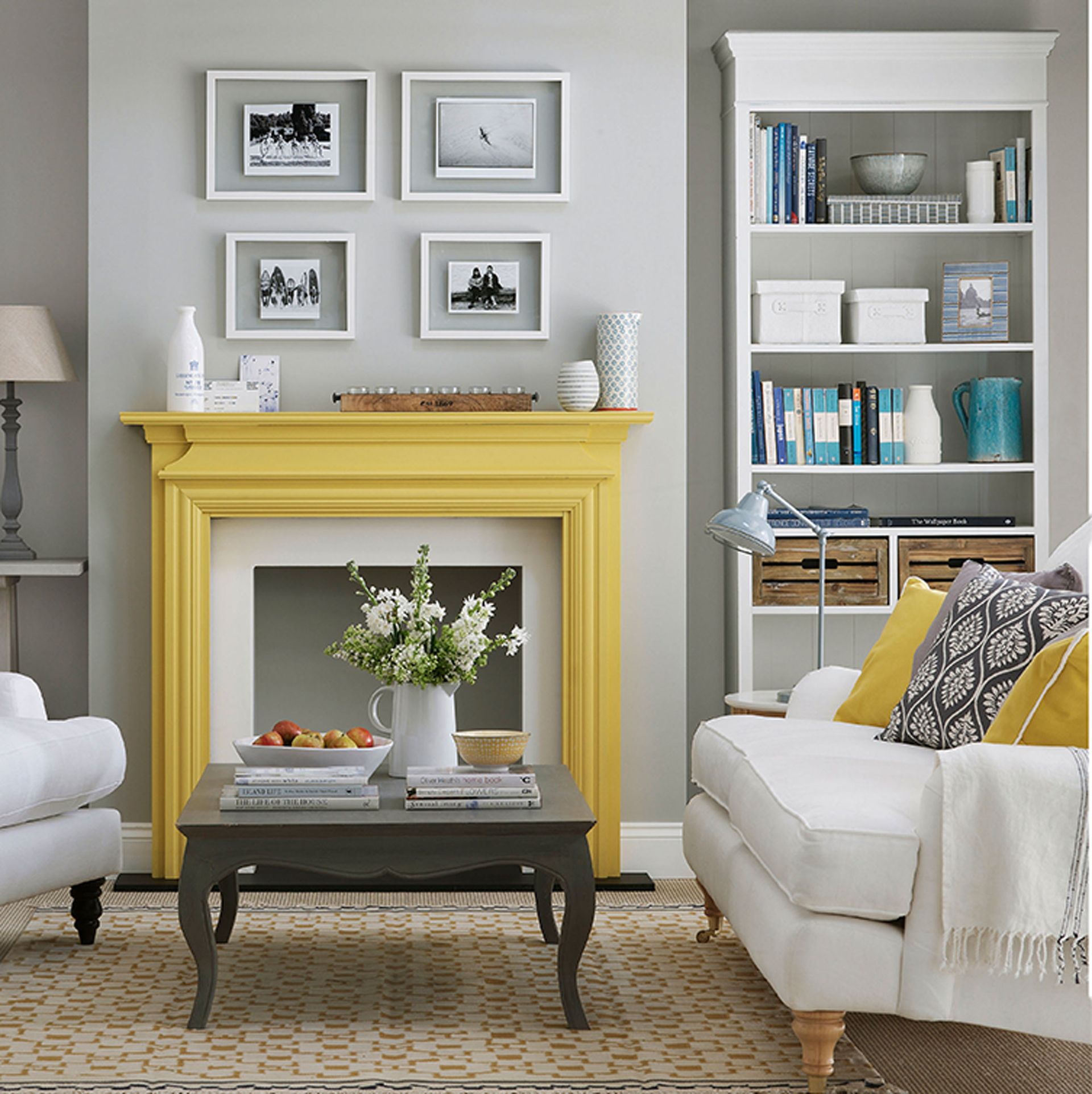 Try this quick trick to brighten up a tired room – it'll cost the price of a tin of paint and won't take longer than a couple of hours to do.
Perfect for a neutral living room that lacks energy, simply paint the fireplace or a large piece of furniture in a bright, eye-popping shade that will grab the attention and give the room a focal point. Bring in extra touches of colour here and there to give the room symmetry and balance, but take care not to overdo it or you'll ruin the effect.
33. Brighten up a shabby dining table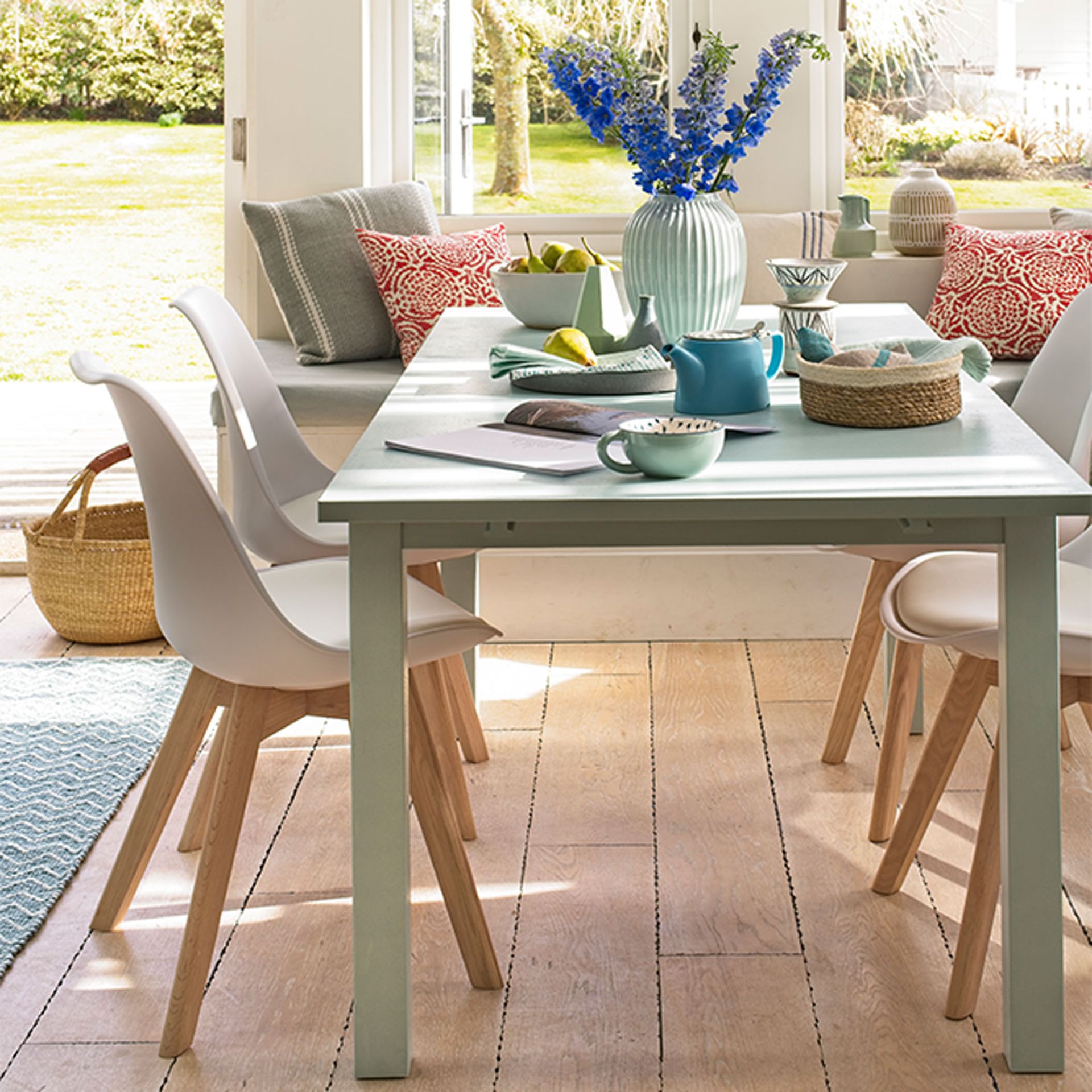 Breathe new life into old furniture by sprucing it up with a fresh coat of paint. Save on prep time by opting for an all-in-one chalk paint, rather than using traditional paint and primer which can take much longer to dry. Chalk paint is self-levelling and self-sealing, so gives excellent coverage with minimal effort.
Just give the surface of the table a quick sand down first and then wipe over with a damp cloth to get rid of any dust and grease. Paint the table and leave to dry for a couple of hours. For extra protection, if required, seal the painted surface with wax or a finishing sealer.
34. Make your own boho chandelier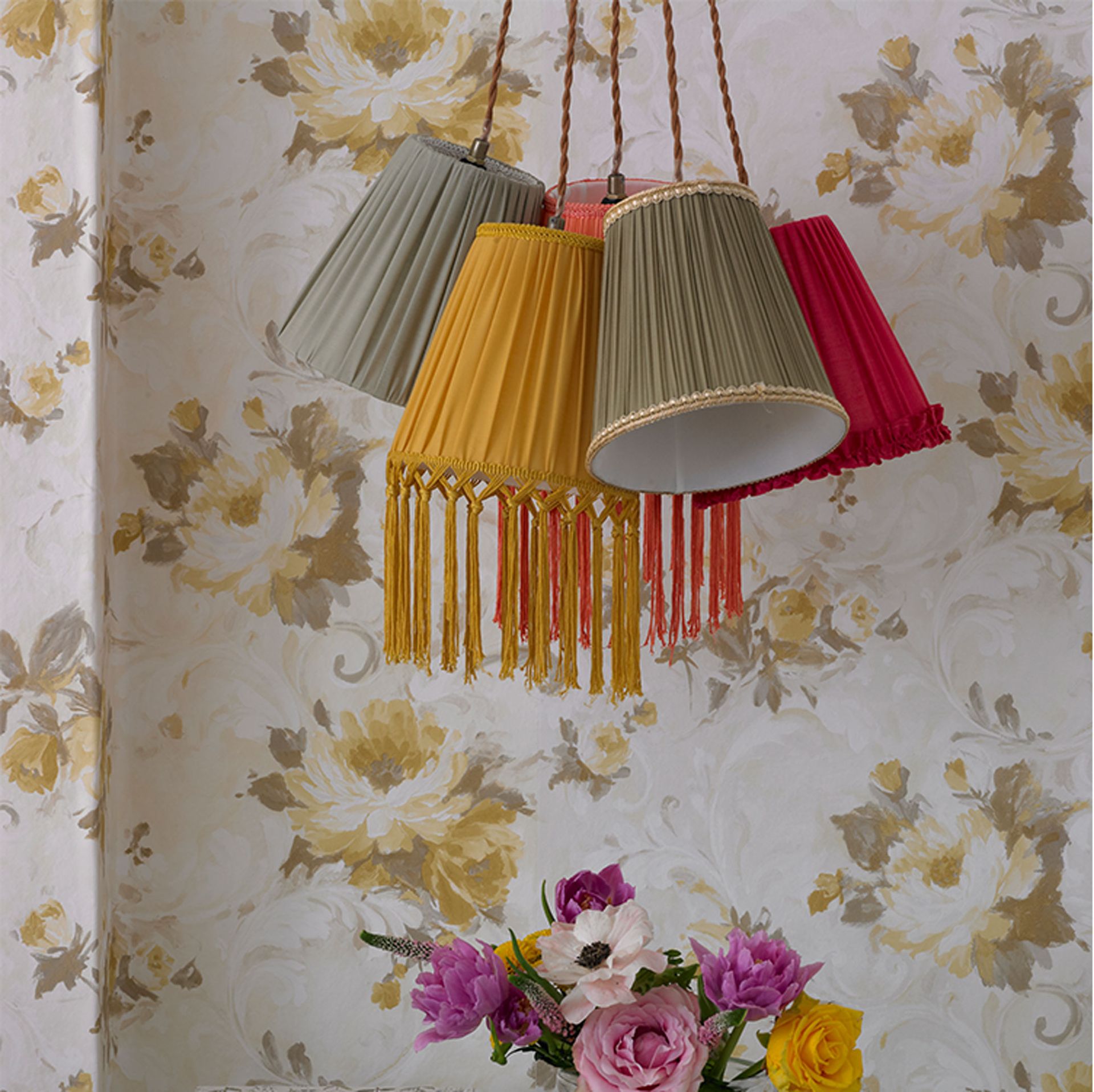 Repurpose a handful of old mini lampshades and create a unique vintage-style chandelier. Go for shades in bright clashing colours or mix-and-match florals and ditzy prints and jolly them up by adding colourful trims, tassels and ric-rac edging. Just use a hot gun to glue the trims on.
You'll need four or five mini shades to create a cluster-style chandelier pendant like this one and it will require individual light fittings and coloured cable for each pendant. If you don't already have the fittings, you'll find all the components you'll need at Creative Cables, with flex and cable sold by the metre.
35. Take a painted headboard up over the ceiling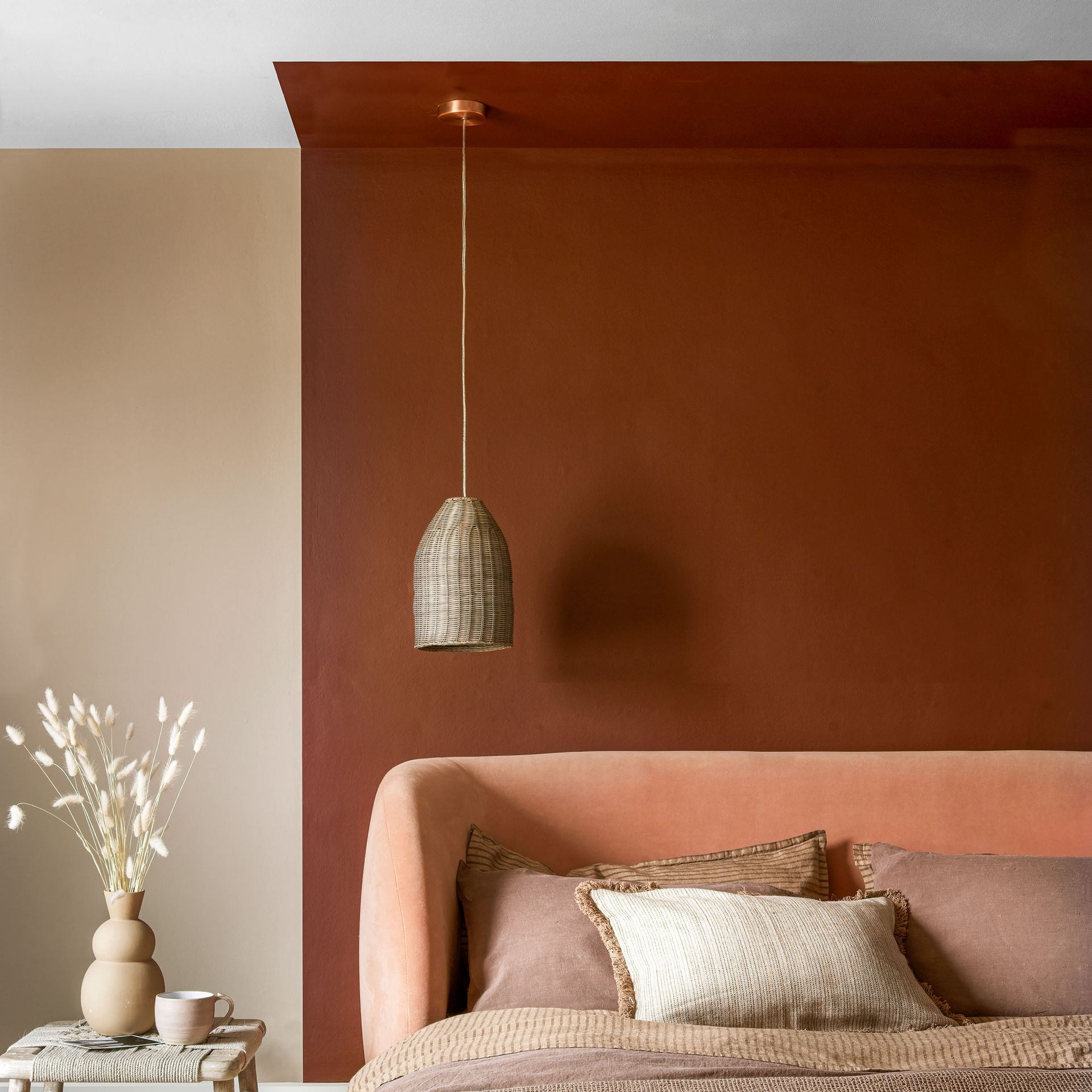 Use a leftover tin of paint to transform your bedroom with an imaginative DIY headboard idea. This instant four-poster paint trick brings drama and a cocooning feel to your sleep space. Choose a rich, deep tone to contrast against the rest of the wall and extend it out onto the ceiling.
Or, you could create an arch-shaped painted headboard: 'Creating a perfect semi-circle with paint is easier than you think,' says Judy Smith, Crown Paints Colour Consultant. 'First of all, measure the length of your wall and mark its centre, or wherever you want the centre of your semi-circle to be.'
'Hammer a nail into the spot you've just marked, just above the skirting board. Depending on how wide you want your semi-circle to be, measure out some string and cut to size. The longer the string, the bigger the semi-circle. Tie one end of the string to a pencil and the other end to the nail. If you're not allowed to use nails on your wall, extra strong tape will hold the string in place.'
'Once you're all set, start tracing out your semi-circle on the wall from one way to the other. Making sure you're pulling the pencil tight on the string. Once you've drawn the outline, use a small paintbrush to create a precise edge at the top of your semi-circle. You can then go in with a paint roller or larger brush to fill in the rest of the shape.'
36. Give an old piece of furniture a colourful makeover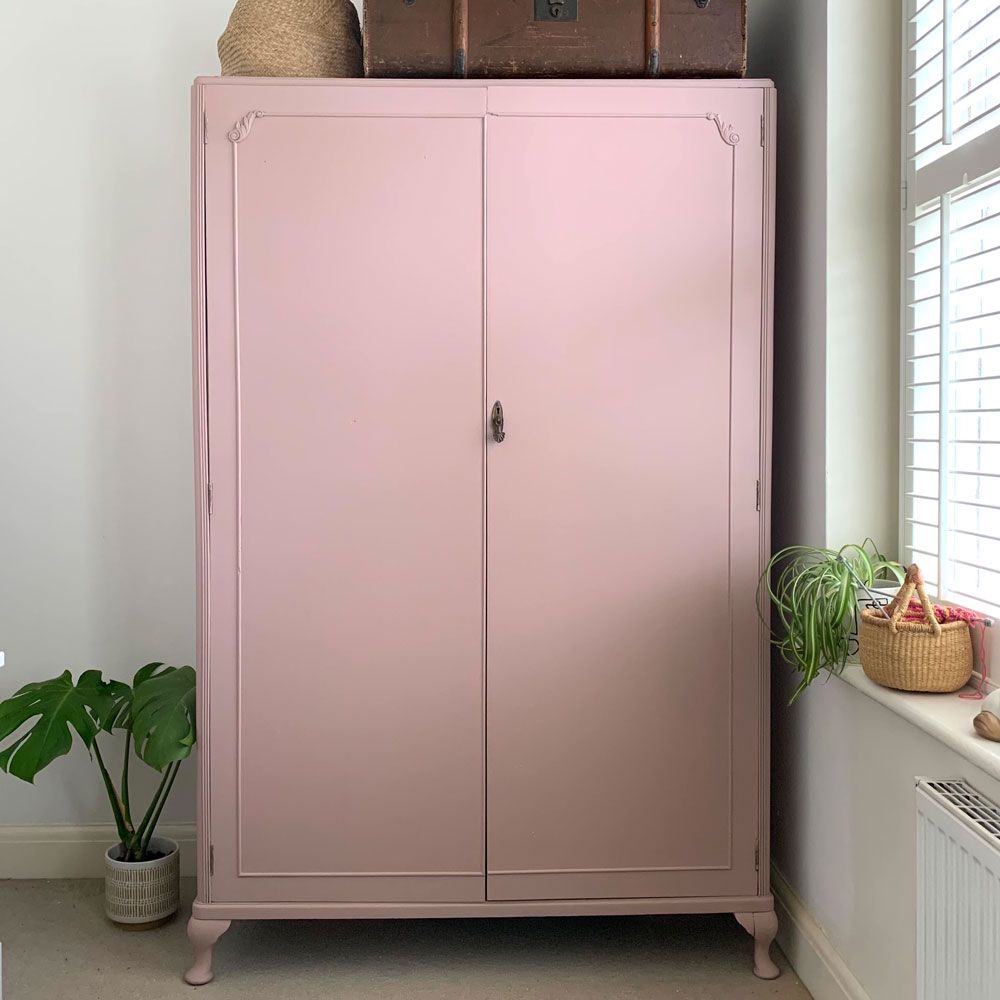 Do you have an old piece of wooden furniture such as a chest of drawers, sideboard or wardrobe that is looking dated and in need of a new look? A simple coat of furniture paint goes a long way to make something old feel brand new. Let this fine example inspire your own DIY project.
This wardrobe transformation is the work of Ideal Home's Editor Heather Young who has upcycled an old family heirloom for her young daughter's room. See Heather's upcycled wardrobe transformation for yourself.
37. Give your shower door a steel-framed makeover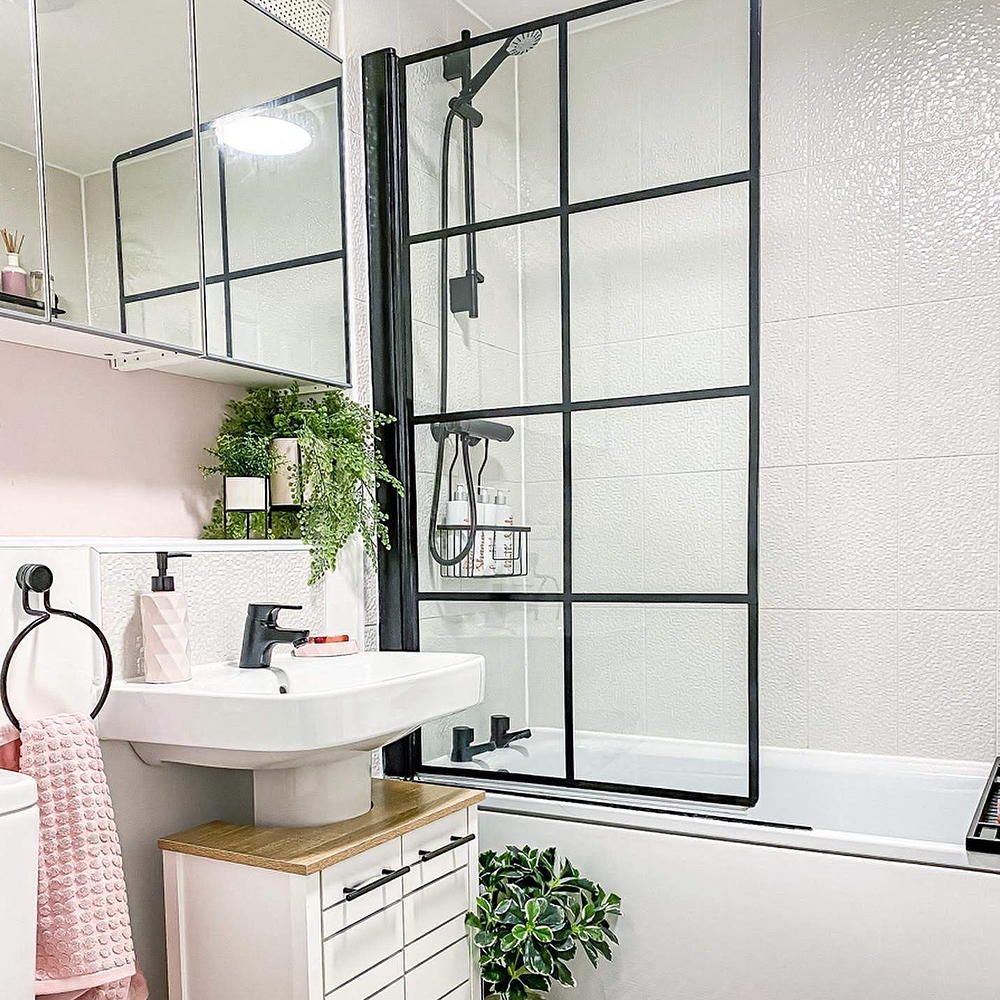 Next up, we've taken a tip from savvy DIYer Jasmine of Instagram's @_OhAbode. She gave her shower screen this cool Crittall-style finish using black electrical tape. The crittall effect shower door hack hack cost a grand total of £2, but looks super stylish. You can source your electrical tape from Amazon, otherwise, you can use window lead adhesive for a similar effect.
38. Panel your walls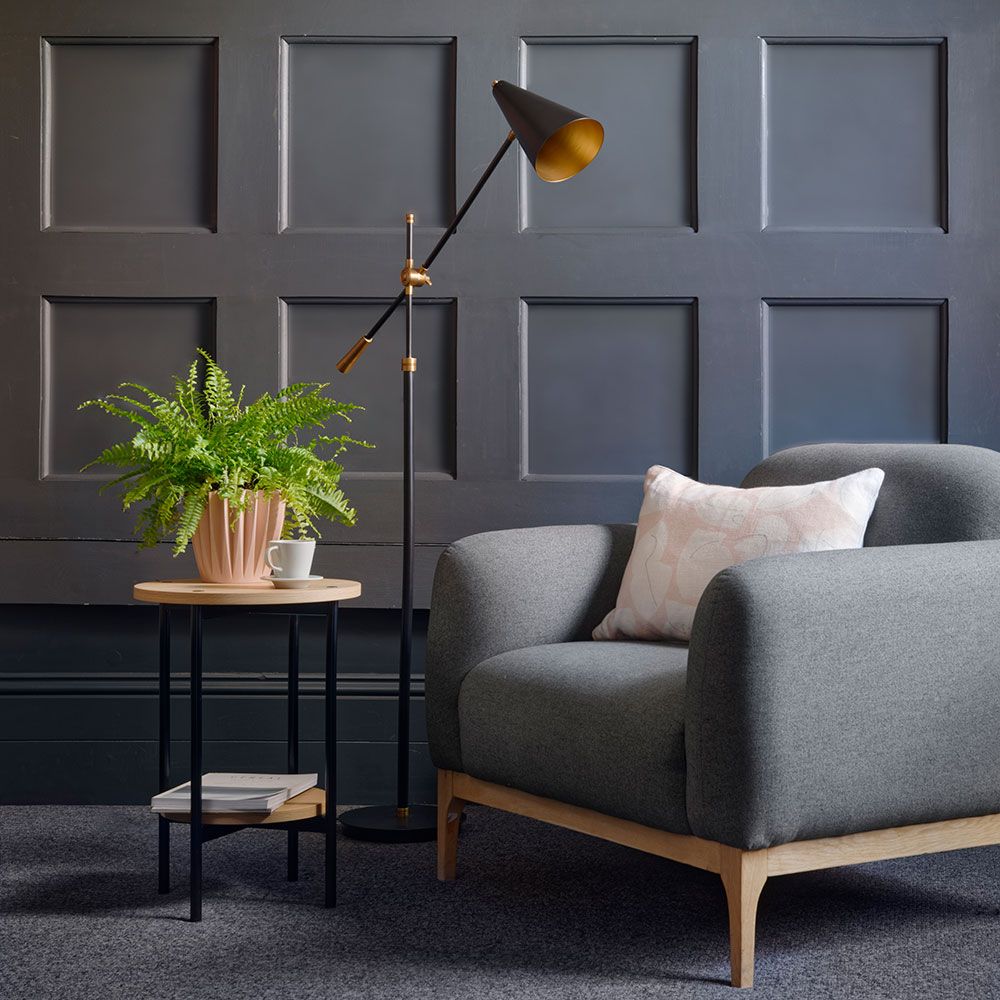 Another big trend going nowhere is wall panelling. We promise it's easy as it's now readily available in DIY stores as primed-to-paint, stick-to-the-wall panels. But you can also have a go creating a bespoke look with MDF batons or strips. There are lots of