12 best air fryers in 2023 UK – we've tested over 30 air fryers to find the very best on the market
Our top 12 best air fryers have been selected from a fully tested line-up of dozens of top rated models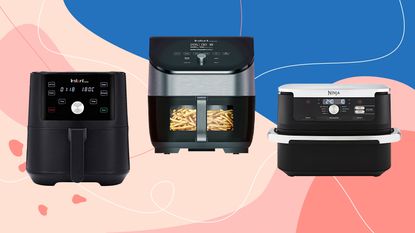 (Image credit: Future)
Recent updates
This article was last updated on the 26th of November 2023. In the latest update, we added today's Cyber Monday air fryer deals on our tried and tested favourite air fryers.
The best air fryers make cooking easier than ever before, and more efficient too. We've tested over 30 of these appliances in a variety of different conditions in order to find and curate this list of the top 12 air fryers so that you can invest in one that's really worth your investment.
Air fryers essentially act as countertop ovens, but there's plenty of variation between different models, with certain models able to perform up to 15 functions at once, including air frying. That's why you'll find in-depth reviews linked next to each air fryer in this guide if you want to learn more before you buy.
We've been ahead of the curve reviewing a host of air fryers according to our rigorous testing protocol for over two years now, with a particular emphasis on finding models that provide truly great value for money.
We've tested, and continue to test, all of the air fryers from popular brand names, such as Ninja and Instant, alongside lesser-known brands such as COSORI and Dreo.
Plus we also have dedicated guides for the best dual zone air fryers and the best air fryers for a family of four if you already know you need more cooking space.
Below you'll find our top-rated, value for money air fryers, along with a thorough breakdown of how we tested each one, our findings on their performances and answers to any questions you may have about these super helpful appliances.
Air fryer deals
Black Friday and Cyber Monday air fryer deals might be over, but there is still a selection of deals live as Cyber Week comes to a close. We've curated the absolute best deals on air fryers we've found below, each of which is included in this top 12 ranking.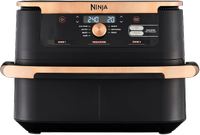 Ninja Foodi FlexDrawer Air Fryer in Black/Copper | was £279.99 now £229.27 at Amazon
Our top-rated air fryer ever is discounted by 18%. For that steal of a price, you'll also be able to nab it in this lovely copper colour, which is exclusive to Amazon. This is the ultimate air fryer to upgrade to, with all of the space you need to finally ditch your oven for good.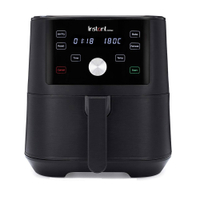 Instant Vortex Digital Air Fryer | was £99.99 now £65.99 at Amazon
You don't need to spend a fortune to secure an air fryer of the highest quality. This Instant deal proves that – this air fryer (that we rated as the best out there for under £100) is now at an even better price. It won an easy 5 stars from our expert reviewer and sits at #2 in this list as proof of its excellent performance.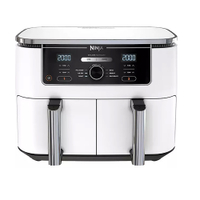 NINJA Foodi MAX Dual Zone AF400UKWH Air Fryer - was £249.00 now £179.00 at Currys
Available exclusively at Currys, this white version of the sellout Ninja dual-zone air fryer has given one of our faves a whole new lease of life. Incredible at cooking and with two separate cooking zones, it's perfect for minimalistic kitchens. Now on sale, we're inclined to say we like it in this colour more than ever before.
Best air fryer - the quick list
Not much time to spare on your hunt for the best air fryer? Welcome to our quick guide which allows you to see a choice of sizes, types and prices at a glance.
Load the next 4 products ↓
Best oven style
7. Sage Smart Oven Air Fryer
Best oven style
+ Packed full of functionality
+ Looks great and cooks excellently
+ Massive capacity for families

- Very expensive and very big
Best for 2 people
8. Instant Vortex Mini Air Fryer
Best for 2
+ An affordable air fryer
+ Easy to navigate
+ We loved the colourful design when we tested

- Small capacity won't suit everyone
Best Instant Air Fryer
9. Instant Vortex Plus Dual Drawer Air Fryer
Best from Instant
+ Glass windows are great for tracking progress
+ Great dual zone option
+ Looks great and performs well

- Temperature range isn't as good as the Ninja
Best affordable dual zone
10. Lakeland Dual Basket Air Fryer with Easy View
Best affordable dual zone
+ An affordable, reliable choice
+ Cook at 2 temperatures simultaneously
+ Viewing windows and a large capacity

- Short power cord and some slower cooking times
- Not dishwasher safe