Best air fryer 2022 – for tasty low-fat cooking
We've reviewed the 10 best air fryers for homemade chips and breaded chicken, with top picks from Ninja, Philips, Instant, and more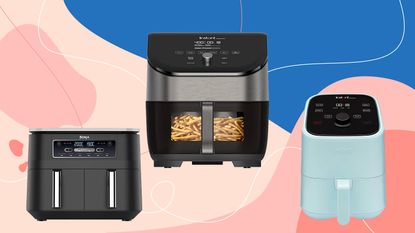 (Image credit: Future)
Ideal Home Newsletter
The Home Of Great Ideas For More Than 100 Years
Thank you for signing up to . You will receive a verification email shortly.
There was a problem. Please refresh the page and try again.
The best air fryer is a truly transformative purchase that will change the way you use your kitchen. With a compact countertop design, they take a fraction of the time that an oven takes to pre-heat, and can also cook food up to 50% faster.
When choosing the best air fryers the Ideal Home team reviewed all ten of the air fryers below, as well as countless others, and only included the models that made the cut in our ultimate roundup. We used the same recipes throughout our testing process, cooking crispy bacon, roasting vegetables, making homemade low-fat chips and crisping up frozen food to see how versatile these machines can be.
Most of the best air fryers in our guide are designed to work for two-to-four person households, but we have also included smaller options for single-person households and larger options with two drawers that can be used to cook two elements of a meal at once, or double up on cooking space for family feasting. Our reviews include air fryers from Ninja, Instant, Tower, Cosori, and Swan, and we're continuing to test the best air fryers on the market to make sure that our recommendations are up-to-date. For appliances that can air fry as well as slow and pressure cook, take a look at the best multi-cookers.
Best air fryer 2022
Best air fryer overall
Specifications
Size: 33 x 30 x 37.9cm
Capacity: 5.7 litres
Programs: Air fry, roast, bake, reheat, dehydrate, grill
Reasons to buy
+
Viewing window with internal light
+
Dishwasher-safe cooking basket
+
Large capacity
+
Easy touch controls
Reasons to avoid
-
Touch control marks easily
The Instant Vortex Plus Air Fryer with ClearCook got a rare five-star from Helen McCue, one of our expert appliance reviewers. She loved its generous capacity and found that it browned food evenly and quickly. When making chips she was able to get an even crisp in just 25 minutes, and even with the tray full of vegetables, it was able to roast in just 20 minutes. Most impressive of all, frozen chicken goujons took just 8 minutes to cook as opposed to the suggested 20 - yes, we used a temperature probe to check!
This air fryer has a touch screen with a dial to adjust timings and temperatures. The control panel has a bar that shows the cooking progress, and we like that this air fryer pre-heats. Because the touch-screen panel slopes towards you this is a great air fryer to place under kitchen cabinets.
A really innovative touch is the see-through air fryer drawer, which allows you to simply turn on the internal light to check on your food as it cooks. It has a dishwasher-safe basket and non-stick insert that lifts away easily. Our only real gripe is the control panel, which has shiny plastic that can mark easily if you're cooking with greasy fingerprints.
See our Instant Vortex Plus 6-in-1 Air Fryer with ClearCook review
Best air fryer for first-timers
Specifications
Size: 36 x 25 x 32cm
Capacity: 3.8 litre
Programs: Air fry, roast, reheat, dehydrate
Reasons to buy
+
Dishwasher-safe inserts
+
Simple and great for beginners
+
Reasonably priced
The Ninja AF100UK Air Fryer is Ninja's cheapest air fryer, and it's also the smallest. With a cooking capacity of 3.8 litres and the basket is circular, which will be fine with most meals but could struggle if you're cooking bacon rashers or chicken breasts. The air fryer was fast, easy to use, and comes with four pre-sets that won't be too overwhelming for first-time air fryer users.
You can choose to air fry, roast, reheat and dehydrate in this air fryer, and because the basket insert can be removed, you can also reheat or cook food that has a bit more sauce or moisture without having to worry about it dripping through the grates. The exterior is simple, small, and grey, which may not be the most attractive addition to your kitchen but it will be very easy to store if you want to put it in a cupboard.
Cooking times with this air fryer were brilliant, with some of the speediest chips we've made. It's a simple model that seems reasonably priced for a sub-£100 price point, and we were impressed by the cooking times: 23 minutes for homemade chips, and just five minutes for back bacon.
See our Ninja AF100UK air fryer review
Best air fryer for under £100
Specifications
Size: 27.2 x 27.4 x 30.2 centimetres
Capacity: 4.7 litres
Programs: Chicken, chips, frozen, steak, seafood, veggies, bacon
Reasons to buy
+
Air fries to perfection
+
Smart up-top controls
+
Shake reminders for even cooking
+
Removable insert for easy cleaning
+
Drawer is dishwasher-safe
Reasons to avoid
-
The preset timings are a little off, but can be adjusted
Amazon's best-selling air fryer held up well under our tests, too. The Cosori Pro LE Air Fryer L501 has a smart look and a range of custom presets that will come in handy for low-effort cooking. It's also adjustable, just press to increase or decrease the temperature or timer to achieve your perfect result.
We enjoyed the fries this air fryer produced. They were crisp and evenly cooked, and the cooking time was well below average. You'll get a reminder to shake your food halfway through on some settings. If you're in the middle of a particularly riveting piece of telly then it may be a distraction, but you can simply press a button to switch off the reminder for no interruptions.
Included with the air fryer was a recipe book with loads of great tips. We made the buffalo cauliflower, chicken wings and more recipes from the book and found it a great help for those getting started with air frying. The large capacity makes this a top choice for families. We also loved that the insert means you can easily clean the drawer and basket in the Cosori Pro LE Air Fryer L501, simply put them in the dishwasher.
See our Cosori Pro LE Air Fryer L501 review
Best air fryer for homemade chips
Specifications
Size: 48.9 x 38 x 29.5 centimetres
Capacity: 1.7kg
Programs: Chips, breaded items, desserts, nachos, fish and meat, chicken legs, stir fry, 'world foods', pie
Reasons to buy
+
Paddle included to stir your food
+
Pair with an app
+
Space-age design
+
Great for cooking entire meals
Reasons to avoid
-
Not the best for low-fat
This machine has a huge footprint, so if you're after a compact air fryer you can pop in a cupboard when you're not using it then you might want to think again. It has several things that separate it out from the rest of the air fryer crowd, including nine intelligent cooking modes and a My ActiFry app that features around 300 recipes.
It's the integral paddle with dual-motion technology, which stirs the food giving it an even, crisp coating that we think is the game-changer. Not only does it mean you can just leave the ActiFry alone to do its magic, it also allows you to cook dishes such as stir-fries and curries in it, too, using one of the two 1-meal-in-1-go programmes.
It hands-down produced the best chips we tried, with just half a teaspoon of oil and the chicken was well-cooked and juicy inside, although still dryer on the outside than normal frying would produce. It doesn't have a classic basket design, which does also mean that fat won't drip away from your chips or chicken, so while it's certainly a tasty pick, it's not quite as low-fat as some of our other options.
See our Tefal Actifry Genius XL 2in1 review
5. Ninja AF300UK Foodi Dual Zone Air Fryer
Best air fryer for multi-drawer cooking
Specifications
Size: 35 x 37.5 x 31.5cm
Capacity: 7.6 litres
Programs: Air Fry, Max Crisp, Roast, Bake, Reheat & Dehydrate
Reasons to buy
+
Superior air frying
+
Sync or Match two useful zones
+
Both drawers are diswasher-safe
+
It can cook an entire meal, fish in one drawer, chips in the other
Reasons to avoid
-
A large option for most kitchens
What's better than one air fryer? Two, in one. The Ninja AF300UK Foodi Dual Zone Air Fryer comes with two distinct air frying zones that allow you to air fry your fish and chips individually, or bake a side dish such as mac and cheese while you air fry chicken. You can match or sync these two drawers to make sure all elements of your meal are complete at the same time.
Its Max Crisp setting gave us crispy chips and wedges every time, and always cooked our meat through completely. We even used it to make cauliflower wings, which were an unexpected triumph. The trays can be a little deep to reach into, so make sure you use non-stick utensils to take your food out when it's done.
The exterior stays cool even when it's cooking at 240 degrees. It is on the large side at 35 x 37.5 x 31.5cm, but if you can spare the space, it's a game-changer.
Best air fryer for 2 people
Specifications
Size: 35.2 x 35.1 x 30.1 cm
Capacity: 2 litres
Programs: Air fry, bake, reheat, roast
Reasons to buy
+
Seriously good value
+
Easy to use
+
Colourful, fun design
+
Does more than just air fry
Reasons to avoid
-
The small capacity isn't ideal for everyone
Instant Brands is known for creating amazing air fryers and smart countertop appliances in the US, so we were first in line to review this new model when it launched in the UK. The Instant Vortex Mini Air Fryer not only wowed us with its value-for-money, but it also impressed us in testing. Despite the limited capacity, it was able to air fry our (somewhat crammed-in) chips evenly.
This air fryer is perfect for small kitchens. It has a removable basket liner that can drain away fat from bacon and juices from the chicken, but take it out and suddenly you can bake, roast and even reheat in this beauty.
You can pick up the Instant Vortex Mini Air Fryer in a range of fun colours. We tried it in red, but the blue option is quite fetching. There is also a white for clean kitchens, and a failsafe matte black. The display is very intuitive, and can be controlled with touchscreen settings and a tactile dial. The only con? It's too small for families.
See our Instant Vortex Mini Air Fryer review
Best rotisserie air fryer
Specifications
Size: 44.2 x 41.6 x 39.4 cm
Capacity: 10 litres
Programs: Air fry, bake, dehydrate, rotisserie, chips, chicken, veggies, steak
Reasons to buy
+
Sleek controls
+
All the functions of a mini oven
+
Incredible rotisserie
+
Great space-saving design
The Breville Halo Rotisserie Air Fryer offers an alternative take on air frying, with a rotisserie attachment that allows you to cook a whole chicken with crispy delicious skin and juicy meat, in just one hour. It also comes with a rotisserie mesh basket, which is what we used to cook our chips. It keeps them spinning as it cooks, meaning that every single crisp was evenly cooked.
Because it's more of a mini convection oven thanks to the removable mesh wire trays, the Breville Halo Rotisserie Air Fryer doesn't quite speed up your cooking time as much as a drawer air fryer with a single-function design. However, it can be used to bake, rotisserie, air fry, and even dehydrate, and it's also a well-sized machine to fit in as much capability as you like onto one kitchen counter.
We enjoyed the smart controls, which show the temperature as it preheats, and how easy it is to choose your mode and even illuminate the inside of the oven to watch your food as it cooks. Cleaning is easy too, but our main drawback is that it's a bit tricky to take out the drawers because they get very hot. Oven gloves are a must!
See our Breville Halo Rotisserie Air Fryer review
Best air fryer for small kitchens
Specifications
Size: 47.6 x 32.8 x 26.3cm
Capacity: 4.1 litres
Programs: Frozen, fish, meat, vegetables, chicken drumsticks, cake, reheat
Reasons to buy
+
It's perfect for smaller homes and kitchens
+
Easy to clean
+
Intuitive to use
+
Comes with an app
Reasons to avoid
-
It's more expensive than some other small options
If you want the best air fryer for a small kitchen or two-person household, the Philips Essential Air Fryer is the one for you. In terms of the cooking quality, it was pretty much on par with some of the larger and more premium brands in this guide. There's plenty of cooking modes, including fish, meat, frozen food and reheat, and you can choose your temperature manually too.
The basket and drawer can both be washed in the dishwasher, which makes cleaning that much easier. We found the controls a little confusing at first but they're fine once you're used to which button indicates which cooking mode.
One complaint we had was the price, which was pretty high when compared to other small air fryers. It is clearly designed for smaller kitchens and homes though, with grooves that make it easy to carry and store, and a lightweight design.
See our Philips Essential Air Fryer review
Best-looking air fryer
Specifications
Size: 34.8 x 24 x 33.7cm
Capacity: 6 litre
Programs: Air fry only
Reasons to buy
+
Looks lovely
+
A generous capacity
+
Will match with many Swan appliances
+
Dishwasher-safe
Unlike pretty much all the other air fryers we tested, which, to paraphrase Henry Ford 'you can have in any colour as long as it's black', this 5 litre machine was a pleasingly cheerful bright cherry red. It also comes in cream and black so would work well in pretty much any scheme if you wanted to leave it out on the worktop.
If you want something a little easier to operate than some of the more high-tech options, the Swan Retro has a simple temperature dial and a twist-timer at the top. It feels sturdy and has a large interior capacity of 6 litres.
We were very impressed by how this air fryer cooked bacon and other meats, but when it came to chips we found that it took longer than most air fryers. The timings were comparable to a regular oven. The tray and non-stick basket can both be popped in the dishwasher, too.
See our Swan Retro Air Fryer review
Best air fryer for chicken
Specifications
Size: 44.2 x 38.4 x 36.2 cm
Capacity: 11 litres
Programs: Air fry, bake, roast, dehydrate, rotisserie
Reasons to buy
+
It's a real multi-tasker
+
Makes a mean chicken
+
Lights up for easy viewing
Reasons to avoid
-
You lose some of the convenience of a classic air fryer
The Tower Vortex 5-in-1 Digital Air Fryer is more of an American-style air fryer. It's designed to look like an oven and comes with a drip tray and multiple shelves to cook your food as you would in a regular oven. There are some perks to this design though. Our favourite was the rotisserie function which made some of the most delicious chicken we've ever made. A game-changer for roast dinners.
The shelves need to be taken out and switched around mid-cook if you want to achieve an even crisp, which is not ideal and can be a little fiddly. The oven did a great job of creating crispy food though, especially when it came to the frying setting. It can also bake and roast like you'd expect in a regular oven.
A nice touch is the door, which you can see straight through. There is a button to illuminate the fryer as it cooks which allows you to look in and check on your food without opening it. It's a large option, but a versatile one too.
See our Tower Vortex 5-in-1 Digital Air Fryer review
---
How we chose the best air fryers
Every air fryer in our top 10 roundup has been tested hands-on by the Ideal Home team for a minimum of two weeks, or four thorough recipes. This allowed us to compare air fryers directly when compiling our top 10 list, and it also helped us when deciding which air fryers will be the right pick for different living situations. Because all air fryers claim to do very similar things, it's important to us that we put them through their paces before recommending any air fryer to our readers. We used a standard recipe for air fried homemade chips across all air fryers, recording the cooking timings and considering how evenly the crisps came out, and how well cooked they were.
Another test we replicated across different air fryers was cooking bacon. Bacon cooks brilliantly in air fryers, allowing fat to drip away and leaving crispy rashers in the basket. We used the speed and evenness of cooking as a way of measuring how well an air fryer distributed heat and how fast it circulated hot hair. Based on our findings, we gave every air fryer a rating out of five and then sorted them into a top ten list (some did not make the list!) to recommend to our readers.
How do air fryers work?
Air fryers work like a convection oven to circulate air around your food and cook it evenly from every angle. That means any fat you add to the air fryer will circulate around your fries, chicken or fish as it cooks, making it crisp and crunchy.
Air fryers typically come with an in-built basket that has space for air to get underneath your food, as well as cooking it from above and the side. In the Ninja Dual Zone for example, you can remove this and use the tray like a regular oven tray to add a crisp cheesy top to a pasta bake or roast vegetables and potatoes for convenient mealtimes. Check out the best microwaves for more easy meal prep appliances.
How to buy the best air fryer for you
Look for easy-to-use controls for both temperature and time, as these are the most important features on any air fryer. Auto-stop and keep warm functions can be useful but chips, if left for any amount of time will soon lose their crispness. More expensive machines will feature touch screens rather than dial controls, which will help with accuracy.
The bigger the basket capacity, the more people you'll be able to cook for. So if you've got a family, then a 5 litre machine (which usually provides a chip capacity of around 800g to 1kg) is probably a must.
A loud beep to signal the end of cooking time is a good idea if you're using the time to wander off and do something else. Most air-fryers will only cook one food group at a time (ie meat or veg) but some will cook a whole meal in one go if you're after a one-pot solution.
Are air fryers healthy?
Air fryers are as healthy as the food you cook in them, but one thing you can be confident in is that they're healthier than deep fat fryers. If you want to cut back on the amount of oil and fat in your food, air fryers are also excellent for crisping up your meal while not submerging it in fat.
Bacon is not particularly healthy, but cooking it in an air fryer means that the fat will drip away from the meat and into the basket, while still rendering and crisping for that perfect bacon sarnie. Air frying is also a way of adding more veggies to your diet. Some of the best things to cook in an air fryer are cauliflower "wings", which is simply florets of cauliflower tossed in whatever sauce you wish to pair it with.
How much oil do I need to use in my air fryer?
Ready for another test? Best kettles
While most recipes call for a teaspoon or half a teaspoon of oil. We found we got a more even coating on some foods by decanting our choice of oil into a small spray bottle and using that. Never use one-calorie oil spray, which is a step too far in the diet stakes we found, producing nasty, chewy fries.
Most of the machines we tested couldn't be used with fattier meats such as sausages or chicken or duck with the skin on. This sometimes results in meats being drier on the outside. This was where a spray oil came in handy and definitely improved results if not making them as good as if they'd been fried.
Millie Fender is the Small Appliance and Cookware Editor. She joined Ideal Home as an Ecommerce Editor in 2021, covering all of the site's small appliance and cookware shopping content. Millie formerly worked at Top Ten Reviews, another Future site, where she produced review and buying guides across a range of home products, from fridges to blenders. As an e-commerce editor, her job is to test all the wackiest product launches, whether they're air fryers, bread makers, or juicers, and give you her honest experience.