Best mattress 2022 – 10 sprung, hybrid and memory foam beds reviewed and rated
A good start to the day depends on a good night's sleep. That is why we have tried and tested top sleep surfaces to help you find the best mattress for comfort, support and even temperature regulation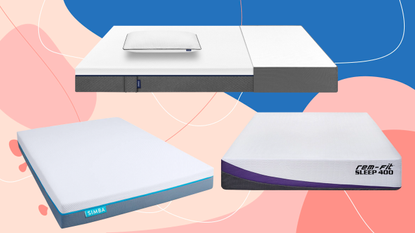 (Image credit: Future)
Ideal Home Newsletter
The Home Of Great Ideas For More Than 100 Years
Thank you for signing up to . You will receive a verification email shortly.
There was a problem. Please refresh the page and try again.
If you didn't sleep well last night, you have come to the right place. While the best mattress won't solve every problem that keeps you awake, it will ensure you are comfortable enough to get the best chance of a good rest. And sleep is so so important for our all-round well-being. Your body and mind need to have time to be restored at the end of the day. A lack of sleep leaves you stressed, physically tired, and also more vulnerable to weight gain – and that is just the short-term impact.
Needless to say, if your current mattress isn't quite right, investing in a new one will boost your health and mood. Though we can't control other stresses that might impact your sleep, we can certainly help you find the perfect mattress to make a restful night more likely.
There's a lot of choices, but with it comes options for everyone (and much more ease to order than shopping in person). We have gathered all of the best mattresses we have tested in one place to make finding your dream buy easy.
We explain the difference between memory foam, pocket sprung, latex and hybrid mattresses, and also delve into which one will be right for you and your personal sleep issues. Hot sleeper? We've found the best breathable mattress to keep you cool all night. Suffering with joint pain? Our top picks are cushioning and some have supportive memory foam to help aches and pains. Or maybe you haven't bought a new mattress for well over the recommended seven-year lifespan and just want to see the best of the latest features out there – in which case, we're here to help guide you through it.
Our mattress tester Ysanne has decades of consumer journalism experience, and – along with a team of trusty reviewers – has put each mattress through its paces at home, over several weeks, pitting them against the everyday situations we all encounter. Each one has been rated for comfort, support, manoeuvrability and durability.
We've included mattresses for every budget and helpful tips about what to look out for, too. Scroll to the end for our comprehensive mattress buying guide, then check out the best duvets to give yourself the most serene sleep ever.
The best mattress 2022 – our reviews
1. Emma Original mattress
Best mattress for all-around comfort
Specifications
Sizes available: Single, EU Single, Small Double, Double, EU Double, King, EU Queen, Super King
Type: Airgocell foam, cold foam, memory foam
Comfort level: Medium firm
Depth: 25 cm
Reasons to buy
+
Keeps cool all night
+
Support for aching joints
+
200-night trial
Reasons to avoid
-
Light sleepers may find the mattress a tad too firm
Made in the UK, the Emma uses a different kind of chemical foam to most other bed-in-box mattresses, which the makers say is more durable. While we tried it for just a week or so, we're not able to comment on whether it's long-lasting or not but customer reviews seem to confirm that claim.
Underneath the soft breathable outer cover is a three-layer construction that includes an Airgocell® foam layer for ventilation to keep you cool. A 25mm memory foam layer gives general pressure relief for joints while the thicker foam base targets areas such as the shoulders and lower back to give optimum support.
It's a combination that provided a super comfortable sleep on whatever our chosen night-time position, even though our testers found it sat on the fairly firm side of medium our side sleeper still experienced a restful night without any tossing and turning.
Unlike some memory foam mattresses, there was little or no odour and it rose quickly to its 25cm depth once released from its packaging. We're fond of handles on mattresses, even if they don't require turning as it means making the bed is a tad easier. It has a returns policy of 200 nights and a 10-year warranty.
2. Simba Hybrid Mattress
Best hybrid mattress
Specifications
Sizes available: Single, small double, double, king, super king, EU single, EU double, EU queen, kid
Type: Foam, memory foam, pocket springs, latex
Comfort level: Firm
Depth: 25 cm
Reasons to buy
+
Huge variety of sizes
+
100-night trial
Reasons to avoid
-
No removable cover for washing
If you prefer to be cosseted by a cloud-like mattress but your partner yearns for one that's on the firm side, then this 'fits-all' mattress, might well be the answer. Another bed-in-a-box, it arrives well packaged and with comprehensive instructions for use and care. A nice touch is the safety cutter supplied, allowing you to quickly and easily open the packaging without worrying about accidentally cutting the mattress with scissors as you release it.
Once unleashed from its box, the mattress takes 3–5 hours to fully take shape, ready for a night's sleep. We found it was slightly softer than some of the other memory foam mattresses but much to our surprise, we didn't mind that too much. It has five layers including a foam core, responsive memory foam, a unique layer of micro-conical pocket springs and a Simbatex synthetic latex layer all contained in a hypoallergenic outer cover.
It has good temperature regulation properties thanks to its open-cell foam and is £400 less than its upgrade, the Simba Hybrid Pro, for a double, which features an extra cooling wool cover and an additional layer of Aerofoil springs. We would give both models, 5-stars, however, but the original hybrid pulls ahead for as a more affordable way to enjoy Simba's sleep science.
It's the springs that really make this one different, adjusting to your body as you sleep – we found that was particularly the case for side sleepers. As with many of the online purchase mattress options, it comes with free delivery and there's a 100-night trial and free returns if you're not 100 per cent happy. It comes in a huge variety of sizes, too, so whatever bed base you're buying for, there's bound to be one that fits.
3. Rem-Fit 400 Hybrid mattress
Best mattress for edge to edge support
Specifications
Sizes available: small single, long single, single (UK & EU), small double, double (UK & EU), king-size (UK & EU) and super king
Type: pocket-sprung and memory foam
Comfort level: Medium-firm
Depth: 25 cm
Reasons to buy
+
Mega supportive
+
Even distribution of weight
+
100-night free trial
Reasons to avoid
-
No handles for moving
-
Lingering plastic smell for a couple of days
Designed and made in the UK, the Rem-Fit 400 mattress (which arrives in a box) is a medium/firm mattress that offers a good level of support across the entire mattress surface. This is down to the five incredible layers which include a combination of cool open-cell memory foam and 2000 premium pocket springs. It's suitable for all sleepers – especially side sleepers – and will comfortably withstand a combined weight of 40 stone, too.
We tried it out for a few months during the summer and found that it not only relieved us from back pains but also found that we didn't get overheated during the night. Being a hybrid mattress we felt that we really had the best of both worlds, especially if you're a side sleeper as our reviewer is. We also found that it is competitively priced with the only slight downside being the lingering smell of plastic which one has come to expect now from memory foam mattresses, but this soon fades so you'll be sleeping in comfort in no time.
What do you get for your money? A 100-night sleep trial with no quibbles if you want to return it; 15-year full replacement guarantee and free next-day delivery (when you order before 1 pm).
Best luxury mattress
Specifications
Sizes available: UK standard sizes; double, king, super king
Type: Hybrid
Comfort level: Soft, medium, firm
Depth: 30 cm
Reasons to buy
+
Extremely comfortable
+
Supportive for all sleep positions
+
Good choice of firmness
Reasons to avoid
-
More expensive than most mattresses on this list – an investment buy for sure
-
Very heavy
The Brook + Wilde Ultima is a true all-rounder: comfortable, supportive, and cooling, we couldn't fault it. However, from £1,999 for a double, it's a real investment. If you're willing to pay, though, you'll get a really good night's sleep and we think for all of the benefits listed below, it is worth it.
So, who will suit the Ultima mattress? Well, pretty much all sleepers! With ten layers, this mattress gives plenty of support to back, side, and front sleepers alike, and helps to relieve aches and pains. It's also great for people with fidgety partners, and those who get too warm in bed. Our reviewer tried a medium and would say it's pretty much exactly that, offering the perfect flat surface with a bit of give to support her back. She often suffers from lower back pain, but the day after sleeping on the Ultima, she woke up with no pain whatsoever. She also noticed next-to-no motion transfer, despite the fact that her partner came to bed later than her.
We tested this mattress through June and part of July, which featured heatwaves. Our reviewer was impressed at how cool the mattress kept her even in 20-degree heat – so impressive, in fact, that she slept all the way through the night. The Ultima features a removable and machine-washable thermic cover that aims to reduce body temperature by two degrees. Combined with the mattress's dynamic airflow design, it's made to keep you cool as you sleep.
The luxury element comes with the huge 10 layers in this hybrid mattress, consisting of premium memory foam and 6,000 nano and pocket springs – plus that aforementioned thermic cover. It's important to note that this mattress is heavy – it took two pretty strong people to lug it up the stairs – but once in position, it's easy to manoeuvre.
If you want to invest in a mattress and don't mind dropping a cool £2,000 plus, we'd really recommend this mattress. You'll also get free premium delivery, a 100-night comfort trial, and a 10-year guarantee, so you can rest assured you're covered in case you change your mind.
5. Silentnight Studio Gel mattress
Best affordable mattress
Specifications
Sizes available: Single, double, king
Type: Gel, pocket springs
Comfort level: Medium
Depth: 24 cm
Reasons to buy
+
Free delivery
+
60-day comfort exchange
Reasons to avoid
-
Have to rotate it from time to time
Arriving not in a box (hurrah to saving on waste!) but still rolled tightly, this mattress was easy to negotiate up twisty stairs.
We opted to test the Gel mattress, part of Silentnight's Studio range, which also includes Eco and Memory options. The Gel features a breathable cover over a Geltex comfort layer that sits on traditional pocket springs. It's a combination that provides enhanced breathability for cool nights with tailored support and is billed as the mattress for twisters and turners – something that definitely applied to one of our testers, who is a restless sleeper at the best of times.
Released from its packaging, it looked a little short for the bed but after the recommended 24 hours, it had 'inflated' well. It doesn't have handles but as it is not as heavy as some, it was super easy to lift to make the bed and also to rotate, which is recommended to do from time to time. It's also not as deep as other mattresses, but it nevertheless had plenty of bounce, probably because of the 1,000 micropocket springs, which definitely gave support where it was needed, particularly in the hips and spine, where our restless side sleeper needed it the most.
There's free delivery to a room of your choice and a 60-night comfort exchange guarantee.
6. Nectar Memory Foam mattress
Best trial period
Specifications
Sizes available: Single, small double, double, king, super king
Type: Memory foam
Comfort level: Medium firm – firm
Reasons to buy
+
365-day trial
+
Keeps you cool
Reasons to avoid
-
Not ideal for side sleepers
A phenomenal 365-day trial trumpets the fact that Nectar is so sure that once its memory foam mattress is on your bed, it is unlikely to leave. That's a whole year of sleep with free returns if you're not happy, plus a forever guarantee. It's a pretty bold stance for even this highly competitive bed-in-a-box market, so we were interested to see how it matched up to the rest.
It comes in an easy-to-handle box and releasing it from its plastic packaging is simple with the help of the supplied cutting tool, which ensures you don't accidentally cut into the mattress while you're opening it. It doesn't take long to inflate either and was ready in a couple of hours. Four layers of foam are topped with a soft quilted adaptive cooling cover that is designed to keep you cool at night by adapting to your body heat.
It seemed to work well and even the hottest of our two testers wasn't disturbed in the night by rising temperatures. Plus there's a 'smart' layer that also dissipates moisture, pressure-relieving memory foam to provide comfort and support and a 7-zoned layer that adds more support where it's most needed.
We felt, as it was on the firmer side of medium-firm, it was a good option for front and back sleepers but wasn't so great for a heavy side sleeper.
Best mattress for hot sleepers
Specifications
Sizes available: Single, double, king, super king, small double, EU double, EU king, emperor
Type: Foam hybrid, 64% spring to 36% foam
Comfort level: Medium-firm
Depth: 25 cm
Reasons to buy
+
Pressure relief
+
Even support across the back
+
Stays cool on hot nights
+
Hypoallergenic
Reasons to avoid
-
Limited edge support
-
Cover needs to be dry cleaned
If you struggle to regulate body temperature while sleeping and suffer overheating all year round you'll probably love the OTTY Pure Bamboo and Charcoal mattress. This mattress stays cool even on sweaty summer nights, so it's a top pick for hot sleepers, with bamboo and charcoal properties that help facilitate and remove odours, absorb excess moisture, and regulate body temperature. It's also great if you want a mattress that's a little on the firmer side, but with a supportive top layer.
At 25cm, the OTTY Pure mattress is about average for this type of mattress. It has a removable cover for an added layer of protection, but note that it is dry clean only. With up to 2,000 encapsulated pocket springs, as well as two memory foam layers, it's also pretty comfortable. Our reviewer had been experiencing a lot of lower back pain prior to testing – enough to make getting out of bed or sitting at her desk difficult – but she noticed that the pain lessened when she started sleeping on the OTTY Pure.
As for the keep-cool factor: the OTTY Pure is a very breathable mattress. It had no trouble keeping our reviewer warm through April this year, but it also helped her sleep quite comfortably through a June heatwave. That's all thanks to the charcoal, which claims to regulate temperature, and the airflow system, which keeps the mattress fresh.
All in all, this is a great mid-range mattress, coming in at £999.99 for a double. We'd highly recommend it for overheating sleepers. And as well as a (hopefully) great night's sleep, you'll also get a decent 100-night trial and a 10-year guarantee, so you can rest assured your money's going into a long-lasting product, too.
Best mattress for supreme pressure relief
Specifications
Sizes available: UK standard sizes; double, king and super king
Type: Hybrid mattress; five layers of next generation foam – never before used in the UK – and full-sized pocket springs
Comfort level: Medium-firm
Depth: 28 cm
Reasons to buy
+
Removable zip cover for 40 degree washing
+
Excellent pressure relief
+
Decent bounce, with minimal movement transfer
+
Good breathability
Reasons to avoid
-
No single size
-
Quite firm, which some might not like
If you're looking for a supportive yet comforting mattress, the Eve Premium Hybrid could be the one for you. This luxury medium-firm mattress cushions in all the right places: the latest in foam technology means the foam is forgiving on pressure points, but not suffocating like some traditional memory foam feels.
The Eve Premium Hybrid will suit anyone looking for firmer support and comfort, who wants the benefits of foam without really knowing it's foam. It's also good for warm sleepers, thanks to the temperature-controlled design. Our reviewer personally found it extremely comfortable, thanks to the full-size springs that make it feel like a traditional pocket-sprung mattress. It's firm enough to make you feel supportive, but it also offers a deep level of cushioning foam to take the weight off, which relieves pressure points. This is a deep mattress, officially measuring 28cm (though our reviewer found hers was more like 26cm deep). It also has a great lack of motion transfer, and our reviewer could barely notice her partner getting in and out of bed.
The mattress has a washable quilted cover, which is invaluable if you're at risk of spillages. The antibacterial top panel of the mattress can be unzipped and popped in the wash at 40°C. There are five generous layers of next-generation foam in the eve Premium Hybrid, as well as over 1,500 full-sized pocket springs. This is definitely an investment, but in return for your money you also get a 10-year guarantee, plus a year-long trial period during which Eve will arrange free collection and refund your money 'in a jiffy – no questions asked'.
9. Dormeo Octaspring 6500 memory foam mattress
Best innovative mattress
Specifications
Sizes available: single, double, king, super king, European king
Type: Memory foam with memory foam 'springs'
Comfort level: Firm
Depth: 22 cm
Reasons to buy
+
Keeps you cool
+
Ideal for sufferers of joint pain
+
Free white glove delivery
Reasons to avoid
-
Not the best for front sleepers
-
Shorter trial period (60 days)
The unique layered construction of this mattress is what gives it enviable levels of support and helps to make it one of the coolest mattresses we tried. Delivered by a 'white glove' service that places the mattress in the room of your choice, unpacks it for you and, crucially, takes away the packing, it's also one of the most expensive.
Two layers of Octasprings – open construction memory foam 'springs' – are grouped into three zones, which our testers found super supportive in key areas such as shoulders, lowers spine, and hips. Despite our tests being undertaken on unseasonably warm winter nights, there was no sign at all of the overheating that can be found with some memory foam mattresses. This, plus the lack of motion transfer those springs afforded resulted in a great night's sleep, with a distinct lack of muscle pain in the morning.
It worked well for both the side sleeper and the back sleeper, creating individual support where it was most required. It also has carrying handles – useful when rotating the mattress as recommended. It's definitely a considered purchase but you've also got a 60-night trial period to ensure it suits you and there's a 20-year warranty.
10. Loaf Our Perfect Mattress
Best sprung mattress
Specifications
Sizes available: Single, double, king, super king
Type: Pocket springs with wool and cotton fillings
Comfort level: Choose from Extra Firm, Firm and Regular
Depth: 26 cm
Reasons to buy
+
Different types of firmness
+
10-year guarantee, and a 100-night trial
Reasons to avoid
-
Delivery takes 4–6 weeks
-
Should be turned every two weeks
Loaf has confidently – some might say arrogantly – named its 'Our Perfect' mattress, but not without reason, we've found. From the moment it was delivered (by two absolutely lovely delivery men who took it up awkwardly shaped stairs as if it was lighter than air — which it's not—, then unpacked it and popped it on the bed base) to the moment we had to reluctantly wave goodbye to it (as it exited in the hands of exactly the same delivery guys), we loved pretty much everything about this one.
The great service, to be praised in today's market where corners are often cut to keep prices down, was a brilliant start. And the firm but cushioning sleep quality the mattress affords didn't let it down.
Although Loaf has five mattresses on offer, this is their bestseller and we can see why. Pocket sprung, with breathable fillings including cotton and wool to help regulate temperature, it comes in three tensions, Extra Firm, Firm and Regular – we opted for Firm. The damask cover feels decadent and luxurious and the spongy top layer adds cushioning that's perfect for side sleepers, while the individual pocket springs – 1200 in a double – gently contoured to our bodies for maximum comfort.
As well as some of the best night's sleep we've had in quite some time, probably in no small part due to a construction that provides a high level of breathability, we also felt fewer of the usual morning aches and pains when it was time to get up. It's also available on a 100-night trial with free returns and, if you do decide to keep it, a 10-year guarantee.
---
How we test our mattresses