About Ideal Home: who we are, what we do, and how to get in touch
The home of great ideas for more than 100 years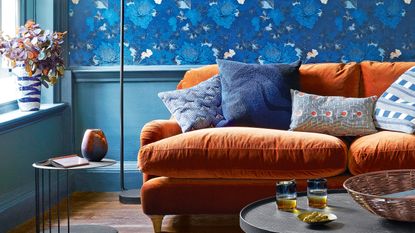 (Image credit: Mark Scott)
The home of great ideas for more than 100 years, Ideal Home is your one-stop-shop for all things home. We're here to make the best home design accessible to everyone, and our unique formula of home decorating ideas and inspiration plus practical expert advice and solutions is on hand to help you enjoy a happier, healthier, better designed home.
Ideal Home has everything you need for the modern home in the 2020s, from homekeeping to tech, room decor to DIY, wellbeing to home finance. When it comes to your home, we have answers to all your questions and dilemmas (with a very healthy dose of interiors inspiration along the way!).
We're all about a democratic approach to home design. You'll find no judgements about style, taste or budgets here – we're not the Style Police! We simply showcase the very best ideas, top new products, inspiring real homes – so you can put together your own perfect blend. So whether you're on the lookout for living room ideas, kitchen planning
We think creating a home should be fun and exciting, and that's how we want you to feel when browsing our brilliant content. Think of us as a trusted friend who'll help you navigate the tricky choices and celebrate the joys of home.
Ideal Home's heritage
Since 1920, Ideal Home has been delivering everything busy women need to create a home they're proud of. It expertly selects beautiful possibilities and practical solutions with insight and passion.
In the very first edition of Ideal Home in January 1920, the editor wrote: 'The policy of The Ideal Home is to cater for the wide circle of the middle class. Every matter of interest, from the designing of the house and garden to its finishing touches, will be explained and illustrated by experts.'
From that first issue over 100 years ago, Ideal Home has achieved so much: giving away architectural plans to boom-time self-builders, dispensing government information about rationing, blackout and air raids during the war, converting London townhouses into modern show flats and even building a housing development in Peterborough.
Today in 2022 we continue our mission to arm you with all the knowledge and ideas you need to create your dream home. Ideal Home has been the home of great ideas for more than 100 years, and we're looking forward to the next 100!
Ideal Home is brought to you by Future Publishing, which also publishes Homes & Gardens, Livingetc, Style at Home, Real Homes, 25 Beautiful Homes and many other popular titles.
Meet the team
Ideal Home was one of the first magazines to bring the advice of leading industry experts into the homes of its audience. This mission lives on with our team of brilliant editors, along with well-known, experienced experts from the fields of interior design, home ownership, architecture and much more.
We can guarantee our editors as homes-obsessed as you. Homes are our passion, and that's why we love to write about them.
I've been Ideal Home's Editor since late 2020, and Editor-In-Chief since 2023. I've been an interiors journalist and editor who's been working for some of the UK's leading interiors magazines for over 20 years, both in-house and as a freelancer.
My interest in magazine journalism started at school, after a work experience placement at Empire film magazine. In my final year at York University where I was studying English Literature and History of Art, I attended a careers talk given by the then deputy editor of Country Living magazine and that was my lightbulb moment. I could combine working in magazines with her passion for interiors – something I'd loved even as a child (redecorating my bedroom was the present I requested for my 12th birthday!).
I first joined the Ideal Home team back in 2006, when I oversaw the magazine's real homes and makeovers features. Getting to look around the UK's best homes was a dream job! After going freelance following the birth of my twins, I continued to write for Ideal Home, as well as other leading homes titles. Because I wasn't busy enough juggling work and twins (!) I was also an early adopter when it came to blogging and social media, and launched my own award-winning interiors blog in 2011.
I rejoined the Ideal Home family four years ago and became Editor of Ideal Home and Style at Home at the end of 2020.
My family and I moved into our Victorian home in Surrey – a former hospital porter's lodge – just before lockdown 2 at the end of 2021. It's got great bones, but I'm keen to put her stamp on it. A keen DIYer, I've had to accept that progress is slower than I'd like, as I juggle the redecoration and renovation with work and busy family life. I recently completed a kitchen renovation, knocking through to the garage and removing a chimney breast to put in a huge wall of floor-to-ceiling sliding doors.
I'm the Deputy Editor on the Ideal Home Website. I fell into the world of interiors a little bit by accident. After I graduated with a Masters degree in magazine journalism from City, University of London in 2018, I started my journalism career as a staff writer on women's weekly magazines. However, after joining the Ideal Home website team in 2019 as a Digital Writer I caught the DIY and interiors bug and never looked back.
In 2020 I moved into the position of Homes News Editor working across Homes & Gardens, LivingEtc, Real Homes, Gardeningetc and Ideal Home covering everything from the latest viral cleaning hack to the next big interior trend. In 2022 I returned full time to the Ideal Home team.
I am currently decorating my first unfurnished rental flat in London and I love nothing more than thrifting through the second-hand furniture stores and charity shop bric-a-brac shelves.
I'm the Assistant Editor for Ideal Home, focused on making sure our content is as relevant useful and up to date as possible for our wonderful readers.
I wanted to write for a living ever since I was a teenager. After school in Northern Ireland, I attended the University of Exeter to read English Literature where I explored the possibilities of fiction writing or screenplays, but was drawn more and more into journalism. Realising my passion for magazines could translate into a career, after graduating in 2011, I gained an MA in Magazine Journalism from City University, London.
Although I specialised in Security and Organised Crime (yes, random!) I wanted to work in a magazine genre that was something I could more naturally identify with. I spent some time working on fashion and lifestyle titles, everything from Stylist to The Mail on Sunday before styling my first nice flat rental made me realise my love of interior design.
I became the Deputy News & Houses Editor of LivingEtc, and over the years held positions at Homes & Gardens and Country Homes & Interiors then moving to be Content Editor across Ideal Home's website and magazine before taking up my current position in the summer of 2022.
I have interests across every area of homes - from kitchens and colour schemes to technology and architecture. Over the past couple of years I have interviewed some of the most renowned names in interior design and is passionate about talking to people to discover new ideas, theories and ways of looking at design. Although I am yet to become a homeowner, I love making my rental flat my own, and spend probably too much time idly designing my dream home.
I have been the Deputy Editor of Ideal Home magazine since 2021, having first joined the team in 2011. I currently oversee the publication of the brand's magazine each month, editing, writing and commissioning, from planning through to publication. With a career in magazines spanning nearly twenty years, I have worked for the majority of the UK's interiors magazines and websites, both as staff and as a freelancer. Just some of the other brands I have written for include Homes & Gardens, Livingetc, Country Homes & Interiors, Good Homes and Gardeningetc.com.
I have been fortunate enough to have interviewed some of the most talented designers in the business and I've written about pretty much every area of the home - from shopping and decorating, appliances and home tech, wallpaper and fabric, kitchens and bathrooms, even extensions and conversions. I live in west London with my husband and son, and our Devon Rex cat, Zelda.
I'm the Deputy Editor of Ideal Home's sister title, Style at Home magazine. I've written about interiors for more than 25 years and have worked on all the major homes titles, primarily Ideal Home, but also including Homes & Gardens, Country Homes & Interiors and Woman & Home.
I've written about pretty much every area of the home, from shopping and decorating, crafts and DIY to real home transformations and kitchen and bathroom makeovers.
Homes and interiors have always been a passion and I never tire of nosying around gorgeous homes, whether on TV, online, in print or in person, as well as being a serial shopper/bargain hunter.
I'm Ideal Home's Junior Writer and have been working for Ideal Home since October 2022. I graduated from the University of Nottingham with a BA in Architectural Studies in 2022 and in my final year at university, remotely joined the ArchDaily team as an Intern Editor at the start of 2022.
I love exploring architecture and interior design within film, media, and virtual environments but recently switched my focus to news stories, taking any opportunity to scour the internet for any new and upcoming trends and hacks.
I've recently moved into a cosy rental flat in London, that I'm eager to make into a home using by bringing many home-decor Pinterest boards to life.
I joined the Ideal Home team in May 2023, and it feels like a role for which I've been preparing her entire life. After all, my first ever job was working at a busy local garden centre, before I became a property writer for Fine & Country Estate Agents – a job which helped fund her degree in English Literature & Creative Writing at Royal Holloway, University of London.
I kicked off my career in magazines with an eye-opening internship at Cosmopolitan – and was able to impress her editor so much that she kept me on as a news writer. I then went on to become part of the digital editorial team at Closer, before a successful seven-year stint at Stylist, where I took command as the site's editor (and editor-at-large).
Nowadays, I can be found freelancing for a myriad titles about film and TV, but it's my part time role at Ideal Home that allows me the chance to wax lyrical about my true love: gardening. I've just set to work on giving my own scrubby backyard a woodland-inspired makeover – and there are whispers of a vegetable plot, too!
I've been working with Ideal Home since June 2023. Prior to this, I was Features Editor at Top Ten Reviews where I focused on practical, how-to home and garden advice.
I graduated with a BA in English Literature from The University of Birmingham in 2020, and immediately joined the editorial team at the trade kitchen supplier Howdens where my love for writing about interiors blossomed.
When I'm not reading or writing, you can find me exploring the best London bars and brunch spots, or planning my next budget-friendly city break.
I've been been Ideal Home's News Writer since July 2023, bringing the Ideal Home's readership breaking news stories from the world of home and interiors. I graduated from London College of Fashion with a BA degree in fashion journalism in 2016, and got my start in niche fashion and lifestyle magazines like Glass and Alvar as a writer and editor before making the leap into interiors. I feel the two are intrinsically connected - if someone puts an effort into what they wear, they most likely also care about what they surround themselves with.
Ecommerce Team
I am the Acting Editor of Realhomes.com and Editor in Chief for Ecommerce across the Future Homes titles. I have been writing about homes since 2013 when I joined the Homebuilding & Renovating team as Junior Web Editor. Here I got to put a lifelong passion for architecture and design to good use, overseeing web content for the brand and helping people find information and inspiration for their own builds.
In 2015 I took on a senior web editor role heading up the web team for Real Homes and Period Living websites, too. When Future Plc acquired the brands in 2017, I was made Associate Editor of Realhomes.com helping move the brand forward globally as the place to find accessible home makeover advice. I was also put in charge of increasing the brand's presence as a product advisory, and built my skills around crafting review and buying guide content. In late 2020 my team was asked to bring this insight to the other Future Home brands and produce articles on where to buy the best products for the likes of Homes & Gardens, Livingetc, Gardeningetc and, of course, Ideal Home. I sat on the judging panel of the Real Homes Product Awards 2021.
When I am not writing about homes, I am working on the ongoing renovation of her Victorian terrace in the Staffordshire countryside. I have converted the loft, remodelled the bathroom and currently undertaking a kitchen makeover, as well as constantly trying to make something of my long narrow cottage garden.
After studying Print Design at Winchester School of Art, I spent multiple years working in the interior industry, including styling and visual merchandising for many well-known brands. I am now Decor Editor at Ideal Home, offering advice on creating your dream interior, whether that's choosing the perfect shade of paint, investing in a new sofa, or sourcing on-trend and sustainable products for the home. I also write about all things interior for Livingetc, Homes & Gardens, and Real Homes, and bring my design knowledge outdoors at Gardeningetc, where I advise on what to look for when shopping for the best garden furniture and how to create a practical and stylish outdoor living area.

I am the Ecommerce Writer for Ideal Home and work across the Homes titles at Future to bring you the next best thing for your space. I have worked at Future since 2021 on TopTenReviews and Live Science, and now write shopping content, including reviews and buying guides across the Homes vertical. I joined Future after graduating from the University of Exeter, where I studied English Literature. My areas of expertise are cleaning products (because I can't stand mess) and home gym equipment, from yoga mats to exercise bikes.
I am the Small Appliance and Cookware Editor. I joined Ideal Home as an Ecommerce Editor in 2021, covering all of the site's small appliance and cookware shopping content. I formerly worked at Top Ten Reviews, another Future site, where I produced review and buying guides across a range of home products, from fridges to blenders. As an e-commerce editor, my job is to test all the wackiest product launches, whether they're air fryers, bread makers, or juicers, and give you my honest experience.
Ideal Home experts
Fearne Cotton is one of the best known and most popular broadcasters in the UK and is most recently known as the Founder of the wellbeing brand, Happy Place. The brand was created from her first book released in 2017, Happy, which was a Sunday Times Bestseller and a silver Nielsen Bestseller. This was the first in a series of books talking about her own, and some of the not so positive, experiences with happiness. This was also the premise for her podcast launched in 2018, Happy Place, and has featured an array of guest such as Ellie Golding, Hilary Rodham Clinton, Jada Pinkett Smith, Russell Brand, Gary Barlow, Alicia Keys, and Elizabeth Gilbert amongst others. To date, the podcast has over 59 million downloads and continues to top the charts. 2019 saw a further extension of the brand into the live space, with over 10,000 people attending two Happy Place Festivals, one in the north and one in the south of England. The Festival went virtual in 2020, running over for month featuring around 150 pieces of content. The Festivals return later on this summer to Chiswick House & Gardens and Tatton Park.
Her third children's book Your Mood Journal was published in the November 2020, and her most recent book Bigger Than Us, was published in January this year. In 2021 Fearne also launched Happy Place Books, which has already published some amazing works by Lawrence Okolie & Dr Olivia Remes.
Fearne is a mother of two, and step-Mother of two, and closely supports a range of charities - most notably mental health charity Mind, The Prince's Trust and Coppafeel!, the latter of which she curates the charity's music festival, Festifeel.
Hadley Freeman is an American British journalist. A staff writer for The Guardian Hadley is the author of the bestselling House of Glass (published March 2020) alongside other titles. She has recently moved house, and lives in London with her husband, her kids and, most importantly, her dog.
Born and raised in New York, Hadley spent eight years on the fashion desk at The Guardian, before becoming a staff writer and columnist.. She penned her Weekend Guardian column for over five years, until September 2021 when she stopped to concentrate on interviews for the newspaper. Hadley's work has appeared in publications including Vogue US and UK, New York magazine, Harper's Bazaar, and many others.
Charlie Luxton is an architectural designer who combines his design work with writing and presenting television programmes. Charlie began his broadcasting career presenting a six part series, Modern British Architects for Channel 5. Since then he has gone on to present Britain's Hidden Heritage (BBC 1), Restored to Glory and Rebuilding The Past (BBC 2), Homes and Property (ITV), Supercommuters, World's Weirdest Homes and Best Laid Plans (Channel 4), Building A New Life In The Country (Channel 5) and Building The Dream, Homes By The Sea and Homes By The Med (More 4). He has also worked across the Atlantic presenting Artland USA and Vertical City. Charlie is passionate about the environment and communicating his enthusiasm for sustainable architecture and eco-friendly design.
Studying at Oxford Brookes University, he achieved a first class honours degree in Architecture before going on to complete an MA at the Royal College of Art in London. Charlie has worked for a number of architecture practices becoming a founding director of Free State in 2000 where projects included Zoomorphic, an exhibition for the V&A and Electric Storm, a 3 month renewable energy event on the South Bank in London.
In 2005 he left London and Free State to focus on sustainable housing, setting up Charlie Luxton Design. At CLD his aim is to create beautiful, energy efficient buildings that age gracefully and don't cost the earth to build or maintain and he is currently working on several sustainable housing projects in London, Wiltshire and the Cotswolds where he now lives. Charlie has recently been appointed as an Ambassador for the Plunkett Foundation, a charity that supports rural community businesses across the UK. He has also undertaken the task of building his own house, you can follow his progress via his blog here
Sarah Raven is a gardener, teacher and writer who runs her own online plant nursery specialising in colourful, productive cut flower seeds and seedlings, edible crops and a large range of perennials, shrubs and roses (as well as the kit to grow them).
Over the last three decades, she has written regularly for the Financial Times, The Telegraph, and many other publications including Ideal Home. Sarah presented on BBC Gardener's World, including several one-hour specials (e.g., Bees, Butterflies and Blooms).
She has an online course with Create Academy on growing cut flowers launching in autumn 2023 and has her own successful podcast Grow, Cook, Eat, Arrange. Her garden - Perch Hill Farm in East Sussex - is open 20 days a year.
Ideal Home Contributors
I began my journalism career at Ideal Home and am now the country style expert for the brand, as well as Editor of our sister title, Country Homes & Interiors.
My career spans interiors magazines, women's lifestyle titles and newspapers. Following my first job at Ideal Home, I moved on to women's magazines, Options and Frank. From there it was on to the launch of Red magazine, where I stayed for 10 years and became Assistant Editor.
I then shifted into freelancing, and spent 14 years writing for everyone from The Telegraph to The Sunday Times, LivingEtc, Stylist and Woman & Home.
As a Style Editor, I produce pages of shopping, decorating, room focuses and trend features that appear in both print and online. I began her Future journey back in 2014 overseeing the selection of houses that appeared in a wide variety of magazines and has also been the co-presenter on Real Homes YouTube TVChannel, The Colour Wheel.
I've been passionate about interiors after being inspired by the interiors and architecture I experienced whilst living in L.A.
While working in the photography industry, I honed my picture editing skills which led to assisting on interior photo shoots. Since then, I've worked for multiple magazines and independent companies on a freelance basis and am now an accomplished art director, interior stylist and writer.
Bringing my enthusiasm for interior design onto a more personal level, I have also written a published monthly column about the (mis)adventures of undertaking my loft conversion.
I am a senior content editor and contributing gardening content for Ideal Home and am currently acting editor for our sister title, Period Living.
I've written for lifestyle magazines for many years, with a particular focus on gardening, historic houses and arts and crafts. My journalism career began on BBC radio, where I enjoyed reporting on and writing programme scripts for all manner of stories, from the sublime to the ridiculous. Feeling constrained to fit everything I wanted to say on a story into a 1.45-minute radio slot, I moved into lifestyle magazines.
Always harbouring a passion for homes and gardens, I jumped at the opportunity to work on The English Home and The English Garden magazines for a number of years, before joining the Period Living team. Over more than 10 years working on the magazine, as features editor, deputy editor and now acting editor, I've enjoyed writing, editing and commissioning features exploring historic houses, advising on how to maintain or renovate older properties, shining the spotlight on the skills of inspiring artists and craftspeople, and discovering how to turn gardens into beautiful, blooming spaces.
Now focusing on gardening content, i enjoy learning about new plants or gardening techniques and sharing the advice of horticultural experts. I do put some of what I writes about into practice in her my modest urban garden, but it is an eternal work in progress…
I'm is one of Ideal Home's content editors. I began my career in 2018 as a feature writer and sub-editor for our sister brand Period Living, and now write about a wide range of interiors and renovation content ranging from features about designing the perfect kitchen to choosing the right windows for a period home.
I also regularly contribute to Country Homes & Interiors – interviewing leading designers and researching the latest home and garden updates.
A keen gardener, I've been faced with the challenges of gardening in a rental property leading to a vast array of potted plants – ranging from fruit trees to pretty annuals – and an ever-growing collection of houseplants.
I've been writing for Ideal Homes since spring 2022 following my Master's in Media and Journalism which I completed the year before.
My interest in homeware and interior trends has been a keen one for a long time and since working with this team, I've become an expert in what to look for when shopping for the home and garden and now love sharing these with friends and colleagues.
I'm always looking to mix up my interior and experiment with the latest trends, usually using my favourite brands - Anthropologie and H&M Home.
I've been a Freelance Contributor for Ideal Home since 2023. I graduated with a Joint Honours degree in Politics and English from the University of Strathclyde and between her exams and graduation, started a lifestyle blog (www.ellistuesday.com) where I would share what she was buying, reading and doing. In doing so, I created opportunities to work with some of her dream brands and discovered the possibility of freelance writing, after always dreaming of writing for magazines when I was growing up.
Since then, I have contributed to a variety of online and print publications, covering everything from celebrity news and beauty reviews to my real passion; homes and interiors.
I started writing about all things homes, gardens and interiors after joining Decor & Design Scotland as a Freelance Journalist and Social Media Account Manager in 2021. I then started freelancing at House Beautiful, Country Living and in Stylist's Home team. I am currently saving to buy my first home in Glasgow with far too many Pinterest boards dedicated to my many design ideas and inspirations.
I was the Style Editor of Ideal Home for over 10 years. I am an interiors journalist and stylist who has worked for some of the UK's leading interior magazines for over 25 years. A stint as Associate Editor on Ideal Home in 2000 led to me becoming Deputy Editor of Livingetc in 2002, leaving to have my three children and to start my own interior design business @Stylingatnumber42, before returning to Ideal Home as Style Editor in 2010. I have styled and art directed over 300 shoots for Ideal Home magazine to date.
Having gained a first class honours degree in Furniture Design, I went on to assist leading interior stylists with work on catalogues, editorial and events. My first in-house role was as Assistant Homes Editor on House Beautiful magazine before becoming part of the launch team of BBC Good Homes magazine, as Homes Editor in 1998. After moving to the role of Associate Editor on Ideal Home for two years, I landed the Deputy Editor position at Livingetc in 2002. I then took a career break to have my three children and to launch my own interior design business before returning to Ideal Home in her current role in 2010.
I know first hand about the decorating process and I'm a self confessed 'doer-upper' - I'm a dab hand at painting, wallpapering and even tiling and is the proud owner of numerous power tools, including a chainsaw!
From a studio flat refurb, published in Livingetc 2002, to transforming a family Victorian townhouse published in Ideal Home 2017, I am currently doing-up my Edwardian townhouse to become a super stylish home for my three kids, two dogs and a rather large vase collection!!
I have been working on interiors magazines for over 11 years. I'm a freelance writer and sub editor who has worked for some of the UK's leading interiors magazines including Ideal Home, Style at Home and Country Homes & Interiors. I started at Style at Home just after it launched as food editor and I'm now chief sub editor for Ideal Home, Style at Home and Country Homes & Interiors.
I have been working as an interiors and lifestyle journalist for over 30 years. I have been Homes and Gardens Editor of Woman & Home magazine and Interiors Editor of House Beautiful magazine, I have also freelanced and worked for most of the interiors magazines at one time or another. I am currently embracing the move to digital using the same knowledge and expertise to produce high quality features.
I attended London College of Fashion studying Fashion Journalism where I won the Philippa Murley Award for Student of the Year and worked briefly in fashion before switching to homes, becoming Deputy Homes Editor for Living magazine. I am well-known in the industry and known as a safe pair of hands, getting features in on time and to the required standard.
I am a freelance lifestyle writer and editor primarily covering homes and interiors, wellness, travel and careers. I was previously Lifestyle Editor at woman&home, commissioning and editing the homes, books and features sections of the website – so I'm always interested in the latest interior trends and SEO updates.
In 2019, I won the AOP Digital Journalist of the Year Award, for my work on womanandhome.com. Having worked in the industry for over eight years, I have contributed to a range of publications including Ideal Home, Livingetc, T3,Goodto, Woman, Woman's Own, and Red magazine
I am an award-winning journalist and professional nerd who tests technology for newspapers, magazines and online. I have written for Ideal Home since 2012. I pride myself on real-world testing and translating geek speak into plain English. My pet hates are jargon, pointless products and over-complicated instruction manuals. I am an engineering graduate who has won multiple awards for communicating hi-tech subjects to normal people. I understand the acronyms and tech specs so you don't have to. As well as writing on tech, I have appeared as a technology expert on the BBC, Sky News and GMTV, and done countless radio and podcast interviews. I live in east London with my two children, dog, three cats and 10 rescue chickens… all of whom assist me in destruction testing home electricals for us.
After the birth of my second son in 2015, I switched from my in-house journalist role to a freelance one, contributing to titles such as Modern Gardens, Ideal Home Christmas, goodto.com, Candis and idealhome.co.uk. Before that, I was the Lifestyle Editor at Essentials magazine, where I wrote about everything from food and fashion to books and gardens, but home interiors were what gladdened my heart the most, and still do.
My childhood passions – creative writing and constantly styling my bedroom – led me to an inevitable career in interiors journalism, which has spanned almost 20 years. That's how long I've been styling up my own home (as well as my friends!), writing about other peoples and trawling through interiors websites, be it to source a doppelganger of a designer lamp or to pull together a collection of on-trend rattan chairs. My longevity in the field has earned me credence, particularly if you're after savvy but chic brands and buys, styling tips and practical advice
I am an award-winning freelance consumer and money journalist with more than a decade of experience in the field. Having graduated from The University of Manchester in the early 'noughties' I went on to gain my journalism qualifications (NCTJ) at Liverpool Community College. I started my career at The Rochdale Observer before moving to the commuter newspaper Metro where I wrote about business, property and money. It was here I also obtained a senior journalism qualification.
I went on to work for The Times, Daily Mail, MoneySavingExpert, and ITV, among other titles. I was also personal finance correspondent at The Mail on Sunday for eight years until early 2021. I have won numerous financial journalism awards for my work – the most recent being National Newspaper Personal Finance Journalist of the Year 2019, from the Personal Finance Society.
I am passionate about helping people to save, understand, and manage money more effectively.
I am a professional stylist, writer and content creator, who lives and breathes interiors. Along with working in-house on some of the UK's leading interior magazines, I have also styled homes and produced sets for TV shows, adverts and top brands – everyone from Valspar to Hillarys, Soak & Sleep to Dunelm.
My career has taken me all over the country, with highlights including appearing on stage at the Ideal Home Show, hosting workshops at Fearne Cotton's Happy Place Festival and chatting all things interiors on Zoe Ball's Radio 2 breakfast show, not to mention appearing as a judge for the Amara blog awards not once but twice in the last five years.
From product round-ups for the Independent and Evening Standard, to styled shoots for Stylist and Ideal Home, I have a wealth of knowledge and regularly contributes tips and tricks both online and in print. And writing and styling aren't the only strings to my bow. Hosting events with styling demos and craft workshops, whether in store, for the press and influencers, or via video, is something I regularly enjoy.
I am a freelance interiors & lifestyle journalist, specialising in modern interiors, design and eco living. I have written for Future's interior magazines and websites including Livingetc, Homes & Gardens, Country Homes & Interiors and Ideal Home for over fifteen years, both as a freelance contributor and inhouse, with stints as Acting Digital Editor, Livingetc and Acting Style Content Editor, Country Homes & Interiors.
My work also features in national and international publications including Sunday Times Style, Telegraph Stella, The Guardian, Grand Designs, House Beautiful and more. With years of experience in the industry I am privy to the insider view and the go-to places for interior inspiration and design-savvy décor.
When I'm not writing about beautiful homes, interior ideas or interviewing designers, I'm usually browsing Rightmove for a potential coastal retreat and contemplating what to eat.
I am a professionally trained journalist, and have specialised in product design, interiors and fitness for more than two decades. I have written for a wide range of publications, from the Daily Telegraph and Guardian to Homes & Gardens and Livingetc. I have been freelancing for Ideal Home Magazine since 2008, covering design trends, home makeovers, product reviews and much more.
I trained at Cardiff School of Journalism, Media and Culture, where I received a First Class bachelor's degree in Journalism, and Post Graduate Diploma in Magazine Studies. I have won awards for technical features in the interiors trade press and have sat on Design Awards judging panels for Designer Magazine, Homes & Gardens and, most recently, Real Homes.
I am a freelance journalist who has written about interiors for more than 25 years and have worked on all the major homes titles, primarily Ideal Home, but also including Homes & Gardens, Country Homes & Interiors, Style at Home, Livingetc, Woman & Home, Easy Gardens and Good Homes magazines. Homes and interiors have always been a passion and I never tire of nosying around gorgeous homes, whether on TV, online, in print or in person, as well as being a serial shopper/bargain hunter.