About Ideal Home: who we are, what we do, and how to get in touch
The home of great ideas for more than 100 years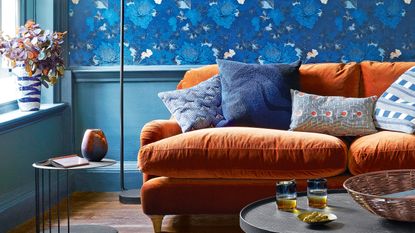 (Image credit: Mark Scott)
Ideal Home Newsletter
The Home Of Great Ideas For More Than 100 Years
Thank you for signing up to . You will receive a verification email shortly.
There was a problem. Please refresh the page and try again.
The home of great ideas for more than 100 years, Ideal Home is your one-stop-shop for all things home. We're here to make the best home design accessible to everyone, and our unique formula of home decorating ideas and inspiration plus practical expert advice and solutions is on hand to help you enjoy a happier, healthier, better designed home.
Ideal Home has everything you need for the modern home in the 2020s, from homekeeping to tech, room decor to DIY, wellbeing to home finance. When it comes to your home, we have answers to all your questions and dilemmas (with a very healthy dose of interiors inspiration along the way!).
We're all about a democratic approach to home design. You'll find no judgements about style, taste or budgets here – we're not the Style Police! We simply showcase the very best ideas, top new products, inspiring real homes – so you can put together your own perfect blend. So whether you're on the lookout for living room ideas, kitchen planning
We think creating a home should be fun and exciting, and that's how we want you to feel when browsing our brilliant content. Think of us as a trusted friend who'll help you navigate the tricky choices and celebrate the joys of home.
Ideal Home's heritage
Since 1920, Ideal Home has been delivering everything busy women need to create a home they're proud of. It expertly selects beautiful possibilities and practical solutions with insight and passion.
In the very first edition of Ideal Home in January 1920, the editor wrote: 'The policy of The Ideal Home is to cater for the wide circle of the middle class. Every matter of interest, from the designing of the house and garden to its finishing touches, will be explained and illustrated by experts.'
From that first issue over 100 years ago, Ideal Home has achieved so much: giving away architectural plans to boom-time self-builders, dispensing government information about rationing, blackout and air raids during the war, converting London townhouses into modern show flats and even building a housing development in Peterborough.
Today in 2022 we continue our mission to arm you with all the knowledge and ideas you need to create your dream home. Ideal Home has been the home of great ideas for more than 100 years, and we're looking forward to the next 100!
Ideal Home is brought to you by Future Publishing, which also publishes Homes & Gardens, Livingetc, Style at Home, Real Homes, 25 Beautiful Homes and many other popular titles.
Meet the team
Ideal Home was one of the first magazines to bring the advice of leading industry experts into the homes of its audience. This mission lives on with our team of brilliant editors, along with well-known, experienced experts from the fields of interior design, home ownership, architecture and much more.
We can guarantee our editors as homes-obsessed as you. Homes are our passion, and that's why we love to write about them.
Ecommerce Team
Ideal Home experts
Ideal Home Contributors
About our product testing and reviews
Our product reviews and buying guides help you find the best buys for your home. We know making a big purchase can be daunting, so our team of experts works hard to make the experience a little simpler.
And it is something we have been doing at Ideal Home for over 100 years. Yes, since 1920, Ideal Home has been advising homeowners on the best buys for their kitchens, bathrooms, bedrooms, gardens and more – we are proud of our century of shopping expertise.
Our review panel is made up of a team of bakers, sleep obsessives, tech experts and gardeners. All of them test the products they review in the home to give them a true-to-life experience, and all are incredibly houseproud so they want something that looks the part while doing the job.
How do we test products?
Products are sent to us for review (often free of charge though we may have to buy) and handed to our trusty reviewers. They will test the product for at least two weeks, though we test mattresses and some other products for longer to allow us to get used to them.
Each product is tested in the home, but we aim to be scientific in our testing approach as much as we can. Every stand mixer will bake the same recipe; every blender will make a soup and smoothies; and every air fryer tested at how well it makes chips. However, we do take into account that different products are designed for different homes, so we match our products to our testers as such.
When we have finished our testing, we write the review and give the product a rating out of five stars. The very best products (4.5 stars and above) are awarded an 'Ideal Home Approved' recommendation.
These products are the basis of our buying guides – a one-stop to see our top rated buys.
To request the Ideal Home Approved winner logo, please contact Efi Mandrides to learn about our logo usage packages.
Our shopping links
We are never paid to review products and work hard to ensure independence. The products we review are offered by the manufacturers for this purpose and they know we will produce a no-holds barred report on its performance.
Some of the products we write about are shoppable via links on our website. This means you can see the best prices for that product if it sounds like the right one for you. If you buy through one of these affiliate links, we may get paid a small amount of money from the company you bought from. This is not an added fee and is included in the normal purchase price everyone else sees.
Our editorial integrity is important to us – please write to us and let us know how we are doing.
Ideal Home brand partnerships
Ideal Home is proud to have worked with some of the UK's leading brands on product licensing partnerships
These include:
Contact us
Please do get in touch to talk about collaborating with us (please note we do not take part in link building).
Here's a handy list if you would like to get in touch:
Email the digital team about the Ideal Home website
Email the ecommerce team about product reviews
Email the print team about Ideal Home magazine
Email the ad team about content marketing and all advertising enquiries
Email our licensing team at licensing@futurenet.com about logos and quotes, or click here
ADDRESS
UK: Future PLC 121-141 Westbourne Terrace, London, W2 6JR Telephone: +44 (0)20 7042 4000
US: Future PLC, 135 W41st St, New York, NY 10036 Telephone: +1 212 378 0448
Ideal Home Awards
The Ideal Home Kitchen Awards celebrate great kitchen design and innovation. Find details of our 2022 winners here.
We know how much you love to look inside some of the UK's most stylish homes, and our annual Best Home Awards celebrates the very best of the bunch.
Privacy policy
Here at Ideal Home, we have a strong commitment to protecting your privacy. Please read our in-depth privacy policy to find out more.
Code of conduct
Ideal Home is a member of the Independent Press Standards Organisation (which regulates the UK's magazine and newspaper industry). We abide by the Editors' Code of Practice and are committed to upholding the highest standards of journalism. If you think that we have not met those standards and want to make a complaint please contact us by calling 01225 442244 or writing to us at Future Publishing, Quay House, The Ambury, Bath, BA1 1UA, UK. If we are unable to resolve your complaint, or if you would like more information about IPSO or the Editors' Code, contact IPSO on 0300 123 2220 or visit www.ipso.co.uk.
Heather Young has been Ideal Home's Editor since late 2020, and also edits its sister title Style At Home. She is an interiors journalist and editor who's been working for some of the UK's leading interiors magazines for over 20 years, both in-house and as a freelancer.