10 kitchen window treatment ideas for adding privacy, style and light
Whether you're looking for dramatic drapes or pared-back blinds, these kitchen window treatment ideas will complete a space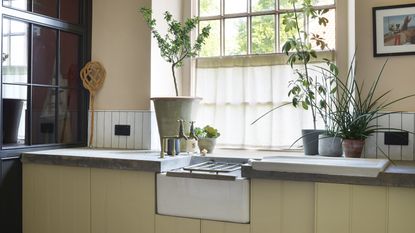 (Image credit: Future)
Kitchen window treatment ideas probably aren't the first thing you think of when designing a cooking space, but they're certainly one of the most important. Often, a window covering is thrown up for practical reasons or as an afterthought, but with careful consideration, your kitchen window can be given the dressing it deserves.
Kitchen ideas deserve an added slice of style too, so instead of thinking solely with function in mind, opt for a window covering that enhances the look of the room. Whether it's with dramatic drapes that cover French doors or a whimsical cafe curtain that transports you straight to your favourite eatery, there are many options that will reflect your interior taste.
Plus, there's an abundance of shutters and blinds that are quick to roll down and easy to clean, so you can enjoy your kitchen for all it has to offer, instead of worrying about privacy.
Kitchen window treatment ideas
Privacy is essential in any home, and regardless of whether your home is overlooked by neighbours or your kitchen windows are easily seen from the street, you're going to want to prioritise peace and quiet.
But style is also a key component in choosing a kitchen window treatment idea. Small kitchen ideas might benefit from a slimline Roman blind, for example, whereas modern kitchens are the perfect place to add a chic white shutter.
'Getting the right window dressing to fit the space is as important within the kitchen as it is with any other room in the house,' advises Amy Wilson, interior designer for 247 Blinds and 247 Curtains. 'Opting for the wrong style for the space, or even failing to invest in a window dressing, can result in a room lacking style and cohesiveness.'
1. Create a high-end look with shutters
Shutters are a highly desirable kitchen window treatment idea, largely in part to the premium look they provide. They're a simple way of making a room look super chic, and they're no longer just reserved for traditional farmhouse-style properties.
The wooden style is designed to last for years, so once you've had them fitted you can rest assured that you won't need to update them anytime soon. This does however mean that window shutter ideas can come at a cost, especially when they have to be custom-made.
They're easy to clean too which is a huge pull for a messy cooking area. The wood means you can simply wipe it off with a damp cloth and you won't need to worry about stains.
'If your kitchen has lots of bright white surfaces or tiling and you like the minimalist style then some white plantation shutters could be a great option, both to tie the room together and add a touch of luxury to the home,' adds Amy.
2. Find a simple solution in made-to-measure blinds
Venetian blinds still remain a popular window option as they're affordable and fast to install. If you want to update your window fittings in a time crunch or even complete a kitchen renovation with a few budget-friendly touches, then made-to-measure window blinds are the way forward.
With so many retailers such as Dunelm and John Lewis offering off-the-shelf options too, you can find one that fits your taste and budget.
3. Add window frosting for privacy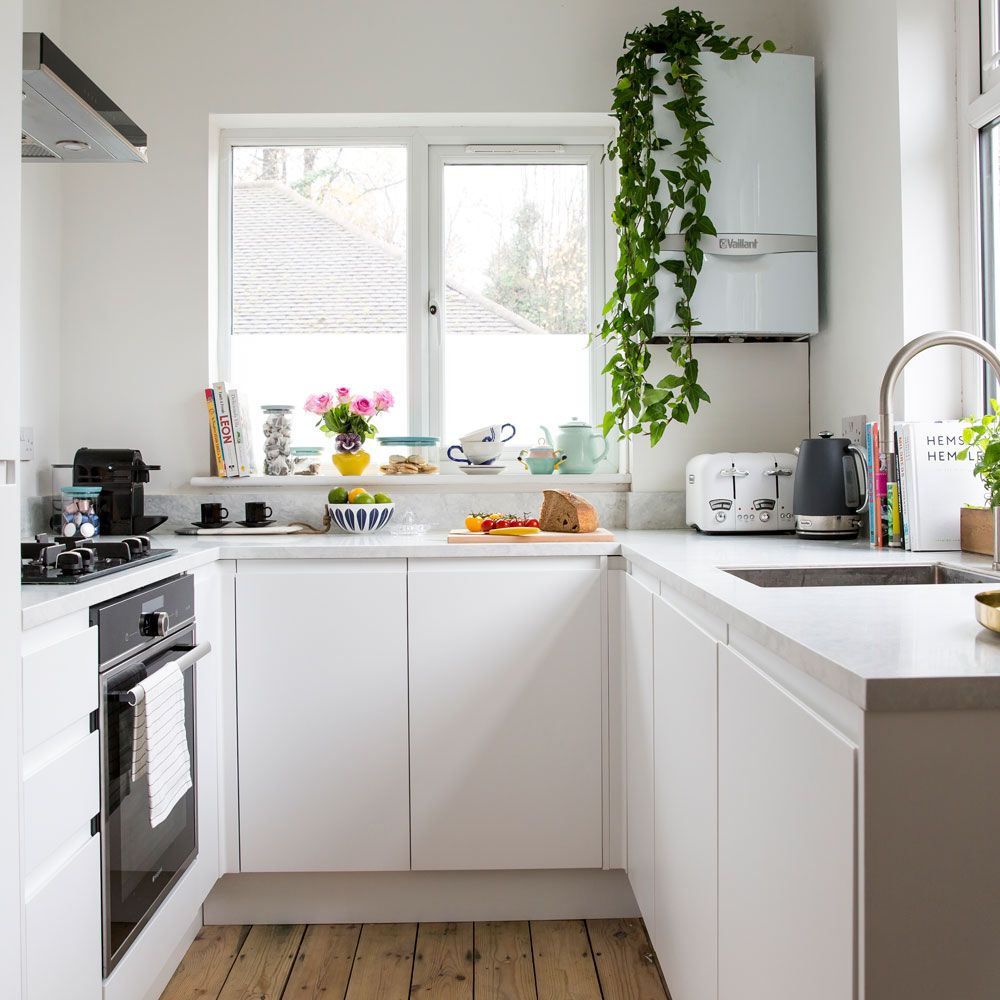 In modern homes, being overlooked has become commonplace. And while a kitchen doesn't need complete privacy, it's nice to feel like you're not being looked in on all of the time. This is where window frosting comes in.
It's an incredibly low-maintenance window treatment idea as it offers privacy, without you needing to remember to open and close curtains or blinds. It also still lets plenty of light in which is essential for a small kitchen or one that is north-facing. Mirror film is great for solar control too, as it works to reduce the amount of heat and glare coming through a window.
4. Create a French-inspired look
Cafe curtains are becoming all the rage in interior design lately. The look dates back to 19th-century French design and can still be seen in many Parisian cafes and bistros. It essentially just consists of a half-height curtain made of linen or a similarly light material that adds privacy, and a pretty flair.
'Now spotted in our kitchens and bathrooms at home, cafe curtains dress a plain window to give you privacy and allow sunlight to filter in from the top,' adds Sophia Ayrton-Grime, interior designer and founder of Atelier Raff.
If you're looking to achieve a traditional kitchen or you're simply a lover of vintage design, then it's a great option for making your cooking space feel like a warm and inviting eatery.
5. Opt for easy access blinds
Roman blinds are perhaps one of the most common options for a kitchen window covering as they're readily available and come in a huge range of materials. The folding pattern creates a panel of material that frames the window pane, offering a taste of the design even when the blinds are open.
With your choice of texture, you can easily make a Roman blind fit your space. So if you love a country kitchen aesthetic, consider a small floral print or micro-stripe, as opposed to a block colour.
Plus, if you're concerned about staining a fabric-blind, there are now special finishes that can protect your choice. 'If you're worried about spills and stains, special finishes add an extra layer of protection to fabric blinds, stopping common kitchen and household water-based marks like fruit juice, tea, coffee or oil affecting the finished look,' says Daniel Hatfield, brand manager at Luxaflex.
6. Maximise sun exposure with skylights
If you're planning a kitchen extension, then consider adding skylights to your plan. It's a great way to make a cooking space feel bright and airy, without facing the issue of needing to think about privacy.
Whether a kitchen is north-facing and needs a different source of light for better sunlight through the day, or you just want to make it feel as illuminated as possible, you can't go wrong with adding more windows. Plus, you can still choose to add a roller blind if it becomes glaringly bright.
7. Make a dramatic impression with curtains
Curtains aren't typically used as frequently in a kitchen as they are in a living room, but there's still plenty of opportunity to add a dramatic draping effect into the space.
Rather than adding them to a window above a sink or counter where they could get in the way, consider reserving a curtain idea for a larger area such as French doors. This way, you can go all out with a statement length or heavy material that will look expensive and eye-catching.
8. Go for a stand-out pattern
If you've opted for a white kitchen and have a penchant for neutral interiors, then a kitchen window dressing is a prime chance to add in a pattern. Or if you already love colour and pattern, then why not add more?
When the blinds are drawn you get to enjoy the full effect of your chosen material, almost as if it's a piece of art. And if it's not too difficult to swap out if you find that your tastes change.
9. Create a cohesive colour scheme
Creating a cohesive kitchen colour scheme always comes down to the finishing touches, like a window treatment. Once you've chosen the core colours of your cabinets and walls, turning to soft furnishings and blinds or curtains will tie the entire look together.
If the majority of the kitchen is designed with tonal block colours, then consider adding a pattern in the same palette or texture to add dimension to the design.
10. Let light in with a semi-sheer material
A kitchen is the heart of the home and you want it to be a place where family and friends want to spend time. One way of achieving this is to make it bright and inviting.
When weighing up creating privacy with still letting light in, linen blinds or a similarly thin material will form the perfect balance. They're incredibly chic too, so it's a win-win.
FAQs
What blinds are suitable for kitchens?
When choosing a blind for other rooms around your home, the deciding factor will likely be the way it looks. However, when picking a blind for your kitchen, you'll want to pay closer attention to the material it's made of. In a room where splashes and spills are commonplace, you want a blind that is hardwearing and stain-resistant.
'In many homes, the kitchen window is situated above the sink. If this is the case for you, then splash-proof Teflon-coated or PVC vertical blinds are sensible choices. These are easy to clean and mould resistant too. If you love the look of real wood, a Faux Wood Blind is a great alternative for the kitchen. Our practical range is perfect for humid spaces as the water repellent blinds will not warp in steamy conditions,' advises Yvonne Keal, senior product manager at Hillarys.
'Privacy should also be a big factor when choosing window dressings for our kitchens. For many of us, kitchen windows are overlooked by neighbours or face out onto a busy street. If privacy is an issue for you, Café Style shutters provide a stunning solution. Only the bottom part of the window is covered so prying eyes are kept out while plenty of light is allowed in.'
What are you opting for? Your kitchen window really is your oyster.
Get the Ideal Home Newsletter
Sign up to our newsletter for style and decor inspiration, house makeovers, project advice and more.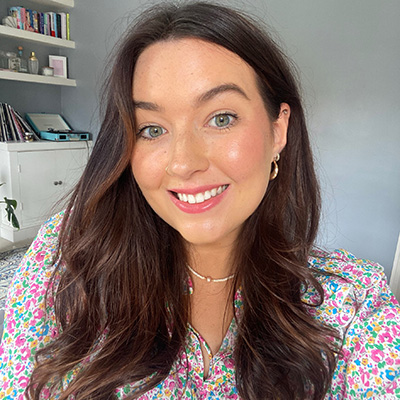 After starting out her journey at Future as a Features Editor on Top Ten Reviews, Holly is now a Content Editor at Ideal Home, writing about the best interior ideas and news. At Top Ten Reviews, she focussed on TikTok viral cleaning hacks as well as how to take care of investment purchases such as lawn mowers, washing machines and vacuum cleaners. Prior to this, Holly was apart of the editorial team at Howdens which sparked her interest in interior design, and more specifically, kitchens (Shaker is her favourite!).