55 small living room ideas that will maximise any tiny space
Pack your small living room full with clever design tips and tricks that prove size isn't everything
(Image credit: Future PLC)
We know, we know: searching for small living room ideas can feel like searching for a needle in a haystack – especially as most of the living room ideas out there tend to be aimed at those of us with larger (read: palatial) homes.
Thankfully, there are plenty of ways to make the most of the space you have, and even visually enlarge it. It might be a case of rethinking your lighting, reassessing your layout. It might be a case of figuring out how to hide a TV.
It might, too, be worth thinking about the star of the show – yes, we're talking sofa ideas – in a new light (more on that later, and don't worry; you won't have to sacrifice one ounce of comfort!).
Small living room ideas
There's a lot to think about, and it's understandable if you feel overwhelmed, but don't worry: we're here to help you nail the latest living room trends without sacrificing one inch of space.
From space-enhancing design tricks to clever storage ideas, we've rounded up all the best small living room ideas around.
1. Cuddle up in a love seat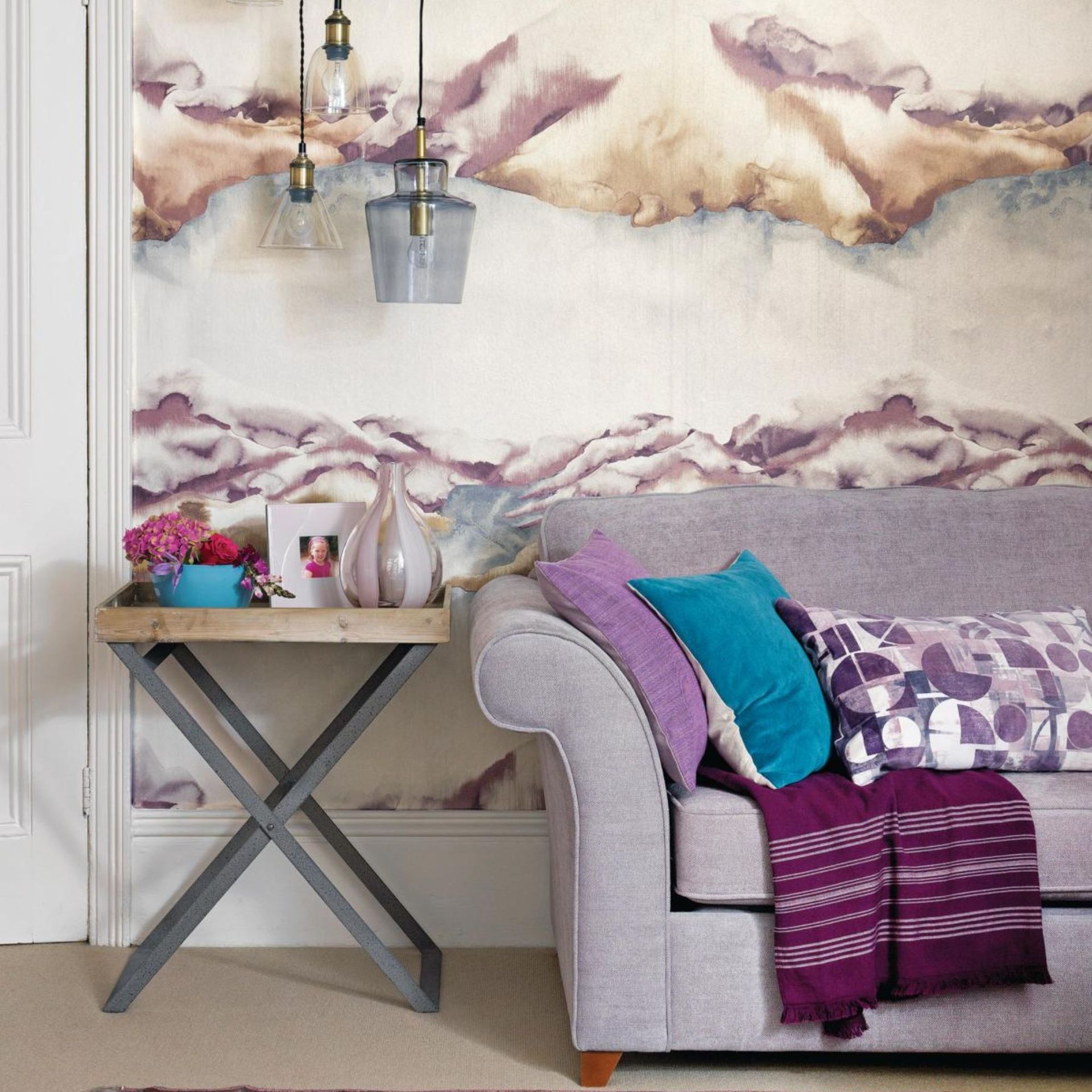 If you're looking for sofa ideas for small living rooms, try sourcing one with slim proportions and small footprints, and ideally one with a straight back.
'This means that no space is wasted from being unable to sit something flush against the wall,' says Gisela Lancaster, head of buying at Sofology.
'Love seats can often be overlooked but are a wonderfully versatile option that offer a cosy space for two or a luxuriously comfortable seat for one,' she adds.
'They also deliver in the style stakes and provide a focal point for any small room where space is limited.'
2. Let your furniture float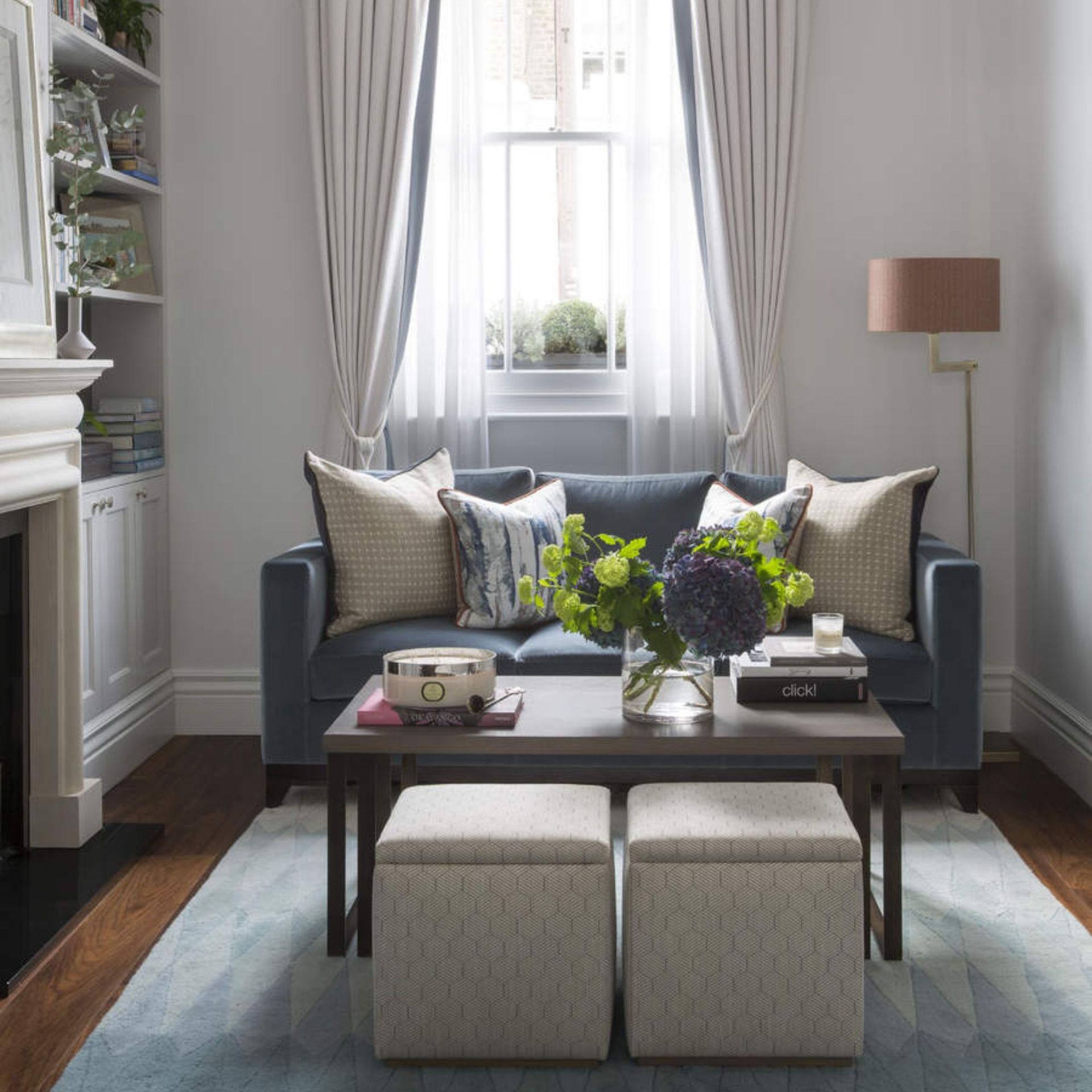 It might be tempting to push all of your furniture up against the walls, but it may actually be smarter to let it float when considering how to arrange furniture in a small living room.
'With a small living room, it's worth taking time to really plan where your furniture is placed. Although the available space may limit your options, the right layout can make a space seem larger than it actually is,' explains Adam Brown, director at The Painted Furniture Company.
'Avoid the obvious solution of pushing everything back against the walls, instead allow space around key pieces of furniture. This will allow the eye to see more floor space, making your room seem bigger.'
3. Opt for tapered legs
It might sound strange, but choosing the wrong sofa design could be one of the biggest small living room mistakes you can make. Instead, opt for one with tapered legs.
'For people wanting to save on the minimal space they have, avoiding designs with wide frames and opting for slim lines will help to make the furniture feel far less imposing,' says Gisela.
'Choosing a model with tapered legs can help create the illusion of space by elevating furniture slightly. Similarly, a petite sofa with a tall back and narrow arms will suit a small room whilst making the piece appear larger than it is.'
4. Keep it symmetrical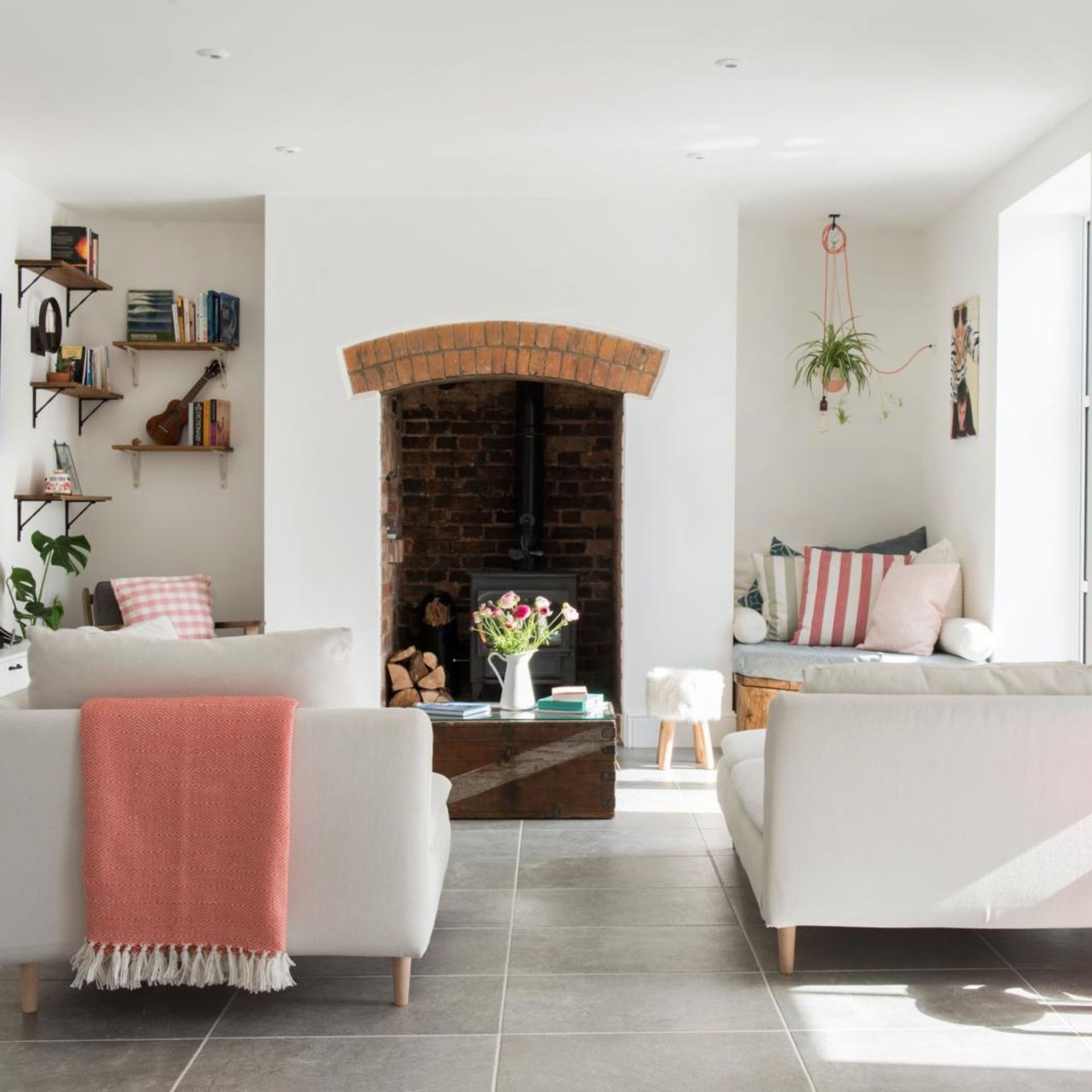 When it comes to sussing out how to arrange living room furniture, symmetry can, when used well, create balance and a feeling of calm.
To that end, interior design experts recommend that you use a feature wall or fireplace as a marker, and set up your furniture around it, adhering to a mirroring effect as you go.
If you really want to make things feel even more serene, opt for calming neutrals and exposed brickwork, as seen above.
5. Wave goodbye to the 3-seater sofa
It's traditional, sure, but you don't have to have a 3-seater sofa in your small living room.
'When considering the benefits of a 3-seater sofa in a small space, it's important to envisage how it will be used,' says Gisela.
'If three people are unlikely to ever sit together then perhaps two 2-seater sofas will serve a family of four better than one 3-seater and an armchair.'
6. Go big with a rug
When designing a small living room, the worst design mistake you can make is going small with your rug choice. When trying to make your small living room look bigger, it's important to note that if your rug it is floating like an island between your furniture it will only make the space look smaller. This is your opportunity to go big so seize it.
However, you do need to make sure the rug your choose is in proportion to your furniture and space. 'A good guide to follow is to ensure that your rug is larger than the biggest piece of furniture. For example, the longest side of the rug should always be longer by at least 6 inches than the largest piece of furniture, eg. sofa,' says Therese Germain, Vice President of Product at Ruggable, our go-to machine washable rug brand.
'In a small living room, a 150x215cm rug will fit underneath a coffee table, or in front of a fireplace with two comfy chairs sitting almost completely on the rug.'
7. Go bold with your paint choice
You'd better believe that there are some genius small living room paint ideas that can make a huge impact to your abode.
'First instinct for a small living room is to keep it light, bright and de-cluttered (the word du jour right now) and while this is a perfectly acceptable decorating thing to do, especially if the room is flooded with natural light, sometimes going bolder can also be a wonderful option,' says Patrick O'Donnell International Brand Ambassador at farrow and ball.
Patrick recommends trying a mid-tone green living room ideas for an invitation oasis like French Gray or Lichen. Alternatively, consider taking the plunge with a bold and dark colour like Down Pipe. 'Our perennially favourite grey that never comes across as too chilly- it will just cocoon you in a softly dramatic way!' adds Patrick.
8. Embrace the colour drenching trend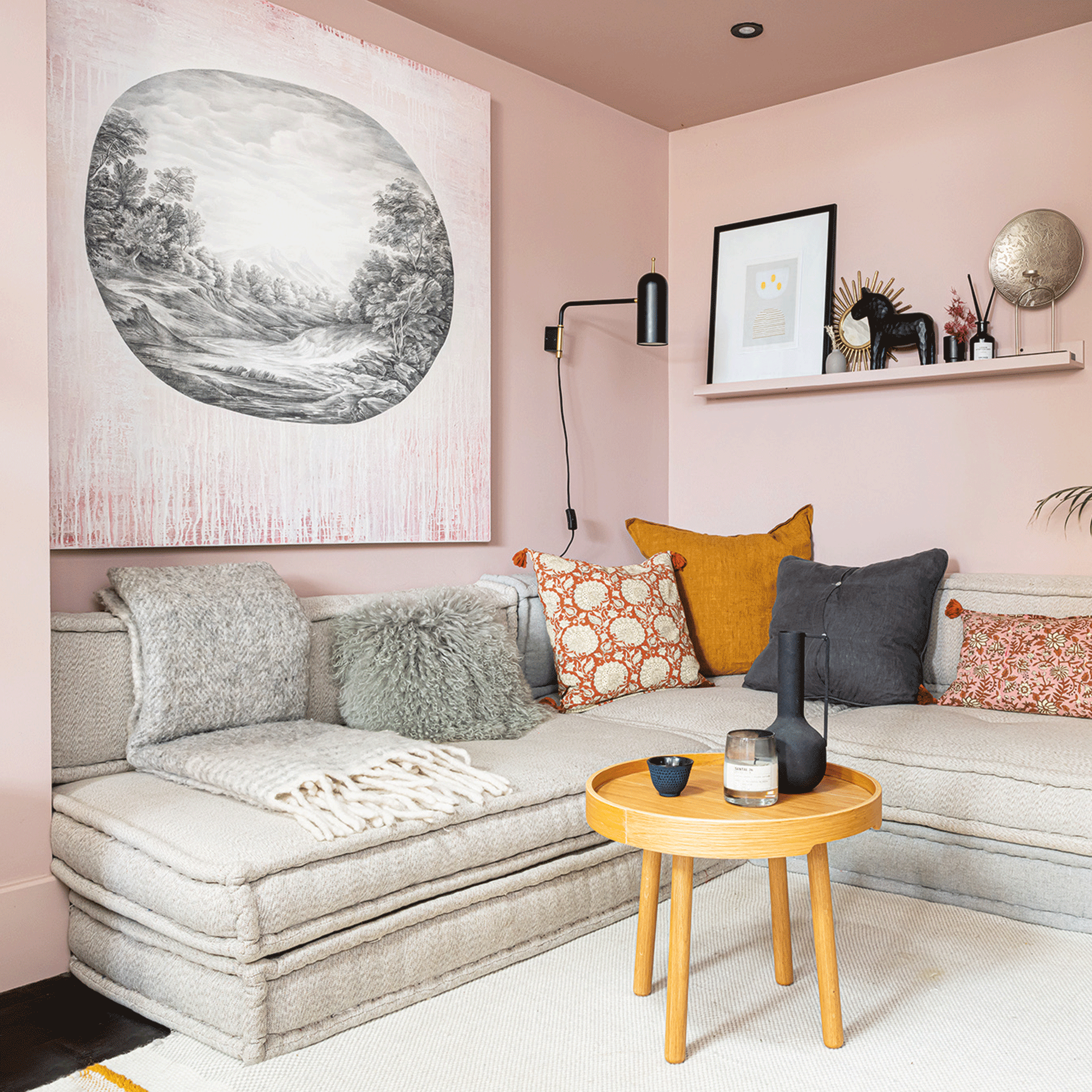 'Another good trick is to paint EVERYTHING in one colour- a soft neutral such as Joa's White or Stirabout will work in all lighting conditions and create a good backdrop to introduce your personal identity through cloth, pictures and furniture,' says Patrick at Farrow and Ball.
Embracing the colour-drenching paint trend as Patrick suggests works by distracting the eye from the edges of the room which are usually picked out in another colour. However, don't feel you need to stick to soft neutrals, bold dark greys and navy can also look great in a small living room.
9. Define space with paint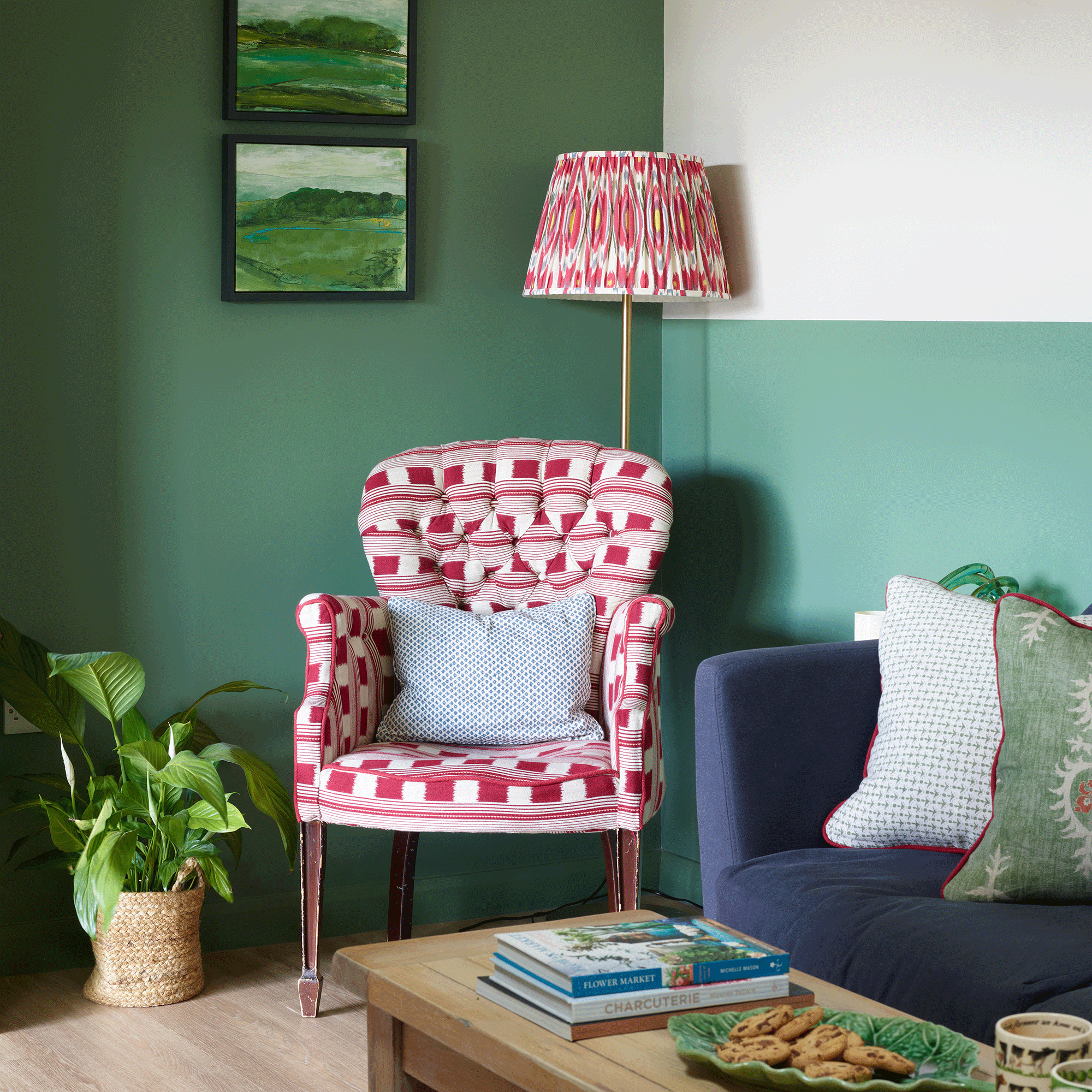 Much like in a larger space, even small living room ideas can benefit from the power of zoning a room with colour. If you use the room for dining and unwinding in front of the TV use contrasting paint colours to divide the room.
'Using contrasting paint colours to create division in a room is an effective way to manage smaller spaces,' says Paula Taylor, Head Stylist at Graham & Brown. 'If you were to split the wall up with contrasting paint colours, such as a deep blue and vibrant yellow, it will create the illusion of separate spaces, without the need to use furniture or physical divisions.'
Alternatively, for a softer look zone spaces with different shades of the same colour.
10. Switch out the sofa for a lounger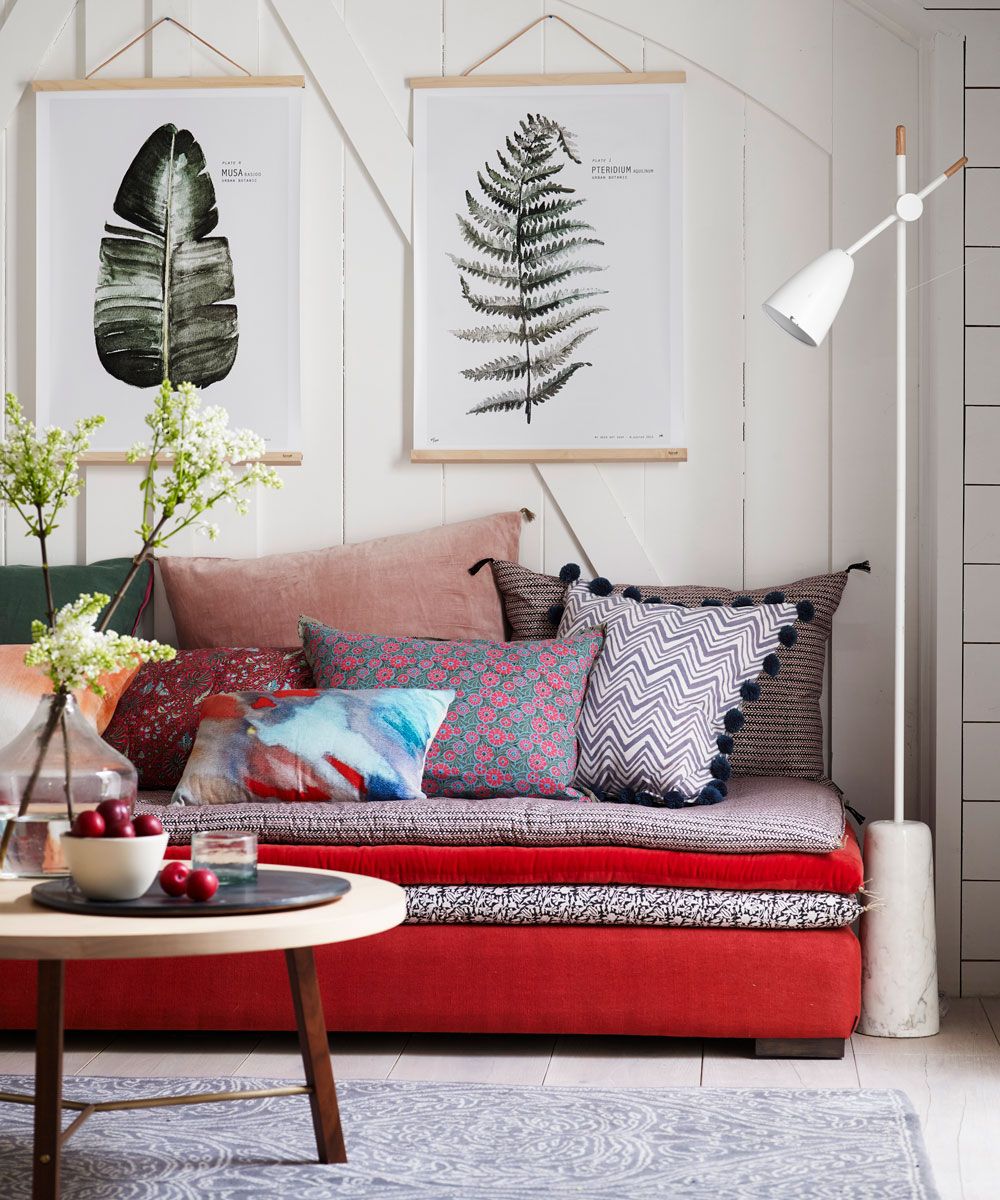 Can a living room still be a living room without a sofa? The answer is a responding yes!
While choosing the best sofa might be the conventional furniture choice, if you're working with tiny living room ideas it could be worth considering a lounger, day bed or cuddle seat, over small living room sofa ideas.
'Not every living space needs a sofa but often we feel the need to fill a space. When it comes to choosing seating, think about how the space is going to be used, who by and at what times of day. You might find a small chaise or classic mid-century lounger will be perfect,' says Tom Rutt, founder of TR Studio
11. Open up the space with shutters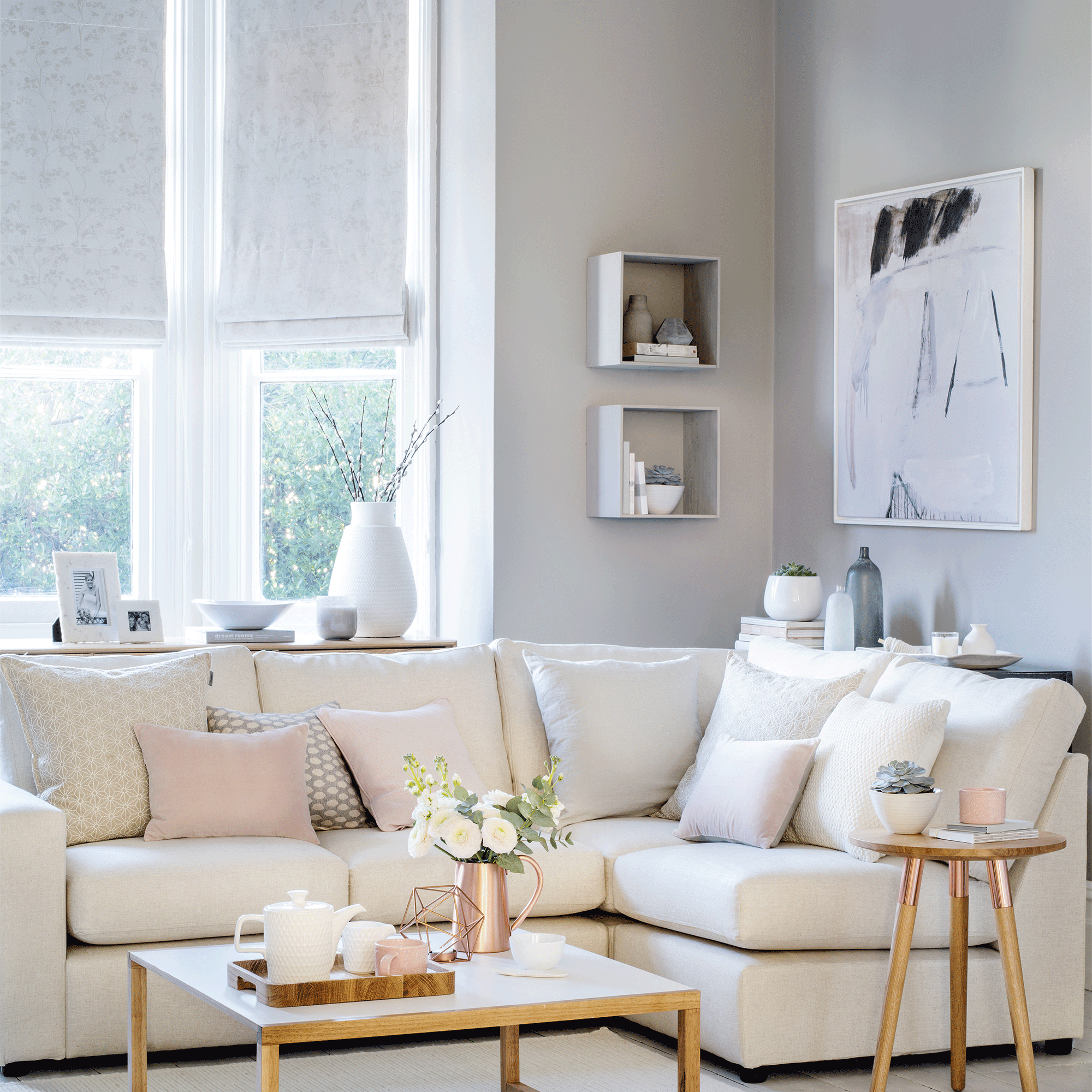 When designing a tiny living room, it pays to be clever with your window dressings and consider forgoing the usual living room curtain ideas. Instead, blinds or shutters could be a smart option to open up the space.
'Changing accessories in your living room can make a huge difference. Although curtains add an element of luxury to your relaxing space, if your living room is small, it might be worth swapping them out blinds or shutters,' says Lisa Cooper, Head of Product at Thomas Sanderson.
'Blinds and shutters both make a room look taller, as they free up space on either side of the window.'
12. Experiment with a coloured ceiling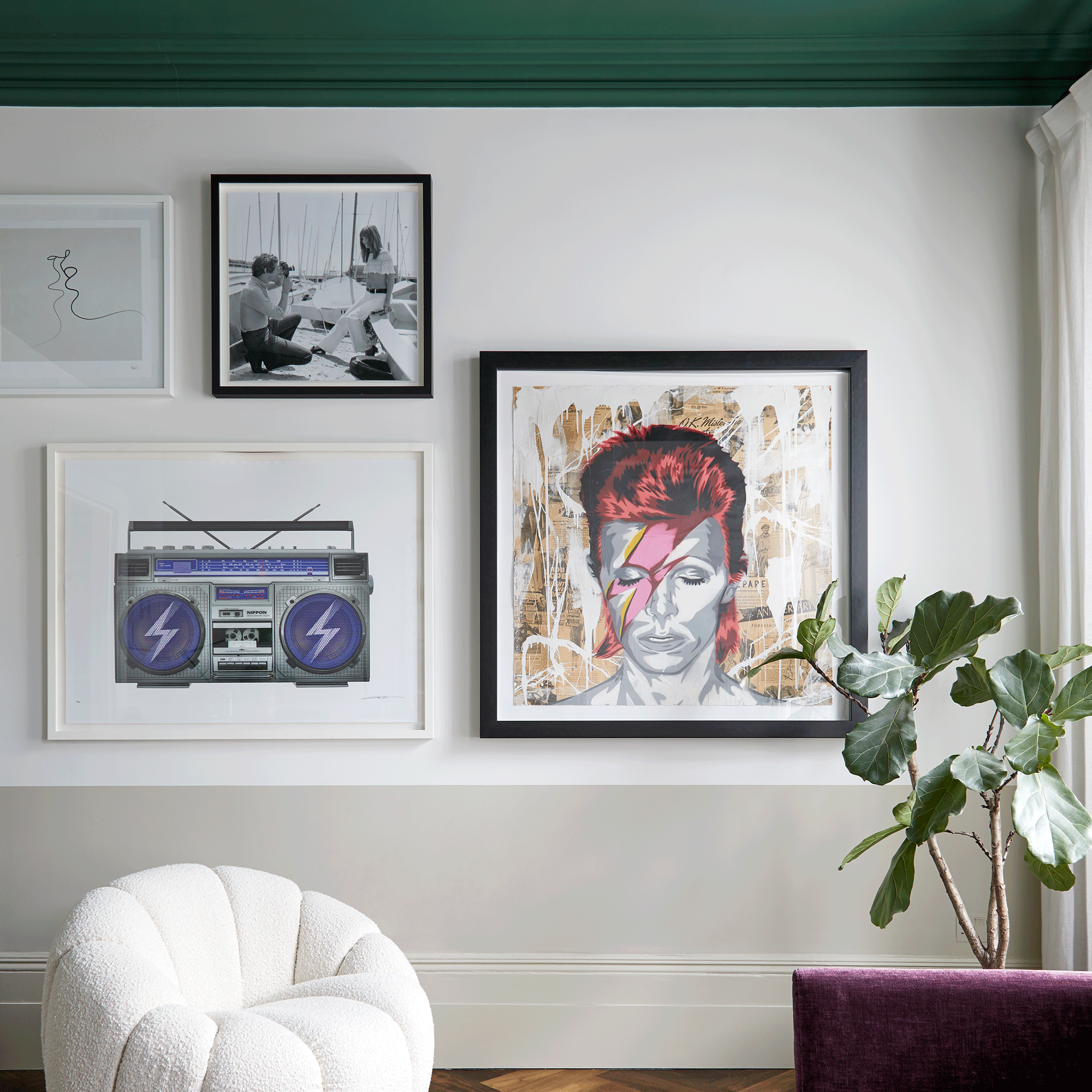 If you're looking for modern small living room ideas, get clever with paint.
'Paint is your friend in a small space, particularly when it comes to giving the illusion of height,' says Lick's Director of Interior Design and Colour Psychologist Tash Bradley.
'By painting your ceilings in a light blue or light green, such as Lick's Green 13 or Blue 02 the room will appear taller. Or, paint your walls, ceiling and skirting all in the same colour so your eye does not get drawn to the corners of the room, which will create the feeling of space.'
13. Pick pink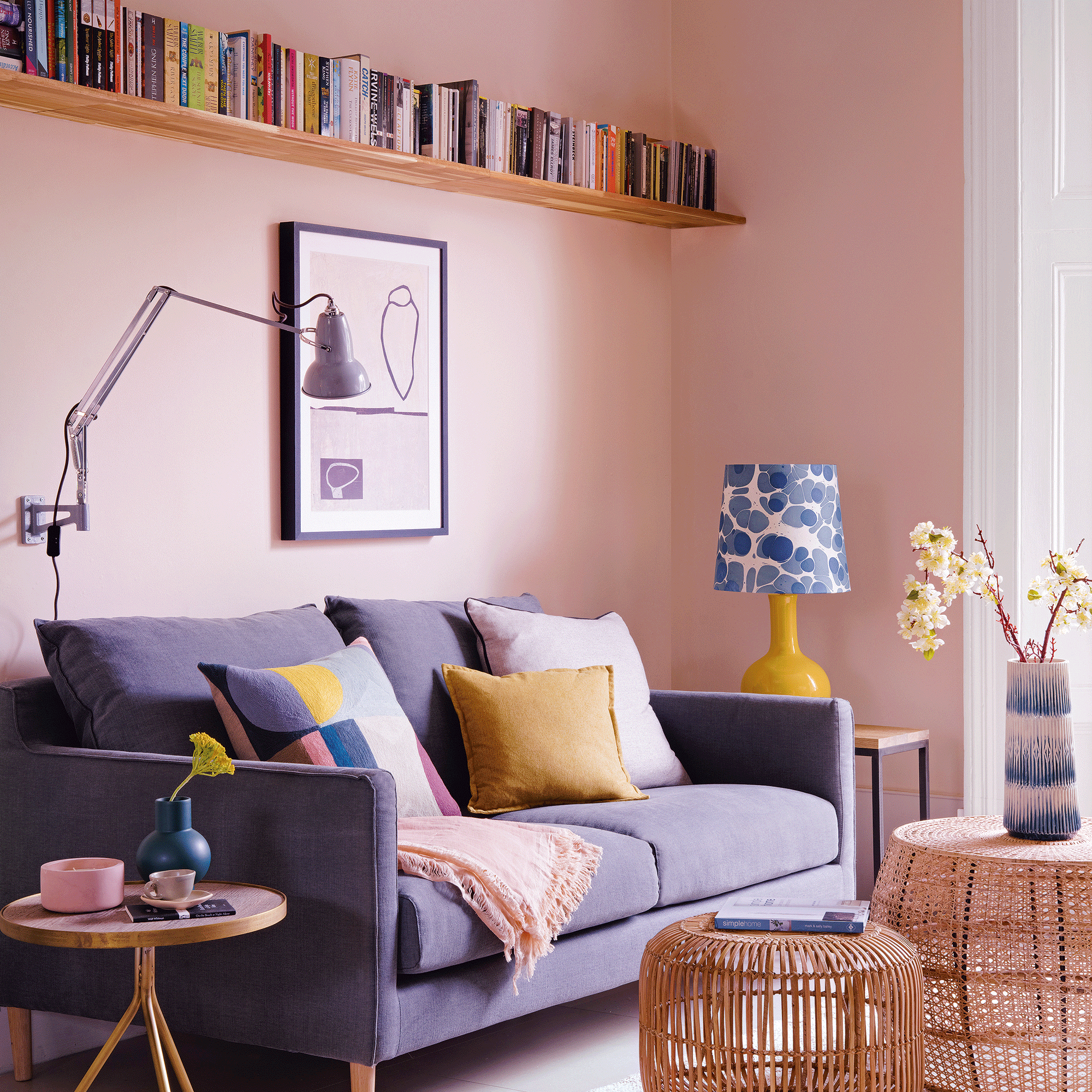 Pink living room ideas are perfect for a small living room as an alternative to neutral living room ideas, the trick is to keep the shade light and powdery.
'Lighter neutral colours will help reflect light around a small room, or a lovely soft alternative to a neutral is pink,' says Lick's Tash.
'Lick's Pink 01 and Pink 04 are great for small spaces as they make the room feel warm and welcoming, but also help to reflect the light.'
Pair the pink with a vibrant colourful sofa to add character and interest to the space.
14. Focus on one feature wall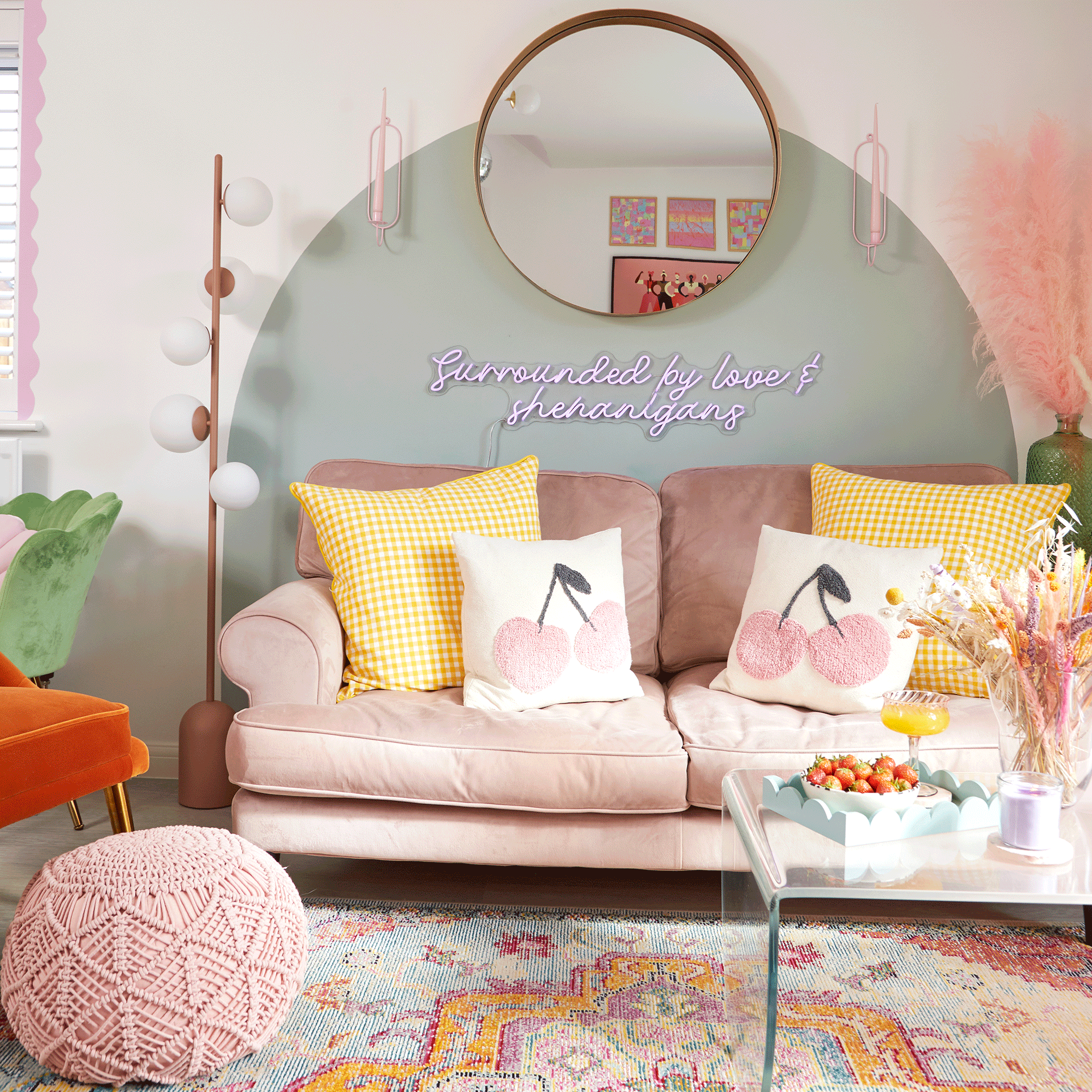 We know it's hard, but in a small living room it is important to hone in on just a few key living room wall decor ideas.
'In a small space, it can quickly feel claustrophobic if there's too much asking for attention as your eye doesn't know where to rest,' explains Lucy Henderson, Head Designer at My Bespoke room.
'Creating a clear focal point to draw you in is essential for rooms of any size but in a small one, try to scale it back. Pick just one wall to be the real show stopper, whether that's with wallpaper or a gallery wall.'
15. Choose furniture with legs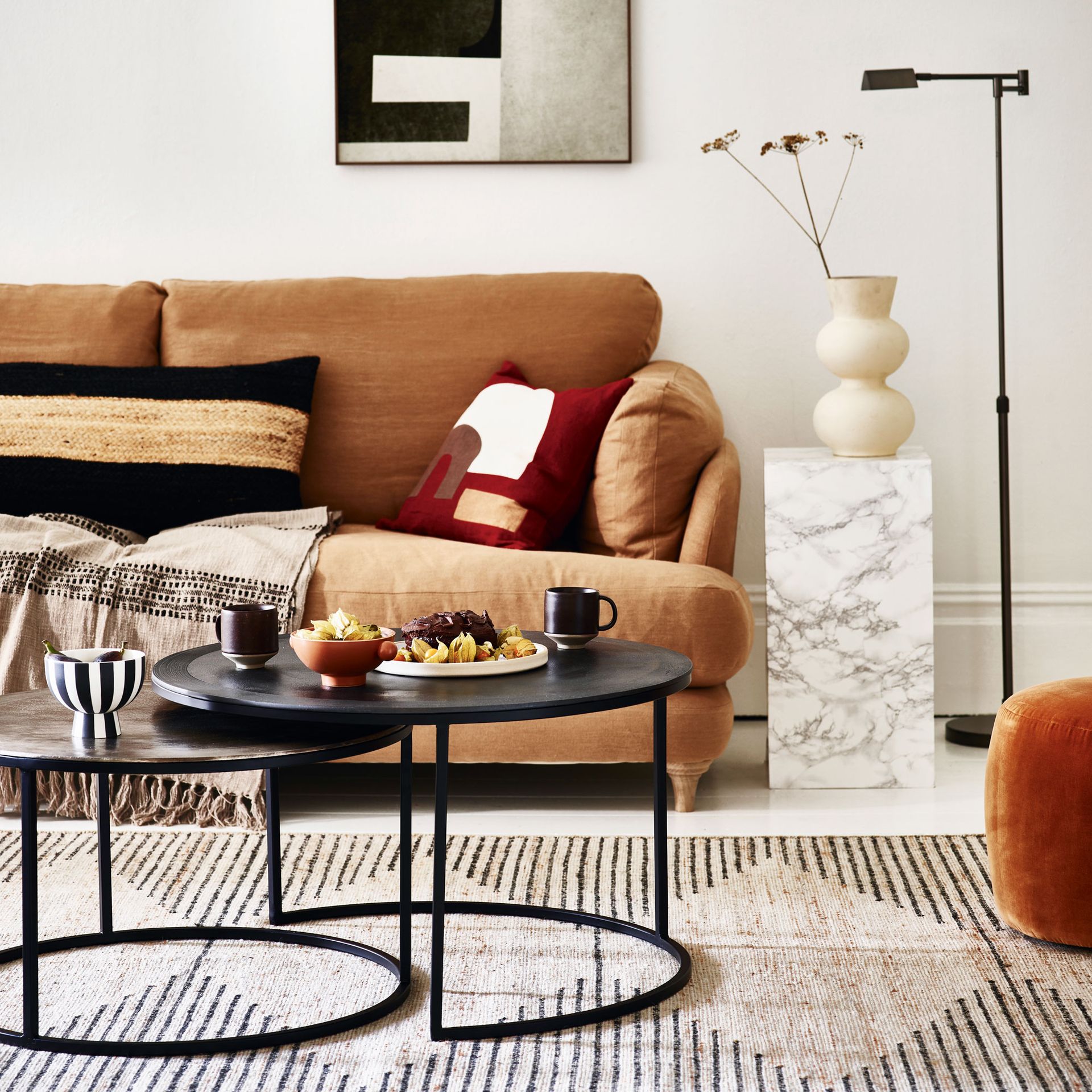 Kelly Collins from Swyft Home recommends furniture that's raised off of the ground.
'Selecting a sofa or armchair that sits on raised legs will help to bring a sense of light and space and make even the smallest living rooms feel airy,' she says. When more of the floor is visible, the room appears bigger.
This trick lends itself well to any living room, as many of the best sofas and armchairs are finished with beautiful turned wooden legs. Lots of beautiful mid-century pieces are raised on legs, from sideboards and cabinets to sofas, keeping the floor on show.
16. Create a focal point with a gallery wall