Top tips from interior designers
Four British designer-decorators reveal their tips for conjuring up beautiful and comfortable living for less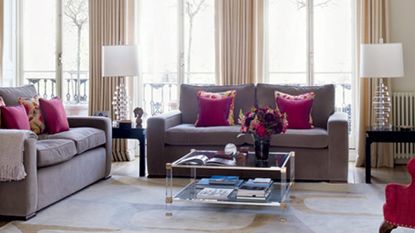 (Image credit: TBC)
Ideal Home Newsletter
The Home Of Great Ideas For More Than 100 Years
Thank you for signing up to . You will receive a verification email shortly.
There was a problem. Please refresh the page and try again.
Click here to see inside an interior designer's home.
How can I update my living room?
Sandra Drechsler of Taylor Howes Designs (opens in new tab), specialises in creating dramatic contemporary interiors, often using statement lighting. "Chandeliers were very big last year, but they are expensive. This year, we've been making up overscale shades for clients. We recently made a one-metre-diameter shade in white silk, with black and gold inside; you look up and see a flash of the gold lining."
Help! My bedroom needs a wake-up call
Emma Sims-Hilditch, Emma Sims-Hilditch Interior Design (opens in new tab), dresses her serene, classic interiors with muted natural textiles and says that fabrics are the key. "The bed is the main focus of your bedroom so a cost-effective way of refreshing the scheme is to update your bedlinen – go for crisp white, with plenty of pillows and throws to add luxury."  
Suggestions for a boring bathroom?
Sandra Drechsler says that using unexpected hues in high places helps to break the monotony. "Paint the ceiling in an unusual colour. If it is high, paint it black. In a little cloakroom, the ceiling looks amazing in pink or red." Antonia Stewart,from interior design company Antonia Stewart (opens in new tab), whose interiors range from restrained luxury to vividly colourful ensembles, says coloured accessories immediately help make a cold white bathroom feel modern and new. "Freshen up your bathroom on a budget with new towels and mats. Habitat's (opens in new tab) Shadi range is fantastic; I love the Missoni-type stripes." 
Should I change my lighting?
"Lighting is always the key to a good atmosphere," says Amanda Meade, from English Country Living (opens in new tab), who creates eclectic, informal rooms that are bright and inviting. "If you lack natural daylight in a room, try a Surf uplighter (£115, London Lighting (opens in new tab). These can be painted to tie in with the walls and give a boost of up to 500 watts of halogen light when needed, or they can be dimmed down. You won't notice they are there, but they have a great effect on the mood of the room."