21 ways to refresh for free – easy ideas to redecorate homes at zero cost
Make your living space feel brand new without breaking the bank, using these tips from the Ideal Home team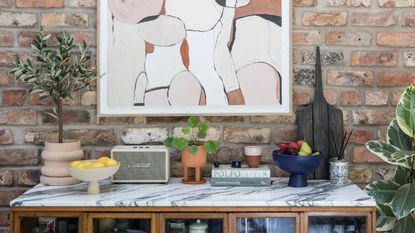 (Image credit: Future PLC / James French)
As tempting as it can be to scroll through our favourite homeware stores, sometimes the budget doesn't quite stretch and it's instead wise to find easy ideas to redecorate homes for free.
Whether you're a DIY fanatic in search of an easy weekend project, or you want to find a way to shop your home to avoid hitting 'buy', there are so many ways you can make the most of what you already own. This way you can make rooms around your home feel brand new, without spending a penny. Plus it's great for the environment, which is an added bonus.
The Ideal Home team, along with interior experts, have plenty of ideas to refresh your space for free, from the living room to the downstairs loo.
1. Give wood a fresh look
Interior trends often determine which shade of wood is in fashion. What was once pine, transitioned into light Scandi styles, and we're now seeing mid-century furniture have a resurgence. So if you're looking to achieve a mid-century living room design, then it's easier than ever.
Wooden furniture can be expensive though, so you won't want to buy an entirely new set. Instead, consider sanding down and restaining it for a brand-new look. You can pick it up cheaply, or for free, in charity shops or resale platforms though, so don't write it off if it's the wrong shade.
'Don't be put off by dark stained or orange-looking wood, this can easily be changed by staining or waxing. Think beyond the current use or condition of an item and look at its potential,' advises interior stylist, Claire Douglas.
2. Repurpose glass bottles
One person's trash is another person's treasure - and the same applies to your home. Taking a dig through your recycling can open up a plethora of opportunities for new decor, and you're helping the environment. It's a win-win.
If you're wanting to revamp your living room shelves, then adding in glass bottles for fresh blooms is an affordable and simple way to make a difference.
'Another way to decorate for free is to take items that you already have and repurpose them,' explains Claire.
'Vases could be made from glass bottles & jars, test tubes, plastic bottles, cups, or even old jugs.'
3. Switch out soft furnishings
What makes a home feel cosy and welcoming is often down to the soft furnishings. Cushions and throws can be expensive to buy brand new, but they are often the first thing you get bored of looking at day in and day out, without any change.
Instead of heading out to the shops, why not swap your bedroom and living room cushions around to add a new touch to an existing scheme.
'Every couple of months I switch up the throws on the beds, sofa and armchairs - even the ones on the top of the basket!' says our Assistant Editor, Thea Babbington-Stitt. 'It adds a new burst of colour and pattern to my space, while also helping my home adapt to the seasons.'
4. Let your creativity blossom with paint
Don't forget about leftover paint. Millions of litres of paint end up in landfill each year in the UK alone, so make use of leftover paint from previous projects for an eco-friendly, purse-friendly update. Our Content Editor, Holly Walsh, suggests painting borders or 'frames' around your artwork on walls.
Or you can give candlesticks, vases, or plant pots a new look. Claire recommends to 'paint stripes on the fluting' or 'spray with metallic or stone texture paint' for a unique look.
5. Get clever with resale sites
Making use of what you already own is the easiest option when redecorating for free, but if you're set on sprucing up your space with something new then consider taking a look at resale sites to bag a bargain.
Simply scrolling through might not give you the best results though. Instead, make sure you're making use of second-hand shopping advice to find the best treasures.
'Save searches (eg bench or console table) on Facebook marketplace so you get notified when items are listed items will often be free for pick-up. You can also join local community sites like 'Next Door' to find bargains and treasure, people will often list things for free,' recommends Claire.
'It's also worth speaking to friends and family, they will likely have items/materials/furniture they plan to donate or ditch that you could use or upcycle.'
6. Deconstruct flat-pack furniture
Flat-pack furniture is often bought as a means to an end - whether you've just moved into a new place and need storage fast, or you're not quite committed enough to invest in a specific style yet. This means that it's less likely to grow with your home, and you might want to replace it faster.
Luckily, it's just as easy to put together as it is to take apart. Our Deputy Editor, Rebecca Knight's latest home hack is using parts of flat-pack furniture for other purposes. There are also a plethora of IKEA hacks that will transform basic furniture into unique pieces.
'I have a ladder desk I hacked to remove a shelf from, I'm planning to turn the leftover plank of wood into a narrow dressing table with some hairpin legs if I don't find something else to reuse for legs in my flat first,' she recommends.
7. Get creative with frames
Ideal Home Editor, Heather Young's favourite budget living room idea involves framing anything and everything. 'I like to get creative with what's displayed in frames in my home,' she says.
'I save things like cards people send me, gift wrap and wallpaper swatches (even food packets!) so that if I want to change up the art on the walls, I don't have to spend money on new prints. I've even popped a favourite t-shirt my son grew out of in a frame because I loved the design so much.'
You could also collect flowers and foliage to make into artwork. Frame some pressed blooms, displaying seasonally appropriate flowers to give your home an update every few months.
8. Move artwork and accessories around
'Have a swap around with artwork and accessories,' suggests Ideal Home Content Editor Holly Walsh. 'You might be bored of a print on the wall of your living room, but how about hanging it in the bathroom? Or a cushion on your sofa might look better on your bed.'
9. Source free second-hand furniture from friends and family
'I love scouring Facebook Marketplace and freecycle apps to see if I can pick up any pieces of furniture or nick nacks to update my home for free,' says Ideal Home Deputy Editor (Digital) Rebecca Knight. 'However, it's also a good idea to spread the word among friends and family if you're looking for a specific item.
'I needed some new dining room chairs and it just so happened that my mum's friend had a set of four armchairs she was throwing out and she let me have them for free.' Budget dining room ideas like this will help you to gradually create a beautiful space.
10. Shop your home!
'To beat clutter I pack some of my accessories up in a box and stash it in the loft. Then when I fancy giving a room a new look, I get it down and it's like having a whole new collection of things to choose from for free!' says Heather Young. 'I love rediscovering things as I'm unpacking – I get the thrill of shopping without a price tag attached.' If you're about to pack some seasonal clothes away, make a box dedicated to homeware to save for a rainy day.
11. Repot plants
Turn your attention to your houseplants and see if any are ready to be repotted. Have you got a spider plant with lots of little plant babies growing off it or a money plant that you could separate out into a few pots? Learn to propagate them and you can quickly expand your collection, handy for last-minute gifts or your living room shelving ideas. Giving plants a trim, dusting the leaves and topping up soil will get them looking their best while promoting healthy growth.
12. Display dried flowers as a centrepiece
Ideal Home Style Editor Nicky Phillips has a brilliant tip for making the most of old flowers. 'Hang hydrangea heads upside down to dry out and mix with plenty of dried foliage to make an oversized dramatic arrangement,' she says. 'Try stuffing chicken wire into an old urn, soup terrine or large ceramic vase to make arranging the stems easier and more effective.'
13. Rearrange the furniture
There are no rules when it comes to how to arrange living room furniture, so rethink your space imaginatively as you move sofas and armchairs around. 'I'm a huge fan of rearranging rooms to give them an all-new effect, boosting feelings of well-being' says Wayfair's resident style advisor, Nadia McCowan Hill.
'Whether it's moving your favourite occasional chair from your bedroom to your living room window, or reworking accents the simple practice of putting things in a new spot will bring a little excitement to a tired (and at the moment) much-seen room.'
14. Display pictures with a fresh perspective
It's one of those jobs that we've probably all thought about for ages but just never get around to, but this simple living room idea is so satisfying. Whether you have a picture ledge or a gallery wall of hanging frames, a quick reshuffle of positions makes all the difference. Plus you can give them all a much-needed clean while you do so. Win, win.
15. Divide a room
Nadia recommends using furniture to divide your open-plan living room, giving the layout a refresh for free. 'For an open plan living/dining room with sophisticated zones, try positioning your dining table at one end of the room,' she says.
'Then create a clearly demarcated living area, by placing your sofa in the centre of the room facing the opposite direction. With a sideboard pushed flush against its back you will be able to create two areas for living and dining and your sideboard will also provide the perfect plinth to style up with lamps, books and accents to create a design-led look.'
16. Move furniture away from walls
While we're moving furniture consider how to position it, for a fresh feel. We probably all have sofas and sideboards butted up against the walls and they've been that way since we moved in. And, yes, sometimes that's the only viable option and best use of space – but stylists say that is not always the best idea.
Laurence Llewelyn-Bowen recommends bringing your sofa into the middle of your space to transform the feel of the layout if space allows. He warns that otherwise, your can end up with a room with 'agoraphobia', with all furniture backed against the wall.
'It's a myth that pushing furniture up against walls makes a room feel bigger,' agrees Nadia. 'In actual fact, your pad will feel far more spacious and pulled together if you pull sofas and larger items of furniture slightly away from the walls.'
17. Restyle shelves
A simple practice, but a highly effective one for completely changing the look in any room. 'Restyling your interior is the easiest way to give your space a new lease of life and the good news is that you don't need to splash the cash to create a fresh new look,' says Nadia.
Clear the shelves, give everything a thorough dust and start to restyle how things were displayed. This is a great opportunity to declutter, to display items in a more organised and curated way.
'Try stacking books both horizontally and vertically to create a cute vignette,' Nadine suggests. Or 'add a few trailing plants to make everything feel organic,'. her top tip when it comes to styling shelves is 'be mindful not to over-style'. Less is more, it's about striking the perfect balance.
18. Switch up the lighting
Changing the lighting in your main rooms can change the ambience and also zone different areas to enjoy – such as a home office or a reading nook. Use table lamps to give a concentrated area of light, even moving a bedside lamp into a makeshift home office space for this purpose.
Switch the floor lamp into an alternative corner, perhaps above an armchair or beanbag, to signify a dedicated quiet corner for some reading come the evening – a welcome break from watching the TV.
19. Rethink rugs
The same premise as with the cushions, switch the rugs from room to room, for an instant mini makeover. Or change where you position them in within each room. Do you have the rug placed centrally in the living room, because that's what you think you should do? Why not lay the rug off-centre?
Turn it vertically rather than horizontally, to change the room's perspective. Even a few inches from where it is now can make a difference.
20. Reposition the TV
Create a new focal point for the living room by repositioning the TV. As much as we don't like to admit their prominence, TVs are more often than not the anchor of the living room scheme.
By moving the TV (where it's not wall-mounted of course) we can completely change the dominant aspect of the living room, in an instant. Even better, where possible hide it from sight.
21. Repurpose pieces
Give pieces of furniture a different purpose, and get creative with the function of every single item in your home. IKEA steps can work as stools, a chair can double up as a bedside table to hold a book, and so on.
Best thing about all of this simple redecoration is they are free and totally reversible. But we wouldn't mind betting a lot of these changes will stay in place, as you'll love how the little changes can make a big difference.
What to do first when decorating a room
Knowing where to start with decorating a room can be tough. It can be hard to decide which direction to go in - traditional, modern, colourful, minimalist, there are so many options to pick from.
'An important consideration when decorating any space in your home is thinking about how it makes you feel,' advises Natalie Carton, Furniture and Home Accessories Buyer at Fenwick.
'For example, when re-decorating a living space you may want to create a relaxing space to take refuge from a hectic lifestyle. Look at ways of rearranging furniture to let the most natural light in, this will be an instant mood boost and have a calming effect on the space.'
Consider how you're going to primarily use the room, and maybe even live in it without any decoration for a while to see what role it takes in your everyday life. Then, you can start adding in core parts of furniture that works with the layout of the room, and your individual taste.
Get the Ideal Home Newsletter
Sign up to our newsletter for style and decor inspiration, house makeovers, project advice and more.
Tamara was Ideal Home's Digital Editor before joining the Woman & Home team in 2022. She has spent the last 15 years working with the style teams at Country Homes & Interiors and Ideal Home, both now at Future PLC. It's with these award wining interiors teams that she's honed her skills and passion for shopping, styling and writing. Tamara is always ahead of the curve when it comes to interiors trends – and is great at seeking out designer dupes on the high street.