Everdure Cube BBQ review
We put the ultra-stylish Everdure Cube BBQ to the test to determine whether this charcoal barbecue brings the looks whilst getting top points for practicality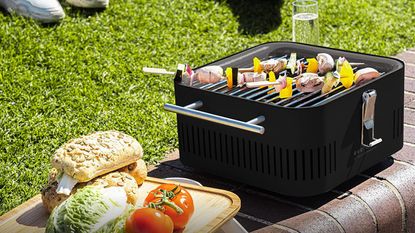 (Image credit: Everdure)
A stylish option for small families, couples or anyone with a small amount of outside space, the Everdure Cube BBQ is easy to use and most of all: it looks great in your garden. Available in a range of colours, this charcoal barbecue sits stylishly on a table, and it makes cooking up a (small) storm an easy task. It's compact, easy to transport and it's handy for cooking burgers, sausages and smaller bits of meat or veg. There are a few things we would change about it, such as the fact it could do with a lid and it's hard to clean, but otherwise it's a great fit for those who occasionally BBQ when the weather is warm. Or if you often buy disposable BBQs and want to be kinder on the environment.
Reasons to buy
+

Available in a range of colours

+

Easy to transport

+

Compact and easy to store

+

Complete with storage lid and chopping board

+

Great for small gardens

+

You can use it to directly cook or indirectly cook food
Reasons to avoid
-

No lid for use when cooking

-

Not the easiest to keep clean

-

Can't be left outside all of the time
Why you can trust Ideal Home Our expert reviewers spend hours testing and comparing products and services so you can choose the best for you. Find out more about how we test.
Investing in a new BBQ? The Everdure Cube is a great pick for smaller families or couples with only a small amount of space on offer outdoors. Alternatively, this BBQ is ideal for use when cooking out of your house, perhaps for taking on a staycation, for bringing to the beach or for use during a picnic. This tabletop portable BBQ packs a powerful punch when it comes to cooking everything from burgers to chicken, veggies and even delicate pieces of fish.
If you are searching for a charcoal BBQ that's small and simple to use, then this is your best bet. It can be used anywhere and easily stored afterwards, thanks to its lid and clips that keep it all together. It comes complete with an integrated food-grade storage tray and a preparation board, too. The best part? It looks the part in a range of colourways to suit your garden decor, to ensure that this BBQ blends in with your exterior.
I've been testing the Everdure Cube BBQ atop my garden table, on my small South London terrace, for a month or so now, using it to cook everything from juicy beef burgers to succulent chicken breasts. I'll be honest: this BBQ had been on my wishlist for quite some time considering it's easy to store, and our garden is open so we needed something we can bring indoors after use, and of course the fact it looks stylish whilst it cooks. Essentially, I didn't want, and didn't have space for, a BBQ that was a huge eyesore. I am also testing three more portable models, in order to compare and see how this stylish option fares.
Keep on reading to see if this model made it to our best BBQs guide.
Product specifications
Fuel type: Charcoal
Dimensions: H23cm x W24.3cm x D34.7cm
Cooking area dimensions: 670cm2
Weight: 8.1kg
Colours: Orange, Graphite, Stone, Khaki
Included in the box: Bamboo Preparation Board, Plastic Food Storage Tray
Unboxing the Everdure Cube BBQ
The Everdure Cube BBQ comes in a compact enough box. Due to its nature of being a portable BBQ, this box is easy enough to fit through a doorway and it can be carried by just one person.
When it comes to first impressions of the Everdure Cube BBQ, I was pretty amazed with how compact yet practical this BBQ was. From its sleek handles to its shiny orange interior and its bamboo chopping board that doubles as a lid, it's a pretty handy piece of kit. The Cube looks and feels as premium as you think it would. It's also not too heavy yet there are definitely no worries that it's flimsy.
The BBQ arrived inside a cardboard box that's recyclable, and inside for padding and protection is more cardboard. Selected parts of the BBQ are wrapped in unrecyclable plastic films such as the lid and board, and the manual. Otherwise, its packaging is quite easy to dispose of and it arrives already assembled, so it's pretty straightforward to use.
I found the manual to be easy to follow, too. We had the BBQ unwrapped and lit within about 15 minutes.
What is the Everdure Cube BBQ like to use?
This portable BBQ is as easy as any other charcoal BBQ to use. However, there are some advangtages to this model in particular, and also some disadvantages of course. It benefits from having handles for easy moving and these handles stay cool to the touch when you are cooking. We found it easy to light each time we used it. You can cook 6 small burgers or 4 large burgers on it at a time. It retains heat very well and can be used for several rounds of cooking, for quite a few hours (depending on the amount of charcoal used). The only downside to this BBQ that we realised whilst cooking was that it could really do with a lid that can be used whilst the BBQ is hot, to retain heat and evenly cook your food.
During the first lighting of the Everdure Cube BBQ we let it burn for a good hour before using it to cook. This was mostly because we were unsure how well it retains heat, and we didn't want to cook our food on it whilst it was too hot and risk burning everything. In general, we noticed that the BBQ takes around 20 - 25 minutes to be ready for cooking once lit, but this of course depends on how much charcoal you use.
The BBQ comes with a handy quick user guide which explains how you can check how hot your BBQ is before putting food on there. It says that once your charcoal has a light cover of grey ash over it, hold your hand roughly 15cm above the cooking grid. If you can hold your hand there for only 2 - 4 seconds, it's at a high heat that's best for searing. If you're able to hold your hand for 5 - 7 seconds, it's at the ideal heat for chicken or rotisserie. Otherwise, for 8 - 10 seconds, it's perfect for slow cooking meat.
There are two cooking methods you can use along with the Everdure Cube BBQ, the first being direct cooking. This is where you simply just pop charcoal in the tray, get it lit and cook your food on there, placing it wherever you please on the grid. The second method may be preferable depending on what you are cooking. Indirect cooking is great for delicate meats or fish. Simply enough, once the charcoal has fully ignited and you can see ash forming, spread the charcoal towards the sides of the BBQ and away from the middle. Place the cooking grill on and pop your food in the middle of the BBQ to cook it using the heat surrounding the meat or fish.
When cooking burgers, they took an average of 15 minutes (note: we only cooked homemade burgers on this BBQ that are slightly thicker than your average pre-moulded supermarket burger). You can fit 6 small burgers or 4 larger burgers on this BBQ, or 2 - 3 large pieces of meat.
We think that its cooking surface is sizeable enough to host 4-5 people. You could cook an entire joint on there, just bear in mind that it doesn't come with a lid that you can use when it's hot, so ensuring even cooking will be hard. With this in mind, we'd probably recommend that you stick to cooking smaller cuts of meat, burgers, or veggies on this BBQ.
The first time we cooked on this BBQ we made homemade burgers that were nice and chunky, with cheese in the middle, so we managed to only fit 4 on there. Because this was the first use of this BBQ, we were unsure how much charcoal to use and admittedly: we used way too much. This meant that our burgers burned fast.
In preparation for our next use, we noted that a little charcoal goes a long way. Also, we maybe should have greased the grill grate as the burgers stuck to them immediately. We had to move the burgers away from the middle of the bbq to keep them cooking without burning.
The second time we used this BBQ was definitely more of a success as we cooked firecracker chicken. We managed to fit 5 sizeable breasts on the BBQ at one time. These chicken breasts cooked surprisingly fast, although they definitely would have cooked slightly faster if we had a lid to use to retain heat. We cooked them using the direct heat method.
When using this bbq to cook more burgers, this time homemade ones that were again quite chunky, we managed to fit 3 burgers on there and also toast two parts of a bun on the BBQ at one time. This was the time that we recorded the burgers taking around 15 minutes to cook. As you can see from above, they are well done so you might want to knock off a few minutes if you prefer your burger cooked less, or if your burgers are a little smaller than these ones.
Overall, each time we cooked on this BBQ we were impressed with how well and how long it retains heat. We would usually cook on the BBQ at around 6 or 7 o'clock, and we'd need to bring it inside before bed to avoid rain. Every time we cooked on it, it was still hot after at least 3 hours of use. So, you can definitely use this BBQ if you are using it to cook for several people, or you're using it to cook a round of burgers, a round of sausages and then some veggies, for a long amount of time without the risk of it going out. We actually loved having it on the table after we ate, to provide warmth! Just be aware that the handles will get hot after an hour of so of using it.
Can you smoke with the Everdure Cube BBQ?
Simply put, no. This BBQ doesn't come with a lid, making it impossible to smoke any food on it since any smoke created immediately ventilates. However, since it is a charcoal BBQ, your food will naturally be tainted with that delicious smokey flavour you desire.
How easy is the Everdure Cube BBQ to clean?
The grills and grates of this BBQ are the same as any other to clean, if anything they are actually easier as they should be able to fully fit in your sink so that you can submerge and soak them in soapy water. The same goes for the steel box that your charcoal sits in. Though bear in mind this has holes in it to allow heat to escape, so be careful of spilling ash all over the place when emptying it.
The only part of this BBQ that we struggled to clean and to keep clean was the interior, meaning the shiny orange part of the BBQ. Without using a scourer, because we didn't want to scratch it, this BBQ has been very difficult to keep looking new inside. This is what it looks like after 3 uses and a good scrub. It might have been a better idea for this BBQ to be black inside so as not to show charcoal stains so evidentially. Note: it's not dirty, it's stained.
The exterior of this BBQ is very easy to keep clean, however, and you can wipe it clean with a cloth. The same goes for the handles, the lid and the plastic board.
Storage and maintenance
You cannot leave this portable BBQ outside. With this in mind, it's very handy for this BBQ to have handles and a lid. Its lid also clips onto the BBQ in case you might need to store it awkwardly, and if you'd like to avoid any inevitable leftover charcoal escaping into your cupboard or garage shelving.
Due to its compact size, it's not exactly hard to store this BBQ. And honestly? We would probably want to keep it inside anyway, even if it could be left outside. It's too pretty to watch it get rained on!
This BBQ doesn't come with a cover, but you can buy a storage bag for it from Amazon, to make it a little easier to store if you are keeping it in a garage.
How does it rate online?
The Everdure Cube BBQ has few ratings online, most of which are very mixed. People either love it or could live without it. Those who love it tend to be happy with its size, portability and how easy it is to use. The reviewers who aren't so keen on it mention how it's difficult to clean its interior.
On Amazon, the product at the time of us writing this review has 27 reviews. It has a 4 star rating out of 5. Lots of reviewers are happy with its design and how easy it is to transport to a picnic or to the beach. Some reviewers say it's a case of style over substance. A few people on Amazon say that their BBQ has damaged, the orange interior paint having been scratched, however we've not had this happen. Another reviewer mentioned that they were unable to light it, but we found it very easy to light each time we used it.
Over at John Lewis & Partners, this BBQ holds a 3.6-star rating out of 5. However, this is only from 8 reviews, one of which rated it 1 star, 2 people gave 2 stars and 1 person 4 stars and 4 people gave it 5 stars. Lots of reviewers mentioned how handy it is when it comes to being portable, with one reviewer noting that they use it on their canal boat mooring area, and another saying they bought it for a UK holiday. The unhappy reviewers mentioned that it wasn't fit for use on their tabletop (it wasn't specified which type of table they had) and others said about how difficult it is to keep the inside of the BBQ clean, which we agree with.
How does it compare to similar models?
This is the only Everdure Cube BBQ model and the only portable BBQ that Everdure sell. In fact, this is their smallest BBQ on offer.
When it comes to dupes, we noticed the Argos Home Table Top Charcoal BBQ which looks surprisingly similar for just £75. It comes in only black but offers the same specs and a similar looking design. Think: curved edges, convenient handles, a clip-on bamboo lid. This Argos BBQ is slightly lighter at 6.05kg, and it's a little bigger. There are currently no reviews of this BBQ online.
Should you buy the Everdure Cube BBQ?
We think that the Everdure Cube BBQ is a great buy for anyone with a keen eye for design, and for those who rarely need to use their BBQ to cook for more than 5-6 people at a time. It's not one for serious foodies, but it's definitely a great buy if you occasionally use your BBQ to cook burgers or smaller pieces of meat to entertain in the summertime. It's easy to use, stylish when on display and convenient to take outside of the house, too. Its design makes it easy to BBQ at the park, on the beach or in a friend's back garden.
Coming in at £179, we think that this BBQ is admittedly expensive for the size, however, we believe that it will fare when it comes to durability. It's a sturdy piece of kit that although isn't the easiest to keep clean, will be sure to last for years of use on a balcony, terrace or small patio.
Another thing to note when considering if it's worth its price tag, is how this BBQ has a flat base in which the charcoal sits. This makes it easier, as we mentioned above, to cook food indirectly so that you can tend to delicate pieces of fish, or perhaps even a steak, a little more. You can also position the charcoal on any side of the BBQ that you like and create your own cooking area and keep warm space.
About this review - and our reviewer
Annie is our Deputy Ecommerce Editor at Ideal Home. She spends the majority of her time reviewing products, which can be anything from the latest portable BBQ to an exercise bike or even something as small as a candle or as large as a mattress.
Annie lives in South East London in an flat complete with a small patio, with her fiancé who loves to cook and experiment with different ingredients and instruments. Along with her fiancé, she tested this BBQ for around a month and they used it a total of 4 times. They used it twice whilst hosting guests, who were impressed with its design and its capabilities, and twice whilst cooking for only the two of them.
Annie has been able to keep this BBQ as a result of reviewing it, and she'll be using it throughout the summer to update this review again with deeper insight.
Get the Ideal Home Newsletter
Sign up to our newsletter for style and decor inspiration, house makeovers, project advice and more.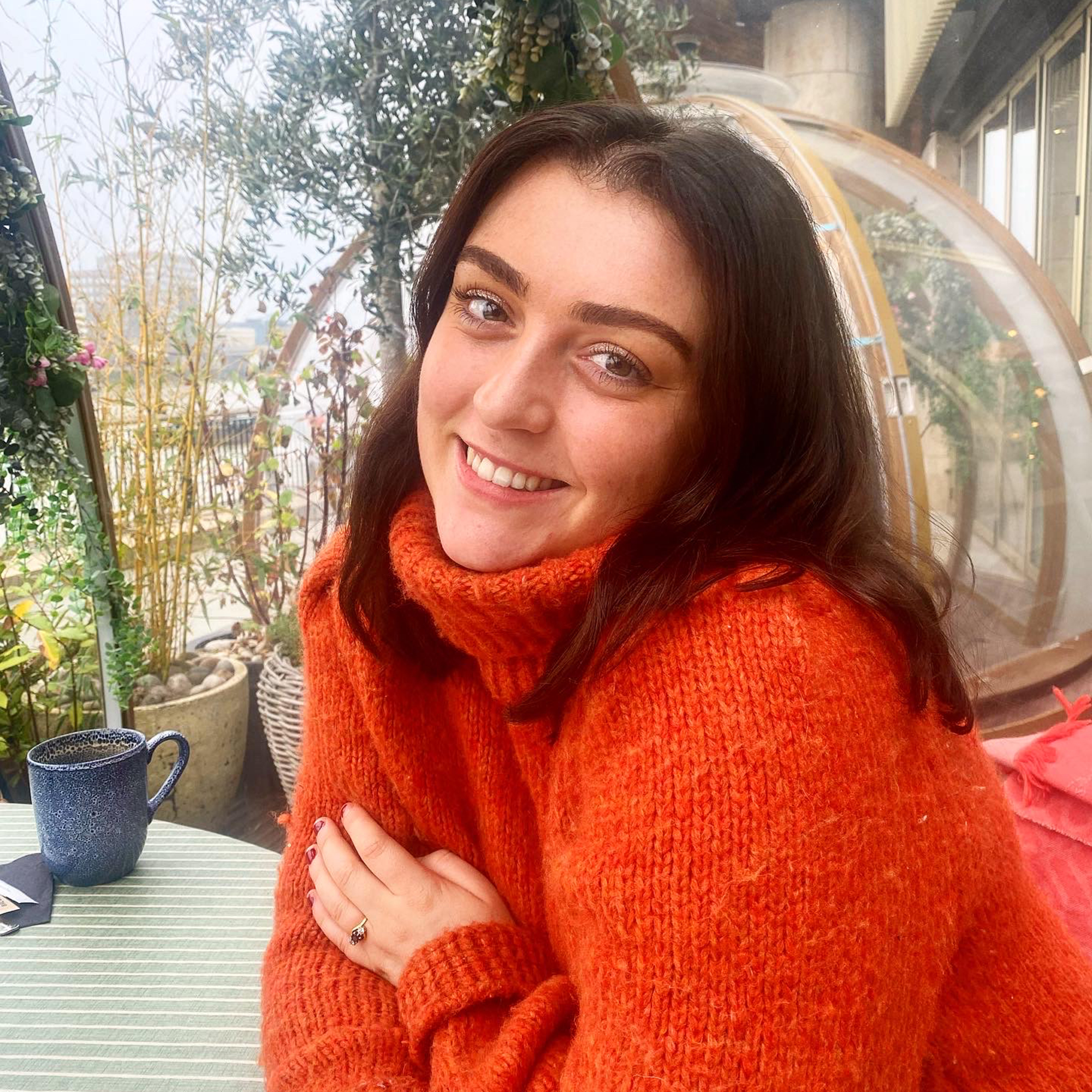 Annie is Ideal Home's Deputy Ecommerce Editor. With four years of eCommerce experience under her belt, you can find her shopping words of wisdom on Real Homes, Gardeningetc, Livingetc, Homes & Gardens and Woman & Home. When she's not planning ahead or curating deals for Amazon Prime Day or Black Friday, you can find Annie testing a range of products in her South London home, from reed diffusers to candles, BBQs, mattresses and even a few vacuum cleaners.