Best rice cookers 2023 – for fuss-free fluffy rice at home
From small and cheap rice cookers to expert machines for restaurant-quality meals, these are the best rice cookers you can buy right now
Nothing can ruin a meal more than poorly cooked rice. The best rice cookers take human error out of the equation for low-effort, restaurant-quality rice from the comfort of your home. Not every dish requires the same type of rice. The best rice cookers will cook basmati rice for Indian curry nights, sticky rice for your Thai or Chinese dishes, or perfect sushi rice for homemade California rolls. All this and more, with just the push of a button.
For more fakeaway home appliances, check out the best air fryers
Some of the best rice cookers in our guide stray from Asian cooking to create creamy smooth risotto, completely hands-free. There are also some great options that can be placed in the microwave, which is a cheaper rice cooker option for your home (and one less appliance for your kitchen counter.)
Best rice cookers 2023
Why you can trust Ideal Home Our expert reviewers spend hours testing and comparing products and services so you can choose the best for you. Find out more about how we test.
1. Sage BRC600UK
Best for no-fuss rice and creamy risotto
Specifications
Features: Keep warm funcion, also works as a steamer and slow cooker.
Stir-free risotto? Whatever next? This machine promises to perfectly cook the Italian staple. And that's without standing over it pouring in ladle after ladle of hot stock. It's no one-trick pony. We used it to cook both basmati and American long-grain rice. Both were fabulously fluffy with little sticking to the bottom of the pan.
We prepared just two cups each time but it can accommodate up to 10, producing around 20 portions. This is plenty for a party or big family gathering. There's a 'keep warm' function, too, ensuring the last person to the pot has rice as warm as the first. It also cooks grains and porridge, steams and even acts as a slow cooker, too.
A searing function means that there's no need for another pan either, cutting down on washing up and making it a real one-stop-pot. While you don't exactly throw everything in the pot and just walk away, we found preparing the risotto was pretty easy. Starting with the searing function to soften the onions and garlic, you add the rice and cook for a few minutes. Then the wine went in and was stirred until it evaporated. Once that was done, we added the stock, stirred and hit the 'risotto' and 'start' buttons.
Then we walked away. There's a handy 30-minute 'keep warm' function, which was useful as we got distracted and almost forgot we were cooking. It is fairly pricey. However, consider the addition of the slow cooker function and one-pot searing and cooking. This all makes it a good choice if you want more than just a simple rice cooker.
Ideal Home's rating: 4.5 out of 5
Buy now: Sage by Heston Risotto Cooker at Amazon
2. Cookworks 1.5L rice cooker
Best rice cooker for white rice
Specifications
Features: 4-6 servings, keep warm function.
If you're just after a simple 'does what it says on the packaging' rice cooker then this great value model is a solid choice. With just a cook and keep warm switch to break up the cool black exterior, it also has feet to raise it up from the worksurface plus handy carrying handles.
Crucially, if you're a fan of fancy rice then this one isn't for you as it only cooks white rice, but it does cook it very well and was one of the simples to use with the best results.
The least amount of dry weight rice you can cook in this machine is 2 cups, which is about 4-6 portions, making it a great choice for family dinners. If there are just two of you, then you can freeze the remaining rice once it's cooled.
The resulting rice is fluffy and fairly well separated. We used basmati and short-grain and both came out well, although both did form a very thin crust – as do some of the more expensive heat-from-below rice cookers – but it was easy to break up and stir into the rest of the rice.
Ideal Home's rating: 4 out of 5
Buy now: Cookworks 1.5L Rice Cooker at Amazon
3. Russell Hobbs rice cooker and steamer
Best easy-to-use rice maker
Specifications
Features: Auto-switch to keep warm once rice is cooked.
By far the least complicated of the electric models we tested, this rice cooker and steamer performed well. If all you want is a machine that cooks rice and steams then this is good value for money. We did have a few issues with the American long grain forming a rather thick crusty layer on the bottom of the inner pan at first. Once we adjusted the amount of water though, this improved.
We also noticed that the quality was better when we cooked bigger portions. Therefore we wouldn't necessarily recommend this one for producing smaller amounts. An attractive steel outer casing means that it looks good on the worktop. The glass lid is a nice touch so you can see at a glance what's going on inside.
Be careful, though, as the vent releases quite a lot of steam during cooking so never take the lid off without the aid of an oven glove or tea towel. With basically two settings – cooking and 'keep warm' – it's certainly not fancy but it does the job. It allows you to cook rice or steam veg without having to watch over it to ensure it doesn't boil dry.
For steaming, we added more water than necessary to the bowl below the steamer then manually turned it off once the food was cooked. However, over time we could easily have worked out the right amount of water needed to get the perfect result. That would mean that once the water had boiled away the cooker would switch to the keep warm function as for rice.
Ideal Home's rating: 3.5 out of 5
Buy now: Russell Hobbs Stainless Steel 1.8l rice cooker at Amazon
4. Judge Horwood JEA10 Family Rice Cooker
Best value rice cooker for large families
Specifications
Features: Non stick interior, large capacity (18-20 portions)
Although it's called a rice cooker, this also has a facility for steaming, and it can cook a simple risotto, too. You can't cook less than three cups of rice so it's probably not a good choice for those on their own. Unless you have freezer space for Tupperware-filled cooked rice. It is, however, good for families or dinner parties. It will prepare up to 1200g of uncooked rice, which provides, on average 18-20 portions.
The instructions are pretty basic it doesn't, for instance, say how many portions the minimum amount of three cups equals. We found going by 60-90g of uncooked rice per person that three cups (450g) was more than enough for four to five. It cooks all kinds of rice, including wild rice. Although that should be cooked as a mix with basmati, as on its own it requires too much water.
Long grain rice did get a little bit of a crusty bottom but we didn't mind that. The risotto was a touch on the dry side at first but we added a little more liquid the second time around and that helped. The 'keep warm' function switches on automatically when the machine senses the rice has finished cooking. Apart from when you're cooking risotto, which should be eaten straight away. This operates for up to 6 hours.
Some machines give off a little water when opened (that's just the condensed steam from the lid). Therefore we found the condensation collector on this cooker was a handy addition. You just need to remember to empty it when you've finished cooking. As with many of the others, it's not dishwasher safe. However, its unfussy design and non-stick interior mean it's a breeze to keep clean.
Ideal Home's rating: 4 out of 5
Buy now: Judge Family rice cooker at Amazon
5. Lakeland Mini Multi Cooker
Best compact rice cooker
Specifications
Features: Quick cook function, also doubles up as a slow cooker.
This neat little machine is great for those who want the function of a multi-cooker but just in a smaller package. Of course, its size means it's not great for cooking party-size amounts of rice or slow cooking for larger families. But it's a great kitchen addition for couples and small families. The instructions for rice cooking are a little confusing. They say you should cook rice in the amount of water stated on the packet. But most packets don't recommend an actual amount.
That said, we used the traditional one cup of rice to one cup of water method and that produced good results for both basmati and long grain rice. Brown rice needs more water – about a cup and a half to every cup of rice. We did have to try it a couple of times to get it right. There's a 'keep warm' function but the manufacturers recommend not keeping that on for more than four hours.
It also has a quick cook function for rice, which produces the same results in a little less time. There is a slow cook function for casseroles and programmes for porridge, quinoa, cake (ready-made mix) and yoghurt. We reckon you could replace a fair few appliances with just this one compact machine.
Ideal Home's rating: 4 out of 5
Buy now: Lakeland Mini Multicooker at Amazon
6. Joseph Joseph M-Cuisine Microwave rice cooker
Best microwave rice cooker
Specifications
Features: Microwave rice cooker, dishwasher safe.
As you'd expect from Joseph Joseph products, the M-Cusine microwave cooker is beautifully designed with no extraneous parts. Even the rice paddle cleverly acts to lock the lid into position ensuring you're not likely to lose it. It's also sleek enough to go on the table as a serving pot. This saves on the washing up which is always a treat.
Cooking times are dependent on how powerful your microwave is. We used the guidelines based on an 800w microwave and it produced both basmati and long grain rice to a good standard. It cooks porridge oats, too. We loved the fact that you could cook portion sizes from one up to six. However, we felt they were a little on the small side for our big appetites, so would recommend cooking an extra portion just to be safe.
There's no fanciness with this machine, it does what it says on the pot. But if you want something that does the job and is small enough to store in a cupboard when you're not using it, this is perfect. Unlike the electric machines, it's all dishwasher safe, too.
Ideal Home's rating: 3.5 out of 5.
7. Yum Asia Sakura Rice Cooker
Best professional rice cooker
Specifications
Features: Miltifuncional cooker, use for baking, making yoghurts, also works as a steamer and a slow cooker.
There's nothing we don't like about this fantastic rice cooker – apart from, perhaps, the price. That said, it is a hard-working, multi-functional machine. There are modes for steaming, slow cooking, cake baking, porridge and yoghurt making. We'd be willing to give up our slow cooker and steamer to find room for it on the worktop.
Designed by specialists Yum Asia, it's modelled on high-end Japanese designs, some of which sell for as much as £350. But it sells at a much more accessible price point. Delightfully egg-shaped, the blue light touch-button control panel is easy to read and use and it has fuzzy logic. This automatically adjusts the seven-phase cooking process depending on the contents and cooking conditions.
Having to press the start button for two seconds is a nice touch, ensuring it's never knocked on by mistake. We tried long-grain American, basmati and brown rice in both the regular and fast cook settings. We found there was little difference in the quality of the rice. It produced fluffy separate grains, just in the time it took to cook. This was around 30 minutes on regular and 20 on fast.
We also experimented with the crust function. The crusty bits at the bottom of a rice pot are much prized in Asian cooking. Although at an hour and a half it took quite a while, it was definitely worth waiting for. There's a sub-menu for cooking specific kinds of rice for more refined results and even a preset function. This allows you to set a timer up to 24 hours in the future, although if the pot contains perishable foods that long isn't recommended.
Ideal Home's rating: 5 out of 5
Buy now: Yum Asia Sakura Rice Cooker at Amazon
8. Yum Asia Bamboo Rice Cooker
Best for induction rice cooking
Specifications
Features: 7 rice programs, slow cooker, steam, and bake settings.
This rice cooker really looks the part and cooks it too. Featuring an induction heating element and fuzzy logic it's designed to produce perfect rice every time, whichever type you like and whatever way you want to cook it.
It features seven rice programmes, white long and short grain, brown rice, Yumami (to give a sweeter taste) GABA brown (which releases more gamma-aminobutyric acid to make the rice healthier) crust (for Persian Tahdig-style rice) and a quick-cook mode for white rice only.
You can also use it to steam, cook porridge, bake cakes and slow cook, too. The first thing we noticed on getting it out of the box is how attractive it is, with a rose-gold exterior, neat, curved shape and white, easy-to-navigate, pressure-sensitive touch LED display.
The sturdy Joubu bowl is ceramic lined and has carry handles, allowing for easy transportation to the table once the cooking process is done. It's more than attractive enough to leave on the table, too. Both the quick-cook and the normal cook mode gave us delicious long-grain basmati rice and although brown rice takes just over an hour, it produced one of the best results we experienced.
Once the rice is done, the machine beeps and automatically switches to the keep-warm mode, which is great if you've been distracted by the kids. For a cooker of this quality, it's a good price, with a special offer running when we tested to reduce the cost by a further £20.
Ideal Home's rating: 5 out of 5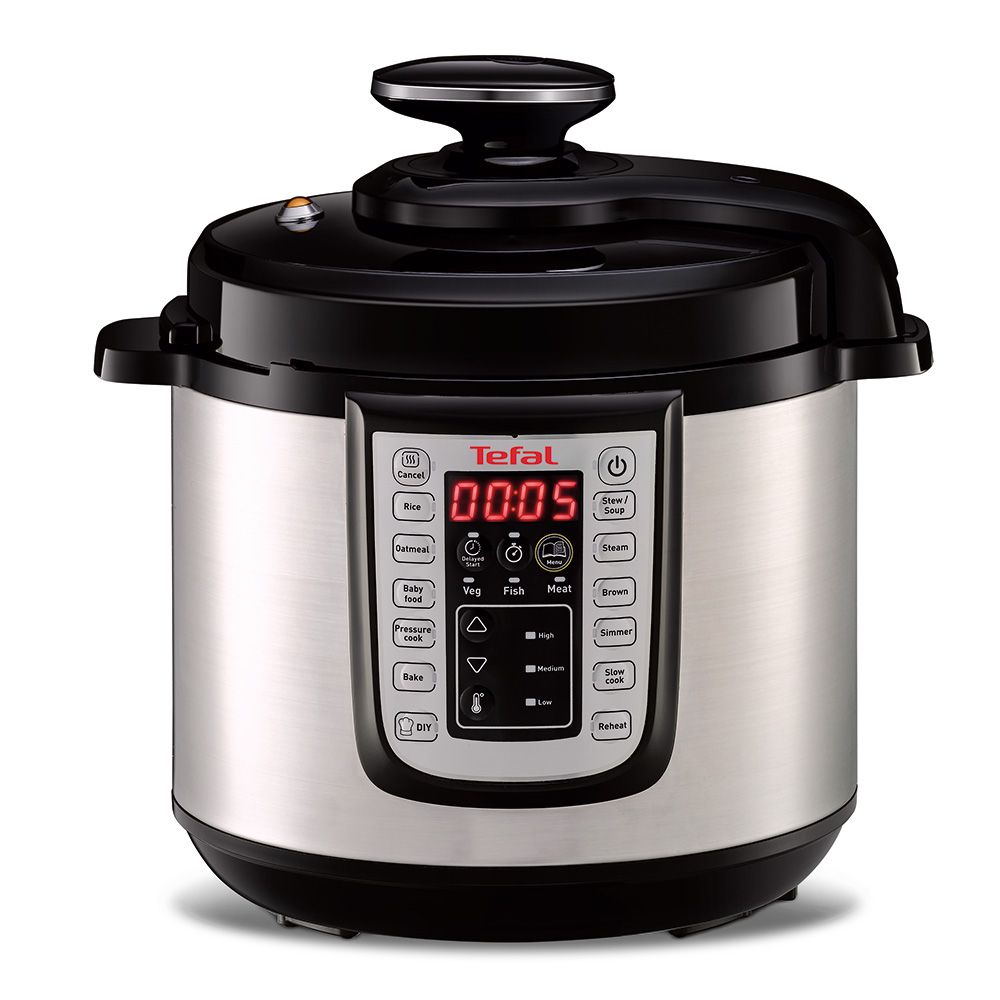 9. Tefal CY505E40 All-in-one Pressure Cooker/Multi Cooker
Best fast rice cooker
Specifications
Features: 25 programs, large capacity (20 portions), also doubles asa pressure cooker.
For a while pressure cookers were out of favour, with their constant threat of a steam explosion. Instead, we moved on, favouring the microwave for speedy cooking. Well, now they're back and much more user-friendly than before.
While this pressure-cum-rice cooker featured lots of bells and whistles and looked a little complicated at first, it actually coped brilliantly with everything we tried in it. You do need to do some important prep first, including checking all safety valves and seals. But the instructions were easy to follow and once it came up to temperature it cooked rice in double-quick time. In fact, it was one of the fastest on test, even for fairly big amounts of rice – it can cook up to 20 portions in one go. White basmati rice was ready in nine minutes and brown in 15.
It has 25 programmes, including baking, frying pressure cooking and steaming plus a keep warm button does exactly what it says. It also comes with a steaming basket, trivet and recipe book featuring dishes as varied beef curry, apple and yoghurt cake and risotto.
Ideal Home's rating: 4 out of 5
Buy now: Tefal CY505E40 All-in-One Electric Pressure/Multi Cooker at Amazon
---
What should I know before buying a rice cooker?
The best rice cookers will help to take the guesswork out of cooking all sorts of rice, grains and some even pasta, too. Much simpler than constantly watching a pan, a rice cooker will take the strain. Generally speaking, all you have to do is add the recommended amount of rice or grains and water to the pot and press the 'start' button. And voila, perfect rice.Essentially, you're steaming the rice rather than boiling it on the hob, which often produces better results. Get to know your machine so you can prepare rice to your taste – be that soft and sticky or light, separate grains with a bit of a bite.
How much should I spend on a rice cooker?
A simple microwave rice cooker with rice paddle can cost as little as £8 but cheaper models are often not that pretty. These won't be able to perform the extra functions included in the more sophisticated electric machines.
Electric rice cookers can be bought for upwards of £20. But if you're after something thats offers rice and much more, prices can rise to an eye-watering £300.
If you're cooking for just one or two, then the former might be more useful. Countertop machines are generally made to cook at least two portions, with some bigger models producing up to 10 portions.
What features should I look for?
Basic microwave models and the less fancy electric cookers will prepare rice and usually have a steamer function. If that's all you're after, all well and good. But if you want your appliance to 'earn its place on the worktop' then we think it needs to have a little more about it. Electric rice cookers consist of a removable metal or ceramic non-stick bowl that fits inside the main machine. This pot sits on a heating element that heats the water from below when the cooking process starts.
Cheaper rice cookers turn off this element once it detects that boiling point has been maintained for a set period. More expensive models will have a number of 'fuzzy-logic' settings. These automatically adjust the cooking time and temperature depending on the contents.
Regular and fast cook programmes will allow you to cook rice at your pace. Ones with count-down displays will let you know how long your rice has to cook. Keep warm functions are useful if you want to go back for seconds or you're a family eating at different times.
Can I cook anything else in a rice cooker?
Even the simplest of microwave rice cookers will cook grains such as quinoa and sometimes pasta as well as rice. In electric models, look out for extra cooking settings. These may include ones for specialist rice, including risotto, brown and wild, porridge, pasta, yoghurt and even cake! Rice cookers that are essentially multi-cookers will have all this. Plus 'slow' and 'fast' cook functions.
Some models we tried produce rice that has a crunchy, crispy bottom. No, we didn't burn it, it's a much-loved dish in many parts of the world. Called Tahdig in Persain cooking, socarrat in Spain and nurungji in Korea. This was, for us, a new taste and texture sensation, and one we'll be trying again.
Will my rice cooker speed up the cooking process?
Not really, no. Microwave cookers and some less feature-led models will give you well-cooked rice in about the same time as pan cooking. Some fancier models might even take a little longer. This is because they have separate stages to deliver the rice at the optimum texture. The beauty of these machines is not necessarily the speed of the cooking. It's more the fact that you can walk away, safe in the knowledge that the machine is doing the hard work for you.
Can I put a rice cooker in the dishwasher?
All parts of microwave cookers are dishwasher safe. However, due to the nature of the non-stick on metal or ceramic inners, most electric versions are recommended to be washed by hand. Simply wipe over the exterior with a wet cloth to get rid of residual steam and water. Wash removable parts in warm soapy water. Some plastic steamer attachments and ladles can be popped into the dishwasher but check instructions to be sure.