The best non-stick frying pans 2023 from Ninja, Our Place, Le Creuset and more
Our tried and tested top picks for fried eggs, pancakes, and speedy stir-fries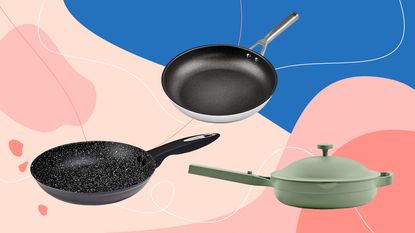 (Image credit: Future)
The very best non-stick frying pan can last a lifetime. While early non-stick was full of nasties and could be scratched up with the washing up, it's now a lot more durable and frequently comes without PFOA. Our best non-stick frying pan picks include toughened pans that will allow you to use metal utensils while you cook, without worrying about damaging your pan. It will feel a little weird at first but we promise it's a game-changer!
Other things we looked out for when reviewing the best non-stick frying pans were the weight and feel of the pans. If you're going to be using your non-stick pan each and every day, you'll want to make sure it looks and feels lovely to use. If you're flipping pancakes, you will want a lightweight pan that's got brilliant non-stick which will work with minimal oil, but for those who plan on cooking steak or making an omelette, a heavier pan that fills well balanced on the hob will be more of a priority.
Many of the non-stick frying pans we tried come in a variety of sizes, usually from 20cm to 30cm, so we made sure to include these details in our reviews below. Our top pick is the Ninja Foodi Zerostick frying pan, but we also really enjoyed the Le Creuset Toughened Non-Stick for a more premium buy, and were wowed by the quality of the Zyliss Cook Ultimate Induction Frying Pan. If you want to upgrade your whole cookware game, our guide to the best saucepan sets might be a good read.
The best non-stick frying pan – The quick list
Short on time? This quick list is an overview of our choice of the best non-stick frying pans around. You'll find more information on each pan and a full review detailing why our testers recommend it if you keep on scrolling.
Load the next 6 products ↓
Best non-stick frying pan overall
1. Ninja Foodi Zerostick Frying Pan
Best non-stick frying pan overall
Specifications
Sizes: 20cm, 24cm, 28cm
Features: Zerostick coating, 10 Year Replacement Guarantee
Reasons to buy
+
You can use metal utensils
+
Oven-safe up to 260 degrees
+
Incredibly durable
+
Surprisingly lightweight
Ninja has done it again: the brand behind some of the best air fryers and best blenders turned its hand to cookware not too long ago, and this debut wowed us. For a start, the non-stick is very durable, so much so that you can use metal utensils in the pan. It's also oven-safe up to 260 degrees. We can't remember the last time we ramped the oven up that high, but it's nice to know you can!
The non-stick is quite unique, and in the months we put this one to the test it's not had so much as a scratch of damage. The non-stick texture feels more like a skillet, but your stir-fries or steaks will lift away with no sticking. It can also go in the dishwasher, and for an entirely aluminium design, it's not too heavy.
Best for toughened finish
2. Le Creuset Toughened Non-Stick Shallow Frying Pan
Best non-stick frying pan for toughened finish