Best saucepan set 2023 UK — reviews of the top 8 for your kitchen
Find the best saucepans set for you with our top 8 picks from Ninja, Zwilling, Le Creuset, and Stellar, including non-stick and stainless steel sets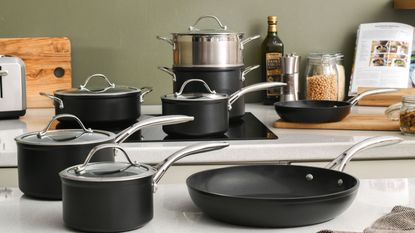 (Image credit: ProCook)
No kitchen would be complete without the best saucepans, and it's fair to say that everyone from beans-on-toast masters to Michelin-star wannabes use these pots and pans on a regular basis. And while it's entirely possible to buy cheap and cheerful saucepans on a budget, you have to wonder whether the low price also reflects the quality.
That's why we've decided to (quite literally) put some of the best saucepans to the test instead. The Ideal Home team has pipped saucepan sets from the likes of Le Creuset, Ninja, and ProCook against each other to see whether the slightly higher - but still very affordable - price point guarantees high quality and life-long durability.
After rigorous testing, we've put together the best saucepan options for all budgets and requirements - no matter if you're looking for the best pans for induction hobs or you're looking for non-stick options that will help to keep your cooking disasters to a minimum.
The best saucepans - the quick list
If you're short on time but still want to make sure that you're buying the best saucepans, take a look below. We've put together a quick list of everything you need to know before we get into the more detailed nitty-gritty.
Load the next 2 products ↓
Best stainless steel
7. Stellar 3-Piece Eclipse Saucepan Set
Best stainless steel
+ Sleek design
+ Includes measuring markings
+ Lifetime guarantee
- Only oven-safe up to 240°
Best modern
8. BergHOFF Leo 3-Piece Non-Stick Saucepan Set
Best modern
+ Easy to use
+ Impressive non-stick
+ Lids fit snugly
- Modern look divides opinions
Best saucepan set overall
1. ProCook Professional Ceramic Cookware Set
The best saucepan set
Specifications
Type: Premium stainless steel
Sizes: 16cm, 18cm, 20cm, 24cm
Reasons to buy
+
Outstanding non-stick
+
Sturdy and built to last
+
Great value
+
25 year guarantee
Reasons to avoid
-
The thick walls took a little longer to heat
With a thick, well-made ceramic non-stick body, this cookware set impressed us from the outset. It's backed by a 25 year guarantee, and the curved riveted handles remained sturdy throughout our testing. We love the look of them too. The saucepans took a little longer to heat than thinner alternatives, but we preferred the well-balanced base that comes with a thicker build, which means it sits happily on gas stoves as well as electric and even induction.
The included non-stick pan is a good size for most families, and it's paired with 14, 16 & 18cm saucepans that each come with a glass lid for visibility. The set is oven safe up to 260° and it can all go in the dishwasher. This ProCook set is astoundingly good value, but even if it was twice the price, we'd still give it full marks.
Best premium saucepan set
2. Le Creuset 3-Ply Stainless Steel Cookware Set
Best premium saucepan set
Specifications
Type: Premium stainless steel
Sizes: 16cm, 18cm, 20cm, 24cm
Reasons to buy
+
Backed by a lifetime warranty
+
Perfectly stackable
+
Ideal for family cooking
Reasons to avoid
-
You might prefer glass lids
-
Non-stick frying pan can't go in the dishwasher
Coming into this testing, it's fair to say that our cookware editor was slightly biased towards the Le Creuset cookware set. Her parents' set has been banging around in her family kitchen since they got married 25 years ago, and it's still performing flawlessly. Strikingly high–quality, the 3-ply Stainless Steel 4-piece Cookware Set is backed by a lifetime warranty, which is rare to find when it comes to cookware. Included is a 16cm saucepan, 18cm saucepan, 20cm deep casserole, and a 24cm non-stick frying pan, which is a versatile mix.
We really enjoyed how well this set stacked together, and the double handle design means you can lift these pans in and out of the oven without any trouble. The lids are made of stainless steel, so you won't be able to look in as your food cooks, but in our experience, this is a longer-lasting design. We also found that the base heated quickly due to the 3-ply stainless steel construction. The one downside is that the non-stick frying pan is best not placed in the dishwasher.
Best non-stick saucepan set
3. Ninja Foodi ZEROSTICK 3-Piece Pan Set
Best non-stick saucepan set
Specifications
Type: Non-stick
Sizes: 16cm, 18cm, 20cm
Reasons to buy
+
Super durable
+
Lightweight
+
Excellent non-stick coating
+
Can be used with metal utensils
Reasons to avoid
-
Not the most stylish pick
We're big fans of Ninja. Not only does the brand come out with some of the best air fryers, food processors and other kitchen innovations, but they've also dipped into cookware with their ZeroStick range. The verdict? A smashing success.
One standout feature is that you are free to use metal utensils when cooking with this range. It felt weird to use a metal whisk and slatted spoon when cooking in the set, but it was one less thing to worry about in the kitchen, and also cuts back on the less-durable and often-plastic alternatives you're forced to buy with non-stick saucepan sets.
The handle is angled upwards, which makes for an ergonomic experience and also lightens the load when it comes to pouring. All of the pans and lids can go in the dishwasher, and even in the oven, up to 260°C. We like this set for the price, which is very reasonable for such a durable range. Our major gripe is that the set is tricky to stack, and the ZeroStick coating is a little less attractive than more conventional cookware.
Best saucepan set for small kitchens
4. Robert Welch Campden Saucepan Set 3-Piece
Best saucepan set for small kitchens
Specifications
Type: Stainless steel
Sizes: 1.38L, 2.2L, and 3.2L
Reasons to buy
+
Perfectly stackable
+
Welded hinges
+
Great for small kitchens
+
Reasonably priced
Reasons to avoid
-
Metal lids
-
A small set for large families
Robert Welch may be best known for making some of the best chef's knives and best knife sets, but that doesn't mean the brand can't make a brilliant saucepan. The Robert Welch Campden Saucepan Set 3-Piece is really tactile to use, and the flat handles make it a very stackable set of pans.
Tested by our resident head of reviews, who has a small kitchen and a love of quality cookware, we couldn't fault much when it came to meal prepping for two people with these pans. The large one was plenty for making a batch of bolognese, and the small was brilliant for egg poaching or reheating soup. Of course, if you're in a larger home or have more mouths to feed, this set may be a bit snug for meals for four and over.
The metal lid rattles a little when simmering stocks or slow-cooking, which is because there's no in-built ventilation. We do prefer a glass lid, but at least these ones can go through the dishwasher. For the price, there's a lot of quality in this set.
Best saucepan set for speed
5. Lakeland Hard Anodised Bell Shaped 5-Piece Pan Set
Best saucepan set for speedy heating
Specifications
Type: Triple-layered non-stick
Sizes: 14cm, 16cm, 18cm and 20cm saucepans, 24cm frying pan
Reasons to buy
+
Heat-resistant handles
+
Glass lids
+
Wide base
+
Dishwasher-safe
+
5-year guarantee
The Lakeland Hard Anodised Bell Shaped 5-Piece Pan Set is a winner for big kitchens or those with a lot of hungry mouths to feed. These bell-shaped pans heated up in record time thanks to the wide base, and the narrower top prevented spitting or bubbling for a cleaner kitchen when you're done.
The non-stick is exceptional, and we also really enjoy that despite the heat-resistant coating on the handles and lid, they can still go in the oven (and the dishwasher!)
With a more unusual shape of pan, this set isn't the most stackable. It comes with a frying pan, a milk pan with pouring spouts on each side, and three pans. The largest is 20cm but due to the wide base it has a brilliant 3.3 litre capacity.
Best saucepan set
6. Samuel Groves 3-Piece Classic Set
Best saucepan and frying pan set
Specifications
Type: Saucepan, frying pan, stock pot
Size: 26cm Casserole, 20cm Saucepan, and 28cm Frying Pan
Reasons to buy
+
Pure quality
+
Designed to last
+
Lovely arching handles
+
Made in the UK
Buying the best saucepan set will often mean spending a lot of money, but if it's within your budget, the Samuel Groves 3-Piece Classic Set is a worthy investment.
While it's not the typical kitchen set set, its three components are all necessary for any kitchen and will allow you to cook just about anything you may wish. It comes with a 26cm casserole, 20cm saucepan and 28cm non-stick frying pan The saucepan is ideal for boiling veggies and heating up smaller portions, whereas the casserole has a quality design and sturdy handles to cook up large servings of bolognese or rice.
While not heatproof, the longer handles do stay a little cooler throughout use thanks to the elevated design. Enjoyable features include the fact that it comes in a burlap bag that can be used for groceries and other storage needs, and that it's handcrafted in the UK. The brushed exterior meant that heat spread evenly in testing, and the tri-ply stainless steel feels high quality and long-lasting. The company also offers a 'Pan for Life' refurbishment service, so they will re-polish and restore any damage it may incur over the years.
Best stainless steel saucepan set
7. Stellar 3 Piece Eclipse Saucepan Set
Best stainless steel saucepan set
Specifications
Type: Induction
Sizes: 16cm, 18cm, 20cm