Best blenders in 2023 UK - tried and tested picks from NutriBullet, Magimix, Sage, and more
The 10 best blenders you can buy in 2023, complete with reviews of all the top bullet blenders, as well as blenders for smoothies and soups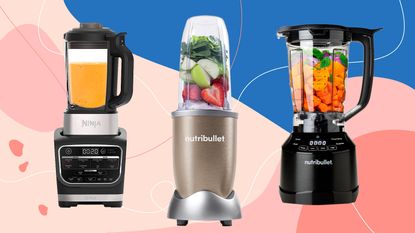 (Image credit: Future)
The best blender is the perfect kitchen appliance for adding more healthy fruit and vegetables to your diet. Blenders come in a variety of sizes, from single-serve cups popularised by brands like NutriBullet, to classic jug blenders from Smeg or Ninja.
If you're not sure which blender is right for you just yet then worry not, as each and every one of the best blenders in our guide has been tried, tested and reviewed by the Ideal Home team to aid you on your journey. By reviewing how each blender fares when making smoothies, soup, sauces and even frozen treats, we've got the insights you need into which one to buy.
When we put them to the test in our blender reviews we took into account how easy they were to use and clean, as well as how they handled tricky ingredients like frozen fruit and tough green leaves.
And while our top-rated blender on this list is a single cup model from Nutribullet, there are plenty of options for families to browse on this list too, as well as models that can double up as soup-makers and the best food processors. Keep reading to find your ideal blender and add more functionality than ever to your kitchen.
Quick list
NutriBullet Pro 900 Series Blender Set
+ So simple to operate
+ Very smooth results
+ Powers through tough ingredients

- Only one power setting
Ninja Foodi HB150UK Blender and Soup Maker
+ Great at different textures (smooth or chunky)
+ Self-clean program
+ Hot and cold blending

- Heavy jug
Nutribullet 01930 Smart Touch 1.85L Blender
+ Great for families
+ Foolproof to operate
+ Settings do the work for you
- Over £100
+ Five programs with a huge amount of power
+ Glass jug feels expensive
+ One for cramped countertops

- Another pricey pick
+ Holds a powerful motor
+ Quieter average noise
+ Easy to use

- Bulky base, and heavy
+ Excellent value
+ Huge number of accessories
+ Carry cups for on the go

- Blades aren't dishwasher safe
+ You can make butters, dips and so much more
+ Huge jug
+ Smooth results

- It's an expert choice with a big price tag
+ Enviable retro style
+ Sleek and straightforward to use
+ Sturdy jug and overall build

- It can't do soup
Ninja Blender with Auto-IQ BN495UK
+ Great for everyday smoothies
+ Smart settings take work out of blending
+ Easy to use

- Not for larger quantities
Magic Bullet Kitchen Express
+ Doubles up as a food processor and blender
+ Budget-friendly
+ Good for students

- Single serve portions only
Best blender overall
1. NutriBullet Pro 900 Series Blender Set
Best blender overall
Specifications
Type: Bullet blender
Dimensions: 25.7 x 14.6 x 36 centimetres
Power: 900 watts
Reasons to buy
+
Immense power
+
Couldn't be easier to use
+
Very smooth results
The NutriBullet Pro 900 Series blender is one of the best blenders our Head of Reviews Millie has ever tried - high praise from our appliance expert who has tested dozens in her time. Compact, affordable and with an array of accessories, this Nutribullet certainly lives up to the brand's reputation for convenience.
During testing when whizzing up morning smoothies and smaller portions, Millie found this blender to be practically faultless, with the power to cut through ice and take on stems in fruit and vegetables.
Given the excellent price of this blender (the RRP is £89.00), Millie thinks you'll be hard-pressed to find a more effective choice, with the two blending cups included also adding to the excellent value for money.
While ingredients like frozen berries and kale are easy work for this blender, it does struggle slightly more with large ingredients like whole fruits, which is where a bigger, capable blender might be needed. If it's guaranteed value and everyday blending you're looking for however, you won't do better than this.
Best blender for everything
Best blender for everything
Specifications
Type: Glass
Dimensions: 45 x 20 x 21.5 cm
Power: 1000 watts
Reasons to buy
+
Hot and cold blending
+
Makes tasty soups from scratch
+
Auto-IQ modes make blending hands-free
If you're on the hunt for a blender that can do more than just smoothies, then the Ninja Foodi HB150UK Blender and Soup Maker has the versatile edge you're looking for. It's a multipurpose blender that can make soups, sauces and more - even our hard-to-please expert reviewer was seriously impressed.
Though there are cheaper iterations of the best soup makers on the market, our reviewer Helen found that the Ninja Foodi could move from task to task with unparalleled ease, from crushing ice to making butters from scratch. If it's affordability you need, checking out Ninja Kitchen discount codes may also make the deal a little sweeter.
Helen's only downside with this blender was that the capacity makes just three portions of soup at a time. Dishwasher-lovers will also be disappointed, as the blades need to be washed by hand.
Read our Ninja Foodi Blender and Soup Maker review for more information.
Best large blender
3. Nutribullet 01930 Smart Touch 1.85L Blender
Best large Nutribullet
Specifications
Type: Plastic pitcher
Dimensions: 44.3 x 27.3 x 20.5cm
Power : 1500 watts
Reasons to buy
+
Great capacity
+
Couldn't be easier to use
+
Perfect for soup, purees, smoothies and frozen drinks
Reasons to avoid
-
On the pricey side
-
Can be pretty noisy
Take the thinking out of blending with this wonderfully ca