How to make a placeholder
Make this pretty placeholder for your garden party with this craft idea from Country Homes and Interiors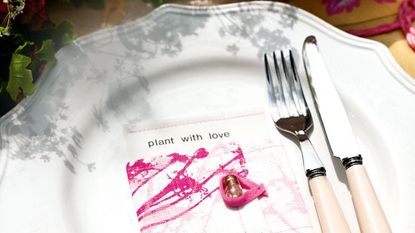 (Image credit: Future PLC/Polly Eltes)
Ideal Home Newsletter
The Home Of Great Ideas For More Than 100 Years
Thank you for signing up to . You will receive a verification email shortly.
There was a problem. Please refresh the page and try again.
Present guests with seeds (opens in new tab) in a tracing paper envelope, add a personal message and finish with a stylish fabric wrap.
You will need
Tracing paper
Matching thread
Letraset (try Paperchase (opens in new tab))
Collected seeds
Fabric offcut
Felt offcut
Decorative bead (try Hobbycraft (opens in new tab))
Step 1) Cut a 21cm by 15cm rectangle of tracing paper (opens in new tab). Fold the shorter edges in towards the centre and overlap centrally by 3cm.
Step 2) Run a thumbnail down each edge for a crisp fold. Turn the top 'raw' edges to the back by 1cm and carefully machine stitch (opens in new tab) 5mm from the edge.
Step 3)
Following manufacturer's instructions, transfer Letraset lettering in
your chosen wording to the front of the packet 1cm below the stitching.
Fill with seeds of your choice.
Step 4) Turn under the remaining 'raw' edges by 1cm and fold and stitch (opens in new tab) as before.
Step 5)
Cut a 30cm by 13cm strip of fabric and stitch a 2.5cm hem all round.
Fold around the seed packet so that the overlap sits on the front. Mark
the position for a bead and for a felt loop. Cut out a 5mm-wide loop long enough to fit around your bead.
Step 6) Stitch bead and loop in place, using the photograph above as a guide.
Liked this? Find more of our craft ideas (opens in new tab) on Country Homes & Interiors (opens in new tab)' new website. Plus, be first to hear about our favourite buys and exclusive competitions on Facebook (opens in new tab) and Twitter (opens in new tab).