You'd never believe this stylish master bedroom was once a tired living room
A savvy homeowner transformed her dated living room into a bedroom uncovered a beautiful brick fireplace in the process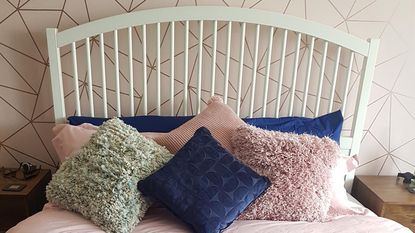 (Image credit: Lorraine Peterson)
Ideal Home Newsletter
The Home Of Great Ideas For More Than 100 Years
Thank you for signing up to . You will receive a verification email shortly.
There was a problem. Please refresh the page and try again.
Whether you're moving into a new house where the rooms are topsy-turvy, or your current layout no longer works for you, it's worth considering swapping your rooms around if it means you'll end up with a more workable space.
That's exactly what Lorraine Peterson from Kent did, when her and her partner Adam moved into a two-bedroom bungalow where the living room was at the front of the property. 'We knew we were going to extend the back of the house,' she says, 'and it made much more sense for us to locate the bedroom at the front, and then move the living room so it led on to the new kitchen-diner space.'
Room swap makeover
Before
On moving in, the bungalow was liveable but dated, including the bedroom-to-be. An orange-pine fireplace sat on one wall, while a single old light fitting struggled to light the whole room.
'In our last house we'd used greys and creams, so I wanted to move away from that colour scheme,' says Lorraine. 'It was a chance to come up with some new modern bedroom ideas
One of the first steps the couple took were to replace the old radiator to a more modern style and fit shutters at the windows.
'As the bedroom would be at the front of the house, we wanted to make sure we had privacy,' says Lorraine. 'The shutters are great as they can filter the light in as and when we need it and look really smart from the outside of the house too.'
To save money, the pair built fitted wardrobes themselves to fit either side of the fireplace in two alcoves. 'It made a much better use of the space,' says Lorraine.
Turning her attention to the fireplace, Lorraine was keen to get rid of the orange pine surround and find out what it was covering. 'It wasn't until I started chipping off the plaster underneath, that I discovered a beautiful brick wall!' she says. 'We decided to keep it and make it a feature in the room.'
After
It's certainly a transformation. The bedroom now features their bespoke inky-blue wardrobes, which sit neatly in the alcoves, and along with the bare brick wall, copper knobs and filament bulbs the room has a rustic, industrial feel to it. Above, a large spider-leg pendant spans the width of the ceiling, offering much better light.
Blush pink accessories work beautifully with the dark navy blue bedroom ideas, and the couple chose a geometric wallpaper in the same tone for the wall behind the bed.
'We painted the other walls in a light pink as well,' says Lorraine. 'I really love the combination of these two colours together.'
So, how much did the makeover cost the couple? 'It was around £2,500 in total,' says Lorraine, 'but considering we had new windows and shutters, it's still a good price and we couldn't be happier.'
Laurie Davidson is a professional stylist, writer and content creator, who lives and breathes interiors. Having worked for some of the UK's leading interior magazines, styled homes up and down the country and produced sets for TV shows, adverts and top brands, it's safe to say Laurie has had a pretty exciting career. Find her on Instagram at @lifeofaninteriorstylist or over at lauriedavidson.co.uk