Is it worth paying £20 more for the Henry Xtra vacuum? We tried it to find out
The Henry Xtra is an upgrade on a standard Henry. It's ideal if you've got a larger home or a variety of floor types to vacuum.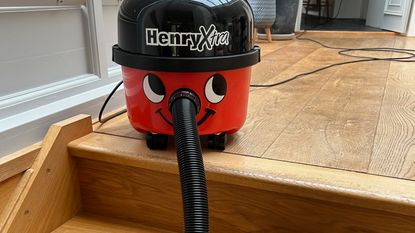 (Image credit: Future/Helen McCue )
You know what you're getting with a Henry. And with the Henry Xtra you get a bit more. I think it's a good value, simple and robust vacuum that'll stand the test of time. In my opinion, the extra carpet cleaning tool makes this Henry the one to choose if you have lots of carpets.
Reasons to buy
+

3 different floorheads

+

Large dust capacity

+

Affordable

+

Very simple to use
Reasons to avoid
-

Overkill if you only have one floor type

-

Only one power level
Why you can trust Ideal Home Our expert reviewers spend hours testing and comparing products and services so you can choose the best for you. Find out more about how we test.
Gone are the days when there was just one Henry, this beloved vacuum is now part of a wide range of different floor cleaning appliances - but don't worry, they all still have human names and friendly faces! The Henry Xtra is the next step up from a standard Henry and comes with extra floorheads plus a bigger dust capacity, in order to compete for the title of the best vacuum cleaner out there.
Having recently reviewed both Hetty and the classic Henry in the Henry HV160 review, I can see the need for a floorhead specifically for hard floors as well as one for better suction on carpets. The Henry Xtra costs just £180 and given that this includes two additional floorheads plus a larger capacity for just £20 more than a standard Henry, I reckon it's cracking value for money.
I was keen to see how much difference the dedicated carpet and hard floor tools made, especially since Henry Xtra's motor power is the same as a standard Henry or Hetty. I also wanted to check out whether this bigger model felt more cumbersome to move around the house. Read on to see whether I think it's worth paying extra for the Xtra (sorry).
Henry Xtra HVX200 Extra Capacity Vacuum Cleaner specs
Bag or bagless: bag
Capacity: 9L
Motor power: 620W
Dimensions: 34 x 36 x 37cm
Weight: 8kg (machine and kit)
Cleaning range: 26m
Accessories: upholstery tool, dusting tool, crevice tool, combi floor tool, hard floor tool, Airobrush carpet tool
Who tested the Henry Xtra vacuum?
After completing a Home Economics degree, Helen went on to work for the Good Housekeeping Institute and has been reviewing home appliances ever since. She lives in a small village in Buckinghamshire in the UK, where she reviews all sorts of home and garden appliances using her wealth of experience.
Unboxing, setting up and first impressions
My first impression is that although slightly bigger than a standard Henry, the Henry Xtra isn't too big or bulky and as with all Henry vacuums, its body feels sturdy and robust. Setup really is effortless, this vacuum comes out of the box almost ready to use. There's even a dust bag installed for you. The hose has to be screwed on and the metal tubes of the wand need to be pushed onto each other, but that's really it.
The instruction manual is very basic, but Henry vacuums are so easy to use, there's actually no need for a sprawling manual. There's a simple on/ off switch next to a light that illuminates all the time it's plugged in and has power. A twistable air flow adjuster at the top of the wand gives some very basic suction control. And a handle on top allows you to manually wind the power cord back in after use, but that's about all there is to learn.
Henry Xtra comes with the standard combi floor tool that has a pedal on top to lift and lower brushes on the underside, depending on whether you're using it on carpet or hard floors. And for a deeper clean on carpet you also get the Airobrush, a rotating power brush to give carpets a deeper clean. Then there's the hard floor tool, it's designed with brushes on the underside to delicately vacuum hard floors that might be more susceptible to scratches.
The small tools are the exact same three that you get with most Henry vacuums. They include a dusting brush, crevice tool, and an upholstery tool with removable brushes. Plus there's a small connecting tube for when you want to connect them directly to the end of the hose. None of the tools click into position, they simply push on and off, nevertheless they seem to stay firmly in place.
There's space at the back of the vacuum to store two of the small tools. And while it's great to always have two to hand wherever you go, I personally would prefer storage for all three so that I don't have to pick my two favourites. It's also worth remembering that whichever two floorheads you're not using will need to be stored.
The first few times you change the floorhead or disassemble the wand, it can be tricky to pull them apart. But I did notice this became easier over time, once they'd worn in a bit.
What's it like to use
If you've ever used a standard Henry - and that's most of us - then Henry Xtra is virtually the same to use, but with more floor tool options. While the combi floor tool is a decent multi-purpose tool, I do enjoy having the other two. Although I'm not convinced the hard floor tool feels much gentler on my wood floors, and it tends to suck more onto the floor so it's not as easy to push around. For this reason I gravitated back to the combi floor tool for my wood floors. And in my kitchen and bathrooms where I have tiled floors, the combi tool was always my first choice. The hard floor tool is very slim though, so it's useful for getting into tight spots.
When I spilt flour on my wood floors, both the combi tool and hard floor tool performed similarly. They both sucked up part of the flour, whilst also pushing some along in front of the brushes. So it took a couple of sweeps back and forth to collect it all. On tiled floors the grout lines somehow made it easier for them to suck it all up in one sweep and not push any out in front.
None of the tools struggle to reach debris that's gathered around the kick boards in the kitchen. And the twisting air flow control is handy when you need to reduce the suction, for example when vacuuming a doormat that might get lifted easily. For most vacuuming though, I left it on full suction.
I definitely noticed that the Airobrush floor tool left my carpets looking cleaner than the combi floor tool. It even extracted debris from deep within my long pile rug that the combi tool missed. Furthermore, it feels lighter and easier to push along carpet than the combi floor tool. The catch is that it's noisier, my sound meter hit 76dB when vacuuming carpet with this attachment, whereas it's only around 70dB when using the combi floor tool. Having said that I've used vacuums that are far noisier and it didn't feel too loud to me.
I used all the small tools, both around the house for dusting, cleaning upholstery and reaching into awkward areas, but also to clean my car. It's a useful selection of hand tools. I particularly like the upholstery tool with the brush attached, it made short work of my sofas as well as the upholstery in my car. And the dusting brush is a good size for quickly sprucing up shelves and window sills. Likewise, the crevice tool is long enough to reach into all the tricky spots down the sides of the car seats.
I've got very used to vacuums that have the on/off switch on or near the handle, so I did miss that and at times I found it mildly irritating to have to lean down and switch it off on the main body of Henry. But, at this price level you can't have everything and that's a fair compromise. And I will admit that I became quite adept at flicking the switch with my big toe!
A gentle tug on the hose is all that's needed to get Henry Xtra to follow you wherever you go. The four wheels give him good manoeuvrability and although he's too big to rest on the stairs, the hose is long enough to reach up most flights of stairs while he rests at the bottom.
Corded vacuums might not be in fashion any more thanks to the best cordless vacuums, but I'm not sure at what point we all got brainwashed into thinking that plugging in a power cord is too much hassle and effort - it really isn't. There's enough cord to easily vacuum a couple of rooms without having to unplug, and it's nice to not worry about how long's left on the battery. The cord unwinds itself without you really noticing and winding it back in takes seconds. And if you're really not convinced by sticking with a cord, our Henry Quick review has all of the information you need on the cordless member of the Henry family.
Cleaning and maintenance
All Henry vacuums are designed to be super easy to maintain. Henry Xtra's 9 litre dust bag will last several weeks, potentially several months depending on the size of your house and how frequently you vacuum. Unfortunately, there's no indicator to alert you when the dust bag is full, so you'll have to check it periodically.
To access and change the dustbag, there are simply two clips to undo and then the top of Henry lifts off. There's a big round filter that sits on top of the dust bag, this also simply lifts out. The dust bag pulls away from the pipe and it has a flap that can be closed to stop dust and dirt escaping on the way to the bin. It's so much cleaner than emptying a bagless vacuum.
I noticed a few hairs tangled around the Airobrush, so these will need cutting away occasionally to keep it at its best. Otherwise, there are no fiddly filters to wash or any other regular maintenance jobs. If any parts break, replacements are available online. Plus most of the vacuum easily disassembles into parts so you can remove clogs or clean it if needs be.
How does the Henry Xtra compare to other Henry vacuums?
For some homes, three different floorheads is an unnecessary amount and they'll just clutter your cleaning cupboard. So if you think you just need the main combi floor tool, it's worth looking at the classic Henry or Hetty models. They're £20 cheaper and more compact to store too. Admittedly, the 6 litre dust capacity is smaller, but it's still ample for the majority of homes.
Alternatively, if you've got your heart set on a pet-hair specific vacuum, the Miele Complete C3 Cat & Dog is currently the best canister vacuums that we've tried. It's an excellent vacuum, but at around £300 it's significantly more expensive.
Should you buy Henry Xtra?
If you've got several different floor types in your home, Henry Xtra's three different floor tools will come in really handy and offer the best possible clean for every surface. But if you've got mostly hard floors with the occasional rug, you're unlikely to keep swapping them and they'll probably end up forgotten in the back of a cupboard. So if storage space is tight, I'd say go for a standard Henry, especially as the vacuum is smaller too.
For bigger homes the large capacity dust bag will mean fewer full bags to change. And given that this model only costs £20 more than a standard Henry, it's a no-brainer for most people. Having used both, I'd definitely buy this one over the standard Henry. And that's purely based on having the Airobrush carpet tool that gave a better result on my carpets. But if you don't have much carpet, my advice is think carefully about whether or not you need the extra tools before deciding.
About this review, and the reviewer
In line with how we test products that we recommend at Ideal Home, Helen used the Henry Xtra in her two bedroom house for a couple of weeks before writing this review. She vacuumed all areas of her home including wood floors, tiled floors, carpets and rugs as well as her sofas and even her car to make sure she thoroughly tried out all the accessories. She was allowed to keep the vacuum after the review.
Get the Ideal Home Newsletter
Sign up to our newsletter for style and decor inspiration, house makeovers, project advice and more.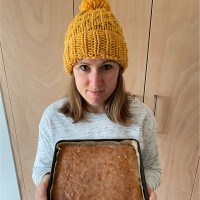 After completing a Home Economics degree, Helen went on to work for the Good Housekeeping Institute and has been reviewing home appliances ever since. She lives in a small village in Buckinghamshire in the UK.