Best cordless vacuum cleaners of 2023 in UK – our top 12 stick vacuums after testing dozens
Make cleaning convenient with the 12 best cordless vacuum cleaners that the Ideal Home team can't live without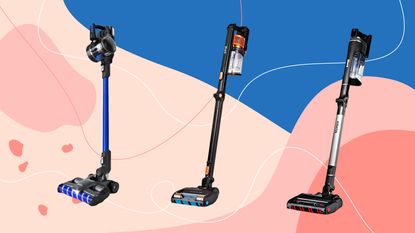 (Image credit: Future/Shark/Vax)
Recent updates
This article was last updated on the 29th of November 2023. The last update included the removal of Cyber Monday deals as the event came to an end.
Upgrade to one of the best cordless vacuums, which are engineered to extend to every corner of your home to banish dust and dirt.
To make investing in the top-rated cordless vacuum for your budget a little easier, we've tested every single choice you can see in this guide and highlighted which are the best value for money.
A number of our top 12 come in at £300 or under if you want the convenience of cordlessness for less – you'll be able to tell them from their 'Budget Buy' badges.
As part of our review process, these vacuums have been put to work on hard floors and carpets, often for months, before we come to a verdict on suction power, ease of use and adaptability to homes with pet hair and other obstacles.
Some of the best cordless vacuum cleaners also feature in our guide to the best vacuum cleaners. While cord-free vacs are sometimes not quite as powerful as corded models, they more than make up for it in lightweight design, attachment selection, and convenient use. These are the cord-free ones that the Ideal Home team wouldn't be without.
The best cordless vacuum cleaners – the quick list
Not got a lot of time on your hunt for the best cordless vacuum? Our quick list is the fastest way to get to our top 6 picks, including choices from Shark, Hoover and VAX.
Best overall cordless vacuum cleaner
Best cordless vacuum overall
Specifications
RRP: £399.99
Bagged or bagless?: Bagless
Dust tank capacity: 0.7 Ltrs
Weight: 4.58 kg
Reasons to buy
+
Double up on batteries
+
Shift from carpet to hard floors with ease
+
Power designed for deep-cleaning
Reasons to avoid
-
Annoyingly doesn't stand upright
Buy it if: you want a great value, high-performing cordless vac.
This Shark vacuum really blew us away when we put it to the test at home. Highlights included the PowerFins, which reached deep into carpets with every pass to make them look as good as new. On hard floors there was serious power too, and toggling between those modes was painless thanks to the smart display panel.
Our verdict
During testing, our reviewer Millie loved how easy it was to store this vacuum. The hinge in the middle of the vacuum was invaluable for bending for easy storage and it stood unsupported when packed away. However, she couldn't leave it standing up unsupported when she was midway through using it, annoyingly.
If you have a mainly carpeted home, then listen up, as Millie found that this cordless vacuum really proved its worth in those high-traffic carpet areas. When vacuuming around her dog's bed, she was wowed by the visible line of clean carpet it left in its wake.
Value for money
We know that this is a pricey choice, but the performance speaks for itself when it comes to getting your money's worth. It's also very common to find Shark vacuums on sale, either through Shark themselves or on Amazon, so it's worth waiting until major events like Black Friday or Cyber Monday if you can, for mega-discounts.

You can buy the Shark IZ300UKT for an added pet attachment (which will cost you more) or the IZ320UK for two batteries. For all the bells and whistles, try the IZ320UKT. It has a pet attachment and two batteries, but other than that it's the same vacuum as the IZ300UK.
Our Shark IZ300UK Anti Hair Wrap Cordless Stick Vacuum Cleaner review has the full details.
Best budget cordless vacuum
2. Vax ONEPWR Blade 5
Best budget cordless vacuum
Specifications
RRP: £450.00
Cordless: Yes
Dust tank capacity: 0.7 litres
Weight: 3.85 kg
Reasons to buy
+
An amazing value cordless vacuum
+
Easy to reach underneath sofas and furniture
+
Great battery life
+
Excellent on all surface types
Reasons to avoid
-
Not all tools come included
Buy it if: you need a solid all-rounder cordless vacuum.
If you're debating buying a new cordless vac, it wouldn't be a surprise if VAX was a brand near the top of your list. We think they deliver consistently great vacuums, which is why we've replaced the Blade 4 in this list with the Blade 5, which has a good number of improvements on its predecessor.

Our verdict
The suction power on the Blade 5 is brilliant, and the oversized floorhead means that you'll be done with swooping around your house or flat in quick time. The battery life on the Vax Blade 5 gave us absolutely no trouble, and we completed all of the tasks we needed to that day without having to return for a second charge.
Even better, with the Vax Blade 5 you get access to two batteries, which means you should get up to 90 minutes of charge, and you'll never be without your sturdy Vax vac when you need it. The Blade 5 is admittedly a little heavier than its predecessor, but it is brimming with great accessories and comes with a wall mount too, so that storage is straightforward.

Value for money
Both the Vax Blade 4 and the 5 get the great value seal of approval from us - stick with the former if you're on a tight budget, and enjoy the features that come with the upgrade if you can stretch to the ££ of the latter. While the RRP of the Vax Blade 5 looks quite daunting, you can regularly find it on sale for much, much less, which is why we think it's a great choice to look out for if you're on a budget.
Best cordless vacuum for pick up
The best cordless vacuum for hair pick-up
Specifications
RRP: £549.99
Bagged or bagless?: Bagless
Dust bin capacity: 0.8 litres
Weight : 4.07kg
Reasons to buy
+
Flawless hair pick up
+
Excellent CleanSense feature
+
Anti Odour capsules are great
Reasons to avoid
-
Would benefit from a stand
-
Dust tool is redundant
Buy it if: you hate musty vacuum smells (thanks to Anti Odour tech).
The Shark Stratos range was released in 2022 and goes further than other vacuums to make debris and dust pick-up as seamless as possible. This particular cordless Stratos showed unbelievable suction power during testing, and left carpets visibly cleaner, with no issues with pet hair or human hair. Gone are the days of lengthy maintenance with the Stratos too, with easy-to-clean mechanisms that you'll be unbelievably grateful for.
Our verdict
There's no doubt that our testing process proved that the Shark Stratos is worth the large price tag. Even if you don't have pets, the ease with which this vacuum does away with hair is astounding, and our Ecommerce Editor Molly found that it was unmatched when it came to suction.
The capacity of this vacuum to transform into a smaller handheld model is also phenomenal, and you'll be reaching for the smaller attachments all the time to quickly resolve smaller messes all over your home. The battery life is also stellar, and 60 minutes was available during testing on non-turbo mode. One non-essential that we are obsessed with is the Anti Odour capsules that you can pop into the dustbin. These mean that there are no more musty smells when you're emptying your vac out.
Value for money
You can fork out more for the two-battery Shark Stratos model if you think you need a spare pack on charge while the other is in use, but it's not a necessity if you live in a small or medium-sized home. All in all, this is admittedly a pricier vacuum, but if you can afford it, we're sure it will impress you time and time again.
Our Shark Stratos IZ420UKT cordless vacuum review has the full details.
Best cordless Dyson
4. Dyson Gen5detect Absolute
The best Dyson money can buy
Specifications
RRP: £849.99
Cordless: Yes
Dust tank capacity : 0.77 litres
Weight : 3.5kg
Reasons to buy
+
Two floorheads for great cleaning
+
Laser heads help with pick-up
+
Incredibly powerful
+
Sleek and easy to use
Reasons to avoid
-
Really expensive - even for a Dyson
-
You'll have to empty the dust tank a lot
But it if: you want the snazziest cordless vac on the market.
Nobody does cordless vacuums quite like Dyson, which is why almost everyone wants one. The Gen5detect™ Absolute is just another in the brand's line of sleek, stylish and unbelievably powerful cordless vacs. The battery life on this one was particularly impressive during testing, and it charges up so quickly too. The catch? The price is astronomical, which makes it hard to recommend for everyone.

Our verdict
If you haven't heard about the latest in vacuum tech (where have you been?!), then Dyson's newest cordless vacs have Piezo sensors and impressive green lasers to help you tackle every inch of dirt in your home. When testing, we found it really did help to uncover how much hidden dirt there really was on hard floors, and the LCD screen tells you everything you need to know about exactly which kind of debris you're picking up.
Value for money
It couldn't be easier to use Dyson vacuums, and they've thankfully kitted out the Gen5detect (unlike the earlier V15) with a button to start and stop rather than a trigger, in order to save your hands. The point-and-shoot bin mechanism is also genius, and the three suction levels are perfect for moving from everyday cleaning to getting deeper into carpets and rugs.
This is truly a star buy, but we wish that we could have more of the Dyson sparkle on a budget. For now, though, it's one of the best cordless vacuums on the market - at a huge cost.
Best cordless vacuum under £250
Best under £250
Specifications
RRP: £300
Bagged or bagless?: Bagged
Dust tank capacity : 1 litre
Weight : 3.2kg
Reasons to buy
+
Very lightweight and easy to use
+
Iconic design
+
Allergy sufferer friendly
+
Good dust bin capacity
Reasons to avoid
-
Lacks high-tech features
Buy it if: you want the reliability of a Henry in a cordless form.

This vacuum is the next chapter in Henry's huge history of influence in cleaning in the UK. With a cordless stick design for the first time, the Henry Quick holds on to all of the iconic branding quirks that we love while packing in respectable suction power and a lightweight design to make your vacuuming routine easier.
Our verdict
During testing, our Ecommerce Editor Molly found this vacuum to be a super reliable choice. The design was endearing and impressive and will speak to fans of the usual happy-faced Henry vacs that we all know and love. Standout features included just how easy this was vacuum to use, with a two-button control panel, and LED lights that help with cleaning in the evenings. If you love Henry but are a little apprehensive to make the move to a cordless model, this vacuum makes a great place to start.
One thing that sets Henry Quick apart from other vacuums on this list is the use of dust bags. You receive 26 of these bags with your Henry and using them most definitely cuts back on dust clouds upon emptying and means you can go longer without needing to empty at all. Allergy sufferers who want to use a cordless vacuum will massively benefit from this type of design, but repurchasing dust bags in the future may not be for everyone.
Value for money
Henry vacuums tend to be very reliable workhorses, and with an RRP of £300 (but easy to find for closer to the £250 mark), you're onto a winner if you want to invest for the long term. The fact that the Quick uses a bagged system may also be a win when it comes to durability, as it means that your vacuum's parts stay cleaner on a day-to-day basis.
Our NUMATIC Henry Quick cordless vacuum review has the full details.
Best cordless vacuum under £300