Boilers vs water heaters – what's the difference and which one do you need?
Which one should you have in your home?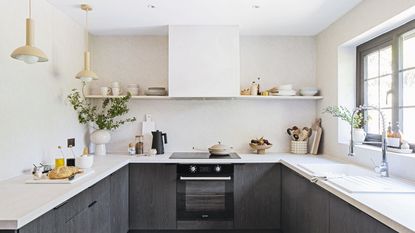 (Image credit: Future PLC/James French)
The differences between boilers vs water heaters might seem small, but they're actually pretty significant - as the machines vary in their capabilities.
Most households in the UK have a boiler to heat both their homes and water, whereas some have both a boiler and a water heater - and in rare cases do homes (usually smaller households) have only a water heater.
Both units perform slightly different functions. Below, we'll explain the actual differences between boilers vs water heaters, which one will help you save energy and the pros and cons of each option…
Boilers vs water heaters
Boilers and water heaters do slightly different jobs, so assessing your needs before deciding which one you require is important...
What do boilers and water heaters do - and what is the difference between them?
Both a water heater and a boiler can provide hot water for things like washing up and taking baths. But a boiler is the only one of the two that can heat your home.
The main difference between a boiler and a water heater is how they do their job. A water heater is essentially a large tank of cold, potable water (meaning safe drinking water), that uses either gas or electricity to heat the water inside. This water is then circulated around the home immediately as and when needed. Water heaters can come in a few different forms, such as solar panels or heat pumps.
A boiler on the other hand uses fuel to heat water, and this water is then turned into steam that is pushed through the pipes in your home to provide heating. Nick Tandy, head engineer at Toasti, explained that turning the water into steam is a great way to heat your home because 'steam can be an inexpensive and efficient way to transport heat, as it is easier to pump and holds heat better.'
Another key difference is that all of the water in a water heater is potable, whereas not all of it is in a boiler. 'A water heater heats water that's clean and safe for cleaning and cooking. In a boiler, the hot water used for cleaning or cooking is kept separate,' explains Ted Leahy, head of service excellence at HomeServe.
The pros and cons of boilers and water heaters
A water heater allows instant access to hot water - A major advantage of a water heater is that you can access hot water in mere seconds. With some boilers, you may need to wait for the water to heat up, which can be a pain especially if you are tight on time.
Water heaters cost less - Water heaters generally win out on price, too. They cost much less than both boiler installation and maintanenance.
Water heaters can be more energy efficient - And this energy efficiency can lead to lower costs too. Some water heaters can be powered with renewables e.g. solar panels,' says Heatable's in-house Gas Safe engineer Ben Mars. 'This can be especially useful in the summer where there's lots of exposure to the sun - allowing people to drastically cut their fuel bills by avoiding boiler use and instead adopting hot water that's been sourced for 'free'.'
However, boilers have some important advantages that usually result in them being a more popular choice for households…
Boilers heat your home and provide hot water - A water heater on the other hand won't heat your home - it'll only provide you with hot water. As many people need central heating at some point in the year, especially in winter, a boiler is often a much more sensible option out of the two.
Boilers will likely last longer than a water heater - Water heaters have an estimated lifespan of 8-12 years, while boilers can last between 10 and 15 years. And, given how much further a boiler stretches in serving your home, it can actually be a much more savvy investment…
You can get more eco-friendly boilers - Gas boilers have an undeniable environmental impact, as they create carbon dioxide emissions. However, electric boilers are rising in popularity and may soon become more common, especially with the planned gas boiler ban in 2035.
Which one should you get - a boiler or a water heater?
Most homes will not need a boiler and a water heater. 'Generally speaking, the guidance is that an efficient boiler should be sufficient enough to serve your property effectively,' says Matthew Jenkins, heating expert at MyJobQuote. This is because it can provide you with both hot water and heating - whereas a water heater is for water only.
However, a water heater can be helpful in a few different scenarios. 'A water heater is ideal for those that do not use central heating, but want a reliable source of hot water on demand,' explains Ben. A water heater can also be a good back-up option, to ensure you always have hot water even if your boiler breaks down.
You may want both a water heater and a boiler if you have a particularly large home, or have multiple water sources in use at the same time, too. 'If multiple showers and taps are running, a boiler on its own may struggle to work as efficiently, as the water in the pipes may feel pressure to meet all its demands,' notes Matthew. 'A larger home may benefit from a water heater in addition to a boiler to reduce pressure on a boiler, especially during winter months.'
Get the Ideal Home Newsletter
Sign up to our newsletter for style and decor inspiration, house makeovers, project advice and more.
Amy Hunt is an experienced digital journalist and editor, now working in a freelance capacity specialising in homes and interiors, wellness, travel and careers. She was previously Lifestyle Editor at woman&home, overseeing the homes, books and features sections of the website. Having worked in the industry for over eight years, she has contributed to a range of publications including Ideal Home, Livingetc, T3,Goodto, Woman, Woman's Own, and Red magazine.