Step inside this country-classic three-bed 1930s semi in Somerset
Juggling family life and a big renovation wasn't easy, but this cosy country home was worth all the hard work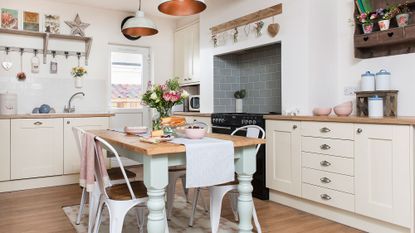 (Image credit: future PLC/Colin Poole)
Ideal Home Newsletter
The Home Of Great Ideas For More Than 100 Years
Thank you for signing up to . You will receive a verification email shortly.
There was a problem. Please refresh the page and try again.
'Although this is our third home together, it was the first one where I really felt we could put our stamp on things,' says the owner of this three-bed Thirties semi in Somerset. 'We 
had a lovely cottage before, but it had already been renovated, whereas 
in this house just about everything needed doing!
'It's also in a great location, close to schools and the seafront, and there's a good-sized garden, too.' At first she wasn't sure about taking on such a big project as she has three children, but her husband could see what a fantastic opportunity it was.'
Both the boiler and gas supply had to be moved, and there wasn't much to show for the extra outlay. 'We managed to find the money for these unforeseen problems, but it slowed us 
down,' says the owner. 'It was also tricky and quite stressful when the old kitchen was ripped out, as there was nowhere for anyone to eat or even sit down. I took the children away 
for a few days and left my poor husband to manage with a microwave!'
Exterior
This three-bedroom Thirties semi in Somerset felt gloomy and downstairs was a mishmash of little rooms. The owners have opened up 
the ground floor so it's bright and spacious, the old kitchen has been replaced 
and they've redecorated every room.
Reorganising and modernising the ground floor has made a massive difference to family life. 'I can cook while the children are playing or are at 
the table doing homework, and it's lovely for big gatherings, too,' the owner says. It took a lot of work, expense and upheaval, though. It's is an old house and nothing was straightforward. 'We discovered wonky walls, odd-sized doors and damp floors that had to be fixed,' she says.
Living room
The owner has used lots of pastels throughout the house to make it feel cosy and restful. 'It's a dark house, so I've decorated with that in mind. I love nature and I've tried 
to bring a sense of the outdoors inside with lots of colourful flower and bird designs,' she says. 'But I've introduced elements of black and copper to add glamour.'
The owner picked a navy wallpaper for the living room. 'It is a bold choice,' she says, 'but I fell in love with the beautiful bird and butterfly print.'
She's added 
a large mirror over the fire and lots of off-whites to keep things bright, as the 
old stone fireplace was dark grey and very heavy looking. 'While several coats of white paint have softened it, 
I'd love to replace it one day,' says the owner.
Get the look
Buy now: Maylea by Albany wallpaper, £19.99 a roll, Wallpaper Direct (opens in new tab)
Buy now: The Scandinavian white coffee table, £91.99, Maisons du Monde is similar (opens in new tab)
Kitchen
Before they moved in, the owner and her husband agreed they'd knock through the kitchen and dining area, and that has become the centre of the home and their favourite part.
'I love a country look, so I chose simple cream kitchen units to maximise the light and a chunky, farmhouse-style table,' the owner says. 'I'm also a huge Cath Kidston fan, so I picked one of her timeless floral wallpapers, which I hung myself, to introduce colour and softness at the other end of the room.'
Get the look
Buy now: The Whitshire Grey table, £299, Cotswold Co is similar (opens in new tab)
Buy now: For similar chairs try the White Tolix chair, £38.63, Only Home (opens in new tab)
Bedroom
When the family moved in, the master bedroom was dominated by very dated fitted furniture, including a row of dark wooden cupboards above the bed. 'I hated it all 
so much that I painted every piece cream straightaway as a temporary fix,' says the owner.
'Once we finally pulled it out and redecorated, the room just felt so much lighter and more inviting.'
Get the look
Buy now: The Dorma Juliette bed, £849, Dunelm is similar (opens in new tab)
Kids' room
There was also an en suite in the main bedroom that wasn't really needed, and it protruded quite far into the kids' bedroom next door, making it cramped and awkward. Taking it out was an easy decision that has had a big impact, 
as their room is now a regular rectangle shape.
'I decorated it quite simply, with pink and greys, and the girls each chose accessories to personalise their own side of the room,' the owner says.
Get the look
Buy now: Minnen bed, £90, Ikea (opens in new tab)
Bathroom
The main bathroom isn't that big, and when the family first moved in, they had to squeeze between 
a large, period-style bath and bulky washbasin to get into the room. 
The owners changed them for a smaller, neater bath with shower and a slimline basin that has storage below.
As their budget was stretched, they then did a quick refresh with new tiles, paint and wallpaper. ''I painted the existing tongue-and-groove panelling blue to suit my scheme. The painted floorboards are quite hard to maintain and not that practical for us, 
so I'll be laying new flooring soon,' the owner says.
It's been a lot of hard work, but the house is almost finished now. 'It's amazing how much brighter but also cosier and more inviting it feels. It'll grow with us, so I don't think we'll be moving again,' the owner says. 'This is where we'll stay.'