Look inside this terraced house in Southwest London
By reconfiguring their period home the owners have created a harmonious layout filled with colour, character and natural light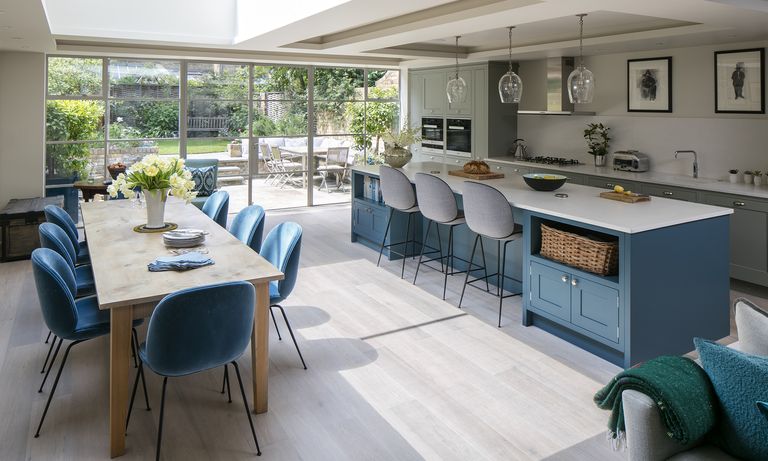 (Image credit: Future PLC/Robert Sanderson)
The owners had lived in their London home for 12 years before undertaking a comprehensive renovation, which began after the youngest of their five boys went to university. With busy jobs as television producers, the couple worked closely with interior designer Melanie Paskin, who oversaw the whole project, and engaged refurbishment specialists BTL Property.
Priorities were to maximise light, create through views and add colour after being inspired by visiting the home of the project's architect Robert Wilson of Granit Architects. 'Robert's house had extraordinary windows and lots of light,' explains the owner.
Exterior
A smart and stylish garden entrance is set off by subtle stone paving. The garden gate and front door colour gives a clue to the palette inside.
Hallway
Inside a modern monochrome scheme, which is minimalist and fresh, creates a great first impression. 'Interior designer, Melanie Paskin, found this beautiful table which flags up the simplicity we wanted to achieve'.
Get the look
Buy now: Rocco console, from £4,750; Verona mirror, from £1,140, both Makes collection at Fiona McDonald (opens in new tab)
Buy now: Square pendant in Weathered Brass, medium, £479, Holloways of Ludlow (opens in new tab)
Kitchen
In the large kitchen-diner, a wall of Crittall windows offers views over the garden created by Sam Butler Garden Design, seamlessly connecting inside with out. 'I'd seen the windows while working in Denmark and I loved them.' To keep the look light, they chose pale window frames instead of the classic black. 'Coffers in the kitchen-diner ceiling echo the separate zones of the spaces below,' explains architect Robert. The island is one of those spaces. The owners wanted a zone where they could sit while working on laptops as well as for prepping meals. 'We didn't want a sink here and I'm glad, because it gives us so much more space.'
Dining area
A refectory table sits beneath a roof lantern that illuminates the cedar wood and casts a sheen over velvet chairs. The stylish wall gallery is cleverly mounted with non-reflective glass, 'the drawings are a combination of my parents' and ones I've collected over the years.' Blueish frames pick out the tones of the mid-centry dining chairs. Thanks to a wall of glass, this sociable area connects seamlessly with the garden. 'I was thrilled when we got planning permission for the run of windows.'
Get the look
Buy now: Bespoke cedar table, price upon commission, Andwoodcraft (opens in new tab)
Buy now: Similar Gubi Beetle chairs, from £858 each, The Conran Shop (opens in new tab)
Sitting room
Jewel tones and plush fabrics create a smart yet homely space in the living room. Childhood mementoes add interest throughout. The owners mother, a doctor, was a consummate needleworker. Vibrant examples of her work appear in many rooms and also inspired the colours used for accessories.
Master bedroom
A calm New England feel suffuses the bedroom. When it came to paint, the owner was lucky enough to have them made for her by colour consultant Joa Studholme of Farrow & Ball. The master bedroom is in a bleached duck-egg, Pale Powder, with feminine Pink Ground in the owner's dressing room. 'Having lived with five boys, I was determined to introduce the occasional pink.'
Landing
Like neighbouring houses, the owners had a central staircase. Robert 'turned' the stairs off the master bedroom to lose a dark landing and tiny laundry room, making way for a two-storey window that ushers in light. This light-filled space is a defining feature of the renovation. On the wall outside the master bedroom is a gallery of pictures, many of them family favourties. They were hung professionally, but one day the owner came home to a surprise. 'Next to a fur-clad snow queen rescued from their child's nursery was a childhood portrait of me from my parents. It was wonderful to see.
Guest room
An eclectic guest room is made interesting with floor to ceiling book shelves and decorative cushions and artwork.
Bathroom
A freestanding bath makes a striking centrepiece in the owners en suite bathroom.
Get the look
Buy now: Picasso bath, £2,695, Lusso Stone (opens in new tab)
Buy now: Richmond shutters, price on application, Hillarys (opens in new tab)
Garden
The garden has a relaxed cottage garden feel.
'Colours change from room to room but they all work together to create a sense of harmony. This skilful approach to decorating seems to sum up the whole transformation: seamless, considered and refreshing. 'We're glad we decided to go ahead with the renovation. We love the new look, but keeping our old pieces has made it feel like a real home, not a show home, which is what we wanted.'
Image credits: Robert Sanderson
Rachel Homer has been in the interiors publishing industry for over 15 years. Starting as a Style Assistant on Inspirations Magazine, she has since worked for some of the UK's leading interiors magazines and websites. After starting a family, she moved from being a content editor at Idealhome.co.uk to be a digital freelancer and hasn't looked back.