Best air fryers under £100 of 2023 in the UK — 5 affordable air fryers, reviewed by our expert
We've reviewed a selection of budget-friendly air fryers that won't break the bank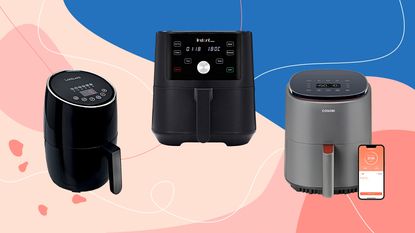 (Image credit: Future)
Recent updates
This article was last updated on the 23rd of November. In the last update, Black Friday deals were added to show where air fryers in this list are on now on sale.
QUICK LIST
Far from being a gimmicky appliance, air fryers are increasing in popularity and they're not going anywhere. But if you're on a budget, can you still get one of the best air fryers for under £100?
It's true that some of the best air fryers are priced at almost £300. With this in mind, it can be difficult to know whether you should save up for an all-singing, all-dancing model, or if it's possible to bag a decent air fryer at a friendlier price tag.
We've tested and reviewed a wide range of these appliances from the best small air fryers to the best air fryer for a family of four. And we think you can get a pretty good air fryer on a budget. They might not always be the fanciest or the largest capacity air fryers, but they're up to the job and the list even includes air fryers from known brands like Instant and COSORI.
I have personally tried every single air fryer on this list, I've used each of them in my own home to bring you open and honest reviews. I'll let you know how well they work, how easy they are to use and whether they're big enough. So read on to see which air fryers are the best on a budget.
Quick list - The best air fryers under £100
Looking to spend less than £100 and just want the top line on which air fryer is best for you? Simply browse our quick list, which has all of the information you need.
Best air fryer under £100
1. Instant Vortex 4-in-1 Air Fryer
The best air fryer for under £100
Specifications
RRP: £99.99
Capacity : 5.7 litres
Modes/ presets: Air fry, roast, bake, reheat
Weight: 5.4kg
Power: 1650W
Size (cm): 32.6 x 31.4 x 37.9
Reasons to buy
+
Large capacity
+
Versatile cooking functions
+
Excellent performance
+
Easy to use
+
Automatic preheat
Reasons to avoid
-
Drawer can feel clunky to open and close
-
Display switches off while drawer is open
As far as air fryers under £100 go, they don't get much better than this. It's an excellent option, from a really reputable air fryer brand. Its touch screen display is super intuitive to use and the additional roast, bake and reheat functions mean it has plenty of functionality to offer - a rarity in this price bracket.
The spacious 5.7 litre drawer offers enough capacity to cater to up to four people. And if that's too much, it also comes in a smaller 3.7 litre version that's priced at around £79.99. I enjoyed using this air fryer and truly think it's one of the best you can buy if your budget is tight. Though I wish the digital display didn't switch off when the drawer is pulled out.
I used the roast function to roast some broccoli florets and they were done in just 9 minutes. And the air fry mode was equally efficient, cooking chips from raw in 25 minutes. There's space for 5-6 bacon slices and it's roomy enough for extra long breaded fish fillets, which I couldn't fit into any of the others on this list. All in all, If you've got £100 to spend on an air fryer, your money will be well spent on this model.
Best air fryer under £100 for 2 people
The best air fryer under £100 for 2 people
Specifications
RRP: £99.99
Capacity: 3.8 litres
Modes/presets: chicken, fries, bacon, steak, veggies
Weight: 4.4kg
Power: 1500W
Size (cm): 32.5 x 27.5 x 34.5
This one came a close second to the above Instant air fryer. Not only is it the only air fryer on this list that connects to an app, but the COSORI Lite is, in my opinion, the nicest looking of the bunch too. It has a subtle matte grey exterior that's a welcome change from the sea of super shiny black air fryers and it also comes in white.
Unlike the Instant Vortex above, it doesn't have any cooking modes other than air fry. Nevertheles, the easy-to-use control panel allows you to select a reminder to shake or an optional pre-heat. What's more, if you download the app, it'll act as a remote control, allowing you to stop or pause the air fryer, or adjust some settings via your phone.
I was impressed with its performance, in just 22 minutes home made chips were crisp, golden and fluffy in the middle. Broccoli roasted beautifully and bacon crisped nicely too, though there's only space for 3-4 slices. Frozen breaded goujons were quick to develop a satisfying crunch. It did a great job and is the perfect size for a two person household.
Our full COSORI Lite Air Fryer review has more details.
Best air fryer under £100 for 1 person
The best for single portions
Specifications
RRP: £74.99
Capacity : 2 litres
Modes/presets: Manual, poultry, steak/ meat, bakes, fresh fries and vegetables, frozen fries and vegetables
Weight : 2.7kg
Power : 1200W
Size (cm): 30 x 18 x 25
Reasons to buy
+
Super compact
+
Easy-to-use controls
+
Ideal for storing away
+
Perfect for smaller portions
Reasons to avoid
-
Expensive for its size
-
Will be too small for most households
If you generally cook for one, there's no need for a huge expensive air fryer that takes over your worktop. This 2 litre model from Lakeland will effortlessly cook up individual servings, whilst barely taking up more space than the average kettle.
Admittedly, it's a bit pricey given its teeny size, but with Lakeland's reassuring 3 year guarantee and a user-friendly digital control panel, it's a great choice. Plus, you should be able to save on this price tag with the right Lakeland discount code. And for some foods like air fried broccoli, I was able to squeeze in enough for two people.
I was impressed that given its small size, it could cook a generous 450g portion of homemade chips in a respectable 28 minutes. Which is more than enough for one hungry adult, or two as a side to a light lunch. That said, I was only able to fit two slices of bacon, or three slices of halloumi and while it cooked them beautifully, to me this demonstrates that this model is best suited to cooking for one.
Our full Lakeland Digital Compact Air Fryer review has more details.
The best air fryer under £100 for ease of use
The best air fryer under £100 for ease of use
Specifications
RRP: £69.99
Capacity: 2.5 litres
Modes/preset: Air fry
Weight: 3kg
Power : 1300W
Size : 29 x 24 x 28
Reasons to buy
+
Simple dial controls
+
Compact
+
Suitable for up to two people
Reasons to avoid
-
Difficult to set time and temperature accurately
The Magic Bullet air fryer is an affordable option that's ideal for households of 1-2 people. It's a compact model that doesn't offer a cavernous capacity or much versatility in terms of settings. But, therein lies the beauty of this air fryer.
It is one of the simplest air fryers you can buy, so if you're looking for a basic model, it'll fit the bill. It has a straightforward dial control for time and another for temperature. There are absolutely no complicated settings or functions that you'll need to master. The main downside is that the dials can't be set as accurately as digital controls.
Despite not being able to set the time and temperature as accurately as I might have liked, I was still able to cook up foods faster and crisper than in my ordinary oven. I experimented with halloumi fries, which were a great success. Meanwhile the usual fare of chips and bacon both cooked well, as did air fried cauliflower.
Some foods were a little slower to cook than in my usual, larger capacity air fryer, but that's not a deal breaker as far as I'm concerned.
Our full Magic Bullet Air Fryer review has the full details.
The best budget air fryer under £100
5. Tower T17067 Vortex Digital Air Fryer
The best budget air fryer under £100
Specifications
RRP: £69.99
Capacity : 4 litres
Modes/presets: French fries, chicken drumstick, shrimp, cake, steak, fish, ribs
Weight : 3.2kg
Power: 1400W
Size (cm): 32 x 27 x 33
Reasons to buy
+
Large capacity for the price
+
Often reduced below RRP
+
Relatively small footprint
Reasons to avoid
-
Display switches off when drawer removed
-
Not dishwasher safe
Despite being one of the cheapest air fryers in this guide, at 4 litres, the Tower Vortex has the second largest capacity. For me, the look and feel is more budget than the slightly pricier options from Instant and COSORI, but that's reflected in the price tag.
I had a few frustrations with this model, such as the display not being quite so intuitive as others, plus it switches off when you open the drawer. Furthermore, steam sometimes gets into the panel surrounding the digital display, which worries me that long term this could cause a fault.
That said, these issues don't take away from the fact that it's a bit of a bargain. Because, most importantly, when it came to cooking foods, it did a good job. Raw potato batons were cooked into tasty crisp and golden chips in 25 minutes. Meanwhile fish fingers developed a crunchy crumb and the fat on my bacon crisped up in 8 minutes.
Cauliflower took 17 minutes to cook and char on the outside, which is slower than I would like, but since everything else cooked fast, I can't really fault its performance. Besides, it's still much faster than roasting cauliflower in my oven.
How we tested the best air fryers under £100
I tried each of these air fryers in my own home on separate occasions. I used each of them in place of my usual air fryer for at least a week. During this time I was able to evaluate how easy they were to clean and how intuitive the interface and settings were to use on a daily basis.
I cooked a wide variety of foods in each air fryer. The types of foods and recipes vary according to the capabilities and capacity of each air fryer, for example, if it had modes other than air fryer, I might try these too. But generally speaking, I usually air fry home made chips, as well as bacon and something breaded from the freezer. These core foods form a good basis for comparison across all models. If recipes are supplied in the manual, I like to try out one or two of these too.
Image 1 of 6
With a lot of air fryer reviews under my belt, I can quite quickly gain an understanding of how capable the air fryer is and whether it's up to the job. I then take into consideration the size, price and versatility of the appliance to determine the overall score.
With a career testing, reviewing, and writing about home appliances that spans 15 years, Helen is an expert product tester. Having originally trained as a home economist, she draws on a wealth of experience when evaluating kitchen appliances. She has reviewed hundreds of household appliances over her career including dozens of air fryers, making her a trusted Ideal Home product tester.
FAQs
How to choose the best air fryer under £100
Bagging yourself a bargain air fryer might be your main focus, but there are a few important points to consider alongside the price tag. Firstly, capacity - sometimes the cheapest air fryers are also very small, which won't fit the bill if you have hungry teenagers in the house. So while a 3 litre or below might be enough for 1-2 person households. If you're cooking for four or more, you'll need a minimum of a 5 litre capacity.
Next, think about the functions on offer. More expensive air fryers have extra cooking functions such as roast and bake. Cheaper air fryers might only offer an air fry function. So you'll need to think about what you intend to use it for and whether you're happy to forego the flexibility of lots of different cooking modes.
Lastly, I'd recommend looking at the control panel. You'll want a model with simple settings. Some very obscure brands might be cheap, but if you need to check the manual every time you switch it on, you'll probably wish you'd spend a few extra pounds.
For air fryers under £100, we think these are the most capable and trustworthy buys out there. For perfectly cooked chips every time, and all the functionality of an oven on your countertop at these prices, you can't go wrong.