Best cheap blenders 2023 - kickstart your mornings with these affordable blenders
Whizz up nutrient-dense smoothies and create velvety veg-packed soups with the best cheap blenders.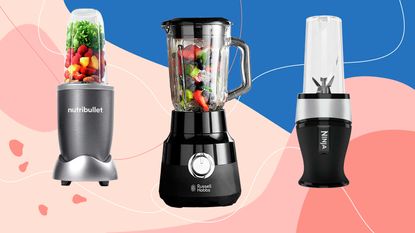 (Image credit: Future)
A blender is a staple piece of kitchen kit, whether you're a fair-weather homecook or seasoned enthusiast. In fact, these versatile appliances are even friends to those who avoid the kitchen at all costs but bolster their five-a-day intake with smoothies.
The thing is, the best blenders can come with hefty price tags, easily reaching the £200 mark. Regardless of the longer-term price per use you might get out of it, that's a fair whack of an upfront investment. And then there's the issue of storage: some models will occupy a substantial percentage of your work surface and be impossible to squeeze into already-cramped kitchen cupboards.
That said, there's really no substitute for a decent blender. Sure, one of the best hand-held stick blenders can help you out with the likes of soups and smoothies, but it usually requires a lot more time and hands-on effort to achieve the same texture as you could easily get in a full countertop device. And thicker mixtures like hummus and pesto can end up being quite troublesome, too.
So, in a bid to find the gadgets that land in that sweet spot between expensive food processors and labour-intensive stick blenders, we've put several compact, affordable blenders through their paces. Whizzing up smoothies, soups, sauces and dips at home, we paid special attention not only to the texture of the results, but also how practical each was in terms of ease of use, cleaning and storage.
Our top six affordable blenders
Why you can trust Ideal Home Our expert reviewers spend hours testing and comparing products and services so you can choose the best for you. Find out more about how we test.
1. Russell Hobbs Desire Matte Jug Blender
Best mid-tier blender
Specifications
RRP: £54.99
Power: 650W
Capacity : 1.5litres
Dishwasher safe parts?: Some
Reasons to buy
+
Large capacity great for batches
+
Strong power levels
+
Good to use and clean
Reasons to avoid
-
Not all parts safe for dishwasher
The large and robust glass jug makes this blender as great for soups as smoothies, we found – especially as it can handle large batches easily. It has really decent power for its relatively modest price tag too, with a 650W motor and durable-feeling stainless steel blades.
This one was really easy to clean – while the blade isn't dishwasher safe (most other parts are) it does unscrew from the base, which was really helpful not only for washing, but also for collecting any food that had clung to it. Simple to use, it has two speed settings and a pulse function which are controlled by a dial. It saw to our smoothie with little effort, and a handy opening in the lid allowed us to add more liquid to the mix when things were looking too thick.
2. Nutribullet 600 Series
Best for smoothies
Specifications
RRP: £69.99
Power: 600W
Capacity: 680ml
Dishwasher safe parts: Some
Reasons to buy
+
Efficient extractor blade
+
20,000 rotations per minute for quick results
+
Powerful motor in compact size
Reasons to avoid
-
Not as practical for coarse mixtures
Perhaps the best known smoothie-making brand out there, Nutribullet has a huge range of blenders. The 600 series, though, is the original and, we would argue, one of the best. The no-frills appliance is sleek and compact (although it's not the smallest on this list) and is button-free. It only has one function – to blend at a speed of 20,000 rpm – but safe to say it carries out its sole duty effectively. We whizzed up ice and frozen ingredients easily, pouring out velvety smooth mixtures in less than a minute.
The blades are specially designed to extract all the goodness from each ingredient for smoothies (not leaving chunks behind in the cup), but because they're so low to the base, we struggled to scrape out thicker mixtures like pesto from underneath them. That said, it still did a decent job on those nuts and herbs.
3. Ninja Nutri Slim Blender and Smoothie Maker
Best for single portions
Specifications
RRP: £59.99
Power: 700W
Capacity: 470ml
Dishwasher safe part?: Some
Reasons to buy
+
Small and compact
+
Simple and intuitive to use
+
Powerful motor
Reasons to avoid
-
Can only handle small batches
-
Narrow mouthed cups make ladling in soup tricky
We loved how compact this blender is. It's very unimposing to keep out on the worktop but will likely find a home for itself in even a crowded cupboard. Don't mistake small for feeble, though: the 700W motor has real brawn. It comes with two blending cups – each with a single serve capacity, give or take – so if you're usually whizzing up drinks or blending sauces pour une then it's ideal.
So intuitive is this blender to use that we were drinking our first smoothie before we'd even thought to look at the instructions. There are no buttons here: just push the cup down into the base to blend. This did mean we couldn't get on with anything else while we were blending, but as the blades are sharp and motor punchy, it only took a few seconds to get smooth results. Plus, this makes pulsing easy, if you're going for a chunkier texture.
4. Tefal Blendforce II BL435840
Best for hot blending
Specifications
RRP: £69
Power: 800W
Capacity : 1.7 litres
Dishwasher safe parts?: All
Reasons to buy
+
Multiple speeds
+
Decent capacity
+
Six blades make blending quicker
+
All parts dishwasher safe (including blades)
This blender's thick glass jug is quite heavy but feels very robust. Large enough to hold several portions of food or drink, it's designed be used with hot and cold ingredients without danger of cracking. Plus, it's dishwasher safe, along with the blades and lid. So there was no need to be concerned when we were pouring in hot stock and veg to make soup.
Given the generous capacity of this two-speed blender, it's still relatively petit and looks sleek too. We were impressed with the noise levels and lack of vibration when it was blending – there was no movement at all in the base as the blades rotated. That said, it didn't work quite as well with thicker mixtures as it did with smoothies – our large batch of hummus took some encouragement and we needed to scrape the sides of the jug down a few times, but we were happy with the final texture. The blade component can be unscrewed from the bottom of the jug too, which helps with cleaning. This is one of the chunkiest appliances on our list, which is something to consider if you struggle for space in your kitchen.
5. Breville Blend Active Compact Food Processor
Best compact blender
Specifications
RRP: £23
Power: 350W
Capacity: 450ml
Dishwasher safe parts?: All
Reasons to buy
+
Small and compact
+
Easy to clean
+
Very affordable
Reasons to avoid
-
Small capacity won't suit everyone
If you're not keen to commit to a chunky investment or aren't sure how much you'll realistically use your blender, this Breville model is a great way to test the waters. At just £23, you get more than you pay for here, we think.
We were impressed at just how small the blender is, and found it really easy to use. There's one button which needs to be held down to blend, and while that makes it a bit more hands-on to use with than some other models, it does the job pretty quickly. Fruit and ice cubes were blended into a smooth consistency with no complaints from the relatively small 350W motor, and given that none of the blades sit flush with the base, thicker mixtures were easy to scrape out, too.
6. Philips 3000 Series Blender
Best for smaller budgets
Specifications
RRP: £29.99
Power : 450W
Capacity : 1.9 litres (1 litre effective capacity)
Dishwasher safe parts?: Some
Reasons to buy
+
Really reasonably priced
+
Decent size blending jug
+
Good smoothie results
For £30, you can't really go wrong with this no-frills, hardworking blender. It might not have the most powerful motor of all the options on this list, but it turned frozen fruit into a silky smoothie with no visible effort. The unit stays pretty still while the blades are running, and although the motor is less powerful than others on this list, we didn't notice a stark difference in terms of blending time or noise.
We found this blender, like the others on our list, works best for liquids but can still be used for more dense mixtures too. We used it to pulse some lemony mushy peas for our Friday night fish and chips and it did a good job – although it was tricky to collect the food from underneath the blades, as they sit very close to the base. It has one of the largest footprints of the blenders on this list, but that's a fair trade-off for the wallet-friendly price tag, we think.
---
How we tested the best cheap blenders
As part of our commitment to how we test, we assessed these blenders by using them at home over the course of several weeks. They were put to the test with fruit and vegetable smoothies – which is one of the most common uses for compact and affordable blenders like these – as well as coarser substances like hummus and pesto. Everything that was dishwasher safe was flung in our machine for a cycle or two as well, to make sure it emerged in good nick.
When scoring, we took into account each item's look and size, as well as ease of use and how quick and effective we found it. Price was another consideration, as was the cleaning process. We're not about the false economy either, so we were looking for blenders that looked and felt robust and like they'd last the distance. You can read more about exactly who tested these blenders below.
Jessica is a journalist and editor, specialising in food and drink. She tests and reviews products (primarily kitchen tools and cookware) regularly for a range of titles and also writes about lifestyle topics – from travel to work – for publications such as Wired, Stylist and The Independent.
When she's not tapping away on her laptop, Jessica can usually be found in the kitchen, whipping up something from one of her many cookbooks ('out of hand' has been used to describe her ever-growing collection), trying out a new restaurant in her home city of Bristol, walking her droopy-eyed basset hound in the countryside or optimistically embarking on a DIY job at her fixer-upper home.
How to choose the best cheap blender
Although all of these blenders rep solid value for money, there are a few things to consider when choosing which one to fork out for.
Firstly, it makes sense that the more you'll use it, the more of an investment it's worth. So if you'll be employing its service on the regular, don't be put off by a slighly higher price tag – think about the cost per use to get the best value. The more costly models often have the more powerful and robust motors.
What you intend to use it for is another key question. Are you all about the smoothies? And are you whizzing them up just for you, or for the whole family? For drinks, the more compact blenders will do the job perfectly – there's no need for multiple functions or to find room for a hefty appliance. But if you want to make silky smooth soups in big batches, or chunky sauces and dressings, you might want a model with larger blending jugs and multiple speeds.
It's also important to think about the size of your blender. Worktop space often comes at a premium, but if your kit won't fit in a cupboard or is used so regularly it'd be going in and out like it's doing the Hokey Cokey, that's where it'll end up living. So consider whether you can make space somewhere for a larger appliance, or if a smaller model would better suit.
Get the Ideal Home Newsletter
Sign up to our newsletter for style and decor inspiration, house makeovers, project advice and more.