Best dual zone air fryer in 2023 UK – our 6 must-have dual basket appliances after testing
All of the best dual zone air fryers that we've tried and tested – so that you can read up before you invest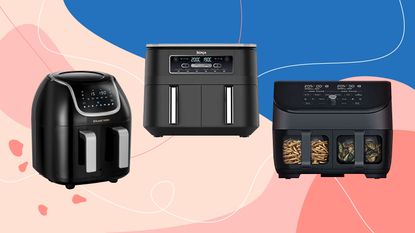 (Image credit: Future)
QUICK LIST
Find the best dual-zone air fryer for your kitchen with this tried and tested guide, which is complete with favourites from Ninja, Instant, and more. Our findings? This is the air fryer type that busy families or keen cooks need to really make the most of their kitchen space.
After reviewing a host of these larger, two-basket versions of the best air fryers, we're sold on just how revolutionary these appliances are. Their popularity has simply been soaring in the last few years, with new releases with clever designs detailed below too.
With a low cost to run due to their energy-efficient designs, investing in one of these dual-basket air fryers is a decision that will pay for itself in the long run, with hundreds of pounds worth of energy likely saved from ditching your oven.
Thanks to the usefulness of these appliances, we suspect the air fryer hype isn't going anywhere fast. But if you're not sure whether you want a single or double-drawer model but know you need to cook for a crowd, then be sure to check out our guide to the best air fryers for a family of 4.
The best dual zone air fryers - The quick list
Not much time to spare on your hunt for the best dual zone air fryer? That's where our quick guide comes in. Click the text at the bottom of the listing if you do want to find out more before you buy.
Best dual zone air fryer overall
The best dual zone air fryer
Specifications
Size: 31.5H x 38Wx 26.5D cm
Capacity : 7.6L
Programs: Air Fry, Max Crisp, Bake, Roast, Dehydrate and Reheat
Reasons to buy
+
Standout performance during testing
+
Tried and loved air frying brand
+
Range of functions
+
Sleek exterior
Reasons to avoid
-
Quite hefty for small spaces
-
Requires an open mind to tech
The Ninja Foodi MAX Dual Zone air fryer has a huge fan following - and it's easy to see why once you get your hands on one. Ninja is one of - if not THE leading air fryer brand on the market, and they've crystallized what is so great about this type of cooking with this dual basket invention, which we also voted as our pick of the best Ninja appliances out there.
In short, you can cook two different foods in two different ways (pick from six functions including the ability to bake) at the same time, and then sync them up to finish at the exact right moment so that everything will arrive at the table still hot. What that allows you to do in reality is to experiment with a range of different food types at home that you might not have even imagined just yet, such as dehydrated fruit snacks or a lemon drizzle cake.
This air fryer was tested by our Head of Reviews Millie Fender, who called it 'one of the best ever'. She loved just how high the temperature could be set - up to 240 degrees, a feature which makes it so versatile due to the type of things you can cook up. She also found that it was a standout winner for crisping up potato wedges and other fried favourites.
While it might be too hefty for smaller kitchens, this is the air fryer you should opt for if you can stretch your budget, and if you're cooking for more than one. If the budget is your only concern, then do take a look through our Ninja Kitchen discount codes to make sure that you're getting the best deal possible.
Just make sure to go into owning your Ninja with an open mind, and join online communities if you're looking for recipe inspiration and tips.
Our full Ninja Foodi MAX Dual Zone AF400UK air fryer review has more information.
Best dual zone air fryer with windows
The best dual zone air fryer with transparent drawers
Specifications
Size: 38.4 H × 40.3 W× 31.7 D cm
Capacity: 7.6L
Programs: Air fry, Roast, Grill, Bake, Reheat or Dehydrate
Reasons to buy
+
ClearCook means you can monitor progress
+
Fantastic cooking results
+
Enviable design
+
Available in stainless steel or black
Reasons to avoid
-
Temperature doesn't go as high as the Ninja
We're not afraid to say that we think the Instant Vortex Plus Dual Drawer air fryer deserves more hype than it currently has. This pick is a real contender to the Ninja for the crowning glory of being the best dual basket air fryer out there, with a design that is understated, clever and better looking than the Ninja (or so we think).
The front of both baskets has those magical ClearCook see-through windows that allow you to check on the progress of whatever is inside without losing any heat at all, a feature that the Ninja actually doesn't have. The interface is a dream to work with - and during testing, we've loved how easy it is to set up.
Like the Ninja, this air fryer has five other functions, and all of them are perfect for everyday cooking. The bake function is ideal for bread, the reheat function works for leftovers and you can even dehydrate oranges inside with the ability to set the temperature low for a long period of time (up to 12 hours).
This is the air fryer that our Ecommerce Editor Molly now uses every single day, saying that it is a miracle for midweek meals. User reviews agree that this air fryer is a genius buy too, with many saying that they are impressed with the high quality of the appliance, as well as the range of different foods they can experiment with cooking inside.
Our full Instant Vortex Dual Zone air fryer review has more information.
Best flexible dual zone air fryer
The best flexible air fryer
Specifications
Size : 32.7 x 49.6 x 31.6cm
Capacity : 10.4 litres or 2 x 5.2 litres
Programs: Max crisp, air fry, roast, bake, reheat, dehydrate, prove
RRP: £269.99
Reasons to buy
+
The best design on the market
+
Option to use 1 large drawer or split into 2
+
No need to preheat, huge cooking power
+
Intuitive to use
Reasons to avoid
-
You can't open each side individually
-
It's pretty bulky
If you know you want a dual-zone air fryer but don't necessarily need two sections all of the time, then the Ninja Foodi FlexDrawer Air Fryer is the one for you. Instead of choosing, you get both, giving this model ultimate versatility. You can insert a divider when you want to use the two drawers separately or keep the mammoth single drawer for cuts of meat and larger portions.
We found several other reasons to buy this excellent air fryer during our review process. Our expert reviewer Helen mastered everything from a leg of lamb to a toastie during tests, with a perfect cook every time. And seeing as this is a Ninja air fryer, it goes without saying that it's simple to use, with well-thought-out settings and controls.
It might be too big for single-person households unless you host a lot. And if you have a teeny kitchen, you'll need to be prepared to find space for it, since it's quite wide and tall. Furthermore, it's one of the most expensive Ninja air fryers - a fact that can't be ignored in your decision about whether to buy.
Having said that, if you're looking to limit how often you need to turn on your big, power-guzzling oven then look no further than the Ninja Foodi FlexDrawer - it's answered every air fryer conundrum out there.
Our full Ninja Foodi FlexDrawer Air Fryer review has more information.
Best Ninja alternative
The best dual zone air fryer as an alternative to the Ninja FlexDrawer
Specifications
Size : (H)31.4 x (W)38.4 × (D)40.4cm
Capacity : 8.5 litre or 2 x 4.2 litre
Programs : Bake, roast, grill, reheat, air fry or dehydrate
Reasons to buy
+
Versatile single or dual zone cooking
+
Roomy capacity
+
Intuitive touch control panel
+
Cook at a different mode and temperature in each zone
Reasons to avoid
-
Bigger drawer can be cumbersome
Our expert reviewer Helen said she 'couldn't think of many reasons not to buy this air fryer', which is high praise indeed from our hard-to-please expert.
The premise of the VersaZone is very similar to Ninja's FlexDrawer, with the choice of either one mega compartment or two smaller zones when air frying. After testing, Helen came to the conclusion that this is a top-notch air fryer with a capacity that'll be ample for most families.
The flexibility to use it in either single or dual zone mode immediately solves the dilemma of whether to buy a single or double drawer air fryer and gives you the best of both worlds.
Another thing we love about this air fryer is its affordability. Though it has an RRP of £199.99, it's often reduced to far less, which really is excellent value for money. The only downsides Helen could find is that it might be a tad big for 1-2 person households and that in our review process, it couldn't fit a chicken in it whole. But all-in-all it cooks well and is easy to use, with a quality that's Ninja-eqsue without the price tag.
Our full Instant Vortex Plus VersaZone Air Fryer review has the full details.
Best affordable dual zone air fryer
Best affordable dual zone air fryer
Specifications
Size : 32.5 x 40 x 42cm
Capacity : 2 x 4 litres
Programs: steak, chicken, seafood, fish, pizza, fries, bake, vegetables
RRP: £129.99
Reasons to buy
+
Cook at 2 different temperatures at the same time
+
Reasonably priced
+
Large capacity
+
Great viewing windows
Reasons to avoid
-
Short power cord
-
Cooking times can be a little longer
-
Not dishwasher safe
This air fryer offers plenty of bang for your buck. It's a great price, especially given that it includes features like the viewing windows in the doors. Admittedly, it took our reviewer Helen slightly longer to cook some foods in it compared to her usual air fryer, but otherwise she had only a few complaints.
Her main niggle after testing was that the control panel is less intuitive than others on the market. But that being said, after she'd tried it out for over a week, she started to get used to it and felt it was a minor negative that was outweighed by the value for money this air fryer offers.
It's worth remembering that it lacks any cooking modes other than air fry and the baskets can't go in your dishwasher. But if that doesn't bother you, it's a great dual-basket air fryer.
Our full Lakeland Dual Basket with Easy View Air Fryer review has more information.
The best Russell Hobbs dual zone air fryer
The best Russell Hobbs dual zone air fryer
Specifications
Size: 38.5 x 31 x 36cm (h x w x d)
Capacity: 8.5 litres or 2 x 4.25 litres
Programs: Fries, fish, egg, chicken, bake, steak, dehydrate and vegetable
Reasons to buy
+
Converts from one zone to two
+
Can sync finish
+
Optional shake reminder
Reasons to avoid
-
Both sides have to cook at the same temperature
-
Very shiny exterior shows marks
-
Basket connector is clunky
The main reason to buy this air fryer from Russell Hobbs is the flexibility that comes with being able to split the basket into two zones, much like the Ninja FlexDrawer, which we've rated above.
Our expert product tester Helen had a mixed bag when reviewing this buy. Whilst she overall liked the idea of the deisng, having to cook at the same temperature on both sides, combined with the frustrations she experienced with the perforated dividers, left her thinking you might be better off opting for an air fryer without the flexible zones. And instead plumping for either a decent size single zone or a good dual zone air fryer.
There were positives with testing this air fryer too. Helen found it cooked much better when in the single zone mode, and cooked up an array of foods with it in good time.
On the whole, if you have a specific reason that means the flexibility to split it into two zones would suit your needs better than other air fryers, then it'll get the job done. But you'll just have to accept some of its quirks along the way.
Our full Russell Hobbs Satisfry Snappi Dual Basket Air Fryer review has the full details.
How we tested the best dual zone air fryers
Every air fryer in this buying guide