Instant Vortex 4 in 1 Air Fryer review: a great air fryer on a budget. What's not to like?
The Instant Vortex 4 in 1 air fryer is simple to use and delivers great performance - it's a steal at under £100.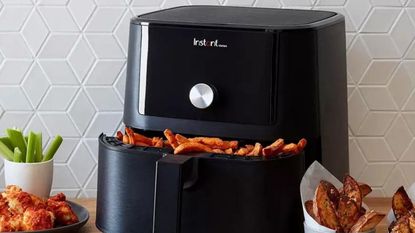 (Image credit: Instant )
The Instant Vortex 4 in 1 isn't completely without flaws. But it performs well and has a generous capacity. And when taking into account the super competitive price tag, I really think it's one of the best air fryers under £100 so didn't hesitate in giving it 5 stars.
Reasons to buy
+

Affordable

+

Intuitive touch control panel

+

Dishwasher safe

+

Automatic preheat

+

Reminder to shake
Reasons to avoid
-

Display switches off when drawer open

-

Metal handle on inner tray can get in the way

-

Drawer can feel a bit clunky to open and close
Why you can trust Ideal Home Our expert reviewers spend hours testing and comparing products and services so you can choose the best for you. Find out more about how we test.
With so many of us now owning and indeed relying on our air fryers, the focus is beginning to shift towards getting an air fryer that really suits your specific needs. The Instant Vortex 4 in 1 Air Fryer is one such candidate, with a price tag that many people will find appealing.
The question is, if your budget won't stretch to the very best air fryer out there, then can you really still get a good air fryer for under £100?
Having reviewed countless air fryers over the years, I've tried a broad spectrum across the various price brackets. And more often than not you tend to get what you pay for. However there are some leading air fryer brands like Ninja and Instant that prove themselves time and time again to be a good buy.
I've only recently reviewed the Instant Vortex Plus VersaZone, which is the latest and greatest air fryer from the brand, so this smaller and cheaper model was sure to feel like a step down. That said, I was impressed with the quality and functionality of this air fryer which exceeds what's on offer from several other brands at this price bracket.
Instant Vortex 4 in 1 Air Fryer: Product specs
Capacity: 5.7 litres
Modes/ presets: Air fry, roast, bake, reheat
Weight: 5.4kg
Power: 1650W
Size: (H)32.6 x (W)31.4 x (D)37.9cm
RRP: 99.99
Who reviewed the Instant Vortex 4 in 1 Air Fryer ?
After completing a Home Economics degree, Helen went on to work for the Good Housekeeping Institute and has been reviewing home appliances ever since. She lives in a small village in Buckinghamshire in the UK, where she reviews all sorts of home and garden appliances using her wealth of experience.
Helen used this air fryer for two weeks in her own home, cooking familiar foods and recipes to test all its functions and see how it fared in everyday life. She was allowed to keep the air fryer after the review.
Unboxing, setting up and first impressions
The two big polystyrene inserts protecting the air fryer in its box were an unwelcome sight. Partly because polystyrene packaging is becoming less common in kitchen appliance packaging, so I wasn't expecting to find it. I do hope the brand will follow some of their competitors and make their packaging more recyclable.
Moving on, when I got the air fryer out of its box and onto the worktop, I was pleased to see that it doesn't look like a budget appliance. Far from it, the matte black exterior looks subtle and smart.
The front facing touch screen is laid out very clearly, making it immediately obvious how to use the controls. There are four touch screen buttons, one for each cooking mode; air fry, bake, reheat, and roast.
The time and temperature are adjusted by pressing the corresponding buttons on either side of the central dial and then turning the dial. You really can get very accurate with this air fryer, the time can be adjusted in one minute intervals from 1 - 60 minutes. Similarly, the temperature can be set as low as 82C then adjusted in 1C intervals up to 205C.
Once started, the air fryer automatically preheats for around three minutes, then it beeps and alerts you to 'add food'. I immediately noticed that when the drawer is removed, the digital display completely switches off. This can be a tad disconcerting until you get used to it. But as soon as the drawer is replaced, it carries on as normal.
Opening and closing the drawer isn't quite as smooth as some others I've used. But that's hardly a big deal and you get used to it. Inside the removable tray insert has a non-stick coating, as does the drawer. Overall, it's quite spacious and could easily cook enough chips for four people.
What is it like to use?
I had this air fryer on my worktop for at least a couple of weeks and tried out a lot of different foods including some of my usual air fryer favourites as well as a couple of experiments. But let's start with the most classic of all fryer foods - chips.
After cutting up about 500g of chips, I soaked the potato batons in water for 30 minutes, before drying and lightly coating in oil and salt. I put the air fryer on at 200C. After 3 minutes it told me to add the food, so I tipped in the chips. 500g is enough for two potions, but it looked like a tiny amount in the drawer and there's plenty of space to add more.
I set the timer to 25 minutes and when it beeped I gave the chips a good shake. At the end they were beautifully cooked, golden and crisp on the outside.
Sticking to the potato theme I also air fried jacket potatoes with great success. I had two small potatoes that I microwaved until the insides were softened. Then I coated the skins in oil and salt, and with the air fryer set to 200C it took just 12 minutes to crisp the skins for a speedy weeknight dinner.
Bacon is another classic air fryer food, all the fat splatters and a lot of the smells get contained inside the air fryer, plus the bacon fat crisps up much better than on the hob or under the grill. There's space in the drawer for about 5-6 slices of bacon and at 190C the bacon was perfectly cooked in just 8 minutes.
I'm a big fan of frozen breaded fish fillets and the ones that I usually buy are quite long. So-much-so that they don't fit in a lot of air fryers. But happily, there was easily enough space in this drawer for two fillets. From frozen they cooked in just 16 minutes with a deliciously crisp and crunchy crumb.
Broccoli florets cook really well in air fryers, but since this model features a roast mode, I opted to roast some broccoli instead of air frying. The preheat stage took the same amount of time as on the air fry mode - just under 3 minutes. I coated the broccoli in a drizzle of oil and roasted it at 200C, it took 9 minutes to roast to a tasty crisp and slightly charred texture.
I've cooked plenty of ready-made falafel in air fryers and it's a great way to heat them up, but this time I wanted to try making them from scratch and cooking in the air fryer. I used a recipe from one of my recipe books. However the recipe is for frying in oil, so air frying was a bit of a risk.
Once I'd made the falafel and divided them into balls I chilled them in the fridge for half an hour. Then I squashed them a little so that they wouldn't roll around and I could easily flip them. I brushed both sides in a little oil and air fried them at 180C. I kept a keen eye on them and turned them once the first side had crisped and started to go golden.
I took them out after 18 minutes. They were really tasty and used a lot less oil than if I'd fried them, so will definitely be making this recipe in an air fryer again - it was a great success. I should point out though that the small wire handle in the centre of the tray insert can get in the way. In theory it folds down flat, but sometimes it doesn't want to play ball and sticks up a bit, so for something like the falafel, I had to put them around the handle.
My second experimental dish in the air fryer was a shakshuka. I'd seen a couple of recipes online for air fryer shakshuka so thought I'd give it a go. I had to find an ovenproof dish that would fit in the basket and hold the tomatoey sauce. But with the benefit of hindsight, I wish I'd removed the insert and just put the sauce in the bottom of the drawer, I think it would have cooked better that way.
Anyway, needless to say it wasn't as successful as the falafel and I'm not in a hurry to make air fryer shakshuka again. It took almost 20 minutes to get the tomato sauce bubbling, which is probably because I overfilled my tin. Then the eggs took a further 7 minutes to cook.
The tops of the eggs developed a bit of a chewy crusty texture and they weren't quite the texture I hoped for. Everything was cooked and we ate it, but this is one recipe that doesn't benefit from being cooked in an air fryer - ah well, you live and learn!
One thing I know works well in an air fryer is cheese toasties. I made a superb crunchy toastie in the air fryer with gooey cheese in the middle and it cooked in 10 minutes at 190C.
Another one I've made before in an air fryer is an apple crumble. This works surprisingly well as long as you don't need to make a huge one. I lightly simmered apple chunks on the hob with some sugar and cinnamon, before adding to a dish and topping with a home made crumble mix.
I put the dish in the air fryer and cooked it on the bake setting for 15 minutes at 200C. The crumble topping was absolutely perfect and there was enough for 2 greedy or 3 sensible portions.
If you've ever made mug cakes in a microwave, you'll be familiar with these quick and easy cake mixes. I found a similar style recipe on the Instant brands website for air fryer chocolate lava cakes that looked worth a try.
The recipe worked really well, but I did end up having to cook them for about 12 minutes as they were still very liquid after the suggested 5 minutes. However, that may have been down to the thick ramekins that I used.
It is worth noting that after making so many things that required putting a dish into the air fryer, like the crumble, shakshuka and the chocolate cakes. I noticed a couple of small areas on the tray insert where the non-stick coating was starting to rub off. So if you do use it with other dishes, it 's worth taking extra care or maybe buying some silicone air fryer accessories.
How does it compare to other air fryers?
One of our long time favourite air fryers at Ideal Home is the Instant Vortex Plus 6 in 1 which has a similar capacity and is equally simple to use. It's around £50 more expensive, but for that you get two extra cooking functions; grill and dehydrate. It also has a viewing window in the door so you can keep an eye on your food while it cooks and the OdorErase air filter helps keep smells at bay. But if you can forego the OdorErase feature, you can pick it up for much closer to £100, which makes it a real bargain.
If you like the idea of having two drawers instead of one the Instant Vortex Plus Dual Basket air fryer might be the one for you. But you will have to find an additional £50, unless you're able to bag it during a sale. It offers six cooking functions, two drawers, and all the great performance and ease of use we've come to expect from Instant air fryers. Plus, the 7.5 litre capacity makes it ideal for families.
Cleaning
The non-stick coating means the drawer and tray came clean easily when I washed them by hand. They are also dishwasher safe, which is a bonus. But unless you've been cooking something really messy, a quick wash in the sink is usually enough.
I noticed greasy fingerprints accumulating around the handle, the matte black finish seems to show these, so it needs a regular wipe down to keep it looking neat and smart. Other than that it's pretty low maintenance.
Should you buy the Instant Vortex 4 in 1 Air Fryer?
If you're on a budget and looking for a medium size air fryer under £100, I think this one is a great choice. It might not have as many cooking functions or the viewing window that you'll get if you buy one of the pricier Instant air fryers, but that's to be expected given the price.
It performs really well and I have no complaints about the cooking speed or performance, and with four cooking functions, it's versatile too. There's very little not to like, in fact the negatives I've pointed out are really only minor niggles. In my opinion it's a cracking budget air fryer that beats the majority of similarly priced models from other brands.
Get the Ideal Home Newsletter
Sign up to our newsletter for style and decor inspiration, house makeovers, project advice and more.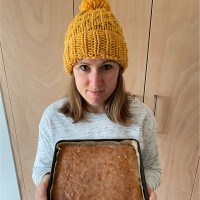 After completing a Home Economics degree, Helen went on to work for the Good Housekeeping Institute and has been reviewing home appliances ever since. She lives in a small village in Buckinghamshire in the UK.