David and Victoria Beckham splash out an eye-watering £40 million on posh London pad (complete with staff quarters, naturally!)
Golden Balls and Posh are on the move again. The glamorous couple have just snapped up a huge £40 million family home in the capital's most exclusive neighbourhood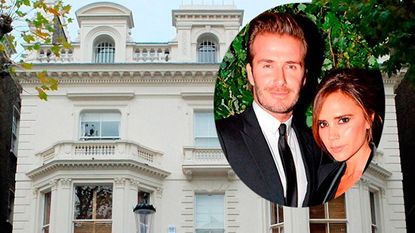 (Image credit: TBC)
Ideal Home Newsletter
The Home Of Great Ideas For More Than 100 Years
Thank you for signing up to . You will receive a verification email shortly.
There was a problem. Please refresh the page and try again.
After many months of house-hunting the Beckhams have finally bought their new UK home and (surprise, surprise!) it's no run-of the-mill London terrace. No sir. Take a look at this gorgeous mansion...
The white stucco Georgian house (opens in new tab), located in the Royal London Borough of Kensington & Chelsea, has seven bedrooms (opens in new tab), an underground car park and even a tunnel linking the main part of the house to a second property behind (rumoured to be for the 'staff').
However, old Becks can't just rest on his laurels now they've found their dream home (opens in new tab). Rumour has it that Posh is planning a £5 million renovation with the help of bestie and design guru Kelly Hoppen (maybe she's building herself an extra-large dressing room!).
The couple, whose bedrooms (opens in new tab) will be located on the top floor of the property, have already installed a sound system so that music can be played in every room using a phone or computer device.
They're also planning to add specially designed waterproof plasma TVs in every bathroom (opens in new tab).
Brooklyn, 14, Romeo, 11, Cruz, eight, and daughter Harper, two, will take over the second floor of the house, which has three bedrooms (opens in new tab) all with en-suite bathrooms.
The lower ground includes a study, gym area, three service rooms and a small garden (opens in new tab) and there is an underground garage where David can keep his fleet of cars.
David and Victoria sold their former home (opens in new tab) in Hertfordshire last month.
The Sawbridgeworth property (opens in new tab), dubbed Beckingham Palace, is thought to have fetched a whopping £12 million.
Along with the sale of the house, Golden Balls' much-loved Ferrari, two Jaguar sports cars and a £2.6 million holiday home (opens in new tab) in France were thrown in for good measure. WOWSERS!