Chelsea Flower Show 2018 – the garden trends to follow this summer
We went along to the press day, and have hand-picked the freshest garden trends for the seasons ahead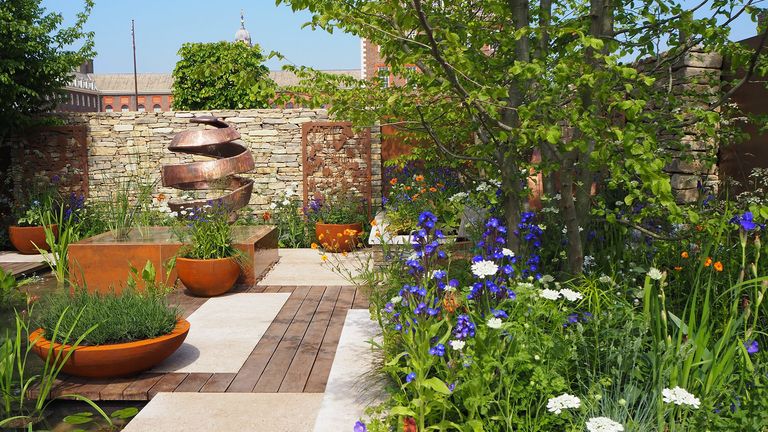 (Image credit: TBC)
Please don't hate us. But while others headed to the office on Monday morning, we got to mingle with the blooms and a bunch of celebrities at the opening of the RHS Chelsea Flower Show.
Inspired? See all our garden ideas
It was a glorious day for it – and the show gardens certainly didn't disappoint. From the small but perfectly formed Urban Flow garden by Garden Club London and Thames Water, to the magnificent living space that was LG Eco-City Garden, each plot was buzzing with inspiration.
We tried not to be too distracted by the likes of Christopher Biggins, the PM and Dorian from Birds of a Feather, and plucked our favourite emerging trends from the treats on offer. Enjoy!
1. Purifying plants that combat pollution
As you might expect from a show based in London, inner city gardens were a big focus at Chelsea. And more specifically, planting that can help combat the air pollution that's particularly prevalent in urban areas.
Leading the way was LG, with its Eco-City Garden, full of species known to remove pollutants from the air. These included moss, ferns and birch trees, which are all known for for their ability to gobble up toxins.
2. Lupins
For the last few years, it's been all about alliums. But could the humble 'Lupinus' be about to steal their crown? Lupins were the first plant I (Digital Editor Amy) ever grew – in a little spot Mum let me plant up when I was seven or eight.
As they didn't die, and I'm not exactly great at keeping plants alive, I'm going to say they are easy to grow... and a great ways to add colour in summer.
We were really spoilt for choice, but our favourite varieties were the lemony Lupinus Desert Sun, as seen on LG's garden, and these rather fabulous species from the Stihl Inspiration Garden by Hillier – check it out in the Great Pavillion this week.
Dig this! Jobs to do in the garden in May – prepping, planting and pests
3. Plants in water
On Ikea's stand, we spoke to Ian Drummond, Creative Director of Indoor Garden Design and author of At Home With Plants. He predicts this is the next big thing in houseplants.
Rather like a bunch of flowers, there are certain varieties that can be kept in a vase of water – ideally something transparent, to show off their fabulous roots. The water should be changed every two weeks, but as long as you remember to do that, they are surprisingly easy to look after. 'You can add liquid plant feed, which you would put in every two or three weeks in the summer, which should help,' Ian recommends.
'It's come from terrariums being so popular,' says Ian. 'But terrariums can be quite tricky and people are a little bit nervy, so this is a step forward on that front. The plants only need fresh water every two weeks, so you can go on holiday and forget about them. You don't have that guilt of leaving them. You know they are there, looking after themselves.'
If you're heading to Chelsea, check them out on Ikea's #plantworks stand in the Great Pavillion.
4. Vertical gardens
OK, this isn't totally new to us – but it's good to see the trend 'blossoming', so to speak. Where space is tight, a vertical garden will deliver huge visual impact, and a sense of greenery and calm.
Try it yourself: How to make a living plant wall
This vertical garden – part of the Garden Club London's stunning plot – also demonstrates responsible use of water. 'The effective regulation of drip irrigation ensures even coverage and avoids water wastage,' says the garden's designer, Tony Woods. 'The native plants also provide a habitat for wildlife.'
Many of the plants you see here are edible – such as the Little Gem and Lollo Rossa lettuces, Romanesco courgettes, tarragon and flowering wall rocket.
5. Copper garden sculpture
Particularly fine examples of this were seen in the The Silent Pool Gin Garden by Neale Richards Garden Design. The spherical water feature reminds us of orange peel, while the delicate paper cut-style screen would work equally well as a garden divider.
Hopefully we've inspired you to get planting this weekend!
Amy Cutmore is Editor-in-Chief, Homes Audience, working across the Future Homes portfolio. She works on titles including Ideal Home, Homes & Gardens, Livingetc, Real Homes, Gardeningetc, Top Ten Reviews and Country Life. And she's a winner of the PPA's Digital Content Leader of the Year. A homes journalist for two decades, she has a strong background in technology and appliances, and has a small portfolio of rental properties, so can offer advice to renters and rentees, alike.