'Villain's lair' featured in Sherlock revealed to be a private home in the Cotswolds... and the owner's wife thinks it's too flashy
We deduce the real life owner of 'Appledore' has a flair for the dramatic. And deep pockets.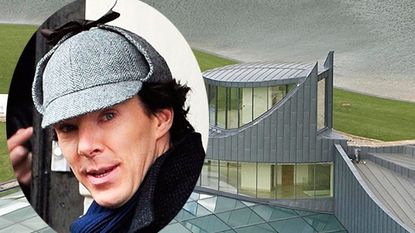 (Image credit: REX)
There were many eye-opening moments in the brilliant third series of the BBC's Sherlock. Over the course of three glorious episodes we were treated to drunk Sherlock, Best Man Sherlock, dancing Sherlock and even, gulp, a lovestruck 'Shirl' (although we KNEW that 'girlfriend' storyline was a red herring).
But one thing we thought couldn't possibly be real was the hi-tech, futuristic lair of ultimate
baddie Charles Augustus Magnussen. So imagine our surprise to
discover that, far from being dreamed up by a sci-fi loving set designer
in a BBC studio, the house is actually a real home
in...er...the Cotswolds.
Wait, what? How did we not know this incredible home existed?! It's not exactly designed to blend in... But now it's well and truly on our radar. And it makes a welcome change from the
atmospheric, but let's face it, slightly dingy, environs of 221b Baker
Street (actually North Gower Street, not that we're Sherlock obsessives).
Swinhay House, the real name forAppledore, was designed and is owned, by Sir David McMurtry, head of precision engineering firm Renishaw.
It has eight bedrooms, a bowling alley, a squash court, panorama
room, a 14.5 metre high viewing tower and an adjustable 25 metre
floating-floor swimming pool.
Oh, and 10 floors arranged across three wings. Envious yet?
However, Sir David doesn't live at the property as his wife reportedly feels that the 30,000sq ft estate is too 'flashy'. We can't help thinking that was sort of the point of it.
Based near Wotton-under-Edge in the south Cotswolds, the property cost Sir David more than £30 million to build. As such it made the perfect lair for the chillingly cool 'master blackmailer' Magnussen in Sunday night's final episode of Sherlock.
Far from being a baddie though, Sir David - who was knighted in 2001 for design and innovation - is rumoured to have donated the profits from filming the Sherlock episode to charity.
But, back to Sherlock. After an incredible series that caused the Twittersphere to go into meltdown and saw Cumberbatch frenzy hit dizzying new heights, we only have
one question for the BBC - how long until the next series? For pity's sake don't make us
wait another two years...
Loved this? Take a look at our dedicated news channel for more celebrity homes and gossip
Get the Ideal Home Newsletter
Sign up to our newsletter for style and decor inspiration, house makeovers, project advice and more.