Rendering a house – everything you need to know
Looking to cover your brickwork with a render? Here's the lowdown on this popular exterior finish.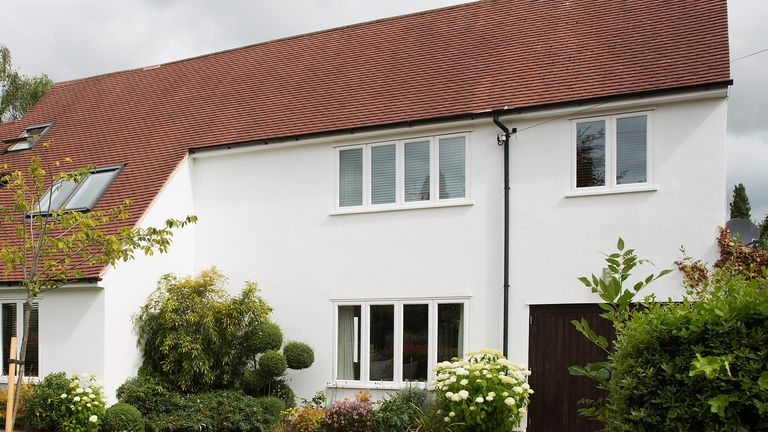 (Image credit: Future PLC/ Robert Sanderson)
The exterior of a property forms part of its kerb appeal. It's why rendering a house is so popular. Yet this type of exterior cladding has more benefits than just aesthetics. It can protect the exterior of your home, too.
From the smart stucco on Georgian townhouses to post-war pebble-dash, colourful monocouche, modern silicone and traditional lime, there are various types of renders. These different materials, not only provide different looks, they're generally suitable for certain types of properties too.
'The render choice and its application method need to match the property and its location,' says Sam Piplica, MRICS, RICS Senior Specialist, Building Standards, Royal Institute of Chartered Surveyors (opens in new tab). 'For example, the west side of Britain is more exposed to extremes of weather and storms. So the correct type of render can improve the resistance of the wall to rain penetration, if it's kept in good condition.'
Rendering a house – the lowdown
The purpose of render is typically to improve external appearance, keep water out and increase resistance to weather. So render should only be applied to an existing building if the walls are sound and free of damp.
'Firstly, consider the type of construction of the wall and in particular, how does the existing construction manage water,' says Sam Piplica, MRICS, RICS Senior Specialist, Building Standards.
'Before rendering, somebody needs to identify and understand any defects, assess the exposure of the property, specify a suitable product and think about the tricky details. This is so that important decisions aren't made on the fly on site. Homeowners can do this but if they lack the time or expertise, a chartered building surveyor can help.'
What are the different types of render?
Cement render
This is one of the cheaper options and gives a smooth finish but it's not appropriate for older buildings with solid (non-cavity) walls. It's prone to cracking, so needs to be kept in impeccable condition. It also requires repainting every few years.
'Cement based render applied to a solid wall will prevent water evaporation on the outside of the structure,' says Sam Piplica, Building Standards Specialist. 'This means if the water can't go outside, it will go inside. Even when used appropriately it needs to be well maintained. If it's allowed to crack and rainwater gets behind it, the water cannot evaporate through it. This will cause problems inside and outside.'
Lime render
This is more expensive than cement render and is usually used on traditional timber-framed homes. 'Lime renders would normally be used on older properties that are damp or properties where the airflow needs to be increased,' says plasterer Graeme Rudd.
Silicone render
'Silicone renders are excellent for low maintenance, longevity and crack resistance,' says Rated People's Kastriot Reka of First Renderers. 'They're lightweight and breathable, good water repellents, and are available in a choice of colours. They can also be installed with exterior insulation.'
Monocouche (through-coloured) render
This is a cement-based render with colour embedded within, so there is no need to paint it. It can be applied to most brickwork, stonework and masonry construction with a polymer base. It has the flexibility of traditional lime render and is a low maintenance option.
Acrylic render
This type of render has an acrylic resin added to the mix to make it more water-resistant and flexible. They're also available in different colours, however they're the least breathable.
Cork-based render
This is a relatively new material in the UK and more eco-friendly than other types of render. It can be applied to brick and cavity walls, over existing (undamaged) render and used for patch repairs. It's resistant to sea salt too, so it's great for coastal properties.
'Flexibility and elasticity are two of cork's properties, so it's highly durable,' says Joff Ward, managing director, CorkSol UK (opens in new tab). 'Spray cork render has been proven to reduce heat loss through solid walls by 30%, and has noise reduction qualities. It has a lower carbon footprint and stays cleaner longer than the alternatives.'
Can I mix materials?
It's increasingly on trend to cover a house in more than one type of material. Combinations of render and timber cladding are especially popular, and you can see why!
But if you are planning to mix finishes, bear in mind the added cost to your renovations. Using smaller quantities of more materials will be expensive, as will employing the different tradespeople to apply them. You'll also need to ensure that the materials are installed in the right order, with a clean junction between them.
Rendering a brick house
'If a house has not previously been rendered, the first question to ask is, why render it now? Why not carry out suitable repairs to the existing materials?,' says Sam Piplica, Building Standards Specialist. 'Render is not as hard-wearing as traditional masonry bricks. So if it's for aesthetic reasons, say to cover damaged brickwork, be aware that render also requires maintenance to keep it in good condition. Just as brickwork should also be maintained.
Determining whether existing render can be patched is more eco-friendly than replacing it. Lime and cement-based products have large carbon footprints due to the manufacturing process, so maintaining a building uses less materials than new work over its lifecycle.'
Rendering a timber-framed house
Avoid any renders that are not breathable. Silicone or cork offer breathability and resist the growth of algae or mould, so are suitable. However, historic properties need careful assessment. 'Always seek specialist advice before undertaking restoration or repairs to a traditionally-built timber framed house, ideally someone with the RICS Building Conservation Accreditation who's a certified historic building professional,' says Sam Piplica.
Rendering a terraced house
If you live in a row of terraces, consider how a rendered facade on your home will look in relation to your neighbours. Prevent any potential disputes, by letting them know what you're planning in advance.
Rendering a pebble dash house
Pebble dash can be rendered over, as long as it is in good condition. 'If you're adding to the wall thickness, there may be details around guttering and downpipes, boiler flues and drainage pipes which have to be addressed,' says Mark Brinkley, author of the Housebuilders Bible.
'An experienced crew will know how to handle these, but rushed jobs done for a cheap price can lead to disappointment. Also check that the added depth of your proposed new wall covering won't impinge on access arrangements or neighbour's property.'
How much to render a house?
This will depend on various factors including the type of property and location. 'In general it depends on the prep work needed and the condition of the existing house,' says Rated People's Michael Van Vilet of DPR. 'Prices would likely start around £5,000 but could go much higher depending on the size and condition of the property.'
Does rendering a house add value?
'If it's tired looking and the existing exterior is in poor repair, then a fresh coat of render will almost certainly lift the value of the home,' says Mark Brinkley, author of the Housebuilders Bible. 'But if the house has attractive detailing, such as fine brickwork, which matches the neighbouring properties, then new render can detract from the overall appearance.'
Can I render walls myself?
To ensure the render does its job, we recommend employing a professional to do it properly. In addition, thermal insulation requires specialist knowledge and compliance with Building Regulations.
'Rendering is normally a 2-3 person job, and large areas need to be done in one set, so it's not advisable to do it yourself,' says Rated People (opens in new tab)'s Graeme Rudd of Graeme Rudd Plastering. 'Insulation can also be added and rendered over to increase your home's energy efficiency and increase its value.''
'Rendering is something of an art and it takes years to master,' says Mark Brinkley, author of the Housebuilders Bible (opens in new tab). 'Badly applied render can look dreadful. Do check the standards of the people you imply and ask to see their previous work.'
Do you need planning permission for rendering a house?
Planning permission is not usually necessary, unless you live in a conservation area or AONB.
If you want to re-render external walls, building regulations may apply, depending on the extent of the work. So check with your local planning department.
If your property is listed and part of a group of properties, it may be the case that your render will need to be a specific RAL or British Standard (BS) colour. Check your deeds and paperwork carefully before you start.
Amy Cutmore is Editor-in-Chief, Homes Audience, working across the Future Homes portfolio. She works on titles including Ideal Home, Homes & Gardens, Livingetc, Real Homes, Gardeningetc, Top Ten Reviews and Country Life. And she's a winner of the PPA's Digital Content Leader of the Year. A homes journalist for two decades, she has a strong background in technology and appliances, and has a small portfolio of rental properties, so can offer advice to renters and rentees, alike.