Condensing vs non condensing boilers – we explain the differences between the two
There is a clear winner for energy efficiency and eco-credentials…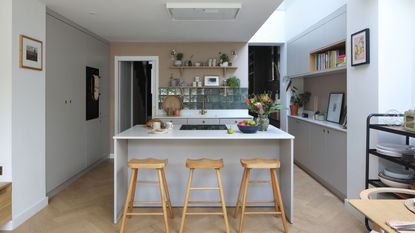 (Image credit: Future PLC / James Balston)
If you're investigating your home heating system, you may have been wondering about the differences between condensing vs non condensing boilers.
Is one superior to the other? Which one is more energy efficient to help you save energy, and which one will save you more money on energy in the long run? We explore how the two types of boilers work – and why one is yards ahead of the other.
Condensing vs non condensing boilers
To help us weigh up stand-off of condensing vs non condensing boilers, we'll explain exactly what each of these types of boilers are, the pros and cons of both and which one might be best suited to your home.
What are condensing and non-condensing boilers?
Both are different types of gas boilers - non-condensing boilers tend to be older, while condensing boilers are more modern, and so are more commonly found in homes.
Their main differences are found in the way they each use the steam they produce 'When a boiler burns fuel, one of the byproducts of the combustion process is steam, which contains heat,' explains Joanna Flowers, a British Gas service and repair engineer. 'Non-condensing boilers don't make use of all the steam they produce, meaning they don't fully harness the heat that comes from it.'
'Condensing boilers on the other hand don't let that heat go to waste, using most if not all of it, ensuring as much heat as possible is used to warm your home.'
What are the pros and cons of condensing and non-condensing boilers?
One of the biggest pros of condensing boilers over non-condensing options is the fact that they are much more energy efficient.
'Condensing boilers are undoubtedly better for the environment, recycling waste gas that would have otherwise been emitted into the atmosphere,' says Nick Paulson, heating expert from PlumbNation. 'Non-condensing units have wastefully contributed to CO2 emissions.'
'They require less fuel to generate the same amount of heat – and produce fewer carbon emissions,' agrees Joanna.
This is why, as of 2005, the UK government announced that condensing boilers would become mandatory if you are getting a new or replacement boiler. As such, the rate of condensing boilers has soared over the last two decades; according to a government housing survey, in 2001, just 2% of homes had condensing boilers - in 2020, it was estimated that 74% had them.
It's reported that condensing boilers are at least 25% more efficient than non-condensing, given that they turn much more of their fuel into usable heat. 'The newer condensing models can reach over 90% efficiency,' notes Nick Tandy, Head Engineer at Toasti. 'However, non-condensing boilers generally reach an efficiency of between 70% and 80%.'
When it comes to costs, non-condensing boilers have traditionally been much cheaper to install, fix and maintain. However, because condensing boilers are actually more energy efficient, you'll likely end up saving more money on your heating bills in the long-term - even though they are more complex (read: pricier) to repair and install.
'Heating accounts for about 55% of your annual energy bills, so an efficient boiler makes a big impact,' says Joanna. 'If you replace an old G-rated boiler with a modern A-rated boiler with a full set of heating controls, you could save a fair amount.' The Energy Saving Trust estimates that if you switch from a non-condensing boiler to a condensing model, you could save up to £305 per year, which is pretty significant!
Which one should I choose?
If you're considering getting a new boiler or replacing your current one, you really only have one choice these days; a condensing boiler. 'UK energy efficiency regulations require that all gas boilers installed after 1st April 2005 and all oil-fuelled boilers installed after 1st April 2007 must be condensing boilers,' explains Joanna. This is due to the UK government's push towards better energy efficiency, and its aims to reduce harmful CO2 emissions.
If you're on the lookout for one, Nick explained that you'll easily be able to find something suitable. 'Condensing boilers are readily available in a variety of sizes, types and power outputs, making it easier for you to choose a boiler that's best suited for your home.'
Even if you aren't looking to replace your boiler - if you have a non-condensing unit, it might be wise to consider a new one. 'If you have a non-condensing boiler then it would be a sensible investment to upgrade (both financially and environmentally) to a higher efficiency condensing model,' advises Martyn Bridges, Director of Technical Communication and Product Management at Worcester Bosch.
However, it's important to be aware that although condensing boilers are a more eco-friendly option, there are actually better options for the environment when it comes to heating your home. Climate change charity Possible published an analysis in 2021 that found that all of the gas boilers in the UK emit more than double the CO2 emissions of all gas-fired power stations in the UK.
In the heat pumps vs gas boilers debate, heat pumps are considered a far cleaner way of heating your home - pumping air from outside and heating it up before circulating it. However, there are a few caveats over who can install a heat pump. For example, you must own your home, have some outdoor space (for the heat pump to sit within), and have loft insulation that is a depth of at least 150mm, to be eligible. So if installing a heat pump isn't possible, a condensing boiler is still far superior to a non-condensing one.
Get the Ideal Home Newsletter
Sign up to our newsletter for style and decor inspiration, house makeovers, project advice and more.
Amy Hunt is an experienced digital journalist and editor, now working in a freelance capacity specialising in homes and interiors, wellness, travel and careers. She was previously Lifestyle Editor at woman&home, overseeing the homes, books and features sections of the website. Having worked in the industry for over eight years, she has contributed to a range of publications including Ideal Home, Livingetc, T3,Goodto, Woman, Woman's Own, and Red magazine.