How to make candles in teacups
Check out our latest craft idea on how to make candles. Fill teacups with melted wax to make gorgeous one-of-a-kind candles.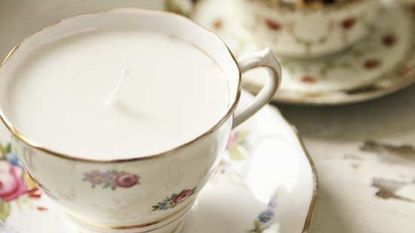 (Image credit: TBC)
Ideal Home Newsletter
The Home Of Great Ideas For More Than 100 Years
Thank you for signing up to . You will receive a verification email shortly.
There was a problem. Please refresh the page and try again.
Find out how to make candles. Create the perfect finishing touch with our step-by-step guide.
Step 1: Find a teacup in a charity shop or at a car-boot sale - check it's not cracked -
and stock up on wicks and wax at HobbyCraft (opens in new tab).
Step 2: Cut a wick 2in longer than the depth of the cup. Tie one end to a pencil and rest the pencil across the cup so the wick hangs down in the centre.
Step 3: Put candle stubs or wax in an old pan. Put this in a larger pan with an inch of water in the bottom. Heat gently until the wax is liquid, then turn the heat off.
Step 4: For scented candles, add a few drops of essential oil, then pour the wax into the cup.
Step 5: Leave to harden, then trim the wick until 1cm is left. Leave for at least 24 hours before lighting.
For more decorating inspiration, craft ideas and cleaning hacks don't miss our dedicated DIY guide.