October Amazon Prime Day deals 2023 might be over, but you can still shop these discounts
We round up the last of the best Amazon Prime Day deals if you're still looking to shop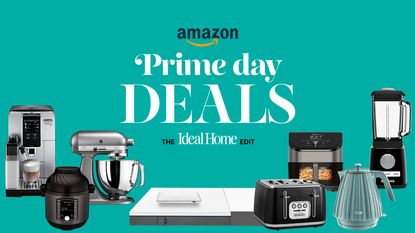 (Image credit: Future)
Amazon's shopping events are over for another year with the close of October's Amazon Prime Day, this year called Prime Big Deal Days. It's the second event the retail giant has put on this year, following Prime Day in July.
This price-slashing event was the perfect opportunity to take advantage of savings on some of our favourite brands, with the two-day extravaganza offering genuinely great discounts on Ninja, Shark, Tower, Instant, Simba, Emma, Dyson, Ooni, and many more big brand names. And the good news is, it's not entirely over yet, with some deals still active for you to shop.
We have all the best Amazon Prime Day deals for the home that are still live curated on this page, so grab a discount while you still can.
Best Prime Day deals of 2023
Air Fryers
You'll find all of the top discounts year-round on our air fryer deals page, but here are the continuing best Amazon buys.
Vacuums
You'll find all of the top discounts on our vacuum deals page, but here are today's best Amazon buys.
Laundry
Coffee Machines
Air Purifiers
You'll find all of the top discounts on our air purifier deals page, but here are today's best Amazon buys.
Smart Home
Patio Heaters
What is Amazon Prime Day
Amazon Prime Day is a discounting event that the retail giant usually runs once a year in July, although the past two years have also seen events take place in October.
In 2023 a second Prime Day event happened on the 10th and 11th of October.
During what is usually a two-day event, a whole host of brands with Amazon storefronts slash prices, including plenty of Ideal Home favourites, like Ninja, Tower, Instant, Shark, Vax, Simba, and Emma.
You have to be an Amazon Prime member to take advantage of the discounts, but once you're signed up you can shop all the discounted Prime Day products, and Prime Day deals are usually good, with savings of up to 50% off commonly seen.
FAQs
When is Amazon Prime Day?
In 2023 Amazon Prime Day ran from Tuesday 11th July until midnight on Wednesday the 12th of July, and another event, named 'Prime Big Deal Day', then ran on the 10th and 11th of October 2023.
Previously, Prime Day has been a once-a-year event, but as in 2022, 2023 saw two different two-day events take place. It seems like the one-day once-a-year event has now become a two-days-a-year twice-a-year kinda thing.
How long does Amazon Prime Day last?
Historically, Prime Day has been a one-day-only event, but in the past few years, Amazon has given Prime members an extra day to shop deals, running the Prime 'Day' event over 48 hours.
In summer 2023, Amazon Prime Day lasted from 00.01 on Tuesday 11th of July until 23.59 on Wednesday 12th of July. And the second Prime Day event of the year ran in 2023 from 00.01 Tuesday 10th October to 23.59 on Wednesday 11th October.
When does Prime Day end?
In the summer of 2023 Prime Day ended at midnight on the 12th of July. In the summer of 2022 it ended at midnight on the 13th of July.
The second Prime Day of the year, called Prime Big Deal Days ran across two days, beginning 00.01 Tuesday 10th October and ending at 23.59 on Wednesday 11th October 2023.
When is the next Amazon sale?
Amazon tends to keep its sale dates a closely guarded secret, but with Prime shopping events over for this year, it's natural to be looking forward to the next one.
Although the retailer tends to offer regular discounts throughout the year, Amazon Prime Days have become a twice-a-year event. Though we can merely speculate here, if you follow previous patterns, you may suspect that there's bound to be another Prime event happening in July of next year, once again. There's not a hint of confirmation of that from Amazon however.
Too long to wait? Don't worry. One thing we do know is that Amazon will almost certainly discount for Black Friday, which tends to begin in the last week of November.
How do I access the Amazon Prime Day sale?
To get the best prices on Amazon Prime Day you'll need an Amazon Prime account. Already have one? Brilliant. Never had one? Then you should be eligible for a free trial which lasts for 30 days. Prime membership gives you access to all of the Amazon Prime Day discounts as they go live on the Amazon website, and you'll get free next-day delivery so you can enjoy your bargains straightaway.
Amazon Prime membership also provides access to Prime Video, Prime Reading, Amazon Music, and much more. If you're a student, you can usually get Prime membership at a reduced price. Also, if someone in your household already has Amazon Prime, you can now be added to their account and enjoy the same benefits.
What should I shop on Prime Day?
Historically Prime Day has centred around tech, but now more and more brands with Amazon storefronts are getting involved which makes for great deals on a whole host of homeware products, from kitchen appliances to outdoor furniture.
It can be easy to get swayed by the urgency of big discounts and limited-time offers on Amazon Prime Day, but doing a little research before you buy can ensure you don't make a costly mistake by purchasing a product that doesn't quite fit your requirements.
That's where the Ideal Home team's 'best of' guides are here to help, curating tried and tested best-in-class products, and offering plenty of buying advice to make sure you know exactly what specifications to look out for before you shop: