How we fell in love with the stumpery, aka this year's garden must-have
This ultra-cheap DIY garden project will transform even the darkest of backyards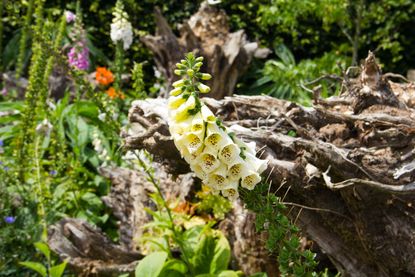 (Image credit: Alamy)
Could a homemade stumpery be the ultimate way to improve that dark corner in your garden? You bet it could!
Sitting pretty at the top of our overflowing list of beautiful (and budget-friendly) garden ideas, the stumpery has become one of this year's hottest garden trends –largely due to its starring role in Zoe Claymore and The Wildlife Trust's award-winning Renter's Retreat at the RHS Hampton Court Palace Gardens Festival.
But what is a stumpery? And how do we go about making one of our own?
The stumpery
You will undoubtedly have seen plenty of stumperies over the years, although you may not have realised it at the time.
'Essentially a stumpery is a garden feature made from tree stumps, logs, and other woody debris arranged in a naturalistic manner,' says Morris Hankinson, director of Hopes Grove Nurseries.
'It's not only a great habitat for various plants, insects, and small wildlife like hedgehogs but it also creates an intriguing focal point in your garden.'
There are plenty of ways to transform your tree stump ideas into a stumpery – whether that looks more like a rustic garden sculpture, a voguish twist on a hugelkultur, or even upcycling logs into planters, as seen at the Renter's Retreat.
'This garden is all about showing how every bit of outside space can become an oasis for bugs, birds and mini-beasts – irrespective of where you live,' says Zoe of the project, who included the hollowed-out logs in her design as a low-investment option for people keen to make more sustainable choices.
'I want to inspire people to make little changes that have a big impact both for nature and people.'
Making your own stumpery
Feeling inspired to craft your own stumpery?
Read on to find out more...
What you will need
To make your own stumpery, you will need:
Compost or well-rotted manure
Shade-loving plants such as ferns and foxgloves
Stumps, either from trees or hedges, or pieces of driftwood or scrap wood.
Mulch of bark chips
When it comes to reusing a fallen tree in your garden, Zoe says: 'It depends why your tree came down but if disease isn't an issue consider reusing all the wood on site.
'Not only is it better for your wallet, but lowers your carbon footprint, can make a beautiful feature and you are promoting another fantastic insect habitat at the same time. It's a win win!'
Step-by-step guide
As you might imagine, it's surprisingly easy to make your own stumpery (especially if you're blessed with a little creative flair).
1. Find the perfect spot
Scour your garden to find the prime location for your stumpery: ideally a well shaded or semi-shaded area.
'This is because tree stumps and logs can help retain moisture and create a cool microclimate,' says Morris.
He adds that you should decide on the size and shape of your stumpery 'based on the available space you have in your garden and your design preferences', too.
'It can be a small corner or an extensive garden feature, depending on your needs.'

2. Prepare the area
Andrew O'Donoghue, one of the co-directors of Gardens Revived, was tasked with helping build the stumpery at the Renter's Retreat, and knows how important it is to clear the area before you start.
'You need to remove any plants or vegetation that won't be used, such as weeds,' he says.
Morris adds: 'Ensure the ground is relatively level, as this will make it easier to arrange the stumps and logs securely.'
3. Placement and arrangement
Now for the fun bit: arranging your stumps in as naturalistic a style as possible.
'Begin by arranging the stumps and logs in a layered manner, stacking them to create different heights and levels. This will add depth and interest to your stumpery,' says Morris.
'Try to mix stumps and logs of various sizes to create a more natural look. Place the larger ones at the back or centre and gradually decrease in size as you move towards the front or sides.'
Make sure you leave some gaps between the stumps to allow for planting opportunities and to encourage wildlife to find shelter.
4. Get planting
After filling your stumpery with lots of garden compost or well-rotted manure, it's time to 'plant shade-loving plants that you would find in a woodland,' says Andrew.
'Good options include ferns and foxgloves, but you could also go for some more traditional garden plants – or even a variety of wild strawberry!'
Morris adds: 'Plant these shade-loving plants in the gaps between the stumps and logs. Add a suitable potting mix to provide them with enough nutrients to establish their roots, and then apply a layer of mulch around the newly planted areas to retain moisture and suppress weeds.'
5. Show your stumpery some love
Make sure to water the stumpery regularly, especially during dry spells, as well as trim back any dead or overgrown vegetation. it won't be long before it becomes the hotspot for local wildlife: the decaying wood provides habitats and food sources for birds and insects.
'A stumpery is a garden feature that evolves and matures over time,' says Morris. 'As the wood decomposes, it becomes a natural part of the ecosystem, creating a sustainable and low-maintenance garden area.'

Allow your own unique style and creativity to flourish, and prepare to be patient. This beautiful new addition to your garden will only get better with time!
What is a stumpery?
Similar to a log pile, a stumpery is a beautiful way to invite wildife into your garden using logs, ferns, flowers and mosses to create a permanent living structure in your garden.
'Bring the stumpery back, embrace decay, nurture the soil and celebrate the entire lifecycle of our fantastic plants,' says Zoe.

How can I make a stumpery?
Nick Wood, atGardeningExpress.co.uk, advises: 'First it's important to pick the right location that gets good sunlight and compliments the rest of your garden.'
'Then you'll want to gather your materials and map out how you want your stumpery to look. Use things like tree stumps, roots, and woody debris to create a nice aesthetic and incorporate different heights and levels.'
'It's worth placing part of the stumps into the soil for extra security. You can add some soil and compost in between any gaps in your stumpery that can be used later for growing plants.'
'As you begin to grow plants you'll want to keep on top of their maintenance, trim them regularly so the area doesn't become overcrowded and ruin the look of the stumpery.'
What are the benefits of a stumpery?
A stumpery isn't just a beautiful and cost-effective form of garden sculpture: it is also a brilliant way to transform a dark spot in your garden into a thriving and flower-filled planter. Plus, it's great for local wildlife!
Get the Ideal Home Newsletter
Sign up to our newsletter for style and decor inspiration, house makeovers, project advice and more.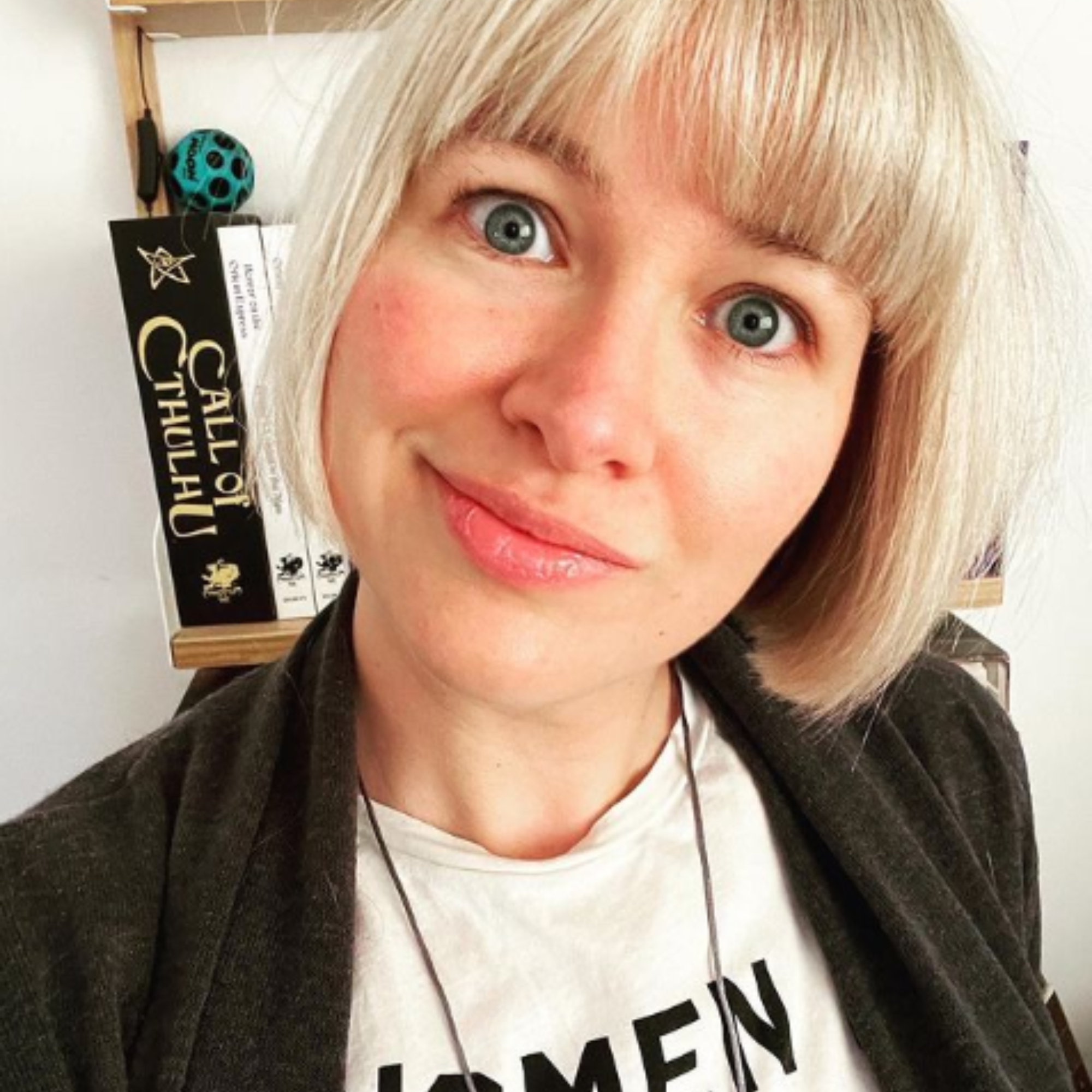 Kayleigh Dray became Ideal Home's Acting Content Editor in the spring of 2023, and is very excited to get to work. She joins the team after a decade-long career working as a journalist and editor across a number of leading lifestyle brands, both in-house and as a freelancer.