Garden trends - the key looks and ideas to bring your outdoor space into 2023
We talk to gardening experts to share the latest trends set to shape gardens for the year ahead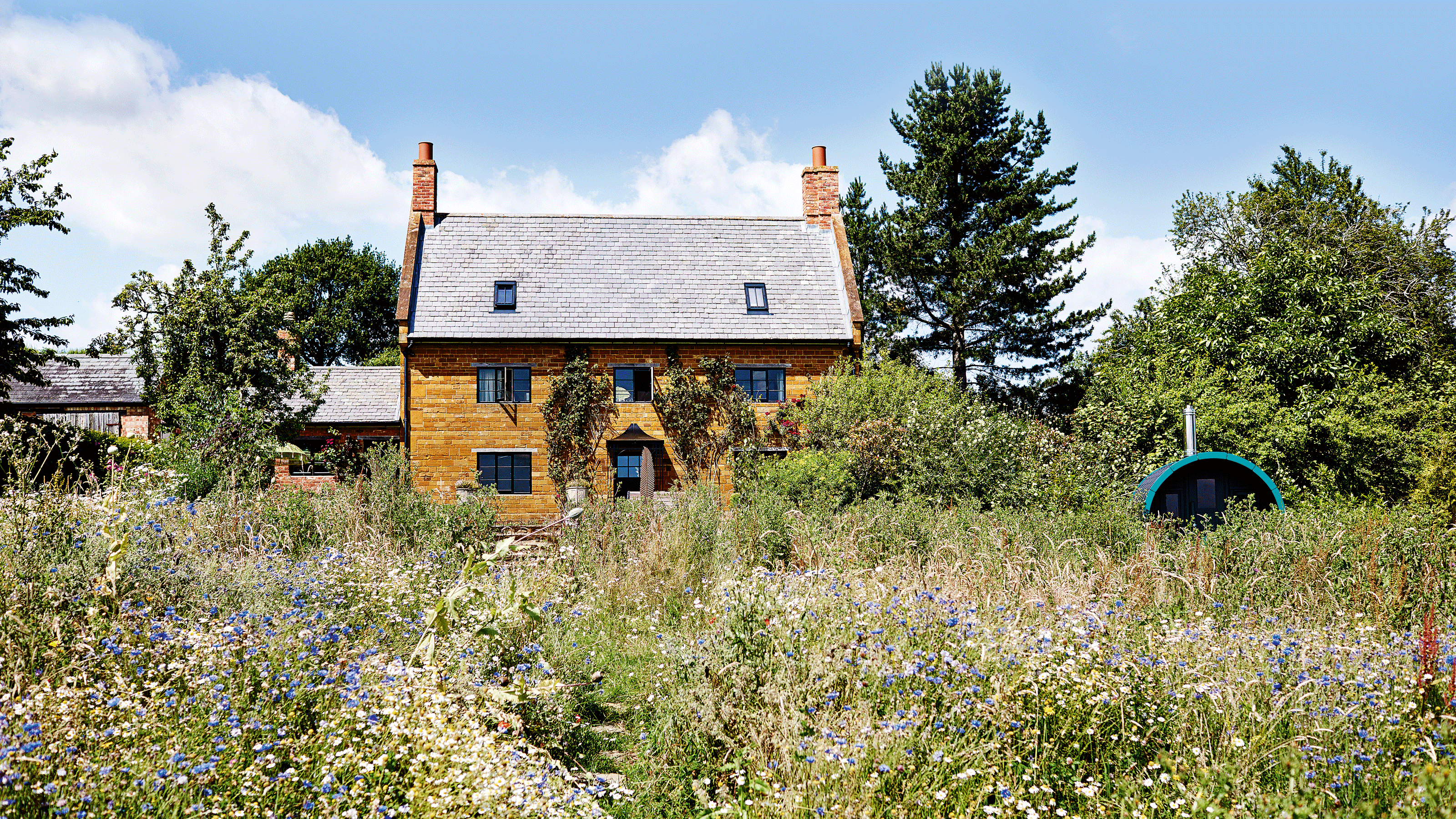 (Image credit: Brent Darby)
There might still be a few months of winter left to go, but our attention has already started turning to our garden as the season for BBQs and alfresco breakfasts creep closer. If you're on the lookout to update your outdoor space with a few new garden trends now is the time to start planning.
Over the last two years, our passion for garden ideas was renewed as they became crucial parts of the home. This year, we will still be enjoying our outside space as an extra room to our homes, whether we have a neatly-kept balcony with just enough space for a table and chairs, or an acre or so with summer house, dining space and fire-pit to enjoy.
However, Andrew Duff MSGD, co-chair of the Society of Gardener Designers, says that in 2023 our gardens are going to have to work much harder, to respond to the effects of climate change and support sustainable gardening practices.
Garden trends 2023
The biggest garden trend he's predicting is 'a much-welcomed return to the original cottage garden, remodelled for 2023, where function and aesthetics work as one and where sustainability isn't a choice. A garden where seasonality and change are embraced rather than masked – a working garden.'
Whether the idea of a cottage garden excites you or you want to learn more about the alternative trends, we're rounded up the 15 garden trends that will be brightening up our outdoor space in 2023.
1.Drought-tolerant plants
What we choose to plant in our gardens is demanding extra thought and consideration as temperatures rise and rainfall dries up.
In 2023 garden designer Matthew Childs says he will be looking for hard-working plants such as long-flowering salvias, that are also great for encouraging pollinating insects and wildlife. 'Our priority is using a palette of tough plants that will be reliable and resilient,' he says.
'Important factors in plant choice will be drought tolerance, successful planting communities and all-year-round colour and interest that makes us smile, but is also great for pollinating insects and wildlife too. We are excited about the range and diversity of long-season flowering salvias for example. Annuals and species bulbs are becoming more important to ensure there is always a pop of colour, whatever the weather.'
Tommaso del Buono co-founder of garden design company Del Buono-Gazetwitz is predicting an old favourite - rock roses - will come back into fashion, 'because of their ability to thrive in hot, dry conditions - low-maintenance, fast-growing and with a profusion of flowers, they will grow over walls, paths, rockeries and in mixed borders.'
2. Natural mulches
Experts say that there will be a lot more focus on how we look after our soil, and one of the key 2023 garden trends is that we'll be turning to sustainable methods to improve soil quality, keep out weeds (which thrive in drier summer conditions) and retain moisture year-round.
'Mulches!' says Matthew Childs. 'It may not sound very exciting but I'm going to be paying much more attention to how I dress the surface of planting areas to help keep moisture in the soil and competing weeds out so that our planting schemes are more resilient to the changing climate.'
Picking up on another key gardening trend – reusing building waste in landscaping and garden care - Matthew adds that he's hoping to utilise recycled materials as mulches too: 'I was inspired this year by the use of recycled building materials such as crushed concrete used as a growing medium and mulch in the Walled Garden at Knepp Castle. Also, Stefano Marinaz's use of Fruit pits and nut shells as natural mulches and path surfaces in his woodland garden at Floriade Expo 2022 was fantastic.'
3. Browns and taupes for outdoor living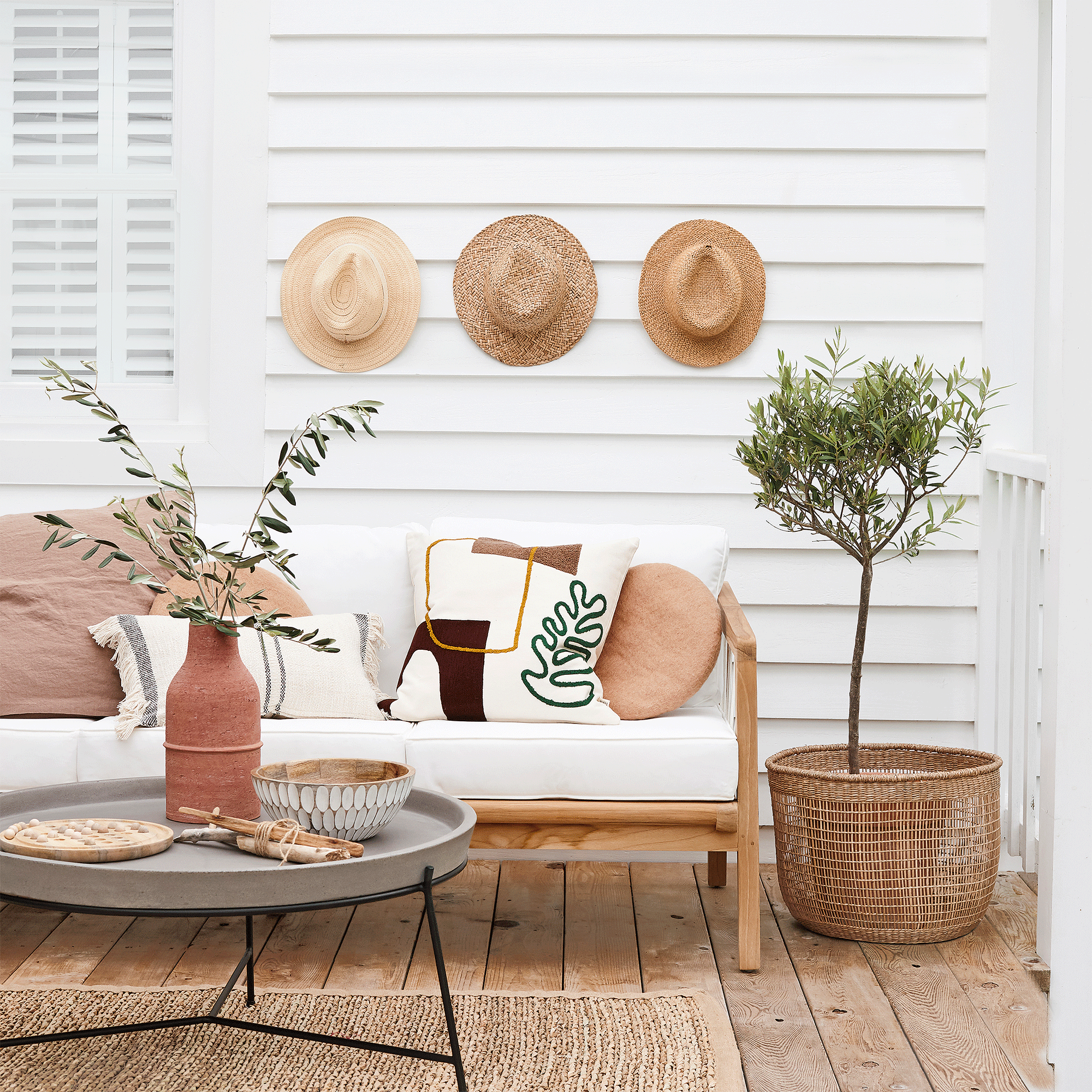 Garden designer Helen Elks Smith, founder of Elks Smith, is excited to see the back of the ubiquitous anthracite grey sofa and a warm embrace being extended to a more natural, warmly neutral palette for outdoor furniture, external paintwork and landscaping.
'We're definitely moving towards a warmer palette, in part influenced by the popularity of brass and copper internal fittings,' she says. 'In turn, there is also a definite interest in buff and warmer colours for paving. We are seeing the influence of European design continuing with strong interest in clay pavers particularly for terraces and the rich, warm brown colour palette offers plenty of opportunity to create cohesive and interesting schemes.'
Matthew Childs agrees that tactile textures such as terracotta and natural stone will turn out to be a key garden trend for 2023. 'The use of natural stone has been important in our schemes recently and there will be more of an emphasis on stone sourced from quarries local to our projects.'
4. Vertical gardening
If you're keen on picking up easy garden ideas in 2023, you'll be interested in the new way to do vertical gardening – the traditional technique of espaliering plants so they grow upwards and across walls.
Tomoko Kawauchi, design director at garden design company Charlotte Rowe says it's becoming obvious that the go-to vertical gardening choice, a green wall, is difficult to maintain and requires a lot of water.
'Instead, we're preferring to place climbers in planters with adequate soil depth and width, creating a vertical garden in a much more sustainable way,' she explains. 'I have also become very interested in deploying traditional espalier techniques to create geometrical pattens on walls using climber plants and exploring ways of highlighting the vertical elevations of my gardens and giving them a presence, rather than just being a backdrop for a feature plant.'
5. Sustainable hard landscaping
Here's a very practical garden trend for 2023 that will be useful to know about if you're looking to improve your front garden ideas and give your kerb appeal some fresh kudos.
Tommaso del Buono predicts that hard-landscaping will become both more practical – with larger pavers helping to cut down on both material and labour costs – and visually intriguing.
'We're seeing pattern is also on the rise including geometry with unorthodox twists,' he says. 'Using off-kilter symmetry and experimenting with proportions and perspective is exciting me at the moment.'
Tommaso adds that he's also seeing increased popularity in darker natural stones. In 2023 he will be using much richer, heavier hues for paving and other hard landscaping to add depth to his designs and create a dramatic foil for greenery.
6. Regenerative gardening
In 2023, we might find ourselves collecting fresh seaweed from the beach to make compost and 'cover cropping' our vegetable beds with comfrey or winter beans to suppress weeds and add nitrogen to the soil. This, as well as encouraging natural predators such as wasps to kill aphids, and allowing birds to pick up caterpillars to feed their young, all comes under a key new garden trend, regenerative gardening.
The RHS predicts more gardeners will, 'seek out environmentally-friendly wood-based compost alternatives'. With peat-based bagged compost set to be banned in the UK in 2024 - and the RHS pledging to be peat-free by 2025 - many of us will turn to seaweed and biochar feeds instead.
'Comfrey and winter beans can be grown as green manures to help fix nitrogen and other nutrients into the soil and provide habitat and food for wildlife,' says a RHS spokesperson. the charity. 'Versatile comfrey Bocking 14 can be grown and used directly as a mulch or made into a sustainable liquid feed that supports the growth of newly planted crops.'
7. Ever more exotic houseplants
'Houseplants are riding high in interiors and often the foliage is fairly lush and exotic,' says Helen Elks Smith. 'The value of 'green' and with the recent hot summers the value of shade and plants suitable for lower light level, influenced by interior houseplants seems to be growing.'
We're never going to fall out of love with houseplants now, but in 2023, the RHS says we will be looking out for ever more exotic varieties to try for the first time. It's an interesting twist of fate influenced by climate change. As we turn down the central heating to save energy (and the household budget), cooler indoor temperatures will prove a perfect home for delicate exotic plants such as cymbidium and dendrobium orchids.
'The heat and dry air of centrally heated homes isn't good for most plants, so more unusual exotics will perform better in a cooler home,' explains a RHS spokesperson.
8. Late summer bloomers
Changing weather patterns are impacting seasonal planting plans and for 2023 this means a brand-new trend – late summer bloomers, the plants which come into their own as August turns to September and continue producing an impressive display until the first frosts arrive.
'We've been looking more and more at varieties that will flower later in the season, say from August onwards as summers are getting longer with the onset of autumn now only happening in November,' says Tommaso Del Buono. 'There are so many salvias which do well at this time of year and grasses also are at their best then, what I still call asters and aconitums are invaluable for shadier spots. I am also intrigued by autumn flowering bulbs such as nerines.'
9. Growing for dried flowers
We already can't get enough of dried flowers, whether arranged artfully in pretty vases or carefully-crafter into stunning door wreathes. And now we're delighted to report that the RHS, no less, is saying that growing floral varieties such as larkspur, stocks, lavender, roses and hydrangea, will be a huge trend in 2023.
'Along with pressed flowers, they are back in fashion as part of a rise in traditional skills and crafts including natural dyes, scything and foraging,' says a RHS spokesperson.
10. Traditional greenhouses
We know that growing produce at home became a top trend during lockdowns, but in 2023, experts are predicting that this trend is set to ramp up several notches. There is huge consumer interest in traditional greenhouses, says Tom Barry, CEO of Hartley Botanic, from gardeners who want to propagate their own plants and protect tender specimens over the colder months.
'We are predicting that customers will be returning to more classic colours and designs when it comes to glasshouse and greenhouse styles, with the majority of people choosing a traditional aesthetic,' he says. 'We think our nostalgic and romantic Victorian range is set to be the most popular. This is a sales trend which has been growing over the last two years and we're expecting it to be very dominant in 2023.'
11. Woodland
Anto Clay, a regional director with Stacks Property Search, says rural home-buyers are now highly likely to ask for a new home with attached woodland – "'This garden trend is not only aspirational, it chimes with environmental concerns, as planting trees reduces our carbon footprint, and it's also practical.
'Property with attached woodland is attracting a premium,' Anto explains. 'Everybody used to want a pony paddock, now mature trees are the new must-have. In these days of stratospheric fuel prices, firewood keeps you warm three times – once when you cut it, once when you split and stack it, and finally when you burn it. And of course, it's good for the soul.'
Landscape architect Marian Boswall MSGD, is also expecting to see more trees in city gardens - 'where they can help clean the air and reduce the urban heat island effect'. She recommends the drought-tolerant crab apple tree as a perfect addition to any garden. 'Its blossom feeds insects in the spring, and in the depths of winter, when the ground is covered in snow and there is little to eat, its tiny apples provide nourishment for birds.'
12. Vegetable gardens
Many people starting growing their own vegetables at home during lockdowns when they had time on their hands, and the trend that established itself in 2022 looks set to continue. 'Back to work and sometimes certain things get left behind due to a lack of time,' says Pip Probert, garden designer, founder of Outer Spaces . 'But with the current financial issues and the growing concern for the planet, I think that even more people will turn to growing their own. It might be to save money, or it might be to become as green as they possibly can.'
13. Natural swimming ponds
It's top of the wish-list for many garden lovers and the natural swimming pond trend will continue into 2023, especially if spring weather suggests a long, hot summer ahead. A natural swimming pond is also a safe environmental choice, as filtration is chemical-free, and it doesn't cost anything to heat, unlike a conventional outdoor swimming pool.
It's the sustainable choice, says Matthew Childs: 'We're going to be witnessing an approach to sustainability that sees gardens as joyful, fun spaces where people, plants and wildlife can be mutually beneficial to each other. A good example is the growth in chemical-free, natural swimming pond, which is beneficial for wildlife too.'
14. Tapestry lawns
If you're looking for ideas on how to plan a garden in 2023, definitely keep the idea of tapestry lawns to the forefront of your mind. Dividing up the traditional lawn into separate areas is already a favourite of TV gardener Monty Don and now the RHS predicts this patchwork approach is about to go mainstream.
'Gardeners will be saving time by giving up parts of their lawn to pollinators and other garden wildlife, letting borders grow long or looking into lawns that require less water and maintenance,' says a RHS spokesperson. 'This includes tapestry lawns made up of low-lying, intertwining flowering plants such as yarrow and selfheal, and mini wildflower meadows with native plants like yellow rattle and cornflower. Plants previously thought of as weeds, including dandelions, are also embraced for their ability to blend into their green surroundings.'
Seed companies are focusing on drought-tolerant varieties for lawns, including tall fescue grass and micro-clovers, which mean these lawns stay green without watering even in very dry areas.
15. Gravel gardens
Gravel gardens show no signs of disappearing from the landscape in 2023. Tomoko Kawauchi, who already makes a point of including a gravel garden in all her projects, says we will be seeing even more of these easy-to-plan and care for outdoor space. She also thinks that as well as complying with the flood-resistant SuDs environmental regulations, they also provide a place to experiment with xeriscaping, creating the perfect place for drought-tolerant varieties such as grasses and the South African Dieramas, a delicate bell-like flower in shades of lilac and purple.
What is the easiest emerging trend to add to your garden right now?
Pip Probert, garden designer, founder of Outer Spaces, and TV gardener featured on BBC2's Your Garden Made Perfect says the easiest garden trend to add right now is the screen: 'We're finding screens are very popular at the moment and although they have been around for a while now, the options seem to be expanding.
'From composite, wood or metal options available you can really change the feel of your outdoor space by using a decorative screen. With both bold and delicate patterns available, you can add artistic flair to the space, make it feel unique and give it a 'designer' look, simply and fairly cheaply. The patterns can create beautiful shadows and the colours available can truly jazz things up in any outdoor living space, whatever the size.'
What garden trend will last beyond 2023?
Definitely garden rooms, says Pip Probert. 'People want to spend time at home for many reasons and having another place to sit, work or simply relax offers multiple options for the homeowner. Many people work from garden rooms, including myself; surrounded by nature and truly inspired by my surroundings.
'Garden rooms are something that are definitely here to stay – making the most of the space we have and the land we own.'
What key garden trends are continuing from 2022?
Re-thinking the traditional British lawn and hard-landscaping combo to cut down on maintenance in the drier climate, encourage pollinators and wildlife, and save money will be a garden trend that will continue to occupy our imaginations into 2023 and beyond, according to the RHS.
Alternatives to traditional grass seed are being actively sought by gardeners, says RHS chief horticulturalist Guy Bartner. 'Gardeners are expected to let borders grow long for pollinators. A tightly-clipped, weed-free lawn isn't particularly wildlife-friendly.'
According to the RHS, the soaring costs of hard landscaping will see gardeners turn to plants to add structure to their patch instead. For example, searches on the RHS website for myrtle, an ancient plant (the Romans introduced it to Britain) with a profusion of scented white blooms which can be used for ornamental hedging in place of blight-prone box, were up by more than 500 per cent this autumn.
Get the Ideal Home Newsletter
Sign up to our newsletter for style and decor inspiration, house makeovers, project advice and more.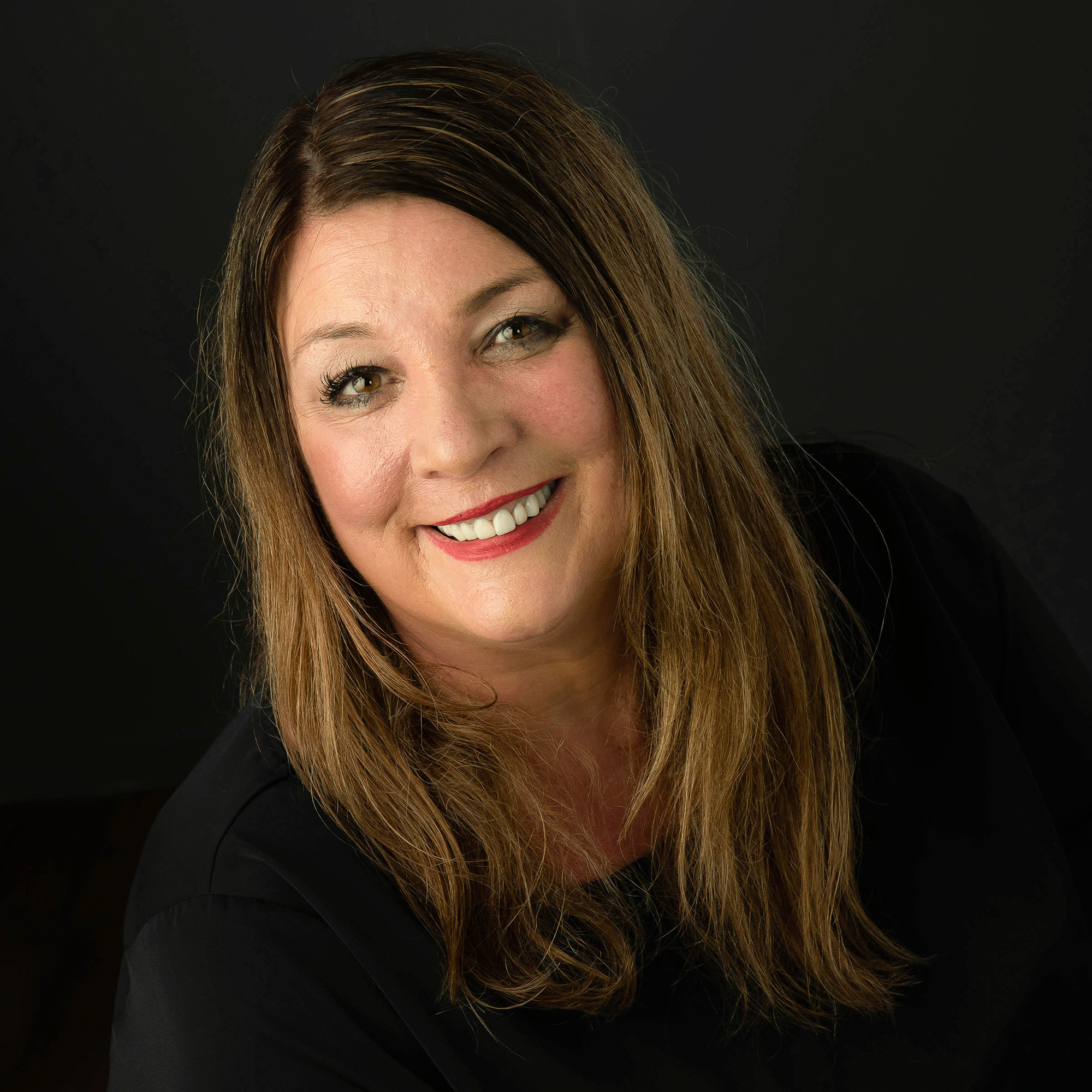 Jayne Dowle is an award-winning freelance gardening, homes and property writer who writes about everything from swimming ponds to skyscraper apartments, for publications including Sunday Times Home, Times Bricks & Mortar, Grand Designs, House Beautiful and The Spectator. Awarded the Garden Journalist of the Year accolade at the Property Press Awards in 2021, she has a degree in English Language and Literature from the University of Oxford and a lifelong love of homes, interiors and gardens.