Upcycling ideas for the garden – from budget planters to making DIY garden furniture
Reuse and improve to save money in the garden with these 27 upcycling ideas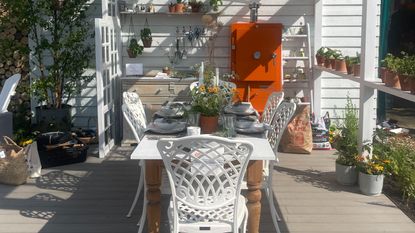 (Image credit: Heather Young/Future Publishing Ltd)
Looking to revamp your outdoor space? Then you need to check out our bumper list of upcycling ideas for the garden.
Everyone who has ever bought a plant in a pretty pot will know first-hand that gardening can be an expensive hobby. Turning your focus to upcycling, however, can help you make all of your garden ideas a reality – without burning a hole in your bank account.
'Upcycling is a great way to celebrate pieces we already own,' says Harriet Pringle, the founder of Narchie. 'Not only does it help prevent waste, but it's also a cost effective way to redecorate and nail all of those exciting garden trends.'
Upcycling ideas for the garden
'Upcycling doesn't necessarily mean you have to spend hours completely reinventing an item,' says Harriet. 'Sometimes, even small changes can make a huge difference to how an item looks.'
She's not wrong: the key to upcycling is to make the most of what you already have, and breathe new life into something unused or unloved. That might be figuring out how to paint garden furniture, trying out the bevy of slow watering hacks on TikTok, or really getting stuck into a DIY project or two so you can benefit from plenty of free garden ideas.
From using pallets to craft a garden sofa, to creating a handy potting bench out of old kitchen shelving, let our inspiring upcycling ideas for the garden get you started...
1. Repaint your garden furniture
'If your garden furniture is looking a little tired and dated, instead of replacing it, you can always upcycle with a lick of paint,' says Harriet.
'A new colour or stain is enough to make an old item feel brand new. The great thing is that you can refresh the look again and again to create a piece that is completely bespoke to you.'
2. Use a vintage ladder in place of a pergola or trellis
Incorporating garden shade ideas into your space doesn't have to mean buying a brand new pergola or parasol. 'Use a vintage ladder as a trellis for climbing plants,' advises Harriet.
'Not only does it provide support for the plants, but it also adds character at the same time'
Whether used as an overhanging pergola type structure, which would require suspending or securing to supported wooden poles, or as a trellis placed up against a wall – a vintage wooden ladder adds character at the same time as providing support.
3. Use a ladder as a wooden plant shelf
Why not transform an old ladder into a pretty and handy spot to show off your favourite potted plants?
It's a trend we spotted at the RHS Chelsea Flower Show in Gardena's garden, which was created in partnership with sustainability ambassador Lynne Lambourne. . Everything was centred around the theme of innovation and zero-waste, which means a lot of items were repurposed and reused in the space – including the rustic white hand-painted ladder seen above.
4. Make a cold frame out of an old window
Looking for a useful place to harden off tender young plants? Try making a cold frame (a bit like a mini greenhouse) out of an old window frame – and, if you want to take a leaf out of Gardena and Lynne's book, make sure it also functions as a coffee table.
Writing on Instagram about the DIY project, Lynne says: 'My lovely friend Roger made me this. I told him I wanted a coffee table that doubled up as a cold frame and we salvaged an old window and raided his workshop for wood off-cuts.
'I found some castor wheels to add, making it easy to move around and boom!
My sunflower seeds in toilet rolls loved it.'
5. Repurpose an old mirror
'If a mirror doesn't fit or work in your home anymore then you can always use it outside,' says Harriet.
'Mirrors are a great wall accessory if you want to make your garden space feel bigger.'
Using garden mirrors can totally transform the space, firstly by making it feel more like an extension of the indoors but also by enhancing planting and bouncing light around to make the space feel bigger.
For more ways to visually grow your space, our tricks for how to make a small garden look bigger are a must-see.
6. Get creative with your plant pots
'Just about anything can be a plant pot,' says Harriet. 'Use old china and ceramics to plant herbs and flowers in your garden, or even old food containers, bottles, and tins.
'It's a lovely way to show off pieces that may otherwise be hidden in a cupboard.' Just make sure what every you choose has adequate drainage to keep your plant babies happy.
7. Create a pergola out of old window frames
If you're getting new windows fitted, don't chuck the old ones in a skip: follow in the footsteps of Gardena and Lynne and instead transform them into a pretty pergola idea.
Honestly, it's the sort of design that looks incredibly striking, so it's well worth the effort. In fact, we'd even urge you to get on your local freecycling site and see if anyone else is chucking out old window frames (or even doors) if you don't have any spare.
8. Craft a three-door potting shed
Upcycling opens the door to a world of possibilities, quite literally! Upcycling professional Max McMurdo inspires with his three-door potting shed idea, where he crafts a stylish shed out of old materials. Speaking of his imaginative creation Max says, 'This three-door shed design utilises gorgeous old glazed doors, a scaffold board and a bit of corrugated tin to create a usable yet stunning, cute and quirky shelter in which you can prepare and grow herbs and small plants.'
'Deliberately designed to be built in situ, the construction requires no power cables trailing out of your house, simply a battery-powered drill driver and a hand saw.'
If you love Max's ideas, his book is a must-read: Upcycling Outdoors 20 Creative Garden Projects by Max McMurdo, £12.48, Amazon
9. Turn a wooden pallet into a coffee table
With the growing popularity of grassless garden ideas and as we look to dress our outdoor spaces more like the indoors, a coffee table becomes an essential furniture piece for your garden, too.
If you're on a budget, buying new garden furniture can sometimes feel so far out of reach. If you're looking for a savvy solution while you save for the dream furniture set try a pallet garden furniture idea.
This fine example, made by the team at Cuprinol, shows how a wooden pallet can make a fabulous garden table, thanks to a splash of vibrant colour and simple castor feet it takes on a whole new purpose.
10. Repurpose old pots and pans
This thoughtful garden features large metal fish kettles used as planters for herbs and flowers, but you can use any cooking receptacle that is no longer fit for purpose in the kitchen.
Got an old pot you love but a cooking nightmare left the bottom burnt beyond saving? Fill it with plants and consider it put to good use.
11. Turn the kitchen table into a herb garden
An elevated herb garden is one of the best and easiest ways to hop on the big edimentals trend, so why not use an old kitchen table to make your dreams a reality?
Matthew Brown from Sadolin shares: 'Begin by removing the table top and inverting the supporting wooden planks to create a soil bed,' he says.
Next steps are to sand, clean and paint. Once dry, 'Fill bed with soil and plant herbs in rows, leaving 5cm gaps between plants.' The elevation should deter garden pests from destroying the crop.
12. Dress up old furniture
'There is something quite magical about seeing ornate interior furniture out of context in an outdoor environment,' says Max McMurdo, who upcycled this old dressing table with a coat of exterior chalk paint and lush planting.
He says, 'I have been quite bold with my decoration for this piece. Not only have I used bright complementary colours, but I've also applied a crackle glaze between the two coats of paint to add a vintage, distressed look, which I think works perfectly with the style of this piece. The mirror is a nice bonus. It adds a splash of opulence while also creating the illusion of more space and light.'
Going on to explain his planting choices, he adds, 'I filled the drawers with potted plants so I can change the display through the seasons. You could line the drawers with heavy plastic and drill some drainage holes if you want to plant directly into them, but the weight of the soil will make them very heavy to handle.'
13. Make a DIY corner sofa
Garden furniture can be a costly investment, but given how much we value time spent outside it's a worthwhile one, surely? But what if you don't have the budget to make an investment? In that scenario your best bet is upcycling to make an on-trend furniture set that won't cost the earth.
Right now corner sofas are the seating to have for gardens, so why not use old wood offcuts to make your own. Add cushions to make the seating all the more inviting.
14. Add pattern and colour to plant pots
Painting plant pots is a quick and easy way to update the decor of any garden – it's also highly affordable. Transform boring terracotta pots or outdated styles by painting them with the latest outdoor on-trend colours and patterns.
This fine flower pot painting idea comes from the experts at Cuprinol. These Morocco inspired garden pots are painted using the specialist Cuprinol Garden Shades range.
15. Create your own fruit and veg beds
Make like Lynne and the folks at Gardena, and repurpose sheets of corrugated iron to create fruit and vegetable plots.
It's an excellent way to protect your crops from local wildlife, not to mention make them the star of the show. And the raised bed will ensure your soil sits at a higher level, which will in turn warm up faster in the spring, allowing the season to start earlier.
Added bonus? Fertilisers, organic matter and manures will be concentrated on your hungry crops, rather than spread all over your garden.
16. Serve up a homemade garden bar
Turn your own backyard into the hottest spot in town for serving sundowners, with a simple DIY home bar project. When all you really need is a serving hatch, go for a space-saving solution, like this drop down bar, constructed using an old pallet. Pallets are fairly inexpensive to come by and you may even have one laying around your garden or shed, left over after a delivery.
Read how to make your own DIY pallet bar using old wooden pallets for as little as £35!
17. Upcycle decking offcuts as a garden path
If you've had decking laid recently, make like Celine Dion and think twice (ha) before chucking out any offcuts. Instead, trim them to size to form a neat garden walkway, and make all of your best garden path ideas a reality.
18. Turn a colander into a hanging basket
Colanders are famed for their drainage skills, so why not repurpose that slightly battered one in the bottom of your kitchen cupboard and transform it into a hanging basket or strawberry planter?
All you have to do is head to a DIY shop and pick up three hanging chains to clip on well-positioned points to balance the weight.
One warning, though: this method may be heavier than a standard design, so make sure your existing wall bracket can take the weight. Otherwise your plants may be taking an unexpected tumble before too long...
19. Get creative with an old kitchen sink
It's a case of everything including the kitchen sink when it comes to upcycling projects, because ceramic sinks make attractive, alternative planters. Even better? Thanks to the design, the drainage is already sorted!
Place a few large stones in the bottom to aid with even drainage, then fill with compost and plant an array of bedding plants to ensure the garden is awash with colour.
20. Upcycle foraged finds for landscaping materials
Create a unique soil covering, an alternative to slate or pebbles, by scattering beachcomber and foraged finds. This professionally landscaped garden uses recycled whelk shells to light up the ground, hiding the dark soil beneath and making a prominent feature of the planting in the process.
21. Transform old shelves
Got on an old cabinet or bookshelves that no longer serve a purpose in your home? Transform it into a wonderful garden accessory like this quirky planter.
'The natural shape of a bookshelf is ideal for lots of garden projects,' suggests a spokesperson for Mano Mano.
'Separate your herbs by transforming the shelving into a plant container or create your very own garden bar or a bar table. They are also great for storing garden items that don't seem to have a place. Plus, they can give your garden a real rustic and retro feel.'
22. Turn a cupboard into a smart potting bench
An unwanted cupboard is perfect for creating a budget-friendly potting table. This old kitchen unit has been transformed into a place to repot plants thanks to a few easy modifications.
All it took was a lick of paint to jazz it up and provide weatherproof shielding. Check the shed to see what you already have to hand, in order to keep project costs low. Add hooks to the side so you can hang trowels and other tools for easy access. The inside is all ready to go – use it for all your potting and planting needs.
23. Create an unusual garden sculpture
Garden sculptures are a big mood on TikTok at the moment, so why not make your own from repurposed materials? This upcycled number at RHS Chlesea Flower Show uses panels of patterned and coloured corrugated iron to create height in an outdoor space, as well as an interesting focal point.
24. Lay a path of old bricks
Put a pile of leftover bricks to good use and make a path that provides a clear walkway through the garden. Lay them long and sideways in a bed of gravel to create a bespoke design.
Who said hard landscaping for the garden had to be expensive?!
25. Turn a slatted mattress base into a vertical planter
Why not display plants on an out-grown cot bed base? Vertical planters are all the rage at the moment, as they allow you to make the most of walls and create striking plant displays.
Any slatted base frame can be transformed with a lick of paint, to create a DIY vertical garden planter.
26. Transform broken crockery into a rockery
Broken pots and planters? Don't worry, you can still use them by nestling the broken pieces into a gravelled border, and planting low-maintenance succulents inside to create the quickest rock garden yet.
This simple upcycling idea would work for any damaged crockery you might have lying around.
27. Create a tyre planter
Before you drive that old spare tyre to the nearest tip, consider if you could give it new life as a garden planter for flowers, shrubs or vegetables.
You could leave it as is for a truly undone look, or, as seen above, give it a lick of paint for cute rustic vibes. The choice is yours.
How do you repurpose things for the garden?
There are so many brilliant upcycling ideas for the garden, from reusing an old ladder as a plant shelf to transforming broken pots into a rockery. You could even, if you have the time on your hands, create a gorgeous cold frame out of an old window and wooden off-cuts - just as Gardena did at RHS Chelsea Flower Show this year.
What can I make with upcycling?
This list of upcycling ideas for the garden is by no means an exhaustive one: it's all about using your imagination to find new purpose for items you no longer need. Plastic bottles, for example, can be turned into herb planters. Plant pots can be given a new lease of life with a lick of coloured paint. Furniture from inside your home can make a new life for itself in the great outdoors as a potting table or garden seating area. And don't even get us started on all the old tins and crockery in your kitchen cupboards: the possibilities are endless.
Get the Ideal Home Newsletter
Sign up to our newsletter for style and decor inspiration, house makeovers, project advice and more.
Tamara was Ideal Home's Digital Editor before joining the Woman & Home team in 2022. She has spent the last 15 years working with the style teams at Country Homes & Interiors and Ideal Home, both now at Future PLC. It's with these award wining interiors teams that she's honed her skills and passion for shopping, styling and writing. Tamara is always ahead of the curve when it comes to interiors trends – and is great at seeking out designer dupes on the high street.