Jobs to do in the garden in September – maintenance, planting and harvesting
Tick off all the key jobs to do in the garden throughout September, from collecting seeds to cutting back foliage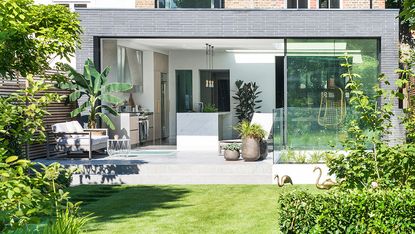 (Image credit: Future PLC / Colin Poole)
With the changing of the seasons there are lots of jobs to do in the garden in September. With autumn approaching and summer almost over, there are plenty of tasks to tackle to get ahead before the cold, harsh winter months.
'September is the perfect time to prepare your garden for beautiful autumn and spring colour. The transformation autumn brings to your garden is a sight to behold' enthuses Sarah Squire, Chairman of Squire's Garden Centres.
Jobs to do in the garden in September
'Autumn is the time of year to get your ducks in a row before winter, preparing for a healthy revival in spring' says Sarah. 'It's not just about making the garden look good, although that is a big part of it, but it's also about giving your lawn, trees and plants some due care so that they are all set for winter conditions before spring comes back around.'
Follow our easy tips and Sarah's expert advice to reap the rewards now to enjoy autumn and be well prepared for spring garden ideas.
1. Have a general clean up
Sarah of Squire's Garden Centres advises to start simple, by having a transitional sort out. 'Look around. The hose to the sprinkler is unfurled, the clothesline doesn't need to be left up, that BBQ won't be used for months, nor will a lot of your garden furniture, the greenhouse needs sprucing up and there's algae spreading on the fence too.'
'Maybe you have all these issues, maybe just some, the point is every garden has things that can be sorted, put to the side or away entirely for winter to make it appear less messy.' Our free garden ideas offers simple ways to improve gardens without spending a penny!.
2. Maintain your vegetable garden
Clear stems and leaves from vegetable beds and sow final crops of lambs lettuce and oriental salads (the latter can also be sown as an edible green manure, instead of covering beds with compost if you are otherwise going to leave them fallow for a season).
Water tomatoes, beans and courgettes sparsely as their production period is coming to an end; continue to water autumn and winter vegetables regularly. Make sure you harvest fruit and vegetables regularly this month; leaving crops on the bough can lead to rot and disease setting in.
3. Tidy garden borders
'Look at your borders and remove any dying leaves and stems, weeds, and old mulch' says Sarah. 'Using a pair of secateurs, cut back any trees and shrubs that are overgrown and deadhead spent flowers.'
4. Add a layer of mulch to beds and borders
'Once your borders are looking neat and tidy, you can spread a thick layer of compost, or a new layer of mulch, which is organic matter that you spread over the soil. Mulch helps the soil retain moister, inhibits weeds and protects the roots of plants' explains Les, Plant Manager at Squire's Chertsey. 'Short of time? Just mulch the base of plants.' What is mulching in gardening and what are the benefits? Lawn expert Andy Wain explains all
5. Collect seeds
'Lots of plants are at the right stage to harvest their seeds in autumn. Different plants make seed heads in different ways, so be aware of what type of seed head your plant makes as it will dictate the best time and method to harvest their seeds' Sarah explains.
'When you have the right method, collecting their seeds isn't too difficult at all. When seeds are ready to harvest just collect them in a freezer bag or paper envelope. Dry them out for a few days which you can do by leaving them on some newspaper in a cool, dry area. Then they'll be ready to store for sowing in spring. Just be sure to label the bag or envelope so you know what seeds you have.'
'Consider also leaving some seed heads on your flowers to bring decorative structure to your borders that look striking in winter with a covering of frost.'
It is best to harvest and store your own seeds in the middle of a sunny day, when moisture levels are at their lowest. Only harvest ripe seeds that look hard and brown. Store them in paper bags or envelopes; label these with the name of the plant and the harvest date, then snip the seed head off and place the whole thing into the envelope.
6. Collect falling leaves
'Sweep any fallen leaves from your paths, borders or lawn. If leaves are left in dense piles on the lawn, they will kill the grass underneath and leave you with a patchy mess' Sarah explains. 'If left on your borders they will attract slugs and could also start to rot away your plants. And leaves on paths are a slippery trip hazard. But don't despair, leaf piles in out-of-the-way parts of the garden are fine and can provide shelter for overwintering wildlife like hedgehogs.'
Top tip: Sarah offers this key piece of advice, 'Use leaves to make leaf mould, which is a great soil improver. To do this, pack the damp leaves fully in a black bin liner, tie it up, and pierce a few times. Leave it somewhere for about a year and the crumbly brown leaf mould will be ready to use. Your plants will love it!'
7. Plant containers for colour
'Containers are a great way to add colour to your garden' in autumn, explains Sarah. 'Use a loam-based compost such as John Innes to retain moisture and nutrients, but prevent water-logging. 'Put life back into your beds and containers with violas, cyclamen and pansies' advises Tom, assistant manager, Squire's Badshot Lea. 'Asters and chrysanthemums give great autumn colour, as long as you deadhead them.'
'Ensure all your plants require the same amount of light and moisture. This way your plants will harmonise more effectively giving a better display' advises Anna, Assistant Plant Manager, Squire's Cobham.
8. Prepare the lawn for seasonal changes
'Prepare your lawn for winter by aerating, scarifying, fertilising and over-seeding. It'll be lush, thick and full of vitality when spring comes around. Trim your borders to really finish the look that a neatly cut and edged lawn provides too. Cut for a final time with the blades higher than usual to leave the grass longer over winter. Feed with Evergreen Autumn Lawn Feed & Moss Killer to protect and strengthen.'
Top tip: Sarah advises, 'Cutting your grass on the lowest setting all the time is called 'scalping' and hinders a healthy lawn. You should cut your grass on a higher setting generally but cut it on the highest setting for the last cut to see it through winter.'
Now is also the best time to lay new turf and sow grass seed, as the soil is still warm from the summer sun and moist with autumn rain. Consider artificial grass for a low-maintenance lawn idea.
9. Plant autumn berries, trees and shrubs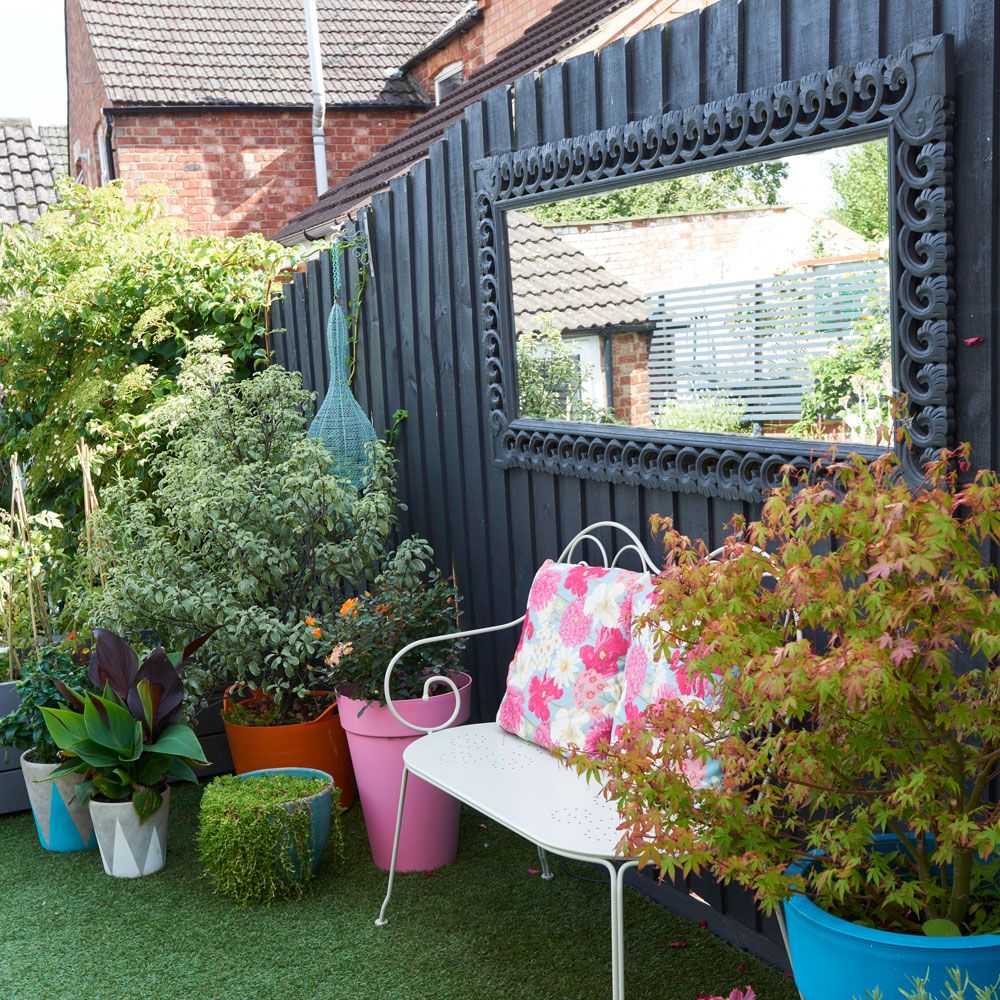 'With the soil still warm from the summer sun but moist from autumn rain, it's a perfect time to plant' says Kate, Plant Manager, Squire's Long Ditton. 'You have a lot of choice when it comes to introducing colour to your garden landscaping idea in autumn.' Kate advises planting:
Beautiful Berries: 'Add colour with berry bearing shrubs such as pyracantha and cotoneaster. Berries help feed birds during the winter months.'
Roses, Trees, Climbers & Shrubs: 'Plant hardy plants while the ground is warm and moist. Use 'RootGrow' when planting to promote strong root growth and healthy establishment.'
Fill gaps in your borders with evergreens, which give structure and year-round interest.
10. Grow on-trend grasses
'Plant grasses now to give great height, texture and movement to your garden' advises Tom, assistant manager, Squire's Badshot Lea. 'I recommend Festuca 'Intense Blue' and Pennisetum 'Fountain Grass'.'
11. Sow and plant spring flowering bulbs
To guarantee you have flowering trees and plants in your garden next spring, you need to sow and plant this autumn. 'Now is the time to plant bright and cheerful spring-flowering bulbs, such as crocus, chrysanthemum and dahlias' advises Sarah. 'New season's bulbs come into the garden centres from mid-August. The earlier you buy them the fresher they are and there will be a greater selection to choose from.'
'There are bulbs for all situations, from naturalising in grass to borders, pots and window boxes and even for indoors. From the first Snowdrops to the last Tulips and Anenomes, they will flower for almost five months, at least into May. Bulbs make a particularly good combination with winter pansies, wallflowers and forget-me-nots.'
'Make sure that you plant the bulbs deep enough (the packet will indicate the planting depth). If not, the result will be adequate in the first year but may be disappointing thereafter. This is a particular issue with tulips which require a planting depth of about 15cm.
Sarah offers her expert advice on what to plant:
Daffodils - A spring essential that should not be overlooked. They are easy to grow, reliable and make a splendid sight. An informal mixed display of daffodils looks particularly good naturalised in a verge or woodland setting.
Miniature Narcissi - Dainty flowers are also very appealing. Tete a Tete is probably the best known but there are many others to choose from.
Fritillaria - These have been popular for some years and rightly so. It has a crown of flowers borne on tall stems. The flowers literally ooze with nectar and make a splendid sight in the border.
Crocus - For something unusual choose Crocus sativus. At first glance it looks like another purple crocus with a quite an open splay of petals, but when you look more closely you will spot pollen laden anthers and the most wonderful orange style and stigma (female part of the flower that collects the pollen) that seem to fall out of the crocus flower like a ribbon.
Alliums - From the dwarf to the giant they are elegant, structural and very 'now'. They are easy to grow, the flowers last for ages and afterwards the seed heads are also very attractive. A sophisticated choice for any garden.
Doing the work yourself now, and watching things grow, will not only save you money (buying seed to sow and grow now is far cheaper than buying plants next spring that have been grown by someone else), it will provide you with healthier plants and the pleasure of knowing you have created your spring garden yourself.
12. Order small ornamental bare root trees
As with plants grown from seed, bare root trees and shrubs (the roots are visible) tend to be healthier and cheaper to buy. Bare root plants should be planted between November and March but you can place your orders with nurseries now.
Soak roots in water until you have dug your hole or trench, if you are planting a hedge, and are ready to place them in the ground. Set the plant into the hole, backfill and heel in the soil. Water thoroughly and leave to settle, then water again and mulch.
13. Clip, cut back and use foliage
Clip hornbeams and give beech hedges their second clip of the year. You can also start to tidy and cut back plants grown for cutting, and make the most of the glorious foliage, hips, berries and haws in flower arrangements.
14. Harvest or plant fruit trees now
'For a glorious blossom come spring, plant fruit trees now' advises Shaun, plant manager, ofSquire's Crawley. 'Plant fruit bushes such as raspberries and blackcurrants and be rewarded with an abundance of summer fruit. If you're short of space then grow suitable varieties in containers.'
This early in the season, if you already have established fruit trees, eat them now and enjoy their rich, fresh flavour. a homegrown apple should be in every coat pocket, picnic hamper or lunchbox this month.
15. Lift and divide summer-flowering perennials
Dividing these plants will help to re-energise them, encouraging them to reboot, to grow back next year with more vigour and true to form once more. If any or all of the plants look as though nothing will restore them to their former glory - although one hopes the latter will not be the case - then be ruthless and take them out altogether and replace them with something else.
16. Plant now for Christmas
In addition to planting your spring-flowering bulbs outside, now is the time to start preparing indoor plants that will flower in time for Christmas. If you are going to give them as presents, enjoy the process not only of planting up but of choosing the container and the plant to suit, to create the perfectly personalised present.
Fragrant hyacinths, hippeastrum and narcissi are easy to grow but you could also try poinsettia and cyclamen and orchids.
Will you be tackling any of these September gardening jobs?
Get the Ideal Home Newsletter
Sign up to our newsletter for style and decor inspiration, house makeovers, project advice and more.
Tamara was Ideal Home's Digital Editor before joining the Woman & Home team in 2022. She has spent the last 15 years working with the style teams at Country Homes & Interiors and Ideal Home, both now at Future PLC. It's with these award wining interiors teams that she's honed her skills and passion for shopping, styling and writing. Tamara is always ahead of the curve when it comes to interiors trends – and is great at seeking out designer dupes on the high street.