32 free garden ideas – simple ways to improve gardens without spending a penny
These free garden ideas will enhance any outdoor space at zero cost to you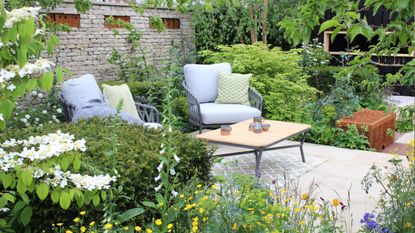 (Image credit: Heather Young/Future)
Kitting out a garden can quickly turn into an expensive job, but at Ideal Home, we don't think a fresh look garden for summer should burn through your savings. In fact, we think you can do a pretty good job of updating your space with the right free garden ideas.
While there's nothing quite so pleasing as a spot of horticultural therapy, the ongoing cost-of-living crisis means that we have grown incredibly fond of a budget garden idea (and even fonder of a totally free garden idea, too).
Thank goodness, then, that the hottest garden trends of the moment are so very purse-friendly.
Free garden ideas
Anyone who has ever pottered through a garden centre on a sunny afternoon will know already that gardening can be expensive. Even the plants themselves, every bit as beguiling as the sirens of Greek mythology, will cost you a pretty penny or two – especially if they've just been repotted (hot tip: garden centres charge by pot size, not plant size).
Thankfully, there are plenty of ways you can garden for free – whether that's upcycling your best garden furniture, learning how to make compost, collecting seeds, or propagating plants from cuttings.
Not sure how or where to get started? Don't worry, we've done the hard work for you. Here's our pick, then, of the best free garden ideas out there:
1. Style your weeds
Once upon a time, they were reviled; now, deliberately styled weeds have become one of the hottest Chelsea Flower Show garden trends, so it might be worth leaving some of your prettier weeds to grow this year.
Not sure how to do this? Take your lead from Cleve West's Centrepoint Garden, which used dandelions as cost-effective ornamentals.
Otherwise, get creative with ivy-leaved toadflax, wild carrot, yarrow, cow parsley, common fennel, and red valerian.
2. Use rubble and reclaimed waste material
Forget mulching your plants: try using rubble and reclaimed waste instead.
Another big RHS Chelsea Flower Show trend, reusing materials that would otherwise go to landfill won't just help you rack up your sustainability points; it will also inject some urban appeal into your garden.
A word of advice: stick to woody, Mediterranean, and drought-tolerant plants in your rubble rockeries, as they are incredibly well suited to its poor nutrient value and good drainage.
3. Embrace chaos gardening
If it's good enough for Martha Stewart, it's good enough for us. The chaos gardening trend is probably one of the simplest around: simply collect up any and all old seeds (flowers, vegetables, you name it!) that you have lying around, and scatter them throughout your flowerbeds.
Once the plants establish themselves, you'll be left with an effortlessly beautiful, and pleasingly chaotic, potager-style garden.
4. Grow your own lemon tree from seed
If you have a glut of fresh, ripe lemons in the house, you can grow your own lemon tree. And, sure, while it may take a few years to fruit (if ever), it will only take a few months for you to get a pretty ornamental tree worth fawning over.
5. Pick self-seeding flowers
Whether you're a hands-off gardener that doesn't have the time or inclination to propagate plants – or you simply don't have the budget to buy them – self-seeding plants are your friend.
Once you have your first batch of seeds, which you can likely scavenge off a friend or neighbour for free, you simply sew, and let them do their stuff. As they die back, they'll drop new seeds – self seeding – and you'll see brand new blooms the following year. All without spending a penny.
But which flowers are self seeding, I hear you ask? Try meadow cranesbill, poppies, verbena and forget-me-nots.
6. Landscape with beachcomber treasures
Save on garden landscaping costs and make your own garden rockery by using beachcomber and foraged finds. This landscaped garden uses recycled whelk shells to light up the ground, hiding the dark soil beneath an impressive Acer tree – making a feature of it in the process.
7. Make your own compost
Be organised, and you never have to shell out for bags on compost at the garden centre ever again. Instead, have a go at making your own – just read our guide to how to make compost and you'll see how easy it is to feed your garden for free.
You can start any time, collecting food scraps like peelings and egg shells, and when you come round to potting up your plants in spring, you'll have a plentiful supply.
8. Mow the lawn
Never underestimate the difference a freshly mowed lawn can have on the rest of your garden. Scott Chandler, former Kew Gardener says 'Simply mowing the lawn will turn a scruffy garden into a purposefully rustic outdoor area.' He advises, 'If you have grass, keep it short', for the best way to keep it neat and tidy.
9. Or don't mow the lawn
Many of us were left pleasantly surprised when we downed our lawnmowers for No Mow May, as it allowed for plenty of lush grass growth and gorgeous pollinator-friendly meadow flowers.
If you prefer to keep your lawn short, you can always leave a few patches to grow wild. Or, if you want to go truly bold, make like Monty Don and mow in pathways that will meander though your garden, creating a lovely bloom-riddled secret garden effect.
10. Save your seeds
Speaking of Monty Don, the Gardeners' World expert is a big fan of saving your seeds. Basically, when the flowers in your garden borders have turned to dry seedpods, cut them off, store them in paper bags, and label them so you know what you have to plant next year.
11. Make a DIY mini pond
Water features are one of this year's top modern gardening ideas, but you don't have to splash out (sorry) on a new fountain or waterfall: a DIY mini pond is the perfect focal point.
As per The Wildlife Trust, a washing-up bowl, a large plant pot, or a disused sink could all be repurposed as ponds – and all are a brilliant way to support local wildlife, too, especially during the oncoming heatwave.
12. Make time to tidy up
It won't add anything new to your garden, but giving the space a good straighten up could help you give your outdoor space a new lease of life. Many of us put off the nitty-gritty gardening chores, but de-weeding your patio or fixing that wonky fence panel will transform the space in an instant.
13. Deep clean the patio
Start with a clean slate, quite literally. If you have a patio or decking in your garden use a pressure washer to spray away any dirt and slime that might have built up over the winter months.
A thorough clean will ensure it's much more pleasing on the eye when it comes to sitting outdoors to enjoy the garden.
14. Use eggshells to start off your seeds
Not all eggshells need to go into the compost heap. If you can save any intact, you can use them to hold seedlings in an egg box. Eggshells contain calcium, which will enrich the soil, helping your seedlings to grow.
15. Divide your plants
If you're looking to up the number of flowers and plants in your garden, without any additional cost, now's the ideal time to divide or split summer-flowering plants. By dividing your plants, you'll be able to add more colour to your garden whilst also making your original plants healthier by making sure they don't overgrow.
Experts recommend, 'Primroses, daylilies, asters, geums, heucheras, hardy geraniums and Japanese anemones' – as all suitable for dividing. 'To separate your plants, dig up the clump whilst gently loosening the soil. Using a trowel or hands, carefully pull the plant apart. Making sure each section has plenty of roots still attached. Then simply replant these new sections in your garden and water well.'
16. Rearrange the furniture
Simply repositioning the furniture can alter the garden layout – instantly refreshing the space, making it feel like new by creating a different perspective. Non-fixed outdoor seating allows you to change things up at your leisure, and solar powered fairy light ideas are easy to move and re-drape as the mood takes you.
17. Or try repainting garden furniture
If you have some wood or metal paint left over from a recent home renovation project, then it's time to make good on all those exciting garden paint ideas, grab a brush, and give your garden furniture the hot new look it deserves.
Just be sure to check out our guide on how to paint garden furniture first, to make sure you have everything you need for a wind and rain-proof finish.
18. Move a mirror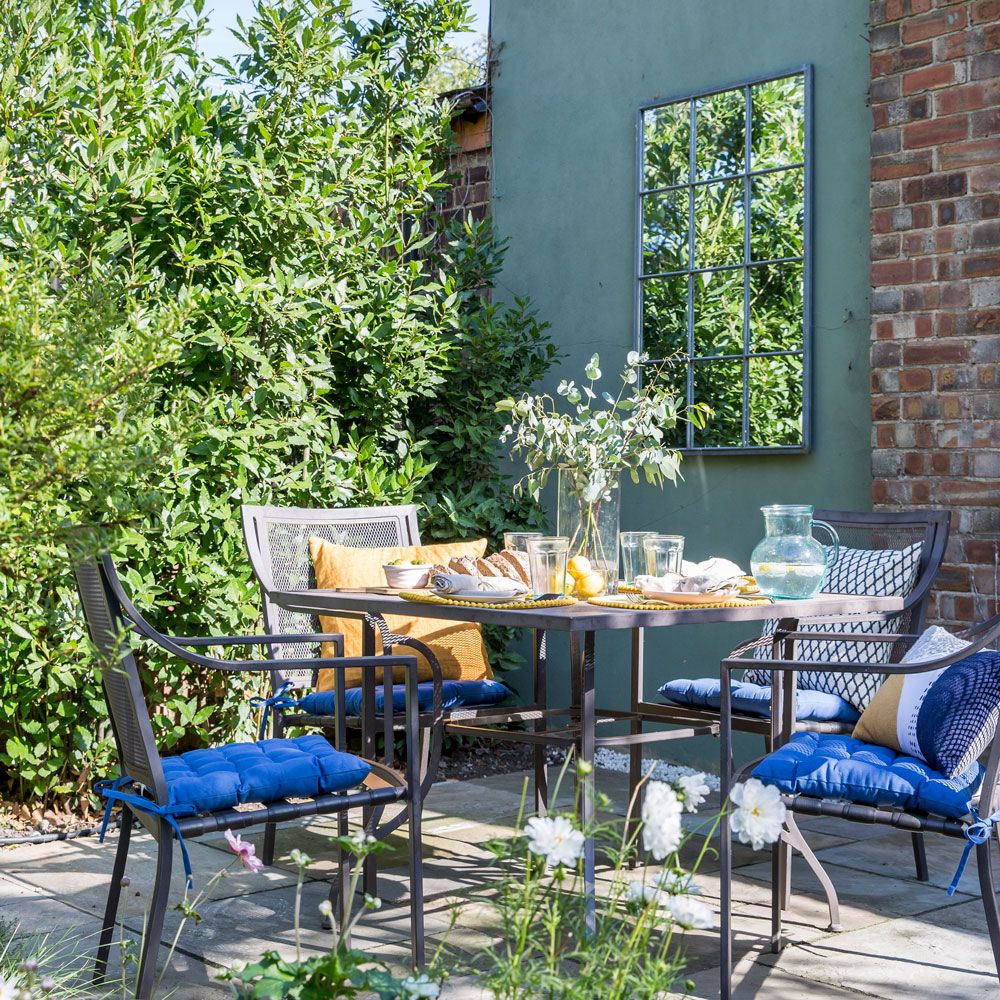 Doesn't every household have a mirror they can afford to move into the garden? You've amazed at the difference it can make, moving such a simple accessory.
Garden mirror ideas can help to totally transform the garden, making it feel more like an extension of the indoors but more importantly it can help to make it look bigger by reflecting light and scenery back into the space.
19. Raise up your planting
Change the landscape in grassless garden ideas by rethinking your plant pots. Move freestanding pots to create a more curated display, that will fill any empty gaps on the patio to add greenery and colour.
Elevate smaller pots on side tables and plant stands to gain a different perspective, adding depth to the overall feel of the planting arrangement. A cluster of potted plants surrounding a seating area is a great way to make the experience of sitting outdoors feel more immersive.
20. Paint your garden buildings
Winter can take its toll on garden buildings. Use your free time now to check and learn how to paint a shed or even a greenhouse. 'A fresh lick of paint and regular ventilation now the weather is improving will help your garden buildings and plants within them stay healthy,' advise the experts.
To do this for free, put shout outs for leftover paint on Facebook and other social media, and ask around. It won't necessarily match, of course, in which case pick a striped multicolour look, or try painting a mural.
Top tip: If your outdoor buildings provided extra storage in the winter, now's the time to do a bit of decluttering. Even better transform the extra space to a home office or home gym.
21. Create garden zones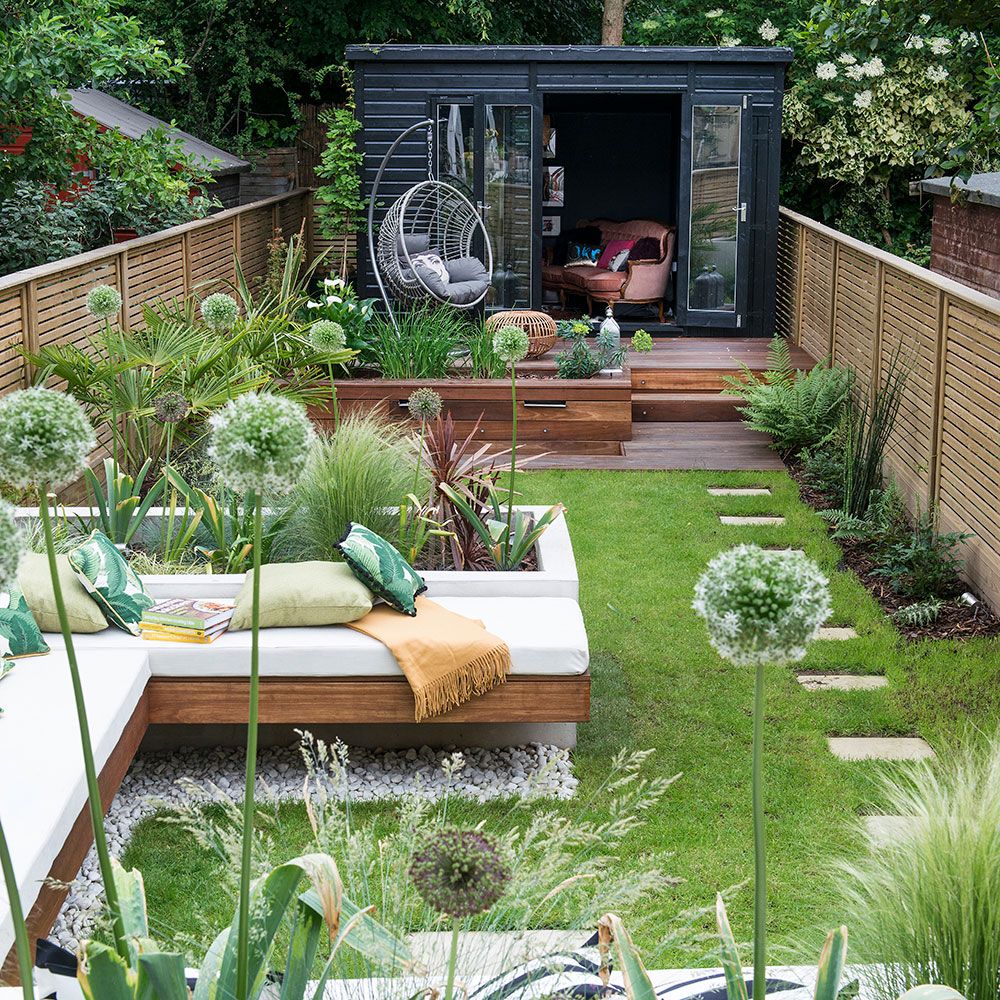 Creating different themed zones can help to make the space feel bigger. This can be easily done by moving garden furniture such as chairs or outdoor tables into one section to create a seating space and children's play items into another section to create a mini play area.
These simple measures can go a long way to ensure the whole family can take time for themselves, and get a much-needed break from the indoors.
22. Welcome colour to walls
Nothing invigorates a tired garden more than a splash of colour. Beyond your summer bedding choices you might want to add colour on the walls to create the perfect backdrop for your planting.
Check if you have leftover paint in the shed to add even a slither of striking colour on one wall or fence – a little can go along way to enliven the space.
Failing that you could check what's being thrown out at your local tip in the paint section, always ensure you gain permission first. Another idea for a free fix is to use chalks to add colour to the wall, even a mural perhaps?
23. Upcycle a potting bench
Turn something old into something new. Rather than throwing out a piece of old furniture see if you can repurpose it to fit for a job in the garden. An unwanted set of shelves could be perfect for creating a budget friendly potting table.
To keep it looking its best we advise adding a coat of weatherproof shielding, be it varnish or garden furniture paint. Check the shed to see what you already have to hand, in order to keep the task free.
24. Entice wildlife into the garden
From birds to bumble bees, there are lots of free and easy ways to make your outdoor space more inviting to wildlife.
Tying a bunch of hollow stems like bamboo together with string and placing them in an old terracotta plant pot or open wooden box will create a lovely new bee hotel for your garden – helping to preserve the dwindling bee population.
Or another way, and a good one to get little ones involved, is by stacking a pile of wood in a shady area as a habitat for small mammals, amphibians and insects.
25. Fashion a free trellis
We started to see the rise during last summer's DIY frenzy – homeowners were recycling old slatted bed bases to make ingenious vertical planters. Simply remove the base, cut to size and securely attach to the garden fence.
Vertical planting is a great way to add colour into your front garden ideas, where space may be at a premium.
26. Get weeding without chemicals
Help you garden kicks a weed habit with ease. Forget expensive, and more importantly, harsh toxic weedkillers - try this savvy bin liner hack to rid your garden of weeds.
Gardening gurus suggest simply covering the problem area of your garden with a domestic bin liner or sheet. Weigh whatever method you use down with rocks, to keep it firmly in place. Leave the area covered long enough to deprive the weeds of sunlight, and viola – no more weeds.
27. Turn old tyres into something more
Before you drive that old spare tyre to the nearest tip, consider if you could give it new life as a garden swing. All you need is a sturdy branch and some rope, tied around the swing at 12am, 4pm and 8pm positions for balance.
Alternatively, tyres make great containers for flowers, plants or vegetables.
28. Find a new use for coffee filters
Potting up plants? Before adding soil, pop your used coffee filters inside to line your pot. It will prevent any soil from escaping and will help hold the water for longer, yet it will still be able to drain away so your greenery won't be waterlogged.
29. Upcycle plastic bottles as a cool display
This display appeared at no less prestigious an event as the Chelsea Flower Show. So if it's good enough for the great and good of gardening, it's good enough for you!
To recreate it, take your plastic bottles, cut off the tops and pierce a few small holes at the bottom. Add gravel for extra drainage, before plant up in compost. The look is surprisingly effective.
30. Remember, anything can be a plant pot!
Your pretty plants don't always need fancy planters, as RHS Chelsea Flower Show has well and truly proven. Be imaginative when finding homes for you plants – that empty golden syrup tin or tea caddy might not be any good for your kitchen any more, but it will make a beautifully nostalgic home for your flowers and shrubs. For free!
31. Make a colander hanging basket
Talking of colanders, due to their amazing drainage, they make great hanging baskets or strawberry planters. How's that for a free garden idea? Do remember though, they may be heavier than a standard design, so make sure your existing bracket can take the weight.
32. Re-use broken pots
Create the quickest-ever rock garden simply by nestling broken terracotta pots into a gravelled border, and plant low-maintenance succulents inside.
Now, if you'll excuse me, I have a golden syrup tin to repurpose – but I do hope that all of these delightful free garden ideas have left you hankering to get outside yourself.
See you in the flower beds!
How can I make my garden look nice with no money?
There are lots of ways to make your garden look nice without spending any money, whether that's upcycling pots and garden furniture, planting self-seeding flowers, embracing ornamental weeds (yes, really), or trying your hand at rewilding or chaos gardening.
How can I get free garden plants?
You don't have to spend a fortune on plants. Try asking friends, family, neighbours and work colleagues if they have any spare plant cuttings, unused seeds, or even any extra plants they don't need. Alternatively, you could try propagating your own fruit trees and vegetable plants from seeds / stones you would typically discard while cooking – or you could even check out your local freecycling sites for anyone getting rid of any excess plants (Ideal Home's acting content editor, Kayleigh Dray, has amassed a stash of both seedlings and fully grown plants this way).
Get the Ideal Home Newsletter
Sign up to our newsletter for style and decor inspiration, house makeovers, project advice and more.
Tamara was Ideal Home's Digital Editor before joining the Woman & Home team in 2022. She has spent the last 15 years working with the style teams at Country Homes & Interiors and Ideal Home, both now at Future PLC. It's with these award wining interiors teams that she's honed her skills and passion for shopping, styling and writing. Tamara is always ahead of the curve when it comes to interiors trends – and is great at seeking out designer dupes on the high street.