'It's a beach hut with a difference' - space-saving touches gave the owners a new seafront hangout
Set on the Folkestone seafront, this fun beach hut transformation has packed plenty into a small space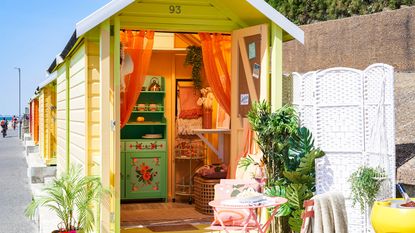 (Image credit: Alexander Edwards for Wayfair)
'When the owners of this beach hut first contacted me to ask me if I could help transform it for them, I knew it was going to be a fun project,' says stylist Laurie Davidson.
'The young family had found out they finally had a beach hut on the Folkestone seafront after nearly a four-year wait, and were keen to turn it into a really fun place for them and their friends to hang out in the summer. There had been a big renovation project and all the huts from Folkestone to Sandgate had been renovated, with the outsides of them painted in bright colours.'
The beach hut exterior
'I had a virtual consultation with the owners and they showed me pictures of the hut. The outside had just been painted in yellow and peach exterior paint, so that didn't need changing, but inside was plain white, with a tiny changing area and a rather uninspiring interior.'
'Although it was very small (just 197 x 177cm), the beach hut had a little porch area next to an empty patio, which the family were keen to use. There were a few main requirements from our initial meeting: the family wanted a prep area, a spot to keep tea and coffee, seating, and storage for various items, like the kids' beach toys, seat cushions and picnicware.'
The colourful interior
'I was keen to carry the lovely paint colours that were used on the outside of the hut inside, so I suggested colour matching it to the lovely peachy-coral shade. I also thought some stick-on vinyl flooring tiles would help give the beach hut a little more character and would still be easy to sweep any sand away.'
'I designed some mood boards for the family, so they could see how I envisioned the place would look, and recommended removing the small cubicle at the back to free up some space.'
'Teaming up with Wayfair to bring the beach hut to life was a great idea as I was able to get pretty much everything I needed for the makeover all on one site.'
Pretty painted dresser
'Furniture was the main issue as it was such a tiny footprint inside so needed to be suitable for small spaces. I knew the pieces would need to be multi-functional and any chairs and tables would need to fold so that when they brought them in at night they could be easily stored.'
'I found this gorgeous dresser with a floral print in mint and coral at Wayfair and it was the stand-out piece. Along with having lots of storage in the cupboards, I thought the shelves could be used for mugs and other decorative bits, and the counter could be the prep space – perfect!'
Space-saving storage
'When there's not a lot of floor area, you need to think creatively, so I utilised the walls instead, with a wall-hung, fold-down table, a towel rack that could be used for beach towels and blankets, a mirror with shelves, and hooks for hanging storage baskets. I also found a small bench seat that had pull-out baskets in, so again it was more storage.'
Cute cocktail trolley
'Once the furniture and flooring was sorted, it was time for the finishing touches, which are always the most fun in my opinion, as they can really pull the whole look together.'
'I hung coral-coloured curtains at the door, to filter the sun out and offer privacy, when needed, and added in a rug, faux plants and lots of decorative items. I also included a bar cart on wheels, so they can roll it outside when they want – it gives them an extra little table for glasses and nibbles.'
Colourful beach cart
'The items you need for a beach hut are very similar to that of camping, as there are no electrics inside, and Wayfair had lots of these, including a little stovetop kettle and melamine dinnerware.'
'These little trolleys are ideal for taking all your bits and pieces from the hut to the beach – it saves the family making multiple trips'
Seating space outside
'The patio area wasn't particularly attractive, so I chose a fold-up screen and a large outdoor rug that the owners could put up to help disguise it and zone a little area for them.'
'Knowing the family are enjoying the new-look beach hut is a nice feeling and I've been told it's had quite a bit of attention from passers-by,' says Laurie. 'It's certainly not your usual beach hut, with its mint and coral colour palette, but I think it suits the family… it's modern, fresh and lots of fun.'
Clever cork noticeboard
'With space so tight, it's important to think creatively and make use of every inch that you can.'
'I cut a piece of cork to fit the grooves in the inside of the door, so the family can use it as a noticeboard to pin postcards, photos and notes. It's a sweet addition.'
Handy hanging space
'With storage space at a premium, utilising wall space creatively is a must, so you can squeeze more in. I added this neat towel rack to the wall, so the family can hang blankets on it for chilly evenings.'
Cool drinks chiller
'The drinks cooler is a great addition and the family use it for both soft drinks for the children, as well as wine and beer for the grown ups.'
Portable BBQ
'Having a barbecue that can be rolled in and out of the beach hut when needed is ideal and works well for s'mores too. There's a gas heater too, that is brought out when the sun goes down and it gets cooler.'
How to make indoor/outdoor living work
Follow stylist Laurie's practical tips that are great for beach huts or summer houses.
Being that you'll be walking in and out regularly, opt for flooring that's easy to sweep. Vinyl is great, or follow Laurie and opt for wood-effect stick-on tiles that can be laid over an existing floor.'
'If you're going to be using furniture in and out, then either go for options on wheels for heavier pieces or add some castors to it yourself, so it's easy to roll in and out.'
'Choose rugs that are suitable for indoors and out. In larger spaces, you could get two of the same one and have one indoors and one out to help tie the two areas together.
Pick accessories and furniture that are easy to store inside and easy to carry out – lights with handles, trunks with handles and fold-up tables and chairs for example.
Get the look
Get the Ideal Home Newsletter
Sign up to our newsletter for style and decor inspiration, house makeovers, project advice and more.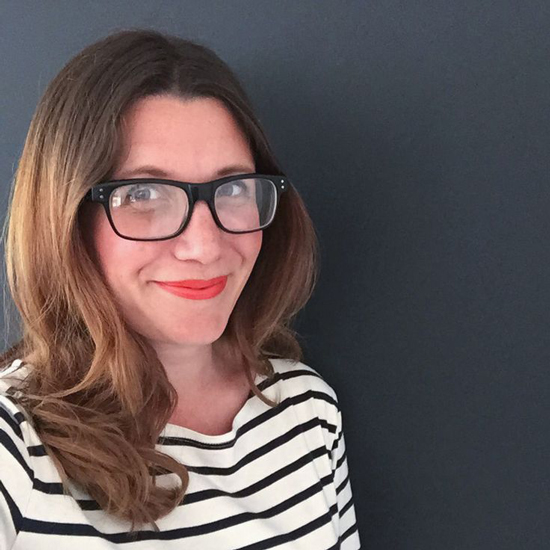 Heather Young has been Ideal Home's Editor since late 2020, and Editor-In-Chief since 2023. She is an interiors journalist and editor who's been working for some of the UK's leading interiors magazines for over 20 years, both in-house and as a freelancer.