Stihl RE 120 Plus Pressure Washer review
We tested the Stihl RE 120 Plus pressure washer to find out if it could handle the post-winter clean up like a pro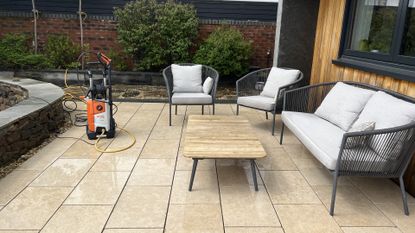 (Image credit: Future)
This absolute banger of a pressure washer boasts ALL the power you will ever need to keep outdoor areas crystal clean. Neatly designed with all tools and paraphernalia stored onboard, it is easy to wheel around and has an impressively long reach. It won't replace the carwash, but you'll be too busy finding new things to clean at home to care!
Reasons to buy
+

Very powerful

+

Long hose

+

Easy to manoeuvre

+

Stores away neatly

+

Free surface cleaner attachment
Reasons to avoid
-

Can't connect to Hoselock fittings without changing attachment

-

Not great at cleaning dark coloured cars
Why you can trust Ideal Home Our expert reviewers spend hours testing and comparing products and services so you can choose the best for you. Find out more about how we test.
The Stihl RE 120 Plus pressure washer is an absolute powerhouse, and easily one of the best pressure washers on the market, with the power to effortlessly blitz dirt and grime from all manner of surfaces around the home and garden. The on-board storage and telescopic handle make it a breeze to trundle behind you, and the two nozzle attachments, one variable fan-jet spray and one hardcore pencil spray, blast away filth in an incredibly satisfying manner.
You can expect really decent German build quality from any Stihl product and the RE 120 Plus pressure washer is no exception – it looks and feels robust, with no flimsy parts or wonky wheels. I was also sent the RA 90 surface cleaner, which was free on offer at the time of reviewing. It's a brilliant attachment I'd recommend getting even if you have to pony up the £47.09 RRP.
Features like the steel reinforced hose (which doesn't twist or kink in an annoying, water-stopping way) and sturdy aluminium handle, help ensure the Stihl RE 120 Plus scores highly in our best pressure washer line-up. I experienced a couple of set-up glitches but, on the whole, I was hugely impressed. Read on to find out why.
Stihl RE 120 Plus pressure washer product specs
Power type: 2100w electric motor
Max operating pressure: 125 bar
Best for: Around the home and garden
Hose length: 9m
Power cord length: 5 metres
Weight: 21.2kg
Who tested this pressure washer?
Linda is a freelance interiors journalist and has tested many products over the past 20+ years, including home tech, gym equipment, garden tools and even mattresses. Literally, paid to sleep! She lives in rural Devon with generous gardens that are lovely but often unruly. She put the Stihl RE 120 Plus to work cleaning up her patios, steps, pathways, exterior glazing and other stonework, which were covered in mildew, algae and sludge, after the longest winter in living memory, before tackling her car and her husband's truck (OK, he did his own truck).
Stihl RE 120 Plus pressure: Unboxing and delivery
Delivery was speedy, overnight in fact, but I didn't receive any delivery notifications so was quite surprised to find the Stihl RE 120 Plus, by chance, lurking in the garden shed! The box is fiendishly heavy (a little over 20kg) but can be managed by one person, just about, and there are solid side handles on the box to help carry it. The packaging was predominantly cardboard, which can be recycled, with barely any plastic and no polystyrene.
The initial set-up couldn't have been easier, I just had to push the hose connector into the spray gun and pop the spray bottle and nozzles into their holders on the machine. Attaching the spray lance is a simple push and twist motion that was smooth and easy. This is the third pressure washer I have tested, and the fourth I have used in my lifetime, and I can say it was by far the smoothest/easiest in terms of nozzle connecting and disconnecting. A small win but appreciated when you're switching between nozzles and attachments with wet, cold hands.
Unfortunately, I came unstuck when I wheeled the Stihl RE 120 Plus outside to connect the hose. Or rather the garden hose became unstuck/didn't stick in the first place. We use Hoselock fittings on all our hoses and it just wouldn't engage onto the connector at the base of the pressure washer. The instruction manual wasn't much help, and only talked about connecting a water filter, which wasn't necessary for our soft mains water supply. The connection looked like it should fit, but it didn't.
Luckily my husband is a hoarder, so we have plenty of Hoselock spares in the shed. He found a suitable Hoselock connector and used it to replace the one on the Stihl RE 120 Plus, which was a simple screw off/on affair. He then pushed the garden hose into position, turned the tap on full bore, and I was in business.
Stihl RE 120 Plus pressure washer: First impressions
Plugging the Stihl RE 120 Plus into the mains electric (exterior socket) was much simpler, thanks to the long cable, which slides easily off the cable tidy brackets tucked inside a door. This is also where the two nozzle attachments live. I liked that it's all shut neatly inside, rather than rattling around the exterior, and potentially falling off when carting the pressure washer over rugged ground.
While the instructions are a bit basic, they're easy enough to follow and I appreciated that there was no App to download or WiFi to connect. Once the hose is fully unravelled from the hose reel, you just turn the rotary switch at the front to the right, and press and hold the lever in the grip of the spray gun. The lever needs to stay pressed in to work.
You can immediately feel the power of the water surging out, and the force is pretty astounding. Make sure you're wearing sturdy boots. Protective glasses are also recommended but I wear regular glasses, which would help protect my eyes from flying grit, and didn't feel the need for double glazing.
My overall first impressions were of a very sturdily built machine, neatly put together with plenty of power and enough hose and electric cable to be able to cover a large area without having to stop to reposition the washer.
Performance
I began my post-winter cleanathon with working out how to clean the patio, which extends the full width of our house at the rear and around one side. It's made from limestone tiles and, because the garden is surrounded by fir trees, had become pretty grimy over winter. First, I tried the rotary nozzle, which produces the strongest, most focused jet and is the one you want for targeting serious dirt. Although I had a bit of fun writing in the dirt with it, I quickly realised it wasn't going to be the best choice for a large area.
Switching to the fan jet nozzle produced a wide, flat spray that seemed marginally less powerful but covered more ground. I then remembered the RA 90 surface cleaner attachment, which is specifically for larger areas and has two rotating nozzles under a round hood that stops spray back. I've tried this type of attachment in the past and been unimpressed as the power just hasn't delivered on the cleaning front.
Stihl has nailed it though and the RA 90 attachment does exactly what I hoped, allowing me to essentially sweep across the patio from right to left, leaving precious little dirt behind. (Note: I did have to change the nozzle connector, as the one on the attachment didn't fit the pressure washer lance but spares were included.)
The patio soon became swamped in very muddy water, making it hard to see which tiles had been cleaned and which hadn't. So, I switched to the fan jet nozzle to clear the decks, then popped the RA 90 back on to continue cleaning. I carried on in this way until all the tiles had been blitzed, which took about an hour. I then popped the rotary nozzle on to go back over a few spots of particularly stubborn dirt that the sweeping attachment had missed.
The only thing the Stihl RE 120 Plus couldn't shift on our patio was two patches of green algae stain – I tried both nozzles and the RA 90, no dice – but otherwise it genuinely looked as clean and fresh as the day it was installed. As it's natural stone, it could probably use a fresh coat of sealant now though!
I then tackled the slate slabs on top of our garden walls and on the steps up to the front garden. Again, I used the sweepy RA 90 attachment, followed by some nozzle action to clear the muddy water and lift stubborn dirt. While I was on a roll (a.k.a. getting slightly obsessed), I blitzed the top of the coffee table that had been left out too long in winter and had a fine layer of crud on top. Using the fan jet nozzle to reduce the risk of damage to the wood, the dirt lifted off brilliantly and now looks like something I'd be prepared to put a coffee cup on.
On the glass balustrading around one corner of the patio, which we installed as a wind shelter, I didn't dare to use the most powerful nozzle. Instead, I chose the fan jet nozzle, which has adjustable power (just twist the nozzle towards the plus or minus symbol) and dialled that back to a lower pressure setting to lessen the power and protect the glass from breaking. This had the desired effect and the backsplash from cleaning the patio was swiftly rinsed off.
At the front of the house, I used the Stihl RE 120 Plus to clean the stone brick style pathway leading to the front door. Again, I settled on a mix of sweepy attachment and the less powerful fan nozzle. The pressure was a little too harsh in places and lifted some of the grout from between the stones, but they cleaned up incredibly well and I was delighted by the results overall.
Next came the car wash. I couldn't see any advice regarding which nozzle to use on the car, but as it was utterly filthy, I went in with the fan jet nozzle on its most powerful setting. Once I had gone over the car thoroughly, I filled the detergent bottle with car shampoo and connected it onto the spray lance. The soap zooms out like it does at the car wash, covering the car in a blanket of snowy suds. I did use about a quarter of the 500ml bottle on one vehicle so might dilute it next time to make it go further.
Once I'd rinsed off all the soap and had a good blast at the alloys, I let the car dry so I could study the results. Cars always look clean when they're still wet! I have to say it wasn't as good as I'd hoped, and next time I will need to engage a sponge or chamois after soaping up as there were still streaks of dirt on the car, especially on the doors. I was rather hoping I could swerve the elbow-grease step and let the pressure washer take 100% of the strain but sadly it wasn't to be. To be fair, I've not met a pressure washer that can do the job without some hand-scrubbing, even the professional beasts they use at the car wash.
My husband had a similar experience with his truck but, as it's silver, the smears were not noticeable and he was very happy with the results.
Our final job for the Stihl RE 120 Plus was to clean the village sign that sits on the verge by our driveway entrance and is at least 20 years old. It's a traditional aluminium road sign that had been looking extremely dirty and unloved for as long as I can remember. A quick blast revived it brilliantly and, thankfully, didn't remove any of the black lettering. I did try a very small area of the black before proceeding, not wanting to bring the wrath of the Parish Council to our door, but it held perfectly and only the dirt came away. This is good practice, and one that is recommended by Stihl in the instruction manual – if in doubt, do a small patch test somewhere inconspicuous first!
Final verdict: Is the Stihl RE 120 Plus pressure washer worth the money?
Currently retailing at £420, this is not the cheapest pressure washer out there, a problem shared with the Karcher K4 pressure washer too. Despite this, I have no doubt it is great value for money. It comes with a three-year guarantee, and Stihl has an excellent reputation for its customer service. I read a few customer reviews online before this machine arrived at my door and the feedback was very positive. If there were issues, and I didn't find many complaints, they were quickly dealt with by customer services.
For me, the features that made me happiest were also the simplest. I loved that the hose never kinked or looped as I was working, I loved that the hose can be quickly rolled away on the sturdy reel, and I loved the storage compartment in the side which keeps everything in place and makes it easy to store. Oh, and I really, really loved the speed and effectiveness of the RA 90 surface cleaner attachment. It didn't clean my black car as well as I'd have liked, but I've not yet met a pressure washer that can, and my local car wash guys will no doubt be grateful if that remains true.
If you're looking for a more affordable option, the Worx 20V Hydroshot might be worth a look at especially if your outdoor space is lacking a tap and/or power point. Of course, it's nowhere near as heavy duty as the STIHL RE 120, but it'll still allow you to get smaller jobs done without calling in a professional.
About this review, and the reviewer
Linda Clayton tested the Stihl RE 120 Plus pressure washer at her family home in Devon over a Bank Holiday weekend, cleaning the patio, stonework, glass balustrades, paths and cars.
Get the Ideal Home Newsletter
Sign up to our newsletter for style and decor inspiration, house makeovers, project advice and more.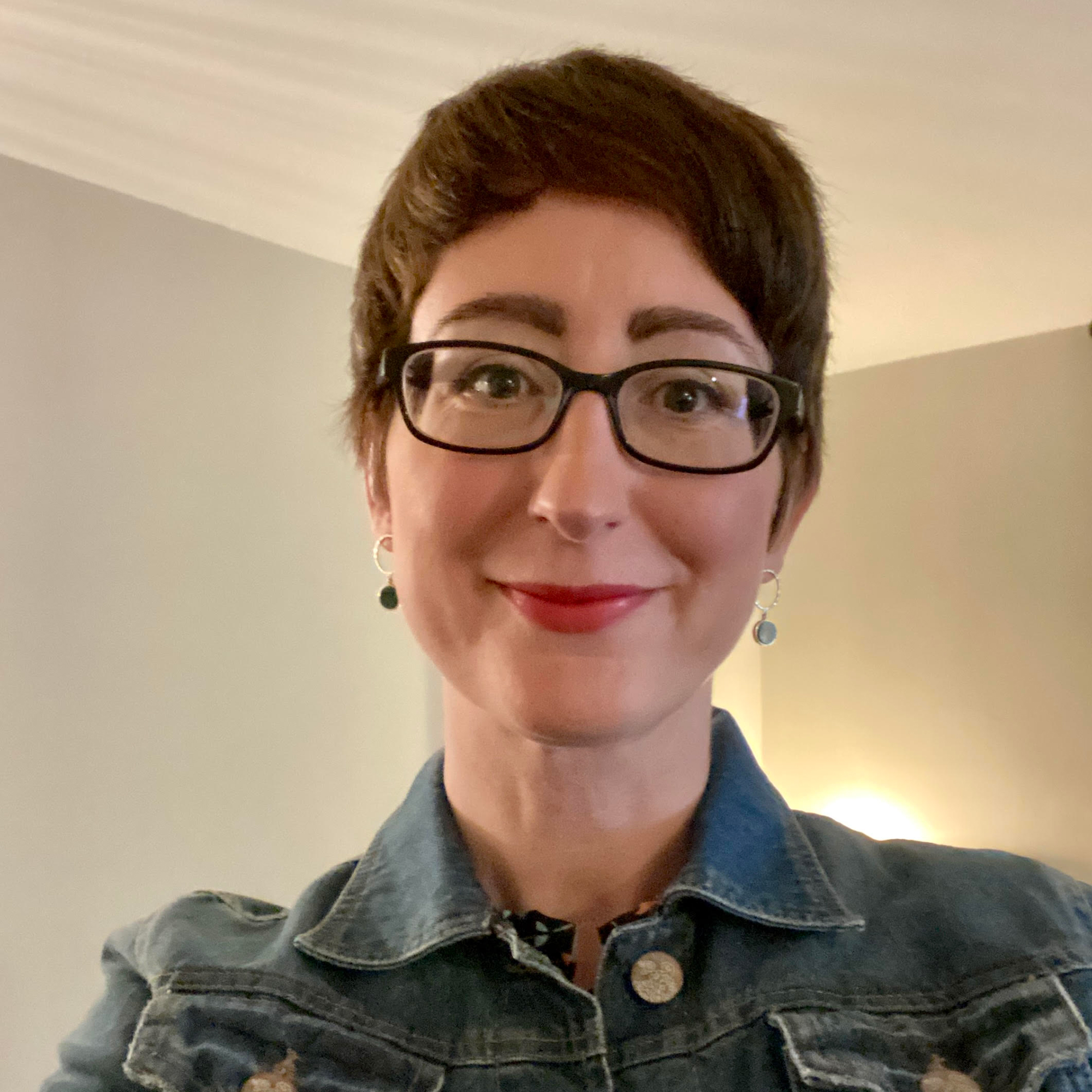 Linda Clayton is a professionally trained journalist, and has specialised in product design, interiors and fitness for more than two decades. Linda has written for a wide range of publications, from the Daily Telegraph and Guardian to Homes & Gardens and Livingetc. She has been freelancing for Ideal Home Magazine since 2008, covering design trends, home makeovers, product reviews and much more.