How to clean a concrete patio so it's free from dirt, moss and algae
The best way to clean your concrete patio, with and without a pressure washer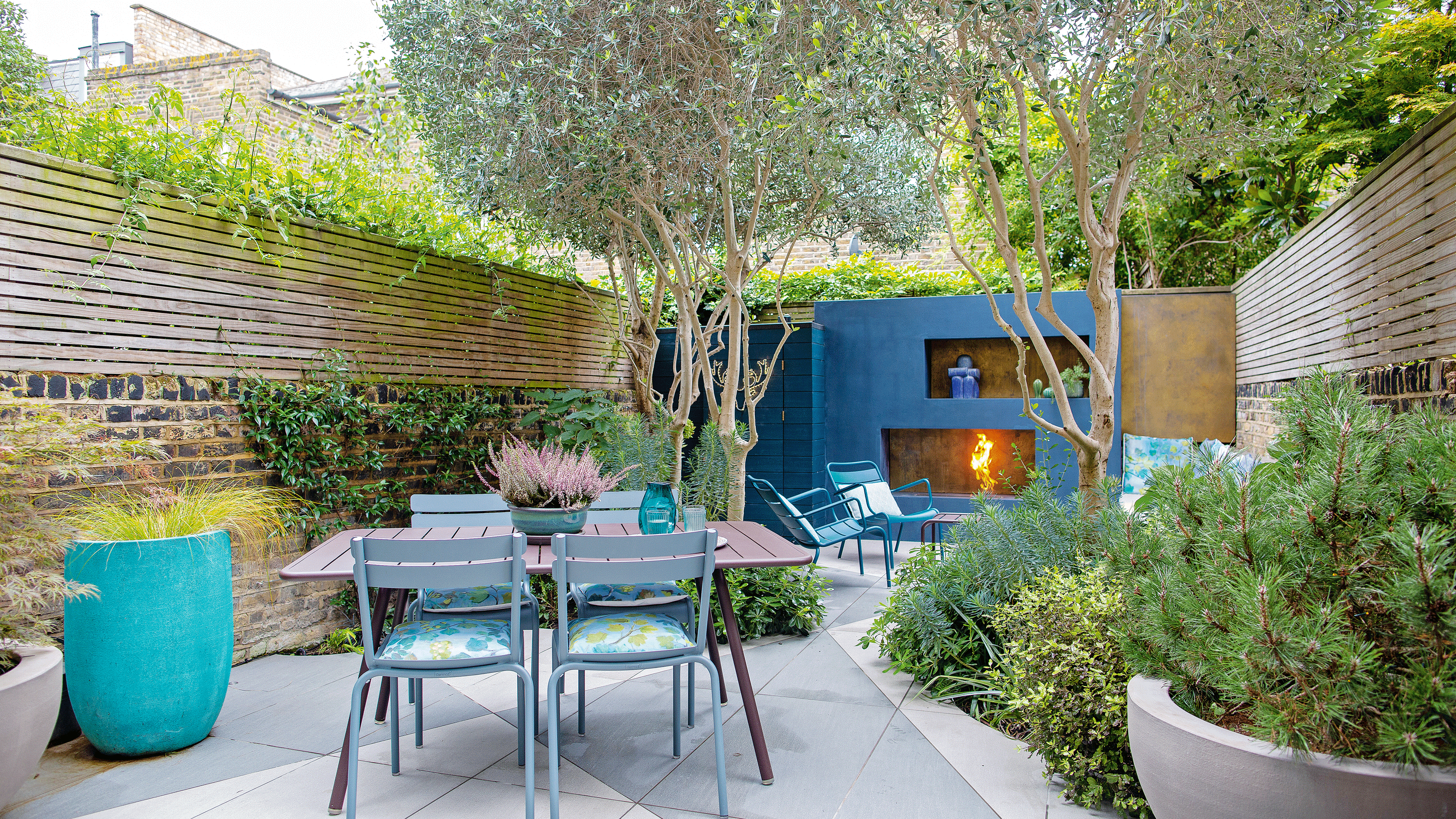 (Image credit: Future PLC / Claire Lloyd Davies)
Now that spring is here, you may have noticed your concrete patio showing the unmistakable signs of being neglected over winter. Fortunately, you can learn how to clean a concrete patio so that it comes up gleaming.
Great patio ideas deserve a well cared for surface, free of dirt and grime. It's difficult to keep concrete patios fresh and clean all the time, given the adverse effects the seasons can have on them, but learning how to clean a concrete patio will help keep dirt at bay and maintain a patio that you're proud of.
'Keeping on top of cleaning your patio pavers will ensure that they remain in the best possible condition at all times,' says Fiona Jenkins, Gardening Expert, MyJobQuote. 'Cleaning your patio prevents mould, mildew, and other harmful growths, removes any stains, plus increases safety.'
So, it's time to grab your comfiest shoes and get ready to follow our steps to learning how to clean a concrete patio. We've asked the experts and provided two guides in one, for those who have a pressure washer, and those who don't.
How to clean a concrete patio
Concrete – whether laid as a slab or individual tiles – has lots of benefits. Not only is it low cost, but it also offers plenty of design choice, thanks to the imprints and colours now available. If you are looking to replace yours there are a number of patio paving ideas to choose from.
A concrete patio is also extremely durable and fairly maintenance-free – often an occasional sweep and rinse-off will suffice. But if your slabs are looking a little green in places, or you've moved pots and planters only to discover plant rings, then a clean-up will revitalise. Here's everything you need to know about cleaning a concrete patio.
Fiona Jenkins has worked in the gardening industry for over twenty five years. Fiona specialises in garden maintenance and works closely with MyJobQuote to provide expert landscaping knowledge to homeowners, tradespeople and news outlets.
How to clean a concrete patio with a pressure washer
If you garden cleaning kit boasts a pressure washer, you can learn how to clean a concrete patio quickly and easily. Just three simple steps and your patio decor ideas will be looking fresh and new again.
1. Get prepped
Learning how to clean a concrete patio is best done on a mild, overcast day, as this will stop your cleaning solution from evaporating too quickly. Remove any outdoor furniture, flowerpots and planters and the barbecue from the concrete area you want to clean. Give the area a brush to remove loose or large debris.
If your concrete patio is currently playing host to unwanted agricultural pests, you can learn how to kill weeds from paving fairly easy. Pull them out of gaps for a quick-fix solution, making sure you remove the full root.
2. Set up your pressure washer
Connect your pressure washer to water and power. 'A pressure washer uses lots of water at high force, so you'll need a constant supply of water if you want to get the job done well,' says Fiona, MyJobQuote.
For an even deeper clean, add a specialist stone cleaner into the pressure washer as per the manufacturer's instructions. 'Many pressure washers allow you to add detergent into the mix so that it sprays out with the water,' Fiona explains. 'Alternatively, you can spray a detergent directly onto the patio and leave it for around ten minutes before starting the pressure wash.'
Turn on the pressure washer and, starting with a low pressure, engage the trigger, slowly at first, until you are comfortable with the action. Do a few test sprays to check if your pressure is too high or too low; ideally use a fan setting over a jet one to protect your concrete paving.
The Kärcher K5 Smart Control corded pressure washer, available for £319 at B&Q, is a great option if you're looking to invest in a pressure washer.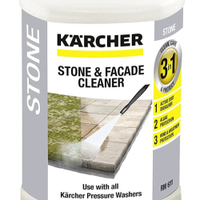 Kärcher Stone & Facade Cleaner 1L | £5.83 at Amazon
If you want your patio to look spotless, add some of the Kärcher stone cleaning solution into your pressure washer. It will dissolve any existing dirt, and form a protective layer on your patio against algae and moss.
3. Get into your groove
Working in a sweeping motion, clean the paving using long sweeps that overlap the previous, ensuring a consistent result once dry. To clean out any corners, aim the jet into the corner, following an L-shaped action.
Try to work from a shallow angle, say 30° or less, and work diagonally across paving to avoid parallel washing of the joints, which could damage pointing.
Allow some time for your patio to dry once you've finished. 'Once it's completely dry, you'll be able to see just how much difference the power wash has made.'
How to clean a concrete patio without a pressure washer
If you don't own a pressure washer and aren't planning on investing in one, you can still learn how to clean a concrete patio just fine. Follow the steps below for the same results.
1. Use a hose and brush to clean
A little more elbow grease and time is needed to clean concrete without a pressure washer. Start by clearing the area and removing any plant pots and furniture, then kit yourself out with a stiff-bristled brush, a bucket, and a hose.
2. Add a cleaning solution
'For a deep clean I like to use a cream cleaner like Cif and then scrub using a long handled garden broom,' says Laura Mountford, Cleaning Expert and Author, Live Laugh Laundry. 'This will help to remove stubborn stains.'
Depending on how dirty your concrete patio is, you could just use washing-up liquid mixed with warm water in your bucket. For more stubborn stains – or a concrete patio that hasn't been touched for years – the Ideal Home team has tested the best patio cleaners on the market to find the most effective formulas. See our top three picks below.
Just make sure to read the instructions to make sure the product is suitable for your paving type, and to spot test for extra peace of mind. 'Before you go ahead and start cleaning, be sure to test the mixture on a small inconspicuous area to ensure it doesn't cause any damage to the patio,' gardening expert Fiona says.
Best patio cleaner overall
1. Algon Organic Path, Patio & Deck Cleaner
+ Non-toxic, safe around pets, children, and wildlife
+ No scrubbing or rinsing
+ Can be used on virtually all outdoor surfaces
- Smells strongly of vinegar
Our rating: 4.5 out of 5 stars
Best for pressure washers
2. Jeyes 4-in-1 Patio & Decking Cleaner
+ Fast and effective results
+ Pressure washer compatible
+ No scrubbing needed
- Needs rinsing
- Toxic; caution needed around pets, children, and wildlife
Our rating: 4.5 out of 5 stars
Best for fast results
3. Smart Seal Xtreme Patio Cleaner
+ Super fast and effective results
+ No scrubbing needed
- Expensive
- Needs rinsing
- Low coverage
- Toxic; caution needed around pets, children, and wildlife
Our rating: 4.5 out of 5 stars
3. Scrub, brush and rinse
Once your cleaning solution has been poured over the slabs, grab a pair of protective gloves and start scrubbing it in. Rinse away any soapy residue with water, then get a hard-bristled brush to clear the leftover water and cleaning solution.
'As you start to brush, you'll notice that the bristles loosen the dirt with ease. Keep brushing until all of the dirt has been loosened,' Fiona says. 'You may have to put in some extra effort on stubborn areas. You should aim to brush your patio regularly to keep dirt away and to help keep the weeds away.'
Once you're done brushing, rinse the entire area until no dirt remains. You'll have to wait until it's completely dried before you can see the final results, but your patio should come up spotless.
FAQS
What is the best thing to clean concrete with?
For learning how to clean a concrete patio quickly but effectively, a pressure washer is the best thing you can use. The power of the machine will wash away any dirt and grime, in only half the time it would take if you were scrubbing at the pavers by hand.
'A pressure washer is often considered the best tool to clean concrete. It can remove dirt, grime, and stains effectively without using harsh chemicals,' says Zak Fleming, Owner, Express Handyman. 'Pressure washers are available for rent or purchase, and they make cleaning concrete surfaces much easier and quicker.'
That being said, you can still clean concrete without a pressure washer. We recommend investing in a specialist cleaning product, like the Zep Commercial Concrete Cleaner, available at B&Q for £13.20, to remove any dirt, moss and grime. It will likely do the job quicker than using a milder detergent, like washing up liquid.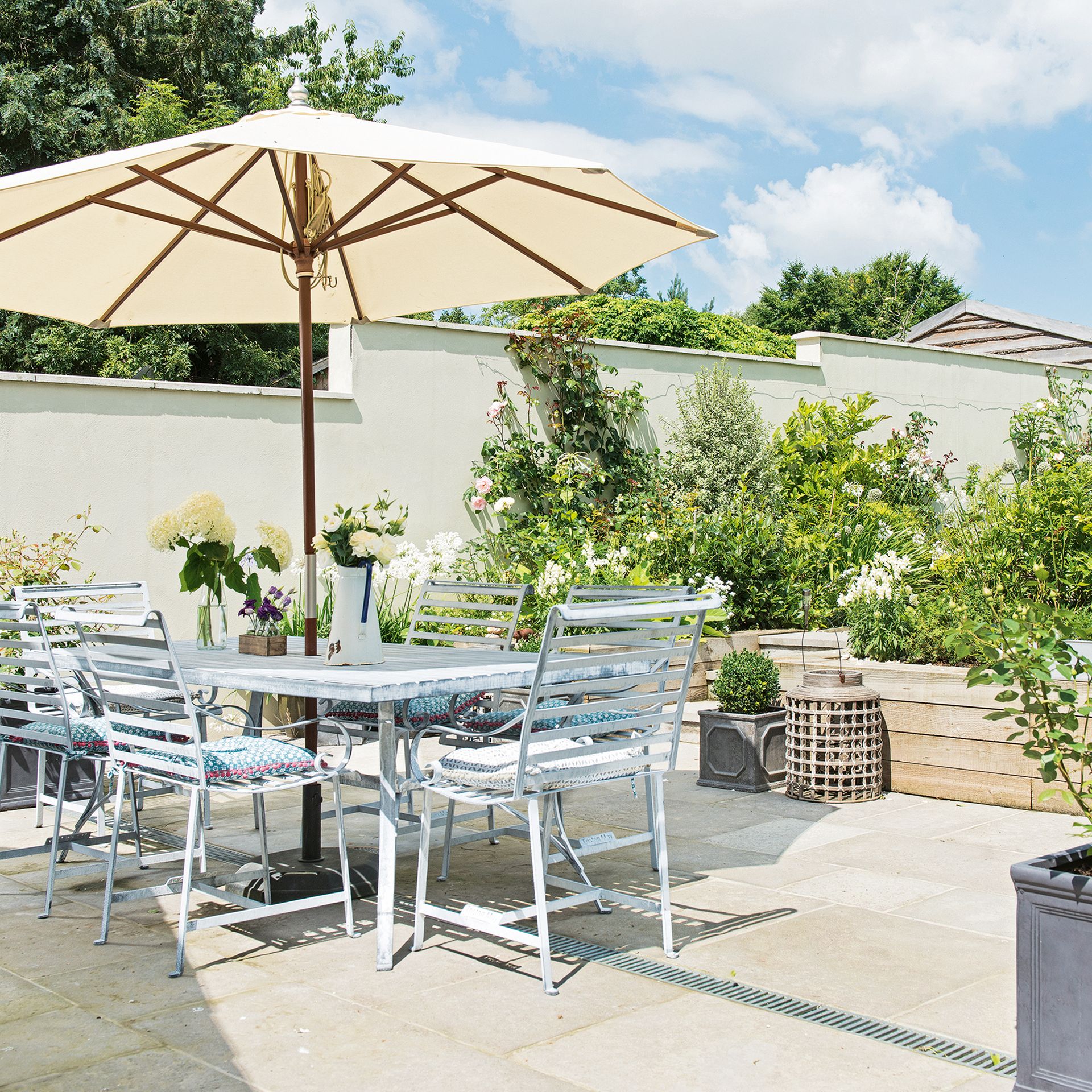 What is the best homemade patio cleaner?
The other alternative to investing in a specially formulated concrete cleaner is to make your own, which you can probably do with items you already have in the house. Cleaning with white vinegar is a fail-safe way to decompose any grime, so it's definitely worth a try. Just avoid putting any homemade cleaning solutions inside your pressure washer.
'A homemade cleaning solution for your patio can be made by mixing equal parts water and white vinegar,' says Zak. 'This natural cleaner is effective in removing dirt, mildew, and algae. For stubborn stains, you can add a few drops of liquid dish soap to the mixture.'
Zak recommends following the clean your patio with the best homemade cleaner:
Sweep the patio to remove loose dirt and debris.
Mix equal parts water and white vinegar in a bucket or spray bottle. Add a few drops of liquid dish soap for tougher stains.
Apply the cleaning solution to the patio surface, either by spraying or using a brush. Allow the solution to sit for 10-15 minutes to break down dirt and stains.
Scrub the surface with a stiff-bristled brush or broom, focusing on stained areas.
Rinse the patio thoroughly with a garden hose or pressure washer.
'Just remember to test the cleaning solution on a small, inconspicuous area first to ensure it won't damage your patio's finish,' Zak says. 'Additionally, avoid using vinegar on natural stone surfaces, as it can cause damage.'
What's the easiest way to clean concrete?
The easiest way to clean concrete depends on how dirty your patio has become. For speed and ease, a pressure washer is your best friend, but they are expensive and bulky to store. They can also cause damage to pavers and joints if used to aggressively.
'For a simpler method, you can use a garden hose with a spray nozzle attachment, along with a long-handled brush,' suggests Zak. 'Wet the concrete surface, apply a mild detergent, and scrub the area with the brush. Rinse the surface thoroughly with the hose to remove dirt and soap residue. This method is suitable for light to moderate cleaning tasks.'
Some rate household bleach for grey concrete (it can cause any man-made coloured concrete paving to fade over time). It's best to avoid if your paving runs off into a bed or lawn area though. Use a one-part bleach to five-parts water mix, leave for 15 minutes before rinsing with clean water. If you have pets, rinse thoroughly and allow to dry before letting them out.
Get the Ideal Home Newsletter
Sign up to our newsletter for style and decor inspiration, house makeovers, project advice and more.
Jennifer Morgan is an award-winning editor, writer and stylist, with over 25 years' experience writing, styling and editing home interest magazines. Jennifer was the deputy editor of Ideal Home from 2008-2010, before launching Ideal Home's sister title, Style at Home in 2010. Jennifer went on to launch several craft magazines and websites, before going freelance in 2016, with a client list that includes John Lewis, Dunlem and Nordic House. Today, she writes for Ideal Home, Real Homes, Waitrose, Woman & Home, Sainsbury's Magazine and Homes & Gardens. But it was during lockdown that Jennifer realised her dream of publishing her own magazine – Simply Scandi.