Lakeland Dual Basket Air Fryer with Easy View review
A dual basket air fryer that performs well, and won't break the bank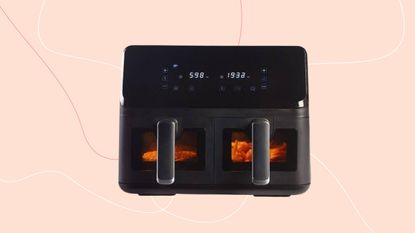 (Image credit: Lakeland)
The Lakeland Dual Basket air fryer is a steal at under £130. Yet it has the flexibility to cook two different foods simultaneously at different temperatures. It's a good air fryer that cooks well and while I don't think it's perfect, I still think it offers cracking value for money.
Reasons to buy
+

Can cook at two different temperatures simultaneously

+

Reasonably priced

+

Viewing windows

+

Large capacity
Reasons to avoid
-

Short 68cm power cord

-

Not dishwasher safe

-

Slightly slower to cook than some other models

-

Timers can become out of sync if you don't hit pause when shaking food
Why you can trust Ideal Home Our expert reviewers spend hours testing and comparing products and services so you can choose the best for you. Find out more about how we test.
Whether you're new to air fryers or you've decided to upgrade to a larger, dual basket model, it can be tricky to know which one to go for. Not only that, but it can be hard to justify spending several hundred pounds on one of the best air fryers.
I think the amount of money you can spend on an air fryer is becoming quite astonishing, with some of the latest and greatest models reaching close to £300. But on the flip side, I also believe it's not always advisable to settle for one of the super cheap and very obscure brands.
In terms of RRP, this Lakeland model is one of the cheapest dual basket air fryers I've seen from a reputable and trusted name. Not only does it have a generous 8 litre capacity, but there are even viewing windows so you can check nothing is burning. What's more, it comes with a 3 year guarantee - which is more than you'll get from a random inexpensive brand you've never heard of. I couldn't wait to get it out of the box and see how it fared in my kitchen.
Lakeland Dual Basket Air Fryer with Easy View specs
Capacity: 2 x 4 litres
Presets: steak, chicken, seafood, fish, pizza, fries, bake, vegetables
Power: 2700W
Dishwasher safe: no
Size: 32.5 x 40 x 42cm (h x w x d)
Who tested the Lakeland Dual Basket Air Fryer with Easy View?
After completing a Home Economics degree, Helen went on to work for the Good Housekeeping Institute and has been reviewing home appliances ever since. She lives in a small village in Buckinghamshire in the UK, where she reviews all sorts of home and garden appliances using her wealth of experience.
Helen tried this air fryer for a week in her own home, cooking familiar foods as well as trying out some new recipes from the included instruction booklet. She was allowed to keep the air fryer after the review.
Unboxing, setting up and first impressions
Inside the box there were a few plastic bags but thankfully no polystyrene. Like most air fryers, it comes out of the box ready to go. There are two crisper trays to pop into the base of the drawers, then it's a case of getting familiar with the control panel.
I'll admit that it isn't the most intuitive control panel I've come across. I did have to consult the manual initially to figure out what some of the symbols meant. And while I was playing around with the settings, I noticed that several symbols tend to flash at once - and I found this really distracting.
On paper it's not difficult to adjust the settings, but at the same time, I've used plenty of air fryers that are more straightforward. Nevertheless, the more I used it, the more I got used to it. It has a handy preheat button which allows you to quickly select a preheat if needed. Likewise a simple sync button means it'll pause one side to ensure both sides finish cooking at the same time.
And if you're unsure about cook times, there are eight presets for common foods. Although I personally always struggle when an air fryer offers presets but then gives no additional guidance in the instruction manual.
For example, a preset for seafood that's illustrated with a lobster - is this the cooking time and temperature for a whole lobster or maybe a single crayfish or prawn, who knows? So I'd have appreciated a bit more guidance around this in the manual.
My first impression of the air fryer itself is that it feels sturdy and looks very neat and streamlined on my worktop. What's more, the windows in each of the drawers, together with the little light inside that illuminates the food so you can keep an eye on it, is a great feature for an air fryer at this price.
I like that the touch control panel goes completely black when it's off, with just a small blue power symbol illuminated. It makes it look neat and uncluttered.
What is it like to use?
There are only three recipes included in the manual but they all appealed to me. The first one I tried was the crispy spiced chickpeas. I coated tinned chickpeas in spices and a couple of teaspoons of oil then added to the air fryer basket and cooked at 190 C for 20 minutes.
I gave them a shake every five minutes and it was lovely to be able to keep an eye on them through the little viewing window. They crisped up beautifully and made a great snack. This is the first time I've tried making crispy chickpeas in an air fryer. I attempted them several years ago in my oven, but they didn't crisp up properly and that put me off. I will definitely be making these in an air fryer again though.
Next up, I cooked sweet potato wedges in one side and frozen breaded fish in the other side. I set both to 200C and put the timer for the wedges on for 25 minutes with the fish set to 15 minutes with a sync finish. The air fryer doesn't beep or prompt you to add the food to the second side, it just starts cooking at the right time for a sync finish.
I had been expecting some kind of prompt, so when it didn't come I had a mad scramble to grab the fish from the freezer and get it in. Next time, I'll make sure I add the food to both sides before pressing start.
I ended up adding an extra five minutes to both the fish and the wedges. But that's because my wedges were super chunky and also I hadn't bothered to preheat the air fryer. After the extra time though, everything was nicely cooked and the fish had a great crunchy crumb.
One annoying thing I discovered while cooking this meal was that the timers can become out of sync when you open one of the drawers during cooking. I was opening the wedges more often than the fish and when you open a drawer it only pauses the timer for that side, so they can quickly get quite out of sync, especially if you leave one open for more than a few seconds.
The way to combat this is to press the power button before opening a drawer - this pauses both timers. But you have to remember to press it again to resume cooking after you've given your chips a shake.
In addition to making the above sweet potato wedges, I also made a batch of homemade normal chips which cooked to perfection using the chips preset cooking mode. I gave them a couple of shakes during the 25 minute cook time and that was enough to ensure they all browned evenly.
The second recipe that I tried from the instruction manual was courgette fritters. They're a combination of grated courgette, egg, breadcrumbs, garlic and parmesan. I made them up and cooked for the suggested 7 minutes at 200C, using both drawers in sync.
I think mine might have been a bit big, because I ended up adding a further 7 minutes to brown the tops and then turning them over and cooking for 7 more minutes. But when they were done, they were delicious. They crisped up beautifully, held their shape, and had a tasty cheesy, garlic flavour.
Bacon in an air fryer, is the only way I cook it these days. I managed to fit just three slices into one of the drawers. It took 8 minutes to cook at 190C which is similar to my usual air fryer. The bacon fat crisped up well and all the mess was nicely contained in the basket - which is one of the reasons I like to cook bacon in an air fryer!
Finally, I was able to fit three chunky breaded spicy bean burgers into one drawer, which surprised me. They cooked and crisped up in 18 minutes, which was a tad slower than I expected, but still 5 minutes quicker than in an ordinary oven and the crumb was far crunchier than it would have been in an oven.
Cleaning
Unlike some other air fryers, when it comes to cleaning this air fryer, the baskets can't go in your dishwasher. But, they have non-stick coatings and I didn't have any problems with food sticking. So they were easy enough to wash up by hand. That said, when I was scrubbing off congealed bacon fat, I did long to be able to put it in the dishwasher.
One thing that did annoy me was that unless you switch it off at the plug - when the drawers are removed and are drying on the dish rack - the display says 'open' in big blue illuminated words above each of the missing drawers until they are put back in place. Although I guess this prompted me to dry them up and put them back in it quicker than I otherwise might have!
The other thing to note is that the shiny touch screen marks very easily, even if you haven't got greasy fingers. So I did find I had to keep wiping it over with a microfibre cloth to make sure it stayed looking nice and shiny.
How does it compare to other air fryers?
The Ninja AF400UK Foodi Dual Zone Air Fryer is a dual zone model worth considering. It's available in two sizes and it is pricier than the Lakeland air fryer. It doesn't have viewing windows in the baskets, but instead, there are multiple cooking modes including roast, bake, dehydrate, and max crisp. And you can cook using a different mode in each side simultaneously, making it a super flexible option.
Or, if you like the idea of being able to watch your food while it cooks, but you've decided against a dual zone model, I'd recommend the Instant Vortex Plus. This is an excellent air fryer that offers a range of cooking modes including roast, bake, and grill, in addition to air frying. You can bag it for a similar price, but the downside is that the 5.7 litre capacity does mean it's not as roomy as the Lakeland air fryer.
Should you buy the Lakeland Dual Basket Air Fryer with Easy View?
Yes. This air fryer offers plenty of bang for your buck. It's a great price, especially given that it includes features like the viewing windows in the doors. Admittedly, it took slightly longer to cook some foods than my usual air fryer, but otherwise I've got no complaints about cooking in it.
My main niggle is that the control panel is less intuitive than others I've used. But that being said, after it had been in my kitchen for a week, I started to get used to it and it's a minor negative that's outweighed by the value for money this air fryer offers.
It's worth remembering that it lacks any cooking modes other than air fry and the baskets can't go in your dishwasher. But if that doesn't bother you, it's a great dual basket air fryer.
Get the Ideal Home Newsletter
Sign up to our newsletter for style and decor inspiration, house makeovers, project advice and more.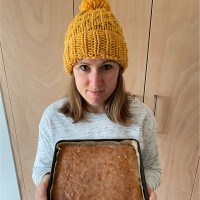 After completing a Home Economics degree, Helen went on to work for the Good Housekeeping Institute and has been reviewing home appliances ever since. She lives in a small village in Buckinghamshire in the UK.