Pro Breeze 1500ml Mini Dehumidifier review – tried and tested
Small, affordable, and with low running costs, our Pro Breeze 1500ml Mini Dehumidifier review discovers this low cost dehumidifier is perfect for small spaces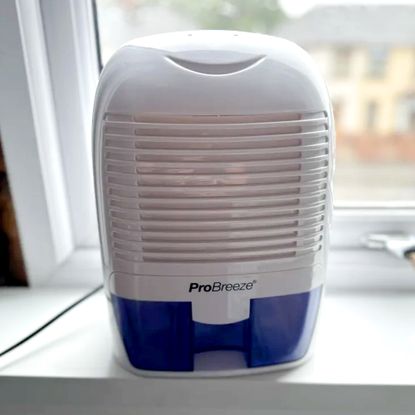 (Image credit: Future/ Rachael Phillips)
Affordable, compact, easy-to-move, and very simple to use, the Pro Breeze 1500ml Mini dehumidifier is basic, but perfect for small spaces. Plus, it costs from just 1p per hour to run.
Reasons to buy
+

Affordable

+

Small and lightweight

+

Easy to move

+

Quiet

+

Low running costs
Reasons to avoid
-

Low extraction rate

-

Basic functionality

-

Not suitable for larger areas or significant damp
Why you can trust Ideal Home Our expert reviewers spend hours testing and comparing products and services so you can choose the best for you. Find out more about how we test.
Our Pro Breeze 1500ml Mini dehumidifier review puts this compact Peltier dehumidifier through its paces to see how its small stature can handle moisture.
Dehumidifiers are fast becoming a must-have home appliance. As well as removing moisture from the air, which can help if your home suffers from dampness and mould, the best dehumidifiers can also help to reduce indoor laundry drying times and improve indoor air quality. However, the Pro Breeze 1500ml Mini dehumidifier can only extract 500ml of moisture from the air per day, so would it be able to make a difference to my home?
Its Peltier condenser also means its less powerful than most compressor dehumidifiers, but that does mean low running costs of as little as 1p per hour, plus it should mean quieter operation. So maybe its lower extraction rate would be a sacrifice worth making.
To test out its performance, I tried out the Pro Breeze 1500ml Mini dehumidifier in several rooms in my home; the kitchen to see how quickly it could extract steam and cooking fumes, my living room and bedroom to assess noise levels when I was trying to relax, watch TV, or sleep, and in my laundry drying area to see if it helped dry wet washing indoors. I also left it running to see how quickly it filled up, giving me a good idea of how often the water tank would need to be emptied. Read on to find out how it performed.
ProBreeze 1500ml Mini Dehumidifier review
Specifications
Type: Peltier
Extraction rate: 500ml/day
Water tank capacity: 1500ml
Max room size recommended: small rooms up to 2200 cubic feet
Noise level: 40dB
Power: 40W
Dimensions: H30 x W22 x D16cm
Weight: 1.85kg
Portable?: Yes
Continuous drain option: No
Laundry mode: No
Operating temperature: 15-35°C
How I tested
I'm Rachael, a freelance reviewer who helps the Ideal Home team put all manner of products through their paces to find the top recommendations for our readers, whether that's the best patio cleaner for a spotless backyard, or the best mattress for a good night's sleep. I tested the ProBreeze 1500ml Mini dehumidifier in my Victorian terrace in Newport, South Wales, that I share with my partner Chris and our two terriers, a Westie called Maggie and a Sealyham called Murray.
Unboxing
My first impression of the ProBreeze 1500ml mini dehumidifier was how small it is compared to most other dehumidifiers I've tested.
It arrived in a cardboard box which is recyclable. There wasn't too much excess packaging, and everything other than the plastic bag that covered the dehumidifier could be recycled. Not only did that make me feel better because it was more environmentally friendly, but it also saved a trip to the tip as everything fitted into the household recycling bag.
The contents of the box are minimal, there's just the dehumidifier and an instruction manual.
Assembly and set-up
One of the joys of the ProBreeze 1500ml mini dehumidifier is that there is no assembly required.
There are a few pieces of plastic tape that need removing from the sides of the dehumidifier which are placed there to keep anything from shifting during transit. But once unboxed, it's ready to use.
The design is fairly basic, so there's no app to download or settings to get used to. It's just a on/off switch that's located around the back. You also don't need to buy any additional accessories, as everything you need to use this unit is already attached.
Design
The main design feature of the ProBreeze 1500ml Mini Dehumidifier is its size. This dehumidifier measures just H30 x W22 x D16cm which makes it one of the smallest dehumidifiers on the market, and definitely the smallest I've tested.
That means it's relatively unobtrusive in the home. It's small enough to sit on a shelf, a sideboard, or the bedside table, or you can place it on the floor and tuck it away behind some furniture. The air intake is situated at the front of the machine, and air exits from the side, so just make sure that if you do pop it on a shelf that there's enough room around it for the air to circulate.
Visually it's not the most stylish dehumidifier we've tested, although its curved design again makes it feel smaller in size. It's perhaps just a shame ProBreeze has opted to make the water tank purple as this attracts the eye when otherwise it might blend into the home unseen. Although the 'smiley face' on the top of the dehumidifier is a fun touch.
Ease of use
The ProBreeze 1500ml Mini Dehumidifier is a very basic design, but if you'd rather not faff around with multiple functions and Wi-Fi connectivity then that might be part of its appeal.
This unit just has one on/off switch, which is situated at the back of the unit. The top of the unit has two LED lights, one is the on light, which will glow green when it's in operation. The other is a 'full tank' light that will go red when you need to empty the water tank.
As such operation couldn't be easier, however, I did miss having a little more functionality during testing.
Performance
Because of its super basic design and low 500ml per day moisture extraction rate, I was initially sceptical about how well this mini dehumidifier would work. After all, it's very small in stature compared to most dehumidifiers on the market and lacks a lot of functionality in comparison to most. But to say I was pleasantly surprised is an understatement.
I tested the ProBreeze 1500ml Mini Dehumidifier in a couple of different rooms throughout my home. In the kitchen, it did a great job of stopping condensation on the windows when I was cooking. It didn't really get rid of any odours associated with cooking like other dehumidifiers have, but this design doesn't have an air filter, so that's understandable.
I also used the dehumidifier in my bedroom which is prone to developing condensation on the windows in the morning. I left the ProBreeze 1500ml Mini Dehumidifier running all night and woke up to perfectly dry windows, plus the room temperature was comfortable. Unlike other dehumidifiers I've tested, this unit doesn't kick out hot air, regardless of how long it's on.
The only area it didn't perform that well was in drying clothes but then, unlike other dehumidifiers that have specific laundry modes, the 1500ml Mini doesn't claim to be able to help in this regard. I tried it anyway but didn't find that it did much. The clothes were still wet after 24 hours.
In practice, I found I missed some more advanced functionality, like humidity sensors to measure the humidity in the room so you can adjust the settings accordingly. With this dehumidifer you have to just place it in a room you think could do with moisture removal and let it do its thing.
Energy use
Of course, with the cost of living and climate crisis, it's important to take into account the energy usage of any home appliance, and you'll likely be wondering how much a dehumidifier costs to run.
Running costs vary depending on the size, make and model of dehumidifier you opt for, and due to its compact size, relatively low extraction rate, and Peltier condenser, the ProBreeze 1500ml Mini dehumidifier uses a lot less energy than most.
ProBreeze states the unit's energy consumption is just 40W. At current energy prices of 30p per kilowatt hour of electricity, that means the ProBreeze 1500ml Mini dehumidifier costs just 1p per hour to run.
For comparison, the MeacoDry Arete One 12L dehumidifier (which is a compressor dehumidifier) uses 151W of electricity which equates to 5p per hour, and the EcoAir DD1 Simple MK3 dehumidifer (a desiccant dehumidifier) uses 300W - 580W, costing between and 9p and 17p per hour to run.
Noise levels
The ProBreeze 1500ml Mini dehumidifier is a Peltier dehumidifier. Unlike the more common compressor dehumidifers which draw in warm moist air and then extract the moisture from the air via refrigerant gas and condensing coils, a Peltier dehumidifier uses thermo-electric technology to remove moisture from the air.
Because it doesn't have a pump, that means it's really quiet. I actually couldn't hear it going at all when I had it on, I even had to pause the TV and go over to check that it was working because it was that quiet. This means that it's ideal to leave on overnight in a bedroom because it won't disturb you at all.
Interestingly, ProBreeze measures this units noise levels as 40dB – fairly high compared to many dehumidifiers we've tested – however, it's the type of noise as well as the volume that dictates how intrusive an appliance's noise is, and I found the ProBreeze 1500ml Mini dehumidifier particularly quiet in comparison to most.
Portability
One of the ProBreeze 1500ml Mini dehumidifier's biggest plus points is how compact and portable it is. It's very lightweight compared to most, weighing in at just 1.85kg.
It's even light when it's full of water, so if you need to move the unit before emptying it then this is easier done that with most units.
There's also a handy recessed handle at the back of the machine, so you can pick it up with one hand and transport it to wherever you need it. If you suffer from condensation in different rooms, then it's not an issue to move this dehumidifier from room to room to clear the moisture.
There are no castors on the base but it's small enough not to need them. The water tray also is easy to carry and its curved design allows for a good grip.
Maintenance
The ProBreeze 1500ml mini dehumidifier is very low maintenance. Just wipe it over with a damp cloth every couple of days, especially the vent areas, just to stop any dust from gathering. .
The water tank is situated at the front of the machine. It's really easy to empty, just pull the handle to remove it from the appliance. Once removed, there is a little tab that needs to be lifted in order to empty the tank, this is really handy because if its full, it stops the water from splashing everywhere. Although I did find that emptying the tank left some water dripping down the sides, so its important to make sure the tank is dried properly before you place it back into the applaince.
Considering the compact size of the appliance, the water tank on this dehumidifer is pretty generous. It has a 1500ml capacity which means you won't have to change it every day, even if you leave the dehumidifier running.
The ProBreeze 1500ml mini dehumidifier also has an auto-shut-off feature so you don't need to worry about keeping an eye on the water tank. Once the tank is full, a warning light will show on the top of the applaince and it won't remove any more moisture from the air.
How it rates online
The user reviews for the ProBreeze 1500ml Mini Dehumidifier are mainly positive. A lot of users praise the machine for its quiet operation. Owners are also impressed by its efficiency and ability to remove up to a pint of water each day.
Customers also comment on how easy it is to move this machine around and carry it about, thanks to its small size and handy carry handle.
The only criticism it seems to attract is that it possibly doesn't collect water quick enough, but the ProBreeze 1500ml Mini Dehumidifier does ony have an extraction rate of 500ml per day, so this is to be expected.
Verdict
The ProBreeze 1500ml Mini dehumidifier is a fantastic choice for getting rid of excess moisture in small areas. It's lightweight, compact, and super portable, making it ideal for anyone who lacks space at home or who doesn't a hefty appliance to move about.
If you need something even smaller, then ProBreeze also offer the ProBreeze 500ml Mini Dehumidifier. This has a 500ml water tank and a smaller 250ml extraction rate per day. The Silentnight 600ml Dehumidifier is another compact option, but that doesn't enjoy the same large water tank as the ProBreeze 1500ml Mini dehumidifier which means you'll be emptying it far more often.
Thanks to its Peltier condenser, the ProBreeze 1500ml Mini dehumidifier is also really quiet compared to most compressor or desiccant dehumidifiers. You do hear a gentle hum when it operates so it's not completely silent, but it's not annoying or intrusive. It's also ideal for anyone who doesn't want the hassle of having to mess around with too many settings. It's very simple to operate with just one on/off button. Plus, it's super affordable with low running costs of just 1p per hour at current energy rates.
That said, this small dehumidifier won't be for everyone. It's extraction rate is low at just 500ml per day, so if you have large rooms, significant moisture issues, or want to use a dehumidifier to help to dry laundry indoors, this dehumidifier likely won't be for you. Its extraction capacity is too small.
If you're looking for something that will tackle bad cases of damp and condensation, then you'll want to consider a compressor or desiccant dehumidifier. The MeacoDry Arete One Dehumidifier remains our top recommendation with Arete models designed to extract 10, 12, 20, or 25 litres of moisture from the air per day in comparison to the ProBreeze 1500ml Mini dehumidifier's 0.5 litre extraction rate.
Or, if you're looking for a dehumidifier for use in unheated rooms, then the desiccant EcoAir DD1 Simple MK3 Dehumidifier is another great choice. The EcoAir can be used in temperatures as low as 1°C, whereas the ProBreeze 1500ml Mini dehumidifier only operates at room temperatures of 15-35°C.
However, if you want a compact, portable, and low cost dehumidifier that can cut down on moisture levels in a small space then the ProBreeze 1500ml Mini dehumidifier remains a great – and very affordable – option to consider.
Get the Ideal Home Newsletter
Sign up to our newsletter for style and decor inspiration, house makeovers, project advice and more.