MeacoDry Arete One Dehumidifier review – tried and tested
Our MeacoDry Arete One Dehumidifier review puts this quiet, easy-to-use dehumidifier with dedicated 'Laundry' mode to the test. Here's why we think it's the best-in-class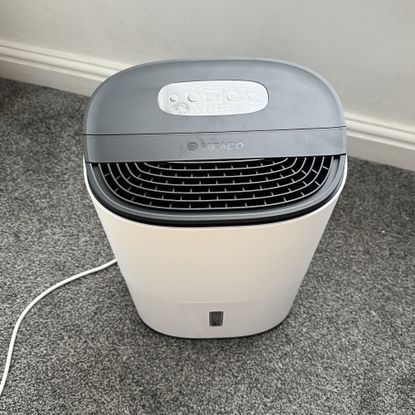 (Image credit: Future)
The MeacoDry Arete One dehumidifier is quiet, energy-efficient, and brilliant at extracting indoor moisture. Plus, it has an exceptional laundry drying mode and offers air purification to improve indoor air quality. We think it's the best in class.
Reasons to buy
+

Energy efficient

+

Quiet

+

Easy to use

+

Excellent for clothes drying

+

Decent-sized water tank

+

Built-in air purifier

+

Automatic humidity sensor

+

Stylish design

+

Multiple size options available
Reasons to avoid
-

Heavy

-

No WiFi connectivity

-

No timer

-

Compressor design not suitable for use below 5°C
Why you can trust Ideal Home Our expert reviewers spend hours testing and comparing products and services so you can choose the best for you. Find out more about how we test.
This MeacoDry Arete One Dehumidifier review puts Meaco's bestselling dehumidifier through its paces to see if it lives up to its claims to be a fast and efficient way of extracting excess moisture from your home.
Dehumidifiers are fast becoming a must-have home appliance. As well as removing moisture from the air, which can help if your home suffers from dampness and mould, the best dehumidifiers can also help to reduce indoor laundry drying times and improve indoor air quality.
The MeacoDry Arete One Dehumidifier offers a dedicated clothes-drying mode and can even give the best air purifiers a run for their money thanks to its built-in HEPA filter which can reduce the presence of allergens, moulds, pet dander, and toxins from your home. The popular dehumidifier is also available in a wide range of sizes, including 10L, 12L, 20L, and 25L versions.
For the purpose of this MeacoDry Arete One Dehumidifier review, I tested out the MeacoDry Arete One 12L Dehumidifier, which can extract 12 Litres of moisture from the air per day, making it ideal for use in flats, apartments, and rooms of up to 50 m².
I tested the MeacoDry Arete One 12L Dehumidifier's performance in several rooms in my home; the kitchen to see how quickly it could extract steam and cooking fumes, my living room and bedroom to assess noise levels when I was trying to relax, watch tv, or sleep, and in my laundry drying area to see how its dedicated 'Laundry' mode performed in drying wet washing indoors. Read on to see why after testing I now rate it the best in class.
MeacoDry Arete One Dehumidifier review
Specifications
Type: Compressor
Extraction rate: 12L/day
Water tank capacity: 2.5 Litre
Max room size recommended: 50 m²
Noise level: 35-38dB
Power: 151W
Dimensions: H47 x W32 x D24cm
Weight: 10.9kg
Portable?: Yes
Automatic humidity sensor: Yes
Continuous drain option: Yes
Laundry mode: Yes
WiFi connectivity: No
Timer: No
Operating temperature: 5°C - 35°C
How I tested
I'm Rachael, a freelance reviewer who helps the Ideal Home team put all manner of products through their paces to find the top recommendations for our readers, whether that's the best patio cleaner for a spotless backyard, or the best mattress for a good night's sleep. I live in a Victorian terrace in Newport, South Wales, with my partner Chris and our two terriers, a Westie called Maggie and a Sealyham called Murray.
Unboxing
The MeacoDry Arete One Dehumidifier is delivered in one single box. It's fairly heavy at 10.9kg, but thankfully there are cut out handles on either side of the box which makes bringing it inside and situating it in the room of your choice much more manageable.
Unpacking is made a breeze thanks to the built-in handle on the top of the dehumidifier, so there's no wrestling trying to manoeuvre it out of the box.
Packaging inside the box is kept to a minimum, however, whilst the outer box can be recycled, it's disappointing to see the dehumidifier is secured with two large pieces of non-recyclable polystyrene. Cardboard would potentially be a more eco-friendly solution to protect the dehumifier in transit.
Assembly and set-up
The good news is that MeacoDry Arete One Dehumidifier arrives pre-assembled and is basically ready to use. You'll just need to leave it to stand for at least six hours before you run it for the first time to allow any refrigerant that may have moved during transit to settle.
That said, this dehumidifier can also act as an air purifier, so there is an optional HEPA filter that you can fit into the dehumidifier. I'd recommend using it as this filter can help to clean the air whilst the dehumidifier is working. Bonus!
To fit the air filter, you'll find a small notch on the back of the dehumidifier, just slide that out and slot the filter into the filter frame with the tabs facing you so it's easier to remove.
Design
A dehumidifier isn't the most exciting of household appliances, but it's obvious that attention has still been paid to the MeacoDry Arete One dehumidifier's design. The unit looks both sleek and modern, with simple monochrome styling that blends easily into a room without standing out too much.
The MeacoDry Arete One dehumidifier's build quality feels solid and durable, and its curved body is a clever touch that makes the appliance look smaller than its H47 x W32 x D24cm measurements. The 12L modeal also fits a generous 2.5 litre water tank into its compact build.
The unit has been designed to sit flush against the wall to make it even more unobtrusive, so if you want to push the dehumidifier to the edges of the room and hide it away then that's no problem thanks to the air intake at the back being set back a little.
The water tank is placed at the front of the machine, so if it is pushed up against the wall, you can still access that easily.
There is a retractable handle at the top of the machine to make manoeuvring it a breeze, and at the back of the machine there's a handy storage area for cables, which is perfect for when you're storing it away. The air filter is also accessed from the back, this just slides out for easy cleaning and replacement.
Ease of use
After I'd waited the six hours from unboxing to allow the refrigerant to settle, I was ready to put the MeacoDry Arete One dehumidifier to the test.
I soon discovered that operation couldn't be easier. There are just four buttons placed on the top of this machine and they're all accompanied by an image to correlate with the function, so it's really simple to figure out how to use it.
There's a power button, a button to select humidity, a clothes-drying mode, and a button to select the nighttime mode, which also doubles up as a child lock button.
Performance
I tested the MeacoDry Arete One dehumidifier in a couple of different areas throughout my home to get a good feel of exactly what it could do. For context, I live in a Victorian terrace, so as you can imagine, dampness and mould can be an issue, especially when it's been raining a lot.
Overall, I was really impressed by the performance of this unit.
In the bedroom and living space, I let the Arete One run on Smart Humidity Mode so it aimed for a humidity level of around 55%. This can be adjusted to hit between 40% and 70% in 10% increments. The dehumidifier will then regularly check the humidity levels as it's running and automatically adjust its own performance and fan speed accordingly. Once it hits the desired humidity, the dehumidifier shuts off altogether so there's no wasted energy (or expense). If the humidity rises, the dehumidifier then kicks back in.
I found that the MeacoDry Arete One dehumidifier worked incredibly well to remove moisture from my home, especially when I used it in the kitchen where it quickly cleared steam and moisture from cooking. I also left it running in my bedroom, which was experiencing humidity of over 80%, and found that it quickly brought that down to an acceptable 55% within a couple of hours.
The MeacoDry Arete One dehumidifier's Smart Laundry mode also makes it one of the best dehumidifiers for drying clothes that I've tested.
Because my house can get a little damp, wet washing can take so long to dry indoors. Especially over the winter months. When I had the MeacoDry Arete One dehumidifier running, the wet laundry I had hanging on my clothes airer was dry within hours.
The Arete One's Smart Laundry mode sets the humidity to 35% and will run for a maximum of six hours before it automatically turns off. I found this is plenty of time to dry a whole clothes horse full of washing, from lighter items like T-shirts all the way through to far thicker and heavier items like jeans and towels.
The Smart Laundry mode runs on two fan speeds, high and low, and will automatically start off on the high setting before dropping down to low when the automatic humidity sensor picks up that most of the moisture in the area is eliminated and laundry is nearly at the fully dry point.
Whilst performance can vary when it comes to drying clothes due to factors like ambient room temperature and the type of fabrics you've washed, I tested the MeacoDry Arete One dehumidifier several times whilst drying washes and my washing was always airing-cupboard dry and ready to put away once the cycle had completed.
The only dehumidifier I've found that does a better job at clothes drying is the Pro Breeze 20L Premium Dehumidifier with Special Laundry Mode. This powerful 20L dehumidifier made fast work of drying wet washing in my tests, although, it's likely its increased extraction rate helped it in this regard. I haven't tested the 20L MeacoDry Arete One which would likely perform on a par.
The Pro Breeze Premium also uses a lot more energy to do its work, requiring 440W of energy compared to the 12L MeacoDry's 151W and the 20L MeacoDry's 216W. That means running costs of the MeacoDry Arete One are lower. You can read more detail in my Pro Breeze 20L Premium Dehumidifier with Special Laundry Mode review.
One last thing to note is that when the MeacoDry Arete One was running, the dehumidifier did warm up the room quite a bit. This is fabulous during the winter months as it'll save on the central heating bills and dry that washing even quicker. it's potentially not so good for the summer months, although most of us are probably unlikely to be running a dehumidifier when the weather is at its warmest.
It's a bit of a bonus that this dehumidifier also comes with an air purifier function –something most dehumidifier's don't offer – and I found it worked really well. It's definitely worth adding in that HEPA filter which you'll find included in the box when the dehumidifier is delivered.
I suffer from hayfever, and when I left the dehumidifier running all night, I woke up and didn't have any allergy symptoms at all.
Plus, when running the dehumidifier in the kitchen, I found that it got rid of odours from cooking.
Because this isn't a dedicated air purifier, it doesn't have sensors to determine the air quality so the air purifier won't automatically correct 'bad' air and will only work when the dehumidifier is running, but it's still a great additional feature to have included.
Energy use
Of course, with the cost of living and climate crisis, it's important to take into account the energy usage of any home appliance, and you'll likely be wondering how much a dehumidifier costs to run.
Running costs vary depending on the size, make and model of dehumidifier you opt for, but the MeacoDry Arete One 12L dehumidifier uses a relatively low 151 Watts of electricity. At current prices that's an approximate running cost of just 4p per hour.
In fact, the MeacoDry dehumidifier range as a whole comprises the most energy efficent dehumidifiers that we've come across, regularly beating their main competitor – Pro Breeze – on cost to run.
For comparison, Pro Breeze's most energy-effecient comprssor dehumidifier, the Pro Breeze 12L Low Energy Dehumidifier, uses 220W to the MeacoDry 12L Arete One's 151W, and costs roughly 6p per hour to run. The Pro Breeze Low Energy dehumidifier also has several other issues that the MeacoDry 12L Arete One does not, as you'll find out in my Pro Breeze 12L Low Energy dehumidifier review.
Overall, when you compare the energy use of a dehumidifier to how much it costs to run a tumble drier, an efficient dehumidifier like the MeacoDry Arete One could work out a more economical way of drying clothes quickly indoors, especially if you're considering pairing it with one of the best heated clothes airers on the market.
Noise levels
I've been really pleasantly surprised by how quiet the MeacoDry Arete One dehumidifier is. Especially considering noisy operation is usually one of the biggest downsides of running a compressor dehumidifier.
I had the MeacoDry Arete One running whilst I worked and watched TV and it didn't bother me at all. The official stats say it runs at just 35dB, and it certainly felt very quiet in practice.
This dehumidifier also offers a night mode which keeps the fans on low in case you want to use it in a bedroom overnight, but, I found the MeacoDry Arete One very quiet whichever mode I had it running in.
In fact, this is the quietest compressor dehumidifier I've tested, far outperforming any of the other models we've tested on this front.
The only quieter dehumidifiers I've come across are Peltier models, like the Pro Breeze 1500ml Mini Dehumidifier. However, Peltier dehumidifiers are far less powerful than compressor dehumidifiers. For comparison, as I discovered in my Pro Breeze 1500ml Mini Dehumidifier review, this Peltier model can only extract 0.5L of moisture from the air per day, compared to the MeacoDry Arete One range which can extract 10, 12, 20, or 25L of moisture per day!
Portability
This dehumidifier is really easy to move around. It's not light, in fact, it weighs 10.9kg, but there is a handy retractable handle situated on the top of the machine, which makes lifting it a lot more comfortable.
This handle feels far more robust than most that I've come across on other dehumidifiers and is really easy to grip.
There are also hidden castors on the base of the dehumidifier, so rolling the unit from room to room is also an option. I found it rolled well on both hard floor and carpet, unlike many other dehumidifiers of this weight that struggled on carpet.
Maintenance
I was testing the 12L Arete One, which means that it can extract up to 12 litres of moisture from the air per day. And thanks to a generous 2.5L water tank, there's plenty of capacity to collect this condensed water. That means you don't need to constantly empty the dehumidifier as I found I was doing with other models.
The Arete One also has an automatic shut-off function when its water tank is full. At this point, the unit will beep and a red light will be displayed to alert you that the tank needs emptying. This is a useful feature that cheaper dehumidifiers tend not to have, and gives peace of mind that your home's flooring isn't going to be damaged by any overspill. There's also a small window on the front of the dehumidifier that shows you the current water levels.
To access the water tank, you just pull the two large handles at the front of the unit. Although a word of warning, the water tank can be heavy when full, so you'll need a steady hand to walk to the sink as it's easy to splash the water around. However, you don't need to fiddle with any lids or covers as I encountered with other dehumidifiers, with the Meaco you just pour the water away via a little outlet at the side of the tank. Overall a really easy experience.
This dehumidifier does also offer a continuous drainage option.
Beyond that, maintenance is minimal for this machine. Because it's white, it will show any dust that gathers on it, so it's worth keeping the exterior clean just by wiping it down with a damp cloth occasionally.
The air filter should also be cleaned every two weeks to make sure it works optimally. This is easy to do; the filter just slides out from the back, whereby you can remove the HEPA filter and either wash it in warm soapy water or use a vacuum to remove any dust. If washing, it's important to make sure that the filter is completely dry before replacing the HEPA filter and putting the dust filter back.
The HEPA filter will also need changing occasionally. How often depends on factors such as your environment and how often you use it, but on average Meaco suggests every three months. Just keep an eye on the colour and when it changes from white to grey, it needs replacing.
How it rates online
Like me, other owners seem really impressed by the MeacoDry Arete One 12L dehumidifier.
It receives 4.5 out of 5 stars from Amazon customers, with many purchasers saying how effective, easy to use, and what good value for money this dehumidifier is.
A lot of reviewers also praise the size of the water tank although a few did comment on it being a little tricky to empty when full. And a couple of reviews mention the warm air that the dehumidifier pushes out into the room, saying that this can be uncomfortable if the temperature is high in the summer months.
However, overall, its clear the MeacoDry Arete One dehumidifier has impressed nearly all who have used it.
Verdict
All in all, the MeacoDry Arete One dehumidifier is one of the best dehumidifiers I've tested.
It does a superb job of getting rid of excess moisture in the air, the automatic Smart Humidity Mode works perfectly, and in my tests, it reduced the moisture in my damp-prone rooms to the ideal humidity level in a very short period of time.
Plus, the MeacoDry Arete One dehumidifier's Smart Laundry mode works brilliantly for drying washing indoors – wet laundry was dry in hours rather than the days it can usually take in my draughty Victorian terrace.
Beyond that, this dehumidifier is very easy to use, the controls are all really well laid out, and there's not too much to get your head around when it comes to operating it.
It also looks good. The curved design is unobtrusive and relatively stylish for a dehumidifier, and it's compact enough to sit against a wall or in the corner of a room without taking up too much space.
The MeacoDry Arete One 12L dehumidifier is a great buy for apartments or small to medium-sized houses, and it's easy to move from room to room thanks to the extendable handle and castors, and compact enough to store easily when not in use. Larger homes, or those with more serious damp issues, may benefit from opting for the MeacoDry Arete One 20 or 25L which offer the same great functionality with an increased extraction capacity.
This is a mid-priced dehumidifier coming in at around £179, and considering how well it works, I think it's definitely worth the money. The Smart Laundry mode alone makes it worth it.
Plus, the MeacoDry Arete One also offers a built-in air purification function, so you don't need to waste energy having two appliances running at once. And at just 115W, the MeacoDry Arete One 12L dehumidifier is also very energy efficient compared to most compressor dehumidifiers.
The only downsides for me are that there is no timer, and this dehumidifier doesn't have any Wi-Fi compatibility, which is a bit of a shame because I'd love to have been able to operate it remotely via an App. But, considering this dehumidifier does such a stellar job, these few points are very easy to overlook.
Overall, I think this is a best-in-class dehumidifier that does a fantastic job of extracting moisture from the home and drying washing fast. It's definitely my top choice for the best dehumidifier you can buy.
Get the Ideal Home Newsletter
Sign up to our newsletter for style and decor inspiration, house makeovers, project advice and more.