Duck egg bedroom ideas to see before you decorate
Whether you want a modern or traditional scheme, you'll find a look to suit your home with our great duck egg bedroom ideas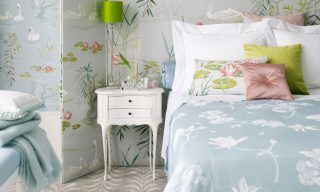 (Image credit: TBC)
If you're looking for bedroom colour schemes, look no further than our duck egg bedroom ideas. Duck egg blue is a popular choice for bedrooms for good reason. Not only is it romantic and pretty, but cool and calming too. This adaptable bedroom colour is available as a variation of either pale green or pale blue and is a step up from white, yet it remains subtle even when used liberally. Its name is taken quite literally from its resemblance to the tone produced on the egg shells of certain breeds of poultry and exotic birds.
A more chic term often used for the palest duck egg hues is eau de Nil, which translates as 'water of the Nile', so reflects the calming watery green hues of the majestic African river.
Duck egg is described in the dictionary as a pale blue-ish green and, when teamed with certain complementary or contrasting colours, you can bring out various shades of the versatile colour to create an array of moods in your bedroom.
1/12 Mix your styles
Duck egg looks comfortable in both traditional and contemporary schemes, so get the best of both worlds with a bedroom that mixes classic furniture styles and retro details with modern patterns and crisp, natural textures. Versatile duck egg also goes really well with lots of colours - here, a sunshine yellow throw injects a bit of heat into the cool scheme.
Get the look
Buy now: curtains made in Huntingdon Sea Foam, £18 per m, Ashley Wilde
Buy now: My Heart Love print, £45, Bold & Noble
2/12 Tone it down
If lots of colour and pattern is a bit much for you, you'll love this subtle scheme. One wall painted in the palest of eau de Nil shades is enough to lift this space and provide a beautiful contrast to the pale peachy-pink bed upholstery. White bedding keeps the look pleasingly neutral.
Get the look
Buy now: paint, Laura Ashley
Buy now: similar bed, La Maison Chic
3/12 Feel free as a bird
Choose a wallpaper with duck egg at its heart and your bedroom will have all the colour it needs. White furniture goes really well with this gold birdcage design and gives the look a light and happy feel, as if you were a bird flying free. If you find pattern overwhelming on all walls, try a feature wall behind the bed for maximum impact that won't dominate.
Get the look
Buy now: wallpaper, Nina Campbell
Buy now: bed, The French Bedroom Company
4/12 Choose standout bedding
Thanks to its delicate nature, duck egg is a perfect choice for pretty country schemes. Colour has been achieved in this charming bedroom through furniture and fabrics. The beautiful duck egg bed has been dressed to the max, with layers of ditsy florals and soft throws. An upcycled chair painted in eau de Nil completes the eclectic charm.
Get the look
Buy now: bed, Loaf
Buy now: similar chair, Debenhams
5/12 Pick some flowers
The soft tone of duck egg can create a fabulous backdrop within a wallpaper to perk up a plain scheme with subtle sophistication. Add furniture in plush velvet-style fabrics for a look that has an element of hotel chic about it.
Get the look
Buy now: Cabrera wallpaper, Thibaut at Jane Clayton
Buy now: ottoman, Oliver Bonas
6/12 Be a new romantic
Add vintage charm to your bedroom with a duck egg shade that leans towards calming and watery eau de Nil and team with chalky pink. Use duck egg paint or wallpaper liberally on all walls, then break it up with a few soft pink accents and romantic wood furniture with a distressed finish.
Get the look
Buy now: bed, Loaf
Buy now: bench, Oka
7/12 Team with metallics
The icy tones of duck egg are perfect for luxe schemes. Here, an elegant tile-effect wallpaper in distressed shades of pewter adds a metallic intensity to this striking bedroom. Duck egg looks good with many colours, and dark blue hues are no exception, as this opulent headboard clearly shows.
Get the look
Buy now: Kings Mirror wallpaper, Cole & Son at John Lewis
Buy now: bed linen, Volga Linen
8/12 Add a feminine touch
Duck egg makes a fabulous alternative if you want a feminine scheme that steers clear of predictable pink. This romantic bedroom has been given added interested with a pretty floral feature wall framed by duck egg paint and creamy voile curtains. An oak mantel and wood flooring warm the cool colours.
Get the look
Buy now: similar paint, B&Q
Buy now: similar wallpaper, Laura Ashley
9/12 Swim gracefully
Create the ultimate grown-up fairy tale room by constructing an elegant watery lake scene. Cover your walls with beautiful duck egg wallpaper that tells the story of graceful swans gliding among weeping willow and floating water lilies. Enhance the illustrations with a romantic screen of the same pattern and cover your bed in a beautiful sky-like bedspread. Have you ever seen a more serene scheme?
Get the look
Buy now: wallpaper, Osborne & Little
Buy now: bedside table, The French Bedroom Company
10/12 Make it modern
Duck egg works really well in modern schemes. This impressive yet minimalist bedroom consists simply of just a few key pieces. A glorious velvet bedspread pours over into a pool of luxuriously soft carpet. An exposed brick wall keeps the look fresh and adds definition to the space.
Get the look
Buy now: similar carpet, Cormar Carpets
Buy now: similar bedspread fabric, James Brindley
11/12 Lift the look with white
Teaming duck egg with crisp white allows the colour to really pop and brings out a refreshing aqua tone, turning your bedroom into an energising space full of wellbeing. The ornate wallpaper pattern, teamed with creamy colonial-style furniture, gives the stylish room an Eastern twist. Papering only up to the picture rail helps to keep the scheme light.
Get the look
Buy now: similar bed, Feather and Black
Buy now: similar furniture, Lombok
12/12 Partner up with taupe
Pairing duck egg with warm neutrals lets the watery colour take on a cosy bearing that can be enhanced with plenty of textures. Effortlessly elegant pale taupe is the perfect partner for duck egg blue, as it plays on the shade's soothing tones. Add a few special details such as lined floor-length curtains and a shapely bed to create the perfect welcoming atmosphere.
Get the look
Buy now: similar bed, The French Bedroom Company
Buy now: similar curtain fabric, Laura Ashley
If you love country style, then why not join us at the Country Homes & Interiors Summer Show from 1st – 3rd June? Get your tickets here.
We hope to see you there!
Get the Ideal Home Newsletter
Sign up to our newsletter for style and decor inspiration, house makeovers, project advice and more.
Rachel Homer has been in the interiors publishing industry for over 15 years. Starting as a Style Assistant on Inspirations Magazine, she has since worked for some of the UK's leading interiors magazines and websites. After starting a family, she moved from being a content editor at Idealhome.co.uk to be a digital freelancer and hasn't looked back.