30 Bedroom wallpaper ideas to make a statement with pattern and colour
Get a look that's right for you with these bold and bright ideas to dress the walls of your boudoir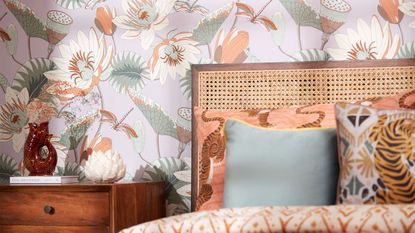 (Image credit: Lust Home)
Our bedrooms are our sanctuary, a place we can escape to and a space that we can call our own. Putting a personal stamp on the space is key when it comes to bedroom decor and bedroom wallpaper ideas offer a brilliant way of bringing style and personality, whether through bold bedroom colour schemes, a standout pattern or a combination of both.
'As our Instagram feeds remain packed with images of lust-worthy wallpaper, more and more people are picking up a roll and a brush and giving the art of wallpapering a go,' says Chelsea Clark, Head of Brand at I Love Wallpaper.
Bedroom wallpaper ideas to make a statement
There are plenty of imaginative ways to get creative with wallpaper when it comes to bedroom ideas - and while the 'feature wall' is still ever-popular, other ways you can work wallpaper into a bedroom scheme are plentiful. From stylish mix-and-match patterns, accent wallpapers in alcoves and recesses, or full-on wallpaper wall-to-wall and even extending on to the ceiling.
So if you're looking for striking bedroom wall decor ideas, wallpaper can be the winning ingredient.

1. Go bold with a touch of the tropics
When it comes to making an impact, it's all about putting the bed centre stage. One of the easiest ways of doing this, is to put a bold, standout wallpaper on the wall behind the bed and then repeating the same colour theme throughout the bedroom on bedding, cushions and soft furnishings for a chic, co-ordinated look.
'Tropical prints are a big wallpaper trend this season,' says Amy Holton, Head of Creative at Lust Home. 'Following on from the biophilic designs that have been big in recent years, it's a continuation of this trend, but with a tropical twist. Inspired by nature, palm leaves and tropical blooms will continue to adorn our walls, bringing the outside in whilst incorporating vibrant colours.'
2. Try a patchwork of papers
Create a one-of-a-kind patchwork effect over one wall by using a combination of different patterned and plain wallpapers. A brilliant way of creating a high-end look on a budget, you'll only need to splash out on a roll or two of wallpaper, or you could even use spare rolls leftover from a previous project. For the plain areas, if you don't have a plain or small-scale wallpaper, try using panels of lining paper painted in different colours.
While a patchwork of wallpapers looks chic and super-effective using patterns in muted tones, if you're after something really bold, try using brighter colours and clashing patterns for a really eye-catching look.
3. Top-off wallpaper with a picture rail
If wall-to-wall wallpaper feels too bold, tone it down a fraction by only wallpapering two thirds of the wall. Using a bold wallpaper on just the lower portion of walls gives a hit of colour and pattern without it dominating the bedroom.
Finish off the wallpapered area by adding a narrow ledge for decorating above the bed where you can display favourite pictures and ornaments. An arrangement like this is much easier to change than wall-hung prints.
'The retro look is back!' says Amy at Lust Home. 'Featuring large-scale geometrics, rich and vibrant colours, and curved edges, the 70's saw a shift into being playful with home décor. Wallpaper with a graphic or repeating print is set to be very popular in 2023, paired with rattan furniture and shaggy rugs.'
4. Match walls and windows
If you're feeling super-brave then try this full-on look that uses continuous colour and pattern on matching wallpaper and window blinds. Effective on a small area of wall (wall-to-wall might be too much) try it in a window seat area with a stack of matching cushions, or as the backdrop for a desk or dressing table area.
If all-over pattern feels too bold, create a similar effect by using a semi-plain wallpaper and matching it to your blind fabric or try it with a painted wall. Merging wall and window can help to open up a confined area and make it feel more spacious.
5. Go bold with oversized florals
Embrace pattern in a big way by opting for an oversized mural running the width of one wall as a bedroom feature wall idea. You can buy ready-made mural panels off-the-peg or have one made bespoke if you have a favourite image that you want to use full-size.
Choose furniture and bedding in complementary colours to your mural for a chic cohesive look. Pick out the background colour and just one or two secondary colours and stick to these for a co-ordinated effect.
'A perfect option when wanting to make a statement in your home, large-scale prints and eye-catching murals are expected to be seen everywhere in 2023, adding another dimension to otherwise lacklustre walls,' says Amy at Lust Home.
6. Focus on a feature area
Knowing what to do with awkwardly-shaped alcoves in a bedroom can be tricky. Instead of ignoring them, consider working some wallpaper into the space and making a feature of bedroom alcoves.
Wallpapering inside the alcove is one way around the issue, with adjoining walls painted in a toning or contrast shade. Alternatively, why not go for bold and try wallpapering the main wall in a standout floral with the inside alcove in a contrast paint colour. It will look ultra on-trend against an arched alcove.
'The rise of earthly neutrals has been growing recently. They are warm and welcoming, providing the cosy feel we love in our homes,' says Paula Taylor, Head Stylist at Graham & Brown. 'With energy bills getting higher, we are looking at ways we can evoke a sense of warmth in our homes and these tones and their connection with nature, create a warm, relaxed atmosphere.'
7. Take wallpaper up and onto the ceiling
Loft bedrooms with low ceilings can be tricky to decorate around. Painting the ceiling a contrast colour to the walls can draw attention to the lack of height by creating a dividing line that will only make the ceiling feel lower.
However, using continuous colour on walls and ceiling is a clever way around the problem, either with wallpaper or paint, so that the eye is drawn upwards. And having no divide to interrupt the sightline, it will give the space an added sense of height.
8. Fake it with 'faux' panelling
For an easier and less-costly option to bedroom wall panelling ideas with timber, opt for a panelled-effect wallpaper with not a hammer or nails in sight. Perfect for rooms that are lacking in architectural detail, 3D wallpapers can give the look of raised panels or timber cladding and come in a range of colours so there's no painting involved either.
Go for a grown-up scheme in chic winter whites with luxe marble-effect panelling as the backdrop. Layer bedding in soft linens and tactile velvets with a plush upholstered headboard to add a cosy touch.
9. Command attention behind a headboard
Create a feature wall on the space behind a headboard to give the bed centre stage. This use of print is a great small bedroom idea to make the focus very directional, opening up the rest of the room.
if your bedroom features coloured furniture choices sticking to a monochrome wallpaper will help to balance the scheme.
10. Make an arty feature wall
Ideal for those decorating on a budget, this idea uses minimal paper but maximises the decorative impact. Choose a block section of wall, best used on the area above the bed or between wardrobes as seen here, to create an artwork-like sized panel of wallpaper. This look only require one roll of wallpaper, hence why it's a cost-effective decorating choice.
11. Add interest to the most visible wall
A bedroom feature wall doesn't always have to be located at the head of the bed. More often than not beds are positioned alongside the doorway meaning you only see the wall with the headboard once you're well into the room. Make more impact with a feature wall by choosing the wall that runs alongside the bed.
In this bedroom space stylish monochrome stripes grab your attention the minute you step foot inside the room.
12. Create a captivating bedhead panel
Think outside the box when it comes to creating a 'feature' wall. Make a boutique-hotel-style design feature wall by hanging a couple of drops of a striking wallpaper behind the bed. Fashioning a stylish DIY headboard idea to behold.
Make it roughly a foot wider than the headboard to frame it perfectly. To really add a design wow factor create neat raised edges with wooden battens covered in matching fabric – but this finish is optional, if you want less work.
13. Wallpaper wardrobes instead of walls
Not sure about where to add wallpaper to your bedroom? How about on a wardrobe to allow a freedom to the look, which you wouldn't get from decorating the walls. Another great idea for keeping costs low, you only need one roll to makeover the front panels of a wardrobe. Old or new, all you need is a flat wardrobe surface which the paper will adhere to.
Teamed with soft furnishings a wallpapered wardrobe welcomes pattern to an otherwise plain room - great for making a real style statement. Any upcycled furniture idea helps to revamp and repurpose unloved items, that might otherwise destined to landfill.
14. Use recesses to define dedicated zones
Hang a wallpaper in a bedroom to define zones and make the most of awkward walls, such as recesses and alcoves. This attic bedroom idea uses a decorative paper, albeit subtle, hung in a recess to carve out a natural space for the bed to live. It helps to break up the wall as if on purpose, embracing the awkward layout rather than allowing it to hinder the scheme.
15. Make it reflective with metallic wallpaper
Adding pattern is a great way to captivate, adding pattern in a metallic finish is a great way to grab even more attention! Thanks to it's high-shine nature metallic wallpaper can enhance pattern further. Reflective wallpaper designs help to bounce light around the room, to create an airy vibe – ideal is used in smaller bedrooms.
Match metallic wallpaper designs with ultra glossy accessories, such as mirrored furniture and metal bedside lamps to create a glam decor.
16. Pattern match to build on a scheme
Coordination is a match made in heaven when it comes to a bedroom decor. Whether it's by a dominant colour or by way of pattern you can tie the whole decorating scheme together by effortlessly.
To create a cohesive and styled look match the wallpaper print to that of your bedding. Add accent colours with cushions and rugs to add another element of interest.
17. Bring the outside in with foliage
Welcome the outside in with a thoughtfully illustrated wallpaper design. The trend for plants in the bedroom is a growing one, excuse the pun. This ivy print wallpaper helps to add a garden vibe, opening up the decor to incorporate further touches of foliage and greenery.
Accessorise with further fern prints and ivy motifs on cushions and artworks to enhance the look.
18. Make it monochrome
Black and white is a timeless choice for making a statement with your wallpaper, especially if it's this famous Cole & Son Woods wallpaper available from Wallpaper online.
A feature wall in a monochrome print works perfectly in a bedroom setting where you can bring in colour through other elements such as bedding, cushions and even bedside tables. It's a great way to incorporate pattern without overpowering with colour.
19. Enhance a decor style with wallpaper
Whether your style is shabby chic or contemporary glam, choose a wallpaper that sets the tone for the rest of the decor in an instance. In this French-style boudoir a Rococo design coordinates perfectly with the ornate furniture and furnishings. To prevent the design from overpowering the room choose a light colourway.
20. Pick a toning floral
Add some flower power to your scheme with a statement wallpaper in a bold, floral print. This is a strong look, so be warned - you need to accessorise with caution. Match the background tones in the room to those on the wallpaper and use the colour of the flower as an accent shade. Try an all-white chateau-style bed paired with black bedside tables and table lamps.
21. Foreground your walls
When it comes to bedroom wallpaper, making an impact can be as important as choosing a calming colour palette – as with this grey bedroom idea. Pick a wallpaper design that manages to do both - one that is striking and interesting, yet pale and gentle enough not to overwhelm the space. Mix and match textures, shades and patterns across soft furnishings.
22. Mesmerise with pattern
Create an intricate look of layered graphics by hanging a repeat-pattern wallpaper behind a smaller-scale headboard fabric, each in a subtle complementary colours.
The fading effect of the wallpaper pattern repeats pleases the eye and softens the scheme. Pick accessories that won't distract from the main event, such as glass table lamps and pure white bed linen.
23. Fade out with finesse
Use wallpaper to frame traditional features by choosing a design with a vertical fade. This stunning Middle East inspired pattern is printed in the middle of the roll, leaving a plain neutral border at the top that draws the eye up to the picture rail and curved cornicing.
Brighten up the sophisticated grey and white palette with a bright accent colour - sunny yellow is perfect here - and choose simple soft furnishings to keep the overall look calm and polished.
24. Suit-up with pinstripes
Nothing says crisp like an immaculate pinstripe so it's a great way to start an elegant bedroom scheme. Hang a vertical striped pattern behind the bed to create a feature wall and accentuate the tailored look with a palette of smart city greys and buttoned detailing.
Add quirky accessories like these animal-print plates and a statement lamp to stop the look from becoming too stuffy. Finally, pile the bed with soft pillows in complementary patterns to soften the edges.
25. Keep the pattern simple
Choosing wallpaper doesn't mean you have to go big with pattern. Sometimes a small print is enough to add interest without overpowering the scheme. This simple monochrome pin board-style design offers mini dots of colour.
This is an ideal choice if you're worried about committing to one bedroom colour scheme when decorating, as the look can be updated easily and cheaply through accessorising.
26. Embrace a coastal theme with striped wallpaper
For an on-trend nautical vibe, choose a classic stripe design in shades of white and blue. Remember that vertical stripes will make a ceiling appear higher and horizontal stripes will widen a room, so bear this in mind when choosing your paper. Style up the space with nautical bedroom accessories such as coordinating bed linen, white washed baskets and wooden details.
27. Pretty up with florals
A classic floral print will add a feminine touch to your bedroom and can adapt to almost any colour palette. This versatile style can take on anything from a vintage look with ditsy florals, to a sophisticated contemporary vibe with bold blooms.
This work looks best as a single statement wall, as the patterns can easily look too busy if used on multiple surfaces. However, if you do fancy going for broke. Try clashing faded florals with a Bohemian paisley print, as done successfully here.
28. Welcome wood panelling wallpapers
Bring the outdoors in and create a cosy retreat by opting for a wood panel effect wallpaper for your bedroom. This style of paper is ideal for creating a faux architectural detail and adding interest to your space, without breaking the bank with real wood wall panelling ideas.
Continue to work the woodland trend by mixing in chunky knits throws and scandi-inspired details with pops of primary colours for an unexpected twist.
29. Set the scene with realism
If you're looking for a quirky and unique bedroom look, why not think outside the box and go for a whimsical print such as books, butterflies or maps? Choosing a print that reflects your interests will add a personal touch to your space and can bring a new lease of life to a plainer room.
30. Go bold with geometrics
Bring your bedroom walls up to date with a funky geometric pattern in bright and punchy shades. This style of wallpaper generally works best as a feature wall with plainer surrounding walls, due to the busy designs.
It's the perfect choice for a contemporary bedroom and will instantly create a dynamic focal point, no matter what shape or size the room.
Is wallpapering too tricky for a beginner?
Learning how to hang wallpaper for the first time? 'It can be daunting, but there are easy ways to avoid making tricky mistakes,' says Chelsea Clark, Head of Brand at I love Wallpaper.
'Preparation is key. Having the patience to prep your walls will make sure that the wallpaper applies smoothly and lasts well. Ensure that you fill any dents or holes and lightly sand the walls, to remove any bumps. This is especially important if the wall has previously been wallpapered.'
'Before hanging your first drop, draw a vertical plumb line onto the wall, which you can then use to hang your first edge against. This will ensure your wallpaper remains in line and doesn't end up at an angle,' adds Chelsea.
'Check before hanging your chosen wallpaper if it is 'paste the wall' or 'paste the paper'. If you're using 'paste the paper' wallpaper, it is important to allow time for the paste to soak into the panel before hanging, to ensure your wallpaper firmly bonds to the wall. Using a pasting brush, apply an even coat of paste to the entire panel, in a side-to-side motion. Once covered, fold each edge inwards towards the middle, pasted sides together, making sure the edges are aligned. Leave the panel to rest for ten minutes, before hanging.'
'For 'paste the wall' wallpaper, apply paste onto the section of the wall you will be hanging your drop of wallpaper, ensuring that the paste reaches just past the width of the wallpaper itself, and hang straight away.'
'A crucial mistake often made by those that are new to wallpapering is to smooth out the paper by going up and down. Start from the centre of the length and brush out to the sides to smooth away any air bubbles. It is important to do this before the adhesive dries otherwise it becomes much harder to get the bubbles out.'
'Make sure you have a sharp knife such as a taping blade, craft knife or a sharp pair of scissors available to cut the top and bottom edges once each drop is hung. This ensures that you get a clean cut on both edges.'
Which wallpaper is best for a bedroom?
The choice of paper for a bedroom is no different to when choosing living room wallpaper ideas, or any other standard room. It's only necessary to choose a different quality or type of paper if the room is humid etc, say when choosing a bathroom wallpaper idea. When it comes to choosing a bedroom wallpaper it's simply a matter of taste.
We tend to advise sticking to a feature wall when it comes to using bedroom wallpaper, to stop the look from feeling too heavy. Typically if this is the wall which the bed is against you can be more daring with the pattern, as you it won't prove too distracting once you're in bed – trying to wind the mind down for a restful night's sleep.
How can I test a bedroom wallpaper?
As with any room where you're planning to make a statement with a wallpaper, be sure to get hold of a sample of your chosen design before hanging. Cut a large sample of the design and test it out on the wall you want to decorate, to make sure you're happy with the colour and scale of the pattern. Look at it at different times of the day as the colour can vary depending on the light in the room
Can wallpaper make a bedroom look bigger?
As with thoughtful paint colours in bedrooms, the right wallpaper design can work wonders for maximising the space. You might want to avoid overpowering patterns for small bedrooms generally. When used on one wall it can help to give a sense of purpose and make that wall feel distanced from the remaining painted walls – a clever trick for the eye to make the space feel larger. Thoughtful bedroom storage ideas are also a great way to make a bedroom feel bigger.
Will you be using any of the bedroom wallpaper ideas to decorate your sleep space?
Get the Ideal Home Newsletter
Sign up to our newsletter for style and decor inspiration, house makeovers, project advice and more.
Tamara was Ideal Home's Digital Editor before joining the Woman & Home team in 2022. She has spent the last 15 years working with the style teams at Country Homes & Interiors and Ideal Home, both now at Future PLC. It's with these award wining interiors teams that she's honed her skills and passion for shopping, styling and writing. Tamara is always ahead of the curve when it comes to interiors trends – and is great at seeking out designer dupes on the high street.