27 nursery ideas to welcome your bundle of joy in style
Create a space that you and your baby will love to spend time in - whatever the hour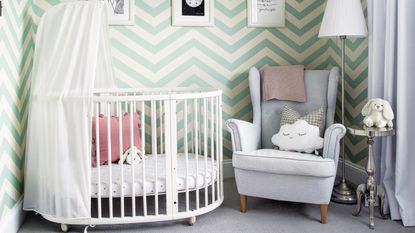 (Image credit: Future PLC/Douglas Gibb Photography)
There's a lot to do before a new baby arrives, but nursery ideas – dreaming them up, researching them, and putting them into action – is easily one of the most enjoyable and creative parts of all that prep.
Why? Well, unlike more traditional kids room ideas, the nursery is basically an inner sanctum for you and you baby. It's a place for you to bond, to play, to hold them when they wake during the night. And it's a place, too, to change nappies and do all of those other practical parenting tasks.
This means, of course, that there's more to it than finding that perfect nursery mural idea or colour scheme. You also need to dream up some clever storage hacks, not to mention find the sort of furniture that will grow alongside your baby.
Nursery ideas
The most important piece of advice to consider ahead of settling on your favourite nursery ideas? Don't feel like you have to spend a fortune to keep up with the parenting influencers filling your Instagram feed.
'My number one advice is you don't have to spend a lot of money,' says Catherine Dal, Founder, CatDal Interiors. 'but just some time and thought to create a dreamy atmospheric environment for your treasured little ones.'
With that in mind, then, let's dive on in...

1. Embrace the storage basket
Every good nursery needs at least one or two clever toy storage ideas to its name, and there's honestly nothing easier than a multi-purpose basket or two.
'Storage in a nursery is a must-have to house everyday essentials such as nappies, vests and muslins that you need to access frequently and quickly,' says Sally Jackson, founder of Soren's House.
'Space-saving solutions such as cot organisers, nappy caddies, and storage baskets are great options to keep everything neat and organised. And themed storage baskets are also a fun way to disguise toys and laundry.'
Sally adds that opting for a basket that's in keeping with your nursery décor, such as the ridiculously cute Bellybambino baskets above, will reduce clutter without detracting from the aesthetic of the space.
2. Paint a ceiling
One of our favourite gender neutral nursery ideas? Painting the ceiling, of course!
'Ceilings are one of the biggest areas of wall space you have in any room, so why not add the colour there to supply some much-needed personality?' says Stephanie King, content and creative lead at Dulux.
'When you walk into a room, your eyes will tend to scan the walls, therefore if you're not feeling quite brave enough to experiment with colour on the most seen places, then why not add a little surprise for people when they look up? It doesn't have to be dramatic, and it can do wonders for the feeling of space and comfort in that room.'
Stephanie adds that 'bringing that ceiling colour down onto the walls slightly also creates a mock picture rail effect too, particularly good if your walls are lacking some architectural interest or much coveted period features'.
3. Opt for warm neutrals
Plenty of nursery ideas involve neutral colour schemes, and little wonder: they're cosy and inviting, plus it means your little one can make their own imprint on their room as they grow and forge their own tastes.
'Warm neutrals and beiges wrapped around a room on their own can feel a little pedestrian,' says Stephanie.
'To banish the bland, it's a good idea to layer a few neutrals together – add some subtle pops of delicate colour and bring some texture through furnishings and accessories.'
She goes on to say that 'adding some considered colour also goes a long way to add some fun, especially when thinking about those spaces where you can infuse some energy. Try pastel shades such as Vanilla Sundae, Mint Macaroon and Willow Tree give just enough bite to a more subtle backdrop.'
If you really want to achieve the look seen in the picture above, be sure to check out the gorgeous nursery furniture range from Blue Almonds, too.
4. Invest in clever furniture
Don't forget the practical bits when finalising your nursery ideas; from a cot bed that grows with your child, and a wardrobe that makes it easier than ever to organise baby clothes, choosing the right furniture for the space is key.
'Nursery furniture is likely to be the biggest investment you'll make for your new baby, so make sure it's multifunctional and built to last,' says Sally.
'Cotbeds like this one from Oliver Wood Furniture are a great option as they offer longevity from baby to 9 years of age and can be handed down to siblings, meaning that the initial investment covers years of use.'
She adds that, where possible, 'it's also wise to choose matching nursery furniture sets, as collections change over time and it can be difficult to find the perfect match later on'.
'A wardrobe and chest of drawers are sample pieces of furniture that are essential for a child's bedroom as they grow,' advises Sally.
5. Make space for you
Trust us when we say that you will likely be spending a lot of time in your baby's room with them, so make sure that your nursery ideas reflect this: you will absolutely need somewhere to rest up during late-night feeds.
Choose yourself a cosy armchair or, better still, a rocking chair: this will make it easier than ever to soothe your little one back to sleep. And layer up textures to make it a warm and cosy space, too: temperatures tend to dip when the sun goes down.
6. Get creative with paint
Nursery ideas are the perfect place to have a little extra fun with your painting choices, just don't go overboard with an overly bright pigment.
'Paler colours work for children's bedroom paint ideas as they tend to be more relaxing and soothing – both for the child and parents,' says Justyna Korczynska, Senior Designer, Crown.
'When decorating a nursery almost anything goes – bright colours, patterns, murals. And you don't need to be an artist to be able to create great mural feature walls for your kids. There are many easy ways to do it. Work out a design on paper then scale up for the walls, using good masking tape to create crisp lines. Kids' rooms have a license to be fun.'
7. Choose a wooden floor for easy cleaning
A plush carpet is often the choice for baby boy and girl nursery ideas, but take a beat before you get one fitted.
The first few months can be especially messy, so choosing a hard floor will make cleaning up those inevitable messes that bit easier. Instead, look for a rug to add that softness underfoot.
'A soft rug can add texture, colour and interest,' notes Staffan Tollgard, Creative Director, Tollgard Studio. 'But make sure you look at everything through child-safe goggles. Can a crawling baby easily pull handfuls of rug out?
8. Include book storage
'We try to use our baby room ideas to encourage reading moments together,' says Catherine from CatDal Interiors.
'I have also seen from my own home, that books displayed openly and facing outwards helps children to select the books at night, whilst working as beautiful and happy 'artwork' to decorate the shelves.'
She adds that 'this type of book and toy storage ideas isndone best with narrow depth 'art' shelves. We also recommend keeping these shelves within reach to inspire self reading.'
9. Add shutters to the windows
'Shutters are an important consideration for nursery ideas as they help parents control light, temperature, volume and privacy,' says Sally Denyer, Digital Marketing Manager, Shutterly Fabulous.
'Café style shutters, are a nice option as they allow the light come in through the top half of the window, whilst giving control over the lower half. Alternatively, solid wood shutters can be closed to create complete darkness, which is perfect for putting children down for daytime naps.'
'As well as offering light and temperature control, shutters are also the safest window treatment for nurseries, as they also have no cords or pullies, which present a hazard for children.
10. Add sweet accessories
'Don't forget to have fun with accessories,' says Catherine from CatDal Interiors. 'There are no rules with these spaces, so don't limit yourself to bog standard choices when it comes to wardrobe handles, mirrors, curtain ties, coat hooks or door stops for example.'
'Think about adding on pom pom garlands and bunting, or choose sheepskin and fairy lights for a cosy den,' adds Alex Tolofson, Co-Founder, Noa and Nani.
11. Make it personal
Make your child really feel as though it's their own room right from the beginning by using their initials as bedroom wall decor above the crib.
As well as being personal to the child, it's easy to switch up when tastes change - or if a new child moves in to the same space.
12. Go bold with wall stickers
Go bright, bold and beautiful with your nursery ideas and add a stunning mural: this rainbow decal is a brilliant way to add a pop of colour to a neutral room.
If you're feeling ultra savvy, you could buy a reusable wall sticker like this rainbow decoration from Etsy, as it means you can switch up your room's look whenever you like.
13. Go for an alternative colour scheme
Pink, blue, grey or yellow are probably the most popular nursery colour choices so warming shades of chocolate and creme makes a delicious nursery idea.
'Don't be afraid to use adult colours and wallpapers,' advises Cherie Lee, Founder, Cherie Lee Interiors. 'And don't just feel like you have to use children specific bedroom wallpaper ideas.'
14. Theme it
'Themed nursery ideas are a creative way to design the perfect room for your little one that will engage their senses and feed their imaginations,' says Sally, 'and they're also a great option for families who are looking for a gender-neutral space.'
'Themes such as Big Blue Sea, Safari and Outer Space will enchant your little one for years to come and can be added to over time,' she continues.
'There's no need to invest in permanent décor such as wallpaper and paint, which can be difficult to update as your child grows and their interests change. Themed bedding, toys, wall art and books can all contribute to the theme.'
15. Welcome warmth with wooden furniture
Timeless, natural wood furniture instantly warms the space in a nursery to make it inviting for both girl and boy nursery ideas. The complementary natural tones also mean you don't necessarily need a full nursery range from the place.
'We suggest decorating a nursery with large pieces of furniture in neutral shades such as pine, grey and white so that these pieces, which are often the most expensive, remain timeless,' agrees Alex from Noa and Nani.
16. Opt for a feature cot bed
Classic nursery furniture is a safe choice by why not make a statement but choosing a coloured cot or toddler bed instead? A block colour will make a refreshing change and become the focal point of the nursery scheme.
'A cot is one of the most important additions to nursery ideas,' says Ann Marie from AMC Design. 'Ideally try and incorporate one which will grow with your baby rather than having to keep changing it.
'Try and position this away from a radiator and window to ensure maximum sleeping.'
17. Feature a blackout blind
Installing a blackout blind in the baby's room is a nursery idea you will thank us for. Controlling day-light to darkness will encourage a sleep schedule parents dreams are made of.
'When it comes to blinds, we advise a double layer approach if possible,' says Catherine from CatDal Interiors. 'A linen sheer for privacy of you are overlooked, but still keeps the light in, and then a black out lined curtain to block the light for sleeping.'
'If you believe your child needs total black out, maybe consider a pelmet or returning curtain pole.'
18. Stimulate senses with mobiles
Soothing or stimulating cot mobiles are a, heartwarmingly, staple nursery idea. Benefits include visual stimulation, sleep routine familiarity and motor skill development. Their decorative uses are also super valuable by adding colour, texture and style to a nursery room theme.
Don't restrict them to above the cot either; hang various mobiles that complement each other to ceilings, bookshelves and down curtain lengths for a whimsical and attractive look.
19. Add in a peg rail to organise clothes
Any new mum will tell you that getting your little one ready for a day out can be a nightmare. You've managed to wrestle them into their closest clean t-shirt, only to discover that it is a PJ top.
Install a peg rail on the nursery wall at your height, away from little fingers, where you can coordinate their outfits in advance and have them close to hand when it's time to get ready.
20. Spice up your white
Grey and white nursery ideas are incredibly popular for a reason, you know.
'White might seem like the most obvious neutral, but there a lot of white paints in the Dulux repertoire that inspire a more colourful palette,' says Stephanie.
'In general, warm whites like Timeless contain hints of gold and pink, and work beautifully alongside warmer shades elsewhere in the room. They also work well in north facing rooms to warm them up. Cooler whites like White Mist and Rock Salt contain hints of blue, grey and green which make them perfect for teaming with cooler shades and for south facing rooms.'
Stephanie adds that 'the beauty of white is also that it's the perfect canvas for additional colour'.
'As a mother of boy-girl twins myself, white provided me with the perfect backdrop for a gender-neutral scheme. I teamed White Cotton with pops of Rich Black confetti on a feature wall, and used brightly coloured painted doors, skirting and furniture to add the energy,' she says.
'Whether you are painting a nursery or not, consider the versatility that the humble white provides.'
21. Create a colourful feature wall
It's tempting to want to create a paradise of cream and sheepskin rugs when you have a little one on the way. However, don't shy away from the brighter colours which your baby will be drawn too. Use bedroom accent walls ideas so you can stimulate your babies senses.
22. Incorporate plenty of storage
Babies usually come with lots of things, from nappies to baby wipes. Keep everything in its designated place with plenty of built in storage in your new nursery.
Drawers are perfect for how to organise baby clothes and keeping your supply of nappies and cotton wool pads. However, be careful about using drawers anywhere little fingers can get caught: instead consider a fabric box slotted into a shelf.
23. Think tactile and textures
'Colours and patterns are important in nursery ideas and play a large factor in a child's development,' says Rebecca Drury, Co-Founder, MissPrint. 'Textures, especially, encourage children to be more inquisitive and adventurous. Introduce natural materials to a nursery like wood and stone as they can add a sense of calm by bringing nature into your child's space.'
'Think about introducing some key features such as a washed wooden floor, wicker storage baskets or plants. These can create a relaxing influence for a naturally calm and homely nursery space.'
24. Wow with a wonder wall
Wall stickers are a cheap and easy way to update a kid's room. There are hundreds of designs available, from Disney characters to aeroplanes and farmyard animals, all of which can be easily applied to the wall without any fuss.
Why not create an interactive wall map? Perfect as your child grows and learns.
25. Line toys up on a shelf
Make a display of books, teddies or dolls on a set of shelves lined up horizontally on one wall.
This is a great way of keeping toys off the floor, yet still to hand when your child wants to get one down.
26. Play with pattern
If you're eager to add interest to your child's room but want to avoid a strong theme, choose a toning colour palette in subtle shades of the same colour.
'We try to avoid themes, for example like a 'Starwars' theme, especially as fads rarely last into teenage bedroom ideas,' says Cherie from Cherie Lee Interiors. 'But the kid's room is the space to be more adventurous and fun than other parts of the home.'
'You can go to town with patterns, colour and geometric patterns. You can go a little crazy and have fun compared to other rooms to create an exciting and interesting space.'
27. Try a multi-purpose nightlight
A nightlight is usually a must-have in any and all nursery ideas, whether it's so your little one isn't afraid when they wake up at night or so you don't crash into a chest of drawers when creeping out of the room.
To make yours work harder (and stand the test of time), why not invest in a TonieBox? You can keep adding characters/stories, so your little one can use it as a reading aid for years to come, but you can also turn it into a night light with the Sleepy Sheep Night Light Tonie.
With 90 minutes of beautifully composed melodies and a warm glow, it's the ideal addition to your little one's nursery and bedtime routine.
FAQs
How can I make my nursery look good?
'Paint your nursery ideas in a colour you like, rather than a colour you feel you should paint it (blue and pink are not the only options!), but aim for neutral such as soft whites, yellows or even a sage.' says Ann Marie from AMC Design. 'These colours will enable a calming and welcoming space.'
'Ensure it is a clutter-free space,' advises Juliette Thomas, Founder, Juliettes Interiors. 'When walking in and out during the night time, you don't want to be falling over things so opt for a clear pathway from your room to the nursery.'
What is the calming colour for nursery?
It's time to dig out your favourite sage green nursery ideas, because it seems green is a truly wonderful and calming colour for a baby's room.
'Nature is always an amazing place to take inspiration from, and there is one colour that nature does like no other: green,' says Stephanie, noting that 'iIt's also a colour that it sits bang in the middle of the colour spectrum, so it's neither too loud nor too quiet'.
'For a slightly fresh but subtle green, choose Tranquil Dawn: a delightful mid-grey green perfect for promoting that feeling of calm and restfulness in a bedroom.'
When should I start decorating my nursery?
Although your baby will most probably sleep in your bedroom at the beginning, it's a good idea to have the nursery decorated before they arrive as newborns keep parents very busy.
'It really depends when the nesting instinct kicks in,' advises Staffan from Tollgard Studio. 'The sooner the better, so that any paint fumes have time to dry out and you don't get stressed with finishing a scheme days up to the due date.'
'Smaller items like clothes, nappies and blankets don't need to be stockpiled. Babies comes in all different sizes, and gifts are often incredibly generously given. You need less than you think, and you will wash more than you ever thought possible.'
What should a baby nursery include?
'The nursery is an every sense a dream room,' says Staffan from Tollgard Studio. 'It represents the culmination of the dreams and hopes of would-be parents, acts as inspiration for sponge-like minds, and, much more prosaically, needs to be a place of sleep!'
'The must haves therefore are boringly practical – utter darkness, layers of soft, dimmable lighting, a bed that will grow from crib to toddler, a changing station with lots of storage and working space, a soft rug, a very comfortable chair and footstool, shelves for books that can't be reached from the bed.'
We hope that we've inspired you with plenty of nursery ideas, and that you feel empowered to make the best possible choices for you and your little one.
And remember: your little one will care far less about having the perfect nursery aesthetic than they will a safe sleep space and cosy cuddles on tap, so don't put too much pressure on yourself!
Get the Ideal Home Newsletter
Sign up to our newsletter for style and decor inspiration, house makeovers, project advice and more.
Rachel Homer has been in the interiors publishing industry for over 15 years. Starting as a Style Assistant on Inspirations Magazine, she has since worked for some of the UK's leading interiors magazines and websites. After starting a family, she moved from being a content editor at Idealhome.co.uk to be a digital freelancer and hasn't looked back.