Teenage girls' bedroom ideas – 23 ways to create a fun and stylish sleep space
Our teenage girls' bedroom ideas will help you create a stylish space for both chilling out and studying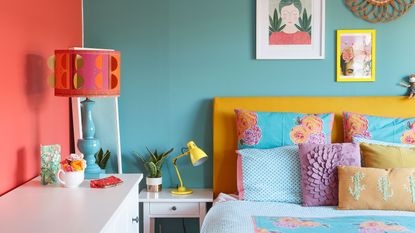 (Image credit: Future PLC / Douglas Gibb)
Ideal Home Newsletter
The Home Of Great Ideas For More Than 100 Years
Thank you for signing up to . You will receive a verification email shortly.
There was a problem. Please refresh the page and try again.
Decorating a teenage girl's bedroom can be a tricky task, particularly if you don't have tonnes of money to spend. You'll probably be thinking about making some slightly more 'grown-up' updates to the existing space, but at the same time, you don't want to end up with something that feels overly mature or lacking in personality.
Teenage bedroom ideas don't have to break the bank, and we think the most important thing is to involve your teenager in the process. It's also worth investing in furniture that will grow with them or that can take on a new life later down the line.
Teenage girls' bedroom ideas
'Bring your child on the design journey and let them help make some of the choices, such as what colour palette or theme to go for,' agrees Nicole Gray, Style Consultant at Furniture Village (opens in new tab). 'They'll relish the responsibility and it will ensure their room is a space they will want to spend time in.' From motivational gallery walls to sleek study spaces and ways to prevent the inevitable 'floordrobe', these teenage girls' bedroom ideas are sure to inspire.
1. Embrace boho vibes
Mix natural textures and bring in houseplants to create a laid-back, bohemian vibe in your teenage girl's room. Warm wood tones, a woven rug and white painted wooden wardrobes provide a lovely blank canvas for colourful cushions and throws. A pink wall arch and patterned cushion bring a playful element to this space, while the trailing plant and rose gold bedside lamps will make it extra cosy at night time. Personalise the look with fairy lights, prints, candles, souvenirs and snuggly blankets.
2. Maximise wall space for storage
Kate Salmon, Head of Homeware Buying at Oliver Bonas (opens in new tab), says that the key thing with small children's room ideas, is to keep your floor free from clutter. 'In small and box bedrooms, it's a good idea to use wall space for storage where possible,' she advises. In the space pictured above, ample shelving stores a huge collection of shoes, keeping the room looking streamlined.
'Don't just use any old shelves though, make sure you find some that fit with your children's room's decoration theme as open shelving will keep your treasures on display,' Kate adds. 'Look for a style with hooks so you can hang up your bags and scarves and maximise the space underfoot.'
3. Create depth with botanical wallpaper
Bold patterned wallpaper (or peel-and-stick options) can be used to create depth, making the space feel larger. Use the wallpaper as your starting point for the rest of the room, picking up on colours in the wallpaper and carrying them through in the soft furnishings. This will make it hang together beautifully.
If you're worried about it feeling too busy, white bedding and walls will tone it down. A neon light is also a great girls' bedroom idea, as it allows the occupant to put their stamp on the space and creates a cosy glow. If you can, opt for a bed with built-in storage underneath to save on wardrobe space, or buy slide-out storage solutions for under the bedframe.
4. Invite luxury with a four-poster
The best bed should always be the focal point of a stylish bedroom, and what better way to make a statement than a four-poster? The classic style brings lots of luxury, creating a space a teenage girl will love hanging out in. While it may be more of an investment than a standard double bed, it will grow with her. Plus, after Netflix's Bridgerton caused sales of four-posters to soar, they can now easily be found at high street stores, such as Dunelm and Habitat.
Teens' tastes will change dramatically, so using furniture that's interesting but not overwhelming will create a canvas for them to try out the latest trends and make the room theirs, says Christopher Lusty Founder of Little Folks Furniture (opens in new tab). 'It also means once they've flown the nest and it's the parent's turn to redesign the room, the furniture can easily remain for guests,' Christopher adds.
5. Mix old and new homeware that's both practical and stylish
The wallpaper is the star of the show here (sorry) and is a fine example of how effective it can be to take the wallpaper all the way up and over the ceiling in loft rooms with awkward angles. Style retro pieces, like these lockers that have been repurposed as bedside tables, with modern neon lighting and prints. We're loving the juxtaposition of old and new, which continues with the use of a vintage bedframe and graphic typography.
Kate Salmon from Oliver Bonas says choosing bedside tables with extra storage can be a real gamechanger. 'Whether it's to charge their phone or host the latest title on their reading list, most people will need some kind of furniture piece at their bedside,' she says. 'Every inch of space needs to be maximised so make sure you choose a style with extra storage such as a cupboard or drawers to conceal the things you need easy access to but don't have room to store on top.'
6. Colour clash for big impact
Clash bold tones for a fun and vibrant space that's full of fun and energy. Pick complementary colours that sit opposite each other on the colour wheel, from classic combos like pink and green to more unusual pairings like coral and turquoise. Note how the 60/30/10 colour rule has been applied here, incorporating plenty of blue, a splash of coral and a hint of yellow in the cushions, photo frame and headboard.
7. Go easy-breezy with holiday vibes
Take inspiration from this year's biggest wallpaper trends to create a striking feature wall in your teen's bedroom that brings a holiday feel to the space. Layer on a circular mirror, side table and chair for a practical dressing table set up and accessorise with textural table lamp, sheepskin rug and a tactile cushion cover.
8. Hang polaroids for a personalised touch
Surround your teen with photos of their friends and family with a selfie wall! Do so without damaging the beautifully painted walls by attaching pegs to either side of the wall and tie string – or even thin wire fairy light ideas – between them like a mini washing line. Now all you have to do is turn a polaroid camera and bulldog clips over to your teen for them to curate the rest. Even if you don't have a polaroid camera there are plenty of apps or print templates that you can use to achieve a similar retro look.
9. Turn your teen's wanderlust into a feature wall
If you have a teen already plotting her gap year adventures why not make a feature out of a wooden map that they can pin polaroid shots of the places they've already been and places they are still planning to go? Continue the theme throughout the room by adding some stylish storage with some old fashion suitcases as a bedside table.
10. Encourage optimism with bright florals
Energetic, fun and girly (without being too sugary), this teenage girls' bedroom is packed with saturated colour, destined to make your teen smile (even if they won't show you that). This space has a grown-up feel, but isn't too serious, courtesy of certain decorative flourishes that add a whimsical finish – we're looking at the curlicues on that chair and the light-hearted prints on the wall.
The end-of-bed storage bench is ideal for hiding clutter, too. 'Part seating, part storage, this multi-functional piece is perfect for use in a small bedroom,' says Kate Salmon, Head of Homeware Buying at Oliver Bonas (opens in new tab). 'It opens to reveal a large box for extra storage, while the fabric lid adds a pop of colour and a soft place to sit.'
11. Curate a cool bedroom art display
If you've spent time and money carefully creating two-tone paint effects like this, and refurnishing a kids bedroom, you're probably not going to be that keen for your teen daughter to pin posters directly on the wall... not that we're being design control freaks or anything.
Try fixing picture ledges at staggered heights on the wall above the bed and layering up framed prints and photos of your teen's choice for a personal and art display. The images – and therefore the space – can be updated as frequently as she wants.
12. Introduce flashes of colour to a neutral room
Flashes of bright coral will make for an energetic bedroom – it might help the girl who lives in it get out of bed faster in the morning, but then again... The hot coral contrasts with the pristine white walls to add a fresh hit to the overall look.
The exposed wire bedside light makes this room feel grown up, but there is still space for her beloved Moomin's, she's still a kid underneath all that teenage angst.
13. Create a study zone
Just because a bedroom study space is essential for school or college homework, doesn't mean it has to be boring. This bedroom corner has been transformed into a space you want to hang out in – it's worthy of a lifestyle blogger!
Floating shelves house stacked framed prints and photos, and accessories look pretty while also functioning as organisational desk essentials. A terrazzo light and fur throw add a touch of luxury to the slender desk that handily doubles as a dressing area.
When setting up a study zone, Nicole Gray, Style Consultant at Furniture Village (opens in new tab) recommends finding a semi-private area for the desk to go. 'This will mean fewer interruptions,' she says.' Position a desk in a bright, open space with natural light and good ventilation to aid concentration.'
14. Seek privacy with stylish window treatments
A thoughtful window treatment idea is essential for a teenager's bedroom, to provide privacy more than anything. Not merely reserved purely for living rooms and bathrooms window shutters are ideal for a bedroom setting too – providing much-needed privacy and to filter out the light.
15. Make the theme motivational
Add personal touches and be sure to make the space a happy place. At a sensitive stage of their development it's crucial to create a retreat where they can feel at peace and reset, this is where motivational messages can go a long way to raise a smile. A gallery wall is an on-trend way to introduce a touch of cool to the artwork collection.
In this dusky pink bedroom the grown-up vibe is accentuated with the addition of a velvet headboard, while the plush toys and personalised touches add a youthful feel.
16. Style it out with monochrome
One for the colour-shy teenage girls out there – some girls just know from the get-go that monochrome is the epitome of chic style. Apart from the lack of colour, there is nothing retiring about this bedroom though, which mixes pattern like nobody's business. We are particular fans of that striped drawer unit – ideal for storing a growing wardrobe and make-up collection!
17. Make it changeable with wall stickers
When things go out of fashion quicker than you can say trending, there's a chance your teen could change preference very quickly on what's deemed cool or not. To save on a decorating budget and also prevent waste, consider wall stickers to add decoration. The use of transfers means less commitment to a theme, giving teens the freedom to express themselves with more fluidity.
These heart wall stickers can be positioned and repositioned when the mood takes you. Simply peel off with care, placing them back on the original backing sheet and you can reapply your stickers ready for re-use. Best of all, they won't leave residue behind so walls walls are preserved.
18. Keep things light and airy
A clean white or neutral base is ideal for teenage bedrooms, as it offers the opportunity to chop and change the look as quickly as teenage tastes and styles do! Opt for classic white furniture with a slender profile, as this will help reduce the sense of clutter.
However, this sunny, pretty space is really all about the accessories; a bold bloom bedspread, hot pink accents, soft pastel lamps and prints and a tactile sheepskin throw on the chair ensure this space is modern and still playful.
19. Add a pop of colour with a vibrant bed frame
Who said that jolts of colour in a room should only come from soft furnishings? In this room the bed takes centre stage in a playful aquamarine colour. The rest of the furniture has been kept neutral to prevent it from looking to childish. However the layers of hot pink bedding and the italic name plaque above the bed make this room perfect for a modern day teen princess.
20. Give a loft room a Scandi spin
Not all teens are blessed with the biggest of bedrooms, and it's not always simple switching up from a children's room to a more adult space. This attic bedroom idea does a great job of crossing that divide, with a cool Scandi style that makes the most of the available space with a raised built-in cabin bed, with storage below and in the alcove beyond... leaving the rest of the room free for your teen's wardrobe (ideally not scattered across the newly-freed-up floor).
The wood cladding keeps the bedroom calm and enhances the sense of space – essential in a teen girl's room – while colourful bed linen can be used to add personality and flair.
21. Give pink a grown up twist
There is something about a blush pink bedroom idea that will hold endless appeal, whether your teen is 14 or 18. If your teen already had a pink room from when they were younger give it an elegant style update. Add a mirror gallery wall and luxurious bedding in different shades of pink and purple. A white ladder shelf is a great way to add storage to a small space, ideal for displaying their books and treasures.
22. Mix and match patterns and prints
Pom-poms, polka dots, bunting and crochet combine to form a fun space to inspire. The mix of prints, patterns and textures can create a bright and brilliant bedroom for a teenage girl. Balance warm orange and yellow tones with pale blues and expanses of white, if you don't want it to feel overwhelming. However, it's an ideal space to let your teen play with design options.
23. Get organised...with added colour
Bring a little organisation to that growing clothes and accessories collection. Store the overflow in all on a colourful hanging rail with built-in drawer. If your teen's a proper fashionista it provides the perfect outlet for them to coordinate outfits or mini photoshoots for their Instagram. Modern and practical, with endless creative opportunities – this one's a no-brainer.
Do you like these teenage girls' bedroom ideas? Which one is your favourite design?
What should a teenage girls' bedroom include?
'Plan for plenty of storage such as foldable baskets, pull-out bed drawers and fun shelving for books and nick-nacks,' recommends Style Consultant Nicole Gray. 'It will make the room feel airier and leave plenty of space.
'If they have their heart set on a statement wall decal or a particular theme, pare the space back so that there are only one or two key hero features, like a statement wallpaper or bed frame, and build the rest of the room around it.'