Teenage girls bedroom ideas – 28 ways to create a fun and stylish sleep space
Our teenage girls bedroom ideas will help you create a stylish space for both chilling out and studying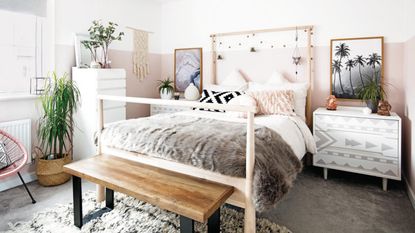 (Image credit: Future PLC/David Giles Photography Ltd)
If you're in the market for teenage girls bedroom ideas, you've come to the right place: we've pooled together all of our knowledge (along with some expert tips) to help you create a space your kid will absolutely love.
Because here's the thing: her bedroom needs to be so much more than just a bedroom. It needs to be somewhere she can express herself, first and foremost, not to mention somewhere she can study, and rest, and reflect on all the big changes in her world.
It also, on a more practical level, needs the sort of furniture that will grow with her over time –⁠ and plenty of savvy bedroom storage ideas, too. Bet you're glad we're here to help, eh?
Teenager's rooms don't have to break the bank, and we think the most important thing is to involve your teenager in the process - it's more of a joint process than younger kids room ideas. It's also worth investing in furniture that will grow with them or that can take on a new life later down the line.
Teenage girls bedroom ideas
The most important thing to remember, before embracing any and all teenage girls bedroom ideas, is this: it is far more of a collaborative process than any younger kids room ideas.
'Decorating for a teenage girl may not be as easy as you think, as with time passing, their bedroom becomes a personal space that they want to use to show their personality,' says Stephanie King, content and creative lead at Dulux.
'It's really important to involve your teenager in the process and consider what they're using it for. And it's crucial to consider what they want, as it's important to create a creative and beautiful room for her to grow with.'
With that caveat in place, then, let's dive on into the wonderful world of teenage girl bedroom ideas...
1. Keep it neutral
When dreaming up a bedroom colour scheme for your teenage girls bedroom ideas, don't be afraid to keep it neutral.
'There are so many different colour schemes to choose from, but to ensure the room still works as they grow older try timeless classic colours that provide a neutral backdrop, such as warm greys, natural beige or even blush pink tones layered with a pop of colour to bring out that personality,' suggest Stephanie.
Heather Young, Ideal Home's editor-in-chief, agrees. 'My daughter is anti-colour, so we painted the bed and walls a soft taupe, but I managed to squeeze in a couple of accent tones in ochre and dusty pink,' she says.
2. Layer up different textures
'Teenage girls love a romantic bohemian look, so faux fur rugs are always a good idea,' say Sabrina Panizza and Aude Lerin, co-founders of PL Studio.
'A cosy bed with lots of throw pillows and a soft blanket are must-haves in a girl's bedroom, as well as a free-standing mirror and lots of greenery to create a serene and relaxing atmosphere, perfect for chilling and reading or hanging out with friends.'
They add that 'a great addition to complete the boho style look could be a soft draped canopy over the bed paired with string lights, and a few carefully chosen bedroom wall decor items.'
'Add a hanging chair for a dreamy, romantic look,' finishes the designer duo.
3. Tech it up
Every teenage girls bedroom idea needs to take into account the fact that your teen, whether you love it or not, will be using a lot of tech.
'Incorporating technology into a teen's bedroom can enhance both their entertainment and productivity,' say Sabrina and Aude.
'However, it's essential to have a balance between providing useful tech and ensuring that it doesn't become distracting or interfere with sleep/ other activities.'
Given that many teenagers use technology extensively, the duo add that you 'try and provide a designated area for devices, charging stations, and a computer or gaming setup'.
'Organise cables and wires to maintain a neat appearance. Equip the desk area with computer accessories, like a comfortable keyboard and mouse, a monitor, and a good-quality chair,' they explain.
'Wireless headphones can provide privacy for music, gaming, or watching videos without disturbing the rest of the family.'
4. Get playful with the lighting
Don't underestimate the power of good bedroom lighting ideas. 'Most teenage girls would consider twinkle lights a must,' say Sabrina and Aude.
'Different coloured lights can match different moods and times of the day, and it adds something unique to the room when it doesn't feel exciting and entertaining enough for them.'
Heather agrees, adding that 'good lighting is key so that your teen can change up the mood – as well as the main light, you need to factor in desk lighting for homework, plus I've added wall lights on dimmers. And both my teen twins are big fans of these colour-changing LED strips from Amazon, which we've run around the top of the wall!'
5. Go geometric
If you're looking for a fun teenage girls bedroom idea, but don't want to repaint their entire room, why not try adding a bedroom feature wall idea?
'Geometric shapes or curves work really well in teenager's bedrooms; the shapes help add an element of texture to their rooms,' says Stephanie.
'Combining two colours on the wall is such a stylish and simple way to transform an interior and the best way to do it is to use different tones of the same colour, one lighter and one darker.'
Stephanie adds that 'splitting the wall into thirds gives the best effect and if you paint the section that goes down to the floor in the deepest shade, it helps to make a room feel grounded'.
'Try painting the ceiling in a lighter shade too for a seamless effect,' she finishes. 'And make the job really easy by using Dulux Simply Refresh paints from Homebase that cover in one coat so you can get the job done in double quick time.'
6. Green is the colour
'Using house plant ideas can be a great way to add life, colour, and a refreshing atmosphere to teenage bedrooms,' say Sabrina and Aude.
'You might want to think about choosing the right plants; low-maintenance plants are ideal for teenagers who may not have a green thumb. Consider plants like snake plants, pothos, spider plants, or succulents.'
They add that 'you can encourage your teenage girl to paint or decorate plain pots themselves to add a personal touch'.
7. Maximise wall space for storage
Kate Salmon, Head of Homeware Buying, Oliver Bonas, says that the key thing with small children's room ideas, is to keep your floor free from clutter. 'In small and box bedrooms, it's a good idea to use wall space for storage where possible,' she advises. In the space pictured above, ample shelving stores a huge collection of shoes, keeping the room looking streamlined.
'Don't just use any old shelves though, make sure you find some that fit with your decoration theme as open shelving will keep your treasures on display,' Kate adds. 'Look for a style with hooks so you can hang up your bags and scarves and maximise the space underfoot.'
8. Create depth with botanical wallpaper
Bold patterned wallpaper (or peel-and-stick options) can be used to create depth, making teenage girls bedroom ideas feel larger. Use the wallpaper as your starting point for the rest of the room, picking up on colours in the wallpaper and carrying them through in the soft furnishings. This will make it hang together beautifully.
If you're worried about it feeling too busy, white bedding and walls will tone it down. A neon light is also a great girls' bedroom idea, as it allows the occupant to put their stamp on the space and creates a cosy glow. If you can, opt for a bed with built-in storage underneath to save on wardrobe space, or buy slide-out storage solutions for under the bedframe.
9. Invite luxury with a four-poster
The best bed should always be the focal point of a stylish bedroom, and what better way to make a statement than a four-poster? The classic style brings lots of luxury, creating teenage girls bedroom ideas that they will love hanging out in. While it may be more of an investment than a standard double bed, it will grow with her. Plus, after Netflix's Bridgerton caused sales of four-posters to soar, they can now easily be found at high street stores, such as Dunelm and Habitat.
Teens' tastes will change dramatically, so using furniture that's interesting but not overwhelming will create a canvas for them to try out the latest trends and make the room theirs, says Christopher Lusty, Founder, Little Folks Furniture. 'It also means once they've flown the nest and it's the parent's turn to redesign the room, the furniture can easily remain for guests.'
10. Mix old and new homeware that's both practical and stylish
The wallpaper is the star of the show here (sorry) and is a fine example of how effective it can be to take bedroom wallpaper ideas all the way up and over the ceiling in loft rooms with awkward angles. Style retro pieces, like these lockers that have been repurposed as bedside tables, with modern neon lighting and prints. We're loving the juxtaposition of old and new, which continues with the use of a vintage bedframe and graphic typography.
Kate from Oliver Bonas says choosing bedside tables with extra storage can be a real gamechanger. 'Whether it's to charge their phone or host the latest title on their reading list, most people will need some kind of furniture piece at their bedside.'
'Every inch of space needs to be maximised so make sure you choose a style with extra storage such as a cupboard or drawers to conceal the things you need easy access to but don't have room to store on top.'
11. Colour clash for big impact
Clash bold tones for fun and vibrant teenage girls bedroom ideas that are full of energy. Pick complementary colours that sit opposite each other on the colour wheel, from classic combos like pink and green to more unusual pairings like coral and turquoise.
'Be bold,' says Stephanie. 'After all, you are only a teenager once and paint is one of the cheapest and easiest ways to make a change. Clash bold colours to create vibrancy and energy within their space. Try combining Dulux's Sweet Embrace and Ochre Sands.'
12. Go easy-breezy with holiday vibes
Take inspiration from this year's biggest wallpaper trends to create a striking feature wall in your teenage girls bedroom ideas to bring a holiday feel to the space.
Layer on a circular mirror, side table and chair for a practical dressing table set up and accessorise with textural table lamp, sheepskin rug and a tactile cushion cover.
13. Hang polaroids for a personalised touch
Surround your teen with photos of their friends and family with a selfie wall! Do so without damaging the beautifully painted walls by attaching pegs to either side of the wall and tie string – or even thin wire fairy light ideas – between them like a mini washing line.
'You can opt for string lights with clips, which allow girls to hang up photos of their favourite days and people, so the memories stay lit up in their minds as much as they are on their walls,' say Sabrina and Aude.
Now all you have to do is turn a polaroid camera and bulldog clips over to your teen for them to curate the rest. Even if you don't have a polaroid camera there are plenty of apps or print templates that you can use to achieve a similar retro look.
14. Turn your teen's wanderlust into a feature wall
If you have a teen already plotting her gap year adventures why not make a feature out of a wooden map that they can pin polaroid shots of the places they've already been and places they are still planning to go?
Continue the theme from the bedroom wall decor throughout the rest of the room by adding some stylish storage with some old fashion suitcases as a bedside table.
15. Encourage optimism with bright florals
Energetic, fun and girly (without being too sugary), this bedroom is packed with saturated colour, destined to make your teen smile (even if they won't show you that). This space has a grown-up feel, but isn't too serious, courtesy of certain decorative flourishes that add a whimsical finish – we're looking at the curlicues on that chair and the light-hearted prints on the wall.
The end-of-bed bedroom storage bench is ideal for hiding clutter, too. 'Part seating, part storage, this multi-functional piece is perfect for use in a small bedroom,' says Kate from Oliver Bonas. 'It opens to reveal a large box for extra storage, while the fabric lid adds a pop of colour and a soft place to sit.'
16. Curate a cool bedroom art display
If you've spent time and money carefully creating two-tone paint effects like this, and refurnishing a kids bedroom, you're probably not going to be that keen for your teenage girls bedroom ideas to involve posters being pinned or Blu-Tacked directly on the wall... not that we're being design control freaks or anything.
Try fixing picture ledges at staggered heights on the wall above the bed and layering up framed prints and photos of your teen's choice for a personal and art display. The images – and therefore the space – can be updated as frequently as she wants.
'A gallery-style art display (showcasing multiple pieces on a single wall) can create a playful yet sophisticated look in a teen bedroom, giving life to an interesting blend of high-spirited and more mature décor, with a warm and inviting feel,' say Sabrina and Aude.
This is also great if you're working with shared bedroom ideas as each child can easily delineate their space and changing tastes.
17. Introduce flashes of colour to a neutral room
Flashes of bright coral will make for an energetic bedroom – it might help the girl who lives in it get out of bed faster in the morning, but then again... The hot coral contrasts with the pristine white walls to add a fresh hit to the overall look.
The exposed wire bedside light makes this room feel grown up, but there is still space for her beloved Moomin's, she's still a kid underneath all that teenage angst.
18. Create a study zone
Just because a bedroom study space is essential for school or college homework, doesn't mean it has to be boring. This teenage girls bedroom ideas has a corner that has been transformed into a space you want to hang out in – it's worthy of a lifestyle blogger!
Floating shelves house stacked framed prints and photos, and accessories look pretty while also functioning as organisational desk essentials. A terrazzo light and fur throw add a touch of luxury to the slender desk that handily doubles as a dressing area.
When setting up a study zone, Nicole from Furniture Village recommends finding a semi-private area for the desk to go. 'This will mean fewer interruptions. Position a desk in a bright, open space with natural light and good ventilation to aid concentration.'
19. Seek privacy with stylish window treatments
Thoughtful bedroom curtain ideas are essential for a teenager's room, to provide privacy more than anything. Not merely reserved purely for living rooms and bathrooms window shutters are ideal for a bedroom setting too – providing much-needed privacy and to filter out the light.
20. Make the theme motivational
Add personal touches and be sure to make teenage girls bedroom ideas into a happy place. At a sensitive stage of their development it's crucial to create a retreat where they can feel at peace and reset, this is where motivational messages can go a long way to raise a smile. A gallery wall is an on-trend way to introduce a touch of cool to the artwork collection.
In this dusky pink bedroom the grown-up vibe is accentuated with the addition of a velvet headboard, while the plush toys and personalised touches add a youthful feel.
21. Style it out with monochrome
One for the colour-shy teenage girls out there – some girls just know from the get-go that monochrome is the epitome of chic style.
Apart from the lack of colour, there is nothing retiring about black and white bedroom ideas, especially if you mix pattern like nobody's business. We are particular fans of that striped unit – ideal for storing a growing wardrobe and make-up collection!
22. Make it changeable with wall stickers
When things go out of fashion quicker than you can say trending, there's a chance your teen could change preference very quickly on what's deemed cool or not. To save on a decorating budget and also prevent waste, consider wall stickers to add decoration. The use of transfers means less commitment to a theme, giving teens the freedom to express themselves with more fluidity.
These heart wall stickers can be positioned and repositioned when the mood takes you. Simply peel off with care, placing them back on the original backing sheet and you can reapply your stickers ready for re-use. Best of all, they won't leave residue behind so walls walls are preserved.
23. Keep things light and airy
Clean white bedrooms or at least a neutral base is ideal for teenage girls bedroom ideas, as it offers the opportunity to chop and change the look as quickly as teenage tastes and styles do! Opt for classic white furniture with a slender profile, as this will help reduce the sense of clutter.
However, this sunny, pretty space is really all about the accessories; a bold bloom bedspread, hot pink accents, soft pastel lamps and prints and a tactile sheepskin throw on the chair ensure this space is modern and still playful.
24. Add a pop of colour with a vibrant bed frame
Who said that jolts of colour in a room should only come from soft furnishings? In this room the bed takes centre stage in a playful aquamarine colour. The rest of the furniture has been kept neutral to prevent it from looking to childish.
However the layers of hot pink bedding and the italic name plaque above the bed make this room perfect for a modern day teen princess.
25. Give a loft room a Scandi spin
Not all teens are blessed with the biggest of bedrooms, and it's not always simple switching up from a children's room to a more adult space. This attic bedroom idea does a great job of crossing that divide, with a cool Scandi style that makes the most of the available space with a raised built-in cabin bed, with storage below and in the alcove beyond... leaving the rest of the room free for your teen's wardrobe (ideally not scattered across the newly-freed-up floor).
The wood cladding keeps the bedroom calm and enhances the sense of space – essential in teenage girls bedroom ideas – while colourful bed linen can be used to add personality and flair.
26. Give pink a grown up twist
There is something about blush pink bedroom ideas that will hold endless appeal, whether your teen is 14 or 18. If your teen already had a pink room from when they were younger give it an elegant style update. Add a mirror gallery wall and luxurious bedding in different shades of pink and purple. A white ladder shelf is a great way to add storage to a small space, ideal for displaying their books and treasures.
27. Mix and match patterns and prints
Pom-poms, polka dots, bunting and crochet combine to form a fun space to inspire. The mix of prints, patterns and textures can create bright and brilliant teenage girls bedroom ideas. Balance warm orange and yellow tones with pale blues and expanses of white, if you don't want it to feel overwhelming. However, it's an ideal space to let your teen play with design options.
28. Get organised...with added colour
Bring a little organisation to that growing clothes and accessories collection. Store the overflow in all on a colourful hanging rail with built-in drawer.
If your teen's a proper fashionista it provides the perfect outlet for them to coordinate outfits or mini photoshoots for their Instagram. Modern and practical, with endless creative opportunities – this one's a no-brainer.
FAQs:
What should a teenage girls' bedroom include?
'Plan for plenty of storage such as foldable baskets, pull-out bed drawers and fun shelving for books and knick-knacks,' recommends Nicole from Furniture Village. 'It will make the room feel airier and leave plenty of space.'
'If they have their heart set on a statement wall decal or a particular theme for their teenage girls bedroom ideas, pare the space back so that there are only one or two key hero features, like a statement wallpaper or bed frame, and build the rest of the room around it.'
What should a 13 year old girls room look like?
'Colour accents combined with bold artworks are the perfect way to make a teen bedroom stand out,' say Sabrina and Aude.
'Artworks with bold geometric patterns (we never say no to a daring black and white pattern!) and fun pops of colour can give e teen bedroom its own electric energy.'
They add that 'ironic wall art can help create a quirky space with a retro spirit and a fun atmosphere that would certainly be welcome by teens, whilst giving life to an eye-catching space'.
'It is important to ensure that a vibrant palette of hues is created – ideally the colour of the artworks would match some of the soft furnishing, like cushions, rugs and duvets, to achieve an instant cheerful lift,' they finish.
Is there an easy way to inject some teenage glam into their old pastel room?
'Try adding a feature wall in a pastel room. This can instantly revive a pastel room creating a bold and modern space that makes them feel energised and confident,' says Stephanie.
We hope that these teenage girls bedroom ideas leave you feeling inspired, and don't forget: it's all about creating a multi-functional space they'll love.
'Teens like to spend a lot of time in their rooms (I know – I've got two of them!), and it can be a challenge to create a multi-tasking space that also ticks the style box,' says heather.
'My daughter's room is pretty compact, so we chose a high sleeper bed, which we hacked to add a built-in desk and shelving below. Then I used a couple of beanbags to create a little chill out space.'
Anyone else suddenly in the mood to add a beanbag or two to their own bedroom? See you at the checkouts...
Get the Ideal Home Newsletter
Sign up to our newsletter for style and decor inspiration, house makeovers, project advice and more.
Jennifer is the Deputy Editor (Digital) for Homes & Gardens online. Prior to her current position, she completed various short courses a KLC Design School, and wrote across sister brands Ideal Home, LivingEtc, 25 Beautiful Homes, Country Homes & Interiors, and Style at Home.