Best mattress protectors 2022 - shield against stains and spills for better sleep
These are the best mattress protectors, tried and tested from bedding favourites such as Simba, Nectar and Slumberdown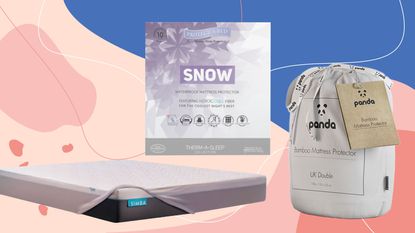 (Image credit: Future)
Ideal Home Newsletter
The Home Of Great Ideas For More Than 100 Years
Thank you for signing up to . You will receive a verification email shortly.
There was a problem. Please refresh the page and try again.
With one of the best mattress protectors, you can sleep better knowing your mattress is shielded from spills and stains. Cleaning a mattress is not a job on our every week to-do list, nor is it a job that's enjoyable or easy to do. More so, having to replace one can be an unexpected expense we'd rather avoid. Especially in current times. So, covering your mattress with a protector will prolong your mattress's longevity by working to keep it fresher for longer. Spend a little now, and reap the rewards later.
Wrapping your mattress in a high quality protector also has benefits that go beyond keeping the mattress beneath it clean. It can provide a layer of comfort with either cooling properties or foam padding for better sleep. From temperature-regulating to bacteria batting, to odour control and anti-allergy, these best mattress protectors can do wonders for helping you sleep soundly. After all, if you've splashed out on the best mattress, you'll want something that offers more than just a layer of protection.
We've tried and tested these mattress protectors below, so that you can find one that suits your needs. Including options from mattress specialists such as Simba, Nectar and Rem-fit, as well as great value buys from John Lewis and Slumberdown. These are ideal options for every type of sleeper with every budget. We've spoken to the experts too, so you can get the lowdown on what to look for when buying the best mattress protector.
The best mattress protectors
1. REM-Fit Snow Cooling Mattress Protector
Best overall mattress protector
Specifications
Sizes available : Single, double, king, super-king
Material: 45% Ice yarn, 55% Polyester
Care : Machine washable at 60°C and tumble drier friendly
Reasons to buy
+
Waterproof
+
Hypoallergenic
+
Temperature regulating
+
Easy to care for
Reasons to avoid
-
More expensive
-
Not suitable for winter
A longstanding favourite amongst the Rem-fit mattress owners and other mattress brand-lovers alike, this Rem-fit mattress protector is our best overall. Why? Its top qualities go beyond being a barrier between accidental drink spills and your beloved mattress.
For one, it has a membrane barrier to repel dust mites. But its layered material not only protects your mattress from dust mites and allergens, but is also entirely waterproof - both dust and liquid slides right off. Though this repellent material is especially ideal when it comes to night sweats. It has a Nordic chill cooling top layer, which dissipates body heat 10 times faster than cotton, so hot sleepers can keep cool in summer. Oh, and you can wash and tumble dry quickly, for even fresher sheets.
We tested this during the mist of a heatwave, and couldn't have chosen a timelier mattress protector to use. It's cool to the touch and keeps you just as fresh throughout the night, as its name suggests. So it lives up to its promise as far as we're concerned. If you're a cold sleeper though, not to worry either. Whilst we would suggest you opt for a warmer mattress protector option during harsh winter months, this mattress protector equally regulates body temperature to keep you warm on cold nights. Without discount, it is one of the most expensive on this list, but Rem-fits Snow Cooling Mattress Protector is a worthwhile investment that has more than most sleep benefits.
2. Woolroom Chatsworth Washable Wool Mattress Protector
Our favourite mattress protector
Specifications
Size: Single, single extra-deep, small double, double, king, super-king, emperor, large emperor, EU double, and EU king
Material: Organic cotton and 100% British wool
Care : Wash with wool detergent, do not tumble dry
Reasons to buy
+
Luxury feel
+
Temperature regulating
+
Sustainable materials
+
Reasonable price
Reasons to avoid
-
You can't tumble dry
-
Not waterproof
Woolroom's mattress protector is something of a special case. It's no ordinary sheet. Rather this protector is made from wool, which gives it a luxurious feel, that is entirely traceable. Impressive! Wool has a ton of added benefits, aside from being a super sustainable fabric. That's why this is our favourite mattress protector on the market.
Intrigued? Let's address the traceability factor first. As part of the Chatsworth collection (which also includes one of the best duvets) the wool used in the making of this mattress protector can be tracked right through from manufacturing, to the sheep itself. Transparent and eco-friendly, this process justifies its high price point alone. But what if we told you wool is also temperature regulating, moisture-wicking and hypoallergenic? The downside? It's not waterproof - so keep scrolling if you're looking for something to stop spills.
Still, we think it's a hero for hot sleepers, since our tester, who often overheats at night, slept sweat-free. We'd expect this to deliver during the winter too, when you usually pile on the covers, only to kick them off during the night. With this mattress protector, you're sure to stay at optimum temperature throughout the night. With such quality comes care. You're unable to bung it in the tumble drier, and it's recommended to use a wool detergent with it in the wash. Nonetheless, where wool has often been overlooked by bedding that prize affordability and ease of care, WoolRoom are certainly putting the material back on the bed with this product.
3. Nectar Mattress Protector
Best waterproof mattress protector
Specifications
Size: Single, double, small double and king-size
Material : 100% (Tencel®) jersey
Care : Washable at 90°C
Reasons to buy
+
Super Waterproof
+
Temperature regulating
+
Sustainably sourced
+
Good price point
Reasons to avoid
-
Not tumble dryer friendly
-
Need to wash a few times before use
Nectar's USP for this mattress has to be its Tencel top layer, which feels incredibly soft and is said to be more breathable than cotton. Tencel is a sustainable option made from wood pulp fibres from responsibly farmed forestry. This is surprising, and what makes it our best waterproof mattress protector, as most others are usually stiff with a plasticky type coating.
Speaking of which, we poured a tumbler of water on the surface, and not one drop permeated the polyurethane protective barrier underneath. One of our favourite features of this protector is the chance to wash it at 90°c – the only one we have found suitable for such hot, bacteria-killing, stain-removing temperatures.
Anyone with sensitive noses might not appreciate the slight chemical smell that occurs when opening the box of this mattress protector, but it is designed to be washed before first use which quickly solves that small issue. One other minor bugbear is that Nectar's mattress protector can't go in the tumble dryer, but this is typical of waterproof mattress protectors. We popped a freshly laundered protector on a drying rack in the morning and it was ready to go on the mattress by bedtime.
4. The White Company Temperature Balance Quilted Mattress Protector
Best temperature regulating mattress protector
Specifications
Size: Single, double, king, super king, emperor
Material: 100% Cotton and polypropylene
Care : Machine washable
Reasons to buy
+
High temperature regulating technology
+
Quilted feel
+
Reasonable price
Reasons to avoid
-
Not waterproof
-
Flattens and shrinks a little in the wash
-
Not recommended to tumble dry
Incorporating technology developed for NASA, this mattress protector is our best temperature regulating option that's great for the hot-heads. It uses an Outlast® coating with phase-change materials to store excess body temperature and release the heat when required. In other words, while wicking qualities featured with many others on this list, manages moisture by reacting to sweat, The White Company's fabric prevents sweat from occurring.
Not only do you sleep more soundly, but there's less laundry to do when you wake up. Sure, it sounds unduly complicated for bedding but all you really need to know is that it works. You can feel the cooling in action when you touch the surface, even when covered in a bedsheet. We tested this protector during a heatwave and it definitely provided some relief during the hot, airless nights.
In other news, this mattress pad is machine washable at 40°c – using a 'delicates' wash cycle – which is important as we did find it to slightly shrink and flatten after washing. Any hotter of a temperature and you'll find it too tight to get on.
5. Simba Performance Mattress Protector
Best odour fighting mattress protector
Specifications
Size: Single, double, king, super-king, small double, EU double, EU Queen, EU single
Material: Cotton and polypropylene
Care : 40°C wash and a cool tumble dry.
Reasons to buy
+
Prevents odours
+
Breathable
+
Entirely machine washable and tumble dryer friendly
Reasons to avoid
-
Not waterproof
-
Need to use non-biological laundry cleaner
-
More expensive
If you've bought the Simba Hybrid mattress (one of our favourites, mind) it makes great sense to protect your investment with a protector that fits like a glove. We tried this protector on a Simba mattress and also a thicker sprung mattress by Silentnight, just to make sure Simba's claim that it fits well on any mattress is true. Happily, we can confirm it was just as firmly secured on both.
Fit aside, this protector has a thickness to it, with sufficient padding and a 100% cotton cover for comfort. It's not a topper of course, but the quilted top is not just for show. Simba says it contains Bi-Ome technology that "attracts microorganisms and deactivates them on contact, preventing growth and spread". Translation: the fabric has received an antibacterial treatment to fight odours that come from night sweats.
With this in mind, it's important to use a non-biological laundry cleaner when washing and drying this cover. And despite some reviews on Simba's site claiming it's waterproof, after pouring a tumbler of water on it, we can reveal it's more splash proof than spill-proof. Slightly disappointing given its higher price point.
6. Panda Bamboo Mattress Protector
Most sustainable mattress protector
Specifications
Size: Cot, cotbed, single, small double, double, king, super-king, EU single, EU double, EU king and EU emperor
Material: Bamboo and cotton
Care : Machine washable at 50°c, line-dry only
Reasons to buy
+
Eco-conscious
+
Waterproof
+
Budget-friendly
Reasons to avoid
-
A little thin
-
Can't tumble dry
The clue is in the name - Panda's bamboo mattress protector is the most sustainable option on this list. The main fabrics involved are sustainably sourced, naturally antibacterial bamboo fibres and cotton, with the waterproofing provided by a very thin layer of Nano TPU. We acknowledge that this is essentially thermoplastic polyurethane but if you want to protect a mattress from bed-wetting, not just the odd patch of sweat, it's always going to involve some form of plastic barrier. Though that's not to forget Nano TPU is biodegradable in soil so Panda upholds its well-earned eco halo.
Instead, focus on the fact reviews suggest it doesn't 'feel' like plastic. in any way, shape or form and nor does it make you sweat, unlike many thicker waterproof covers we've tried. This also means it doesn't make a sound. No crunch or squeak as you toss and turn - which is particularly great for children and toddlers, given the smaller bed size options available. On the other hand, it's thin in profile, so it doesn't provide the comfort level - add a topper and you're sorted.
It's machine washable at 50°C, which is 10°C higher than most and can go in the tumble dryer on a low heat, although Panda recommends line-drying. For an affordable price, we rate this as a great budget-friendly buy that doesn't compromise on sustainability.
7. John Lewis & Partners Natural Cotton Quilted Mattress Protector
Best cotton mattress protector
Specifications
Size: Single, small single, small double, double, king, super-king
Material: 100% cotton
Care : Washable up to 40°C
Reasons to buy
+
Breathable
+
Soft-to-the-touch
+
Super affordable
+
Cooling peppermint treatment
Reasons to avoid
-
Not waterproof
-
Will shrink when washed
-
Do not tumble dry
Cotton is a reliable fabric for bedding, used for years. There's no surprise we reach for it out of habit for any of our sleep-time needs. As is for a mattress protector. That also means there are many on the market - but we've picked out this John Lewis option as the best cotton mattress protector. It's made from 100% sustainably sourced cotton - if you hadn't already guessed, which is naturally breathable and soft to the touch.
It may not be waterproof, but it will keep you cool at night, as our tester has discovered over a long period of time. Having used this mattress protector for just under a year now, it's their go-to, given no drinks or liquids are allowed in bed. As it claims, this protector comes with an antimicrobial peppermint treatment which works to keep it fresher for longer. In fact, we can count on one hand how many times it's had to have been washed.
It is machine washable, though we tend to dry it naturally outside due to worry of it shrinking in the heat of a tumble dryer. Though, given it's soft quality and profile that's on the thinner side, this doesn't take long. For the cotton-bedding lovers this affordable John Lewis buy is an all-round easy option you can pick up in your next online shop.
8. Brook & Wilde The Kensington Mattress Protector
Best luxury mattress protector
Specifications
Size: Single, double, king, super-king
Material: Cotton and polyester
Care : Wash gentle 40°C and tumble dry
Reasons to buy
+
Luxurious feel
+
Breathable
+
Stays plush throughout the night
+
Entirely washable and tumble dryer friendly
Reasons to avoid
-
An investment buy
-
Not waterproof
-
May be a little thick for some
Brook & Wilde has secured its reputation as purveyors of seriously luxurious mattresses (we highly rated the Brook + Wilde Ultima mattress) and bedding, so of course, The Kensington has to live up to this brands ethos. The posh name is a giveaway – this mattress protector is certainly a cut above when it comes to plushness (and price) making it our best luxury mattress protector.
The Kensington is the most generously filled mattress protector we've tested and it's worth noting that it retains this pillowy plumpness well, without the need for constant shaking out. The cushioning is provided by hollowfibre polyester, which admittedly doesn't sound terribly posh, but trust us, it's a great choice for allergy sufferers and anyone who easily overheats. There's no waterproof protection on offer but the thickness of this protector makes it more than capable of keeping your mattress pristinely clean.
Wash this on a gentle 40°c programme and it can be dried in the tumble dryer on a low heat - we haven't tested this protector long enough to see whether it keep it's fullness after a few washes. Though there's no concern from how it's performed so far. We'll update you anyhow.
9. Slumberdown Total Protection Mattress Protector
Best value mattress protector
Specifications
Size: Double or king size
Material: Polyester
Care : Machine wash and line dry
Reasons to buy
+
Very soft
+
Anti Bacterial, Anti Allergy and Anti Viral protection.
+
Super affordable
Reasons to avoid
-
Not the most sustainable fabrics
-
Not tumble dryer friendly
If you need a well-fitting durable mattress protector that can handle washing but won't keep you up at night worrying about its cost, then this super affordable mattress protector from Slumberdown is ideal. It does what it says on the tin, or the packet, rather. Not overly fancy, but everything you need in a mattress protector at a good value price - as long as you have a double or king bed as these are the only size options available.
Slumberdown's total protection range is formulated to be antibacterial, anti-allergy and anti-viral, so you can rest well knowing your sleeping on something that's keeping you fresh and free from germs. This will not only help create a healthier sleep space but it will protect and extend the life of your mattress too. We've called this one in for testing, though we're already impressed with the reviews.
This value mattress protector doesn't stop at being practical and affordable. Many claim it's actually super soft and has a surprisingly luxurious feel. Though don't expect this to be because of quality materials. It is made of polyester, so it's not the most sustainable option. Nonetheless it washes well and dries quickly in the sun. There are no crazy claims or extra bells and whistles on this mattress protector, but you do get to sleep soundly, safe in the knowledge it's there to protect. After all, it is made by one of the UK's most trusted brands - we love their best pillows too.
---
How to choose a mattress protector
To narrow down your choices, you should start by deciding if you need full waterproof protection - if you don't, a cotton or polyester protector will be more breathable. Then think about comfort. Mattress protectors are not the same as mattress toppers when it comes to boosting comfort levels but if your existing mattress could benefit from a little extra cushioning, check out the quilted designs with padding. Finally, it comes down to individual needs, like cooling or allergy relief, but if neither affects you, we'd recommend choosing the best mattress protector for you based on your budget. Oh - and of course check the size of your bed. A mattress protector of the wrong size will struggle to cover all basis.
Additionally, Karen Innes, NPD Manager at Slumberdown (opens in new tab) adds: 'Something often overlooked is washing your bedding, and your mattress protector is no exception - choose a mattress protector that is machine washable and try to get into a washing routine with your bedding to prevent any build-up of sweat, oil and dirt.'
Should you choose a mattress protector or a mattress topper?
Steve Reid, CEO at Simba (opens in new tab) offers his advice: 'If your mattress is genuinely uncomfortable a mattress topper won't solve the problem for long, if at all. While it might smooth out immediate lumps and bumps caused by old springs, it's unlikely to offer extra support to sagging beds, and furthermore can trap heat and make your bed uncomfortably warm. They're a great short-term solution, but the only way to fix your bed is to buy a new mattress.
A mattress protector, on the other hand, is something that everyone should ideally have. They help keep your mattress clean and hygienic.'
Do mattress protectors make a difference?
A mattress protector may seem like an unnecessary add-on. But they'll do wonders for keeping your mattress guarded from spills, damages and dirt that may seep through your sheet (even without you realising). Ever noticed some marks or yellow stains on your mattress, but unsure where they've come from? Yep, a mattress protector will take the stain instead, leaving your mattress fresh underneath. This all contributes to the longevity of your, fairly expensive, mattress.
How often should you wash a mattress protector?
Mattress protectors are there to care for your mattress, by guarding it against dust mites, debris, stains and spills. In order for it to do so, your mattress protector needs a little TLC itself. It's recommended you wash your mattress protector every two months or so, providing no spillages occur in the meantime. How you wash will depend on the type of protector and the material it's made from. Waterproof mattress protectors can't often be put in the washing machine and delicate fibres like wool shouldn't be tumble dried. In short: refer to the care instructions before washing. Ultimately, if you care for your mattress protector it'll look after you and your mattress too.
How we tested these mattress protectors
You guessed it, the mattress protectors we have tested have been lying under our sheets for at least a week. We've slept on them, washed them and slept on them again to test out their comfortability, ability to withstand heat, sweat and dirt and how well they wash. We've even 'deliberately' spilt a drink directly on to them to see whether their waterproof claims stand as true. For an accurate and fair comparison too, we've made sure to try a king size in all (as available), fitted on more than one mattress brand. There is one we are yet to sleep on, - the Panda bamboo mattress protector, but we're eager to give it a go as soon as we can.
For a more general idea on our testing process, you can see our how we test page for all the guidelines.
Here's what a couple of our reviews had to say about their favourite:
As a beauty sleep advocate, our Ecommerce Writer Louise Oliphant, understands the importance of a great mattress protector. Mattresses are the key to comfortable sleep - so why not look after it the best you can. Out of personal preference, I tend to opt for cotton or polyester protectors - there's no surprise my top choice is Woolroom's wool protector, with Brook and Wilde's The Kensington Mattress Protector also a firm-favourite. These are a little more luxury, but offer great benefits to compensate.
I sometimes suffer with allergies, especially in the summertime so a great hypoallergenic option works best for me. That's why I love Slumberdown's total protect one too. It's thinner and a little more lightweight, making it the ideal protector for the warmer months.
Senior Content Editor Millie Hurst has the Eco Hybrid Mattress from Rem-Fit, which comes with a super soft mattress protector. 'I didn't even realise the mattress had a cover for the first month or so because of its lovely woven finish. This protector has great eco-credentials, made of 100% recycled ocean plastics. It also adds an extra layer of comfort and, most importantly, it keeps the mattress underneath clean and in good condition, so I can hold onto it for years to come. I love that you can just throw it in the wash when needed, too.
Louise Oliphant is the Ecommerce Writer at Ideal Home. Bringing a bunch of bedding expertise from her previous role in PR, Louise is eager to share useful sleep content, including what to look for, when and where to buy the best bedroom products. Think everything from gorgeous luxury bedding, to duvets that'll keep you at optimum temperature all night long. Aside from reviews to help get essential shut eye, Louise also writes shopping content for homeware items that'll add a decorative touch to your space.