The best mattress toppers for comfort, cushioning and support
The best mattress toppers for improving your sleep set-up – from the best memory foam mattress toppers from Simba and Panda, to the best cooling toppers for a more breathable sleep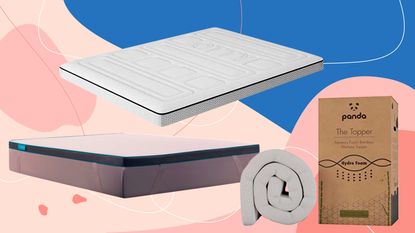 (Image credit: Future)
QUICK LIST
The best mattress toppers will add a layer of cushioning support to your sleep set up. A good mattress topper provides an additional layer that can cover up uncomfortable mattress springs, bring comfort to a too-hard sofa bed, or add breathability to a mattress that is making you overheat at night.
Unlike a mattress protector, which is a thin fabric covering that simply adds an extra layer of protection to your mattress, a mattress topper is a much more robust affair. Usually measuring at least 5cm deep, it's a substantial layer that can be placed over the top of your existing mattress to add comfort and support.
If you're looking for a better night's sleep, then although even the best mattress toppers on the market can't beat investing in the best mattress your budget allows, they can prove a good interim solution whilst you save for the mattress of your dreams.
Our team of bedding experts has rounded up the best mattress toppers on their radar below. Including bestselling memory foam mattress toppers from Simba and Panda that add a layer of cushioning for joints, breathable toppers for a cooler sleep from Woolroom, and even a self-heating mattress topper from Silentnight!
The quick list
Short on time? This quick list is an overview of the best mattress toppers. You'll find more information on each mattress topper and why our testers recommend it if you keep on scrolling.
Best mattress toppers 2023
Why you can trust Ideal Home Our expert reviewers spend hours testing and comparing products and services so you can choose the best for you. Find out more about how we test.
Best mattress topper overall
1. Simba Hybrid Topper
Best mattress topper overall
Specifications
Style : Hybrid
Sizes available : Single; small double; double; king size; super king size
Depth : 6.5cm
Firm rating : Medium-firm
Care instructions : Not able to wash
Reasons to buy
+
Good levels of support and comfort thanks to a mix of coil springs and memory foam
+
Anti-slip base
Reasons to avoid
-
An investment
-
Cover not washable
-
Heavy
We're big fans of the Simba Hybrid Mattress so it's perhaps no surprise that we like the brand's hybrid mattress topper, too.
It may be the most expensive topper on this list, but this mattress topper differs from most others on the market in that it combines actual coil springs as well as a memory foam layer. Simba has essentially created a thinner four-layer version of its bestselling mattress, which results in one of the most robust and supportive toppers we've tested and makes this topper the most capable of overhauling your sleep set-up without a full mattress replacement.
It's a great choice for those looking to upgrade a mattress that has started to sag or lose structure, or for adding proper support and cushioning to a sofa bed. The memory foam upper will also help to add cushioning to a firmer mattress and reduce motion transfer between sleeping partners.
The jury is split on the topper's breathability claims, with one tester finding they slept cooler, but other self-described 'hot sleepers' saying they didn't notice much relief. However, the antislip base and straps are well worth a mention. Most mattress toppers are attached by straps, but in our experience, they're prone to pinging off. The Simba Hybrid Topper straps stayed firm in our testing, but even if they hadn't, the topper was going nowhere thanks to its anti-slip base.
All in all, our only gripe is the price, but, you do get what you pay for after all. If this is the only thing putting you off, too, then it's worth checking out Simba discount codes to try and nab a deal.
Best memory foam mattress topper
2. Panda The Topper
Best memory foam mattress topper
Specifications
Style : Memory-foam gel
Sizes Available : Single, small double, UK double, king, super king
Depth : 5cm
Firm rating : Medium
Care instructions : Machine Washable at 30°C
Reasons to buy
+
5cm deep memory foam cushioning
+
More cooling than many memory foam sleep surfaces
+
Removable, washable cover
Reasons to avoid
-
The straps might ping off if your mattress is very thick
If you have a too-firm mattress or your not-so-comfy sofa bed leaves overnight guests a little nonplussed, then this memory foam mattress topper could be just what you need to add some additional cushioning.
At 5cm-thick, it's not the chunkiest topper out there, but it is made of pure memory foam and we think side sleepers especially will appreciate how pressure points (hips and shoulders) sink into the topper for cushioned support.
Panda claims the mattress topper's 'gel-infused technology' reacts to your body temperature and keeps you cool, and whilst we can't speak on the science wizardry, our seasoned sleep testers definitely found it slept cooler than many memory foam mattresses – there was no flailing around in a sticky mess at 3am here.
Added benefits include the machine washable cover (at 30 degrees) and the silky soft feel of the bamboo cover. The only negative point our reviewer experienced was that the topper slid down to the end of the bed after a week's use, despite the elastic straps on the corner and silicone base of the cover that's supposed to stop movement. However, the mattress it was tested on was 30cm deep, so if your mattress is the more standard 25cm or below it should stay in place.
Best budget buy
3. Dunelm Teddy Bear Cream Mattress Enhancer
Most affordable mattress topper
Specifications
Style: Brushed teddy bear fleece
Sizes available: single, double, king
Depth: 3cm
Firm rating: Soft
Care instructions:: Machine washable
Reasons to buy
+
Soft and cosy brushed Teddy Bear fleece
+
Cool microfibre reverse
+
Extremely affordable
Reasons to avoid
-
Not very deep or supportive
We're huge fans of Dunelm at Ideal Home, and over the years, its Teddy Bear fleece products have kept us snuggly and warm. The brand's foray into mattress toppers is surprising, but it's fair to say that this is a great option for those who want a budget topper that focuses on softness and cosiness.
Featuring a super soft Teddy Bear fleece face on top for added warmth in winter and a microfibre reverse to keep you cool in the winter, this topper isn't just for the colder months. And its ease of use has to be commended, as it's both machine washable and elasticated around the edges for a snug fit.
Our main concern is with the firmness of this mattress topper, though. If you want added comfort, this Dunelm choice will no doubt serve you well. It might not do the job if you suffer from back pain and need extra support, though.
Best cooling mattress topper
4. Woolroom Deluxe Wool Mattress Topper
Most breathable mattress topper
Specifications
Style : Wool
Sizes available : single, small double, double, king, super king
Depth : 4-5cm
Firmness rating : Soft-medium
Care instructions: Dry clean only
Reasons to buy
+
Heat regulating
+
Fully traceable soft British wool and certified organic cotton
+
Naturally hypoallergenic
​​The 4-5cm deep Woolroom Deluxe Wool Mattress Topper offers a natural and eco-friendly way to achieve a cooler night's sleep, harnessing the thermo-regulating powers of wool to create a breathable sleep surface that wicks moisture and heat away from the body during sleep.
This enables night-time temperatures to remain stable, delivering a deeper, undisturbed sleep.
After finding the synthetic materials in her memory foam mattress were reflecting body heat back towards her and causing her to overheat in the night, our hot-sleeping reviewer tested out this wool layer between her and the mattress and found it delivered a far more breathable sleep surface that instantly reduced discomfort and night sweats.
Best warming mattress topper
5. Silentnight Heat Genie Self-Heating Mattress Topper
A self-heating mattress topper that's great for cold nights
Specifications
Style : Microfibre with heat reflecting foil
Sizes Available : Single, double, king
Depth : 3cm
Firm rating : Soft
Care instructions : Machine washable
Reasons to buy
+
Affordable
+
Warms up the bed without the need for an electric blanket
Reasons to avoid
-
Hot sleepers might find it a bit too hot and sweaty
-
Not that much cushioning
If you're looking for an affordable way to make your bed a little warmer on cold nights, then Silentnight's Heat Genie Self-Heating mattress topper could well fit the bill.
Self-heating though... how does that work?! Well, this mattress topper is designed to reflect the sleeper's own body heat back towards them, with a 3-layer construction that includes heat-reflecting foil, a thermal lining, and a quilted top.
We have to admit, our first thoughts were that this sounded like it was going to end in one big sweaty mess come bedtime, but our brave reviewer put the Heat Genie to the test (admittedly in a very cold bedroom) and had only positive things to say about its performance, noticing a definite difference in overnight warmth. Thankfully there was also far less rustling than that heat-reflecting foil led us to envisage.
Based on wider customer reviews, we'd say it's likely that this topper's success or failure is largely determined by how much body heat each individual emits – with self-proclaimed 'cold people' finding it less successful than those who assigned themselves as 'average' body warmth. And, at 3cm deep, there isn't a lot of cushioning to this microfibre mattress topper, but then that isn't its main selling point.
Overall, if you want to add some extra warmth to the bed without the additional energy use and complication of cables that even the best electric blankets can't completely eliminate, then we think this mattress topper is well worth a try, especially considering its affordable price tag.
Best feather and down mattress topper